W/C: 11/12/17
Another week has gone by, we have come to the end of our Maths unit of addition and subtraction. We all had to do our post-test and WOW, Mrs Barratt cannot believe the amount of progress we have made! We have worked so hard this term trying to understand how the column method works and we have now finally done it!
In English we have been using a clip called 'Taking Flight'. This clip has a lot of meaning behind it. It is about a little boy who has been dropped off at granddads house yet again because dad has gone to work. The little boy doesn't like going to granddads because he says he is really boring and only knows how to do house stuff. But he is wrong, when he finds his dads wagon in the garage from when he was younger, both granddad and the little boy go on lots of amazing adventures. We used this clip to write a setting description using our key skills in English, a kenning poem about a part of the clip we watched and also we sequenced the story using a storyboard.
On Thursday we had a delicious Christmas dinner at school, lots of meat and vegetables, not forgetting the large piece of chocolate cake we had with it!
Only 3 days to go, remember we are at the pantomime in Boston on Wednesday to watch Cinderella. The bus leaves at 9:00am so please make sure you are at school on time.
W/C: 04/12/17
This week has been tough and tiring, but we are pulling through! This week, we have been working on an ICT project. We have been using a program called 'Scratch'. We have had to program and instruct a 'sprite' using an algorithm to move across the page and speak twice. This was really tricky but a huge success!!
In Maths we are continuing solving problems using formal methods to add and subtract depending on the key vocabulary in the question. Next week, we will do our posttest to see how much we can remember.
In English, we have looked at kenning poems. This is a two-worded poem with just a noun and verb about a subject. For example:
The Jungle
Animal-hider,
Heat-trapper,
Rain-catcher,
Shade-giver,
Plant-grower,
Land-coverer,
Habitat-builder,
Species-breeder,
Secret-keeper,
Medicine-maker,
Life-giver,
Beauty-preserver.
On Friday, it was the Christmas Fair. This was so much fun! There were lots of stalls, food and toys to buy, also Santa was here! We had lots of fun eating lots of food and drinking delicious hot chocolate.
Fingers crossed we get lots of snow this weekend like it has been predicted!!
W/C: 27/11/17
A busy week yet again! In English we have continued looking at poems, more specifically shape poems. Year 3 have been looking at lots of different skills in order to make their poems amazing. The skills we were working on are; personification, similes with adjectives, onomatopoeia and alliteration. We then used these skills to create a shape poem about the Amazon Rainforest.
In Maths, we have been working really hard on applying our skills from the formal methods into worded problems. Can the children spot if it is add or subtract using the key words? We have also been using the bar model. Year 3 have cracked this! We are able to place the numbers correctly in the bar model to help solve the worded problems.
Don't forget the Christmas fair next week starting at 2pm! We look forward to seeing you there- don't forget to bring your pennies!!
W/C: 20/11/17
Week 3 has now been and gone. We have worked super hard yet again!
In Maths we have cracked (nearly!) column subtraction. Year 3 have been looking at subtracting 3-digits and 1-digit followed by subtracting 2-digits, this has been tough. We have to make sure we are checking the top number to see if we need to exchange or not by using our fingers to help us!
In English we have been looking at poetry still, in particular resilience. We concentrated on what resilience was and what skills we need to be able to be resilient. Here are some of our ideas...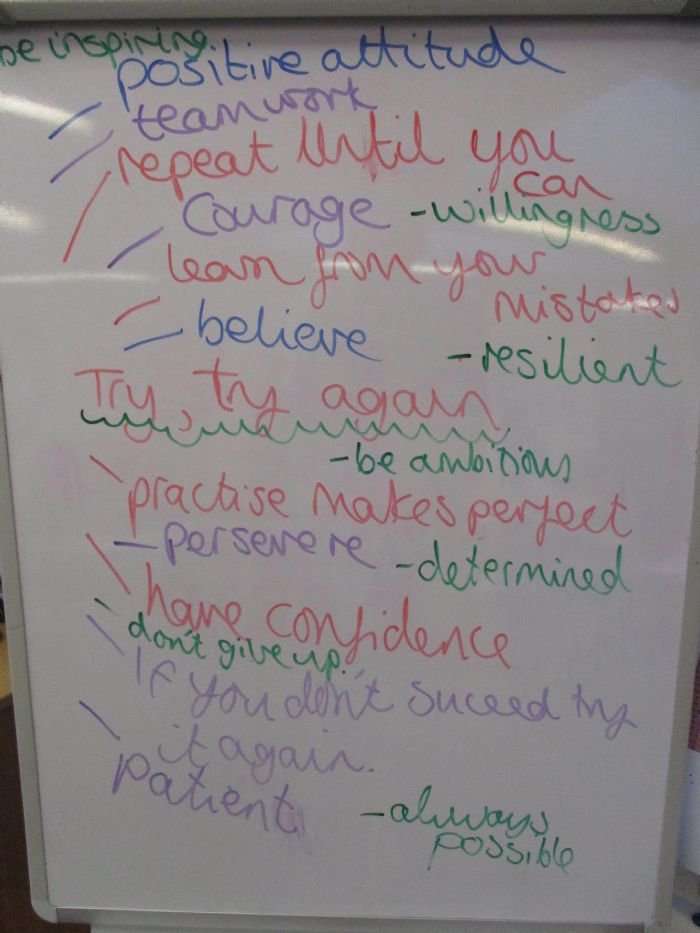 From these ideas, we were able to write either an acrostic poem or a rhyming poem all about resilience.
In Science this week, Mrs Smith did some really cool stuff! We were learning about the bones in the human body. We understand what a skeleton is used for and why we have one. Do you know the 3 reasons why? (Protection, movement and support) We even got to look at x-rays in Science and we had to work out where in the body they were. If you look in our classroom window you can still see them there!
A busy fun week! Well done Year 3.
W/C: 13/11/17
What a busy second week we have had. We have been practicing using the column method to add numbers together including using the bar model too. This has been a really tricky week, but now we are adding 3 digits and 3 digits together. Look at Sophia's work, isn't she great!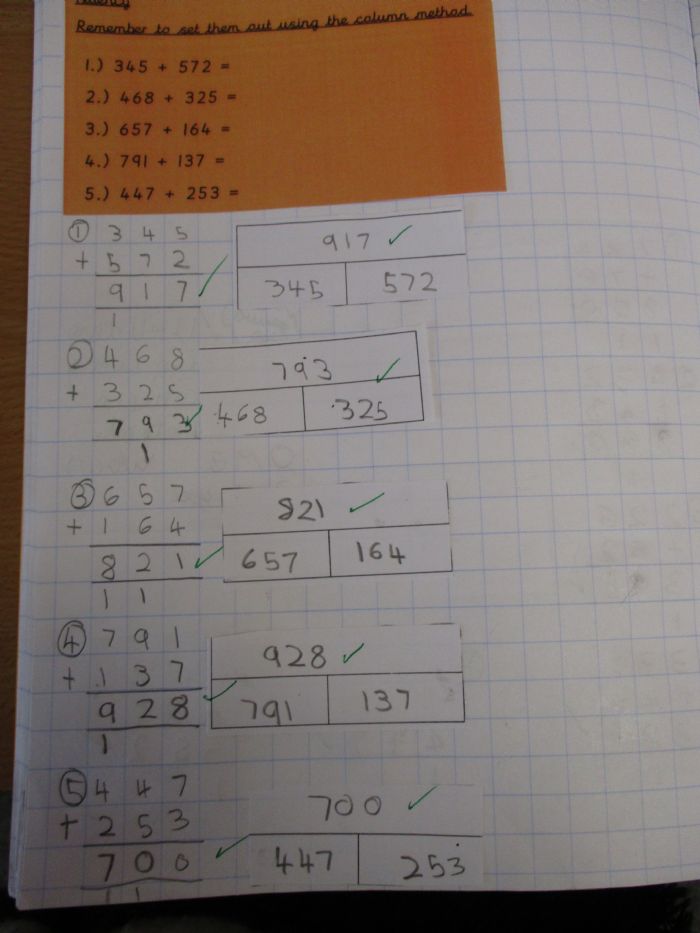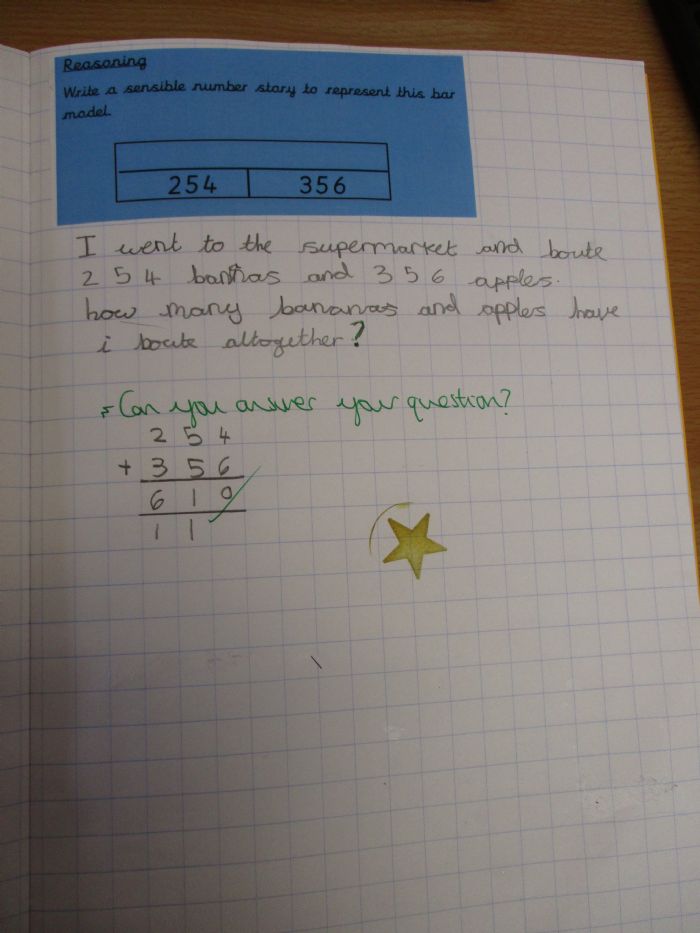 Next week we are going to be subtracting using column method.
In English, we have written our first draft for our animal poem, which has included lots of rhyming words and alliteration. Next week we are writing them up in neat.
For our continued Topic of Rainforests, we have been looking at life in the Rainforest. We watched a video clip of children living in the Rainforest, looking at their houses, what chores they do, what they eat and what they do for fun. From this we wrote our own Diary entry showing a typical day of a Rainforest child.
Also today (Friday 17th) our amazing school council team decided on an event for Children in Need. Their idea was to 'prank' all the teachers. Pictures to follow!!!
W/C: 06/11/17
Welcome back! I hope you all had a nice two-week break.
This week we have cracked straight on. In English, we are writing poems. In particular rhyming poems this week. Year 3 have read the poem book 'Animal poems- by Paul Hess'. This book is filled with lots of poems about animals living in the Rainforest. Using these poems, we looked at rhyming words and syllables. From this, we have researched our own animals from the Rainforest and created rhyming ideas to help us with our poem. Next week we will be writing one of our own.
In Maths, we have begun our Addition and Subtraction Unit. We have been looking at lots of mental methods adding ones, tens and hundreds to a 3-digit number. This has been a really tricky job, but hopefully we have all got this now. Next week we are going to be using the column method to add!
In science, we are learning about Humans and other Animals. We looked at different food groups that we find in the supermarket and arranged them into groups.
A great start to the week back, lets keep it going right up to Christmas.
W/C: 09/10/17
We have been very busy this week. We have started looking at a range of features for our next piece of writing in English. We have looked at lots of issues regarding Rainforests and the reasons they are being cut down and also reasons why we need to keep the trees. We used a short story called 'The Vanishing Rainforest' by Richard Platt where these issues have been made aware for both reasons. In our piece if writing we have to make sure our information is full of facts but also balanced- this is tricky because we all have our own ideas which one is correct!
In Maths, we have come to the end of our unit this week. We finalised looking at a range of worded problems and how to solve them, ready for our Post-test next week.
We are looking forward to our final week at school before having a big breather from all the learning we have been doing this term!
Thank you to all parents who attended parents evening this week, I enjoyed meeting you all.
Remember, there is a quiz on Friday in the hall- doors open at 6pm ready for a 6:30pm start!
W/C: 02/10/17
This week has been busy with lots of work going on! In Maths we are continuing learning about Place Value, in particular looking at partitioning numbers in different ways e.g. 47 = 40 + 7 but it can also be partitioned as 47 = 30 + 17. We were looking at finding patterns to help solve lots of problems.
In English we have been looking at using inverted commas (speech marks). This is a tricky concept to get our heads around, but there are 4 rules we need to remember:
1.) To use inverted commas around the spoken words.
2.) Capital letter.
3.) To use a , ? or ! at the end of the speech.
4.) New speaker= New line.
We have practiced lots and hopefully getting the swing of it now.
In RE we have been learning about the Hindu festival 'Diwali'. This is a festival celebrated over 5 days to celebrate good over evil and light over dark. We have read the 'Rama and Sita' story which Diwali stems from and also looked at Rangoli patterns and what they are. Year 3 created their own Rangoli patterns that they would have put outside their door.
A great week, keep it up Year 3. Don't forget parents evening is Tuesday 10th October.
W/C: 25/09/17
We have had such an amazing week. This week we finished our Adventure and Mystery stories, we worked really hard to make sure we gave away enough clues so by the end of our stories you could work out who the thief was... the sloth with the nice smile, the toucan who stared viciously at you or the tiger with ferociously sharp teeth?!
On Thursday afternoon, we had our harvest festival and presented our artwork in assembly. We used our finger painting and colour mixing skills to create six corn on the cob wreaths. These looked great, if you want to see what they looked like check out the gallery page!
On Friday Mighty Zulu Nation were in all day. We got to watch them sing and dance their tribal routines. They didn't just dance they were also doing forward and backward flips, even a few teachers were up dancing with them! In Year 3 we were also lucky enough to have two workshops; singing and a dancing workshop, which we presented to the parents at the end of the day. This has been the best day at school!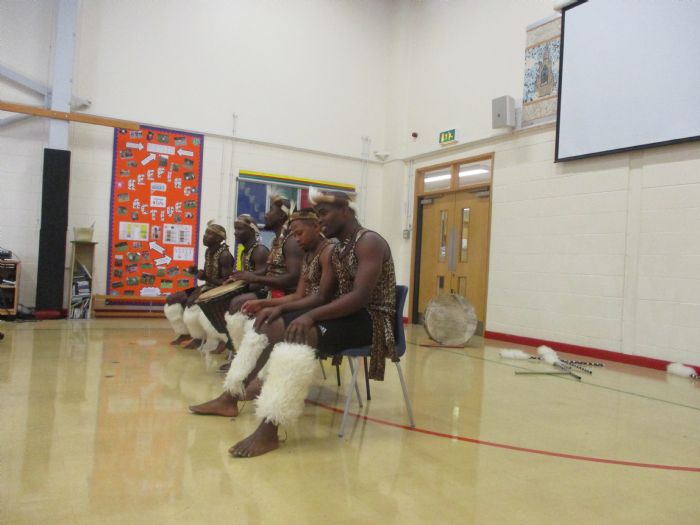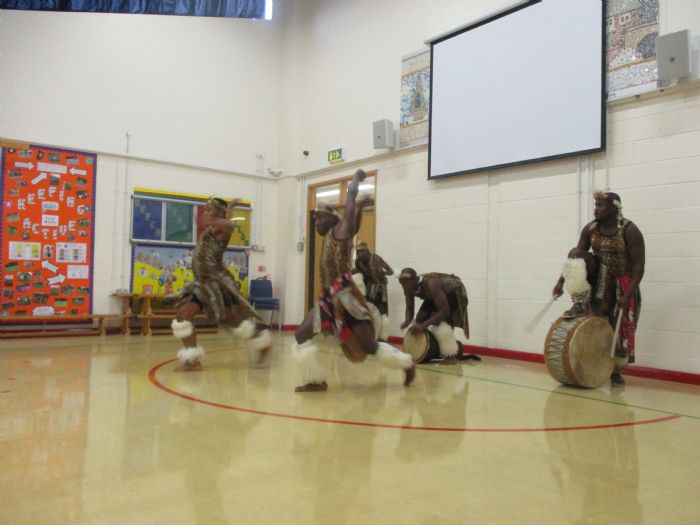 W/C: 18/09/17
Another busy week for Year 3. We have planned our own mystery story in English.. stay tuned to find out who the thief is! In Maths we are comparing and ordering numbers, moving onto finding 10 more and 10 less than a number.
In Topic we looked at many different Weather reports for the UK and Amazon rainforest, from this we designed our own for the Amazon Rainforest and then presented them to the class, not forgetting arm actions too! Here are some of us in action: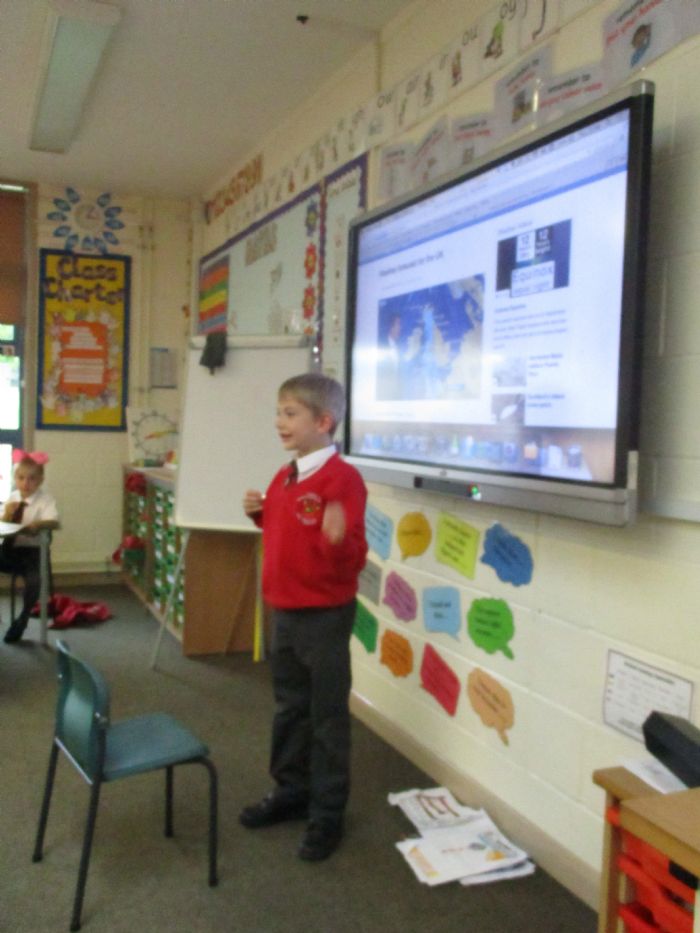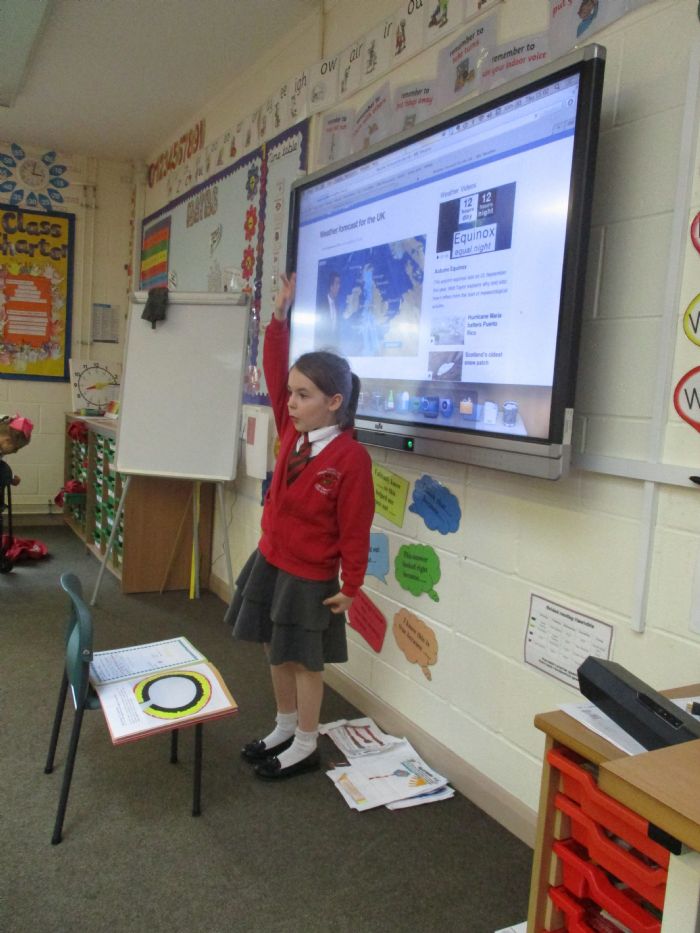 W/C: 11/09/17
Another busy fun filled week. This week we are well under way with our Maths Unit of Place Value. We have been working extremely hard partitioning numbers, counting in multiples of 4, 8, 50 and 100's! We have also been looking at reading and writing three digit numbers. In English Year 3 have been using their English skills to use adverbs and similes to create fantastic sentences and also mind mapped their 3 suspects all from within the rainforest. Who will it be the sloth, tiger or toucan?
In Science the children have been finding out about the different functions of a plant (roots, stem, leaves and flower) and what each part does and why each part is so important. Then we looked at the seven life processes, MRS NERG. Ask your child; can they remember what MRS NERG stands for?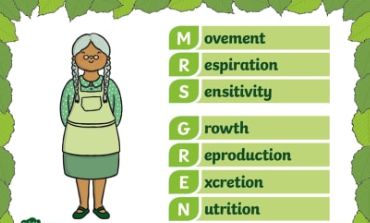 Welcome back Year 3!
I hope everyone has had the most amazing summer holiday and is ready for the next academic year!
Year 3 have come back on full charge and ready to learn new and exciting things. Our Topic this term is Rainforests in Geography- we have already started using an atlas to research and locate rainforests around the world. We already know that tropical rainforests are located between the Tropics of Cancer and Capricorn which lies either side of the equator.
In English, we will be writing a mystery story based in the rainforest too, so Year 3 have started looking at the features of mystery stories.
In Maths we have started our Place Value unit of work. We have worked on recognising the place value of each digit in a three digit number.
A great first week and we very excited to continue with the rest of the term.