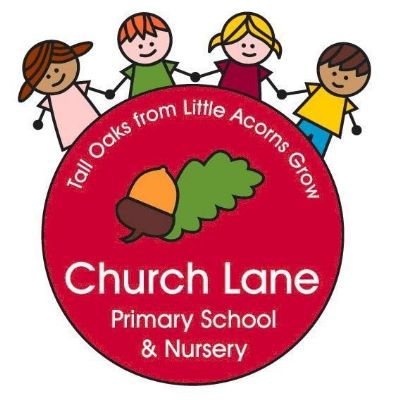 About us
Church Lane Primary School and Nursery is a local authority communtiy primary school. The age range is 3-11. It is a PFI school meaning the school building is owned by a third party. The Headteacher is the nominated persons in charge. The School is open 8-6, 38 weeks a year and also has a breakfast club and an after school club called Nutcrackers. The School is a one form entry school and is growing rapidly with all Key Stage 1 classes being over subscribed.
Previously the school was on the same site but was an infant school. This was knocked down to make way for a new building. The new all through primary school was built and opened in 2002. It was one of seven privately funded initiative schools opened in the county.
Our school motto 'Tall oaks from little acorns grow' reflects the firm foundations we believe we give the children at Church Lane.
At Church Lane Primary School and Nursery, we believe that every child is our future. It is the aim of the school, through it's curriculum and teaching to nurture and care for each individual to enable them to grow, flourish and realise their potential.
School Vision
Our shared vision is what makes Church Lane Primary School such a unique place. It drives what we do and ensures we remain focused on what matters to us as a school. Schools are continually offered new initiaives and it is easy to be distracted from one's own core beliefs. Our shared vision is a filter and ensures that we remain on track within our beliefs even with all the different educational ideas and approaches. We will always keep up to date with contemporary educational thinking; rather we listen and see which developments can be embraced to crystalize our vision further.
Some schools focus exclusively on reading, writing and maths and less on the arts and wider learning experiences whilst others focus on creative pursuits without the three Rs. At Church Lane, we believe that both are equally as important. Our vision for primary education is child centred and focuses on their needs and development.
Teaching children how to be self aware and be good citizens is what we call our values. At Church Lane we recognise the importance of children developing a strong moral contruct through British Values. We feel this is fundamental to childrens relationships with themselves- their self esteem- and their relationship with others, with their community and with the environment. The important values we emphasise are:
Honesty, Courage, Respect, Kindness, Happiness, Resiliance, Humility