W/C 24.01.2022
We have explored ice with the hammers setting the bears free. We talked about the changes in the ice and how the ice was made.
We have also been making birthday cakes with the play dough. We added candles and cases and sung happy birthday to each other. We used great maths skills to count out the candles!
Our book this week was all about a penguin. We used imagination skills whilst exploring the arctic animals in the tray to act out role play and tried creating our own penguins using a variety of materials.
Towards the end of the week we had a big interest in pizza! We used this idea to create our own pizzas. The children chose their own toppings and used their motor skills to chop the ingredients. We hope you enjoyed eating them!
W/C 17.01.22
We have had a very busy week. We continued talking about families and how every family is unique, using paint to draw ourselves. We also investigated how we change as we grow up and what is needed for our body to grow in a healthy way.
We explored a variety of vegetables, discussing their properties and how they are healthy.
Following a number of interests we have also made cakes with play dough, using rolling pins and cutters for our creations.
Towards the end of the week we explored and discussed ice and how it forms, whilst using the hammers to save our frozen bears.
On Friday we went for a walk to see seasonal changes, discussing why we needed to wear clothes to keep warm and to our surprise we returned to find superheroes had taken over the hall. The children thoroughly enjoyed dancing with Spider-Man, the Flash and Wonder Woman.
W/C 10.01.22
This week we have been reading the book 'Grandads Island'. This has sparked lots of conversations about families and grandparents. The children have been creating pictures of their family members paying close attention to detail when adding features.
We have also been looking at artwork by an artist named Slava Ilyayev who uses flowing lines and shapes based on flowers and plants. We used our own skills to create jungle artwork using lines too.
W/C 12.12.21
We have had an exciting week this week as we decorated ready for Christmas. The children have been taking part in lots of different activities such as exploring peppermint play dough and lots of different crafts. It was lovely to have some of our parents/carers join us for our Christmas craft session we hope you enjoyed it too.
Our book this week has been 'Dream Snow'. The children have taken part in lots of discussions about the book and even made honey sandwiches like the man in the story.
We have shown a great interest in brushing our teeth this week as we explored the new teeth set in the classroom. We have looked at the book alongside this and talked about dentist's and what they do.
W/C 22.11.2021
Our book of the week has been 'Goldilocks and The Three Bears.' We have explored different measurements, small, medium and large. We looked at a variety of different objects and tried to group them in their correct sizes.
We have also been looking at Art by George Seurat and had a go ourselves; we can see lots of budding Artists already.
Next week our book will be 'Shark in the Park on a Windy Day'.

W/C 15.11.2021
We have had another busy week in Pre-school. We have read 'the wind blew' and enjoyed watching the wind outside blow a variety of items, we also dressed up in some of the outfits from the book.
The children enjoyed making leaf piles on the field and jumping in them.
We peeled, chopped and mashed a butternut squash for soup, everyone tried it but only some of us liked it.
On Friday we really enjoyed watching the teachers being pranked.
W/C 08.11.2021
We have had a lovely first week back in preschool. The children have settled straight back in and we have been discussing what we have been up to during our half term. (If you have any photos of your half term that you would like to share, please upload them to Tapestry, we would love to see them!)
Our book of the week this week has been 'Peppa's Diwali'. We have been reading this to learn about Diwali, the Hindu festival of light. We have learnt lots of new facts about Diwali and took part in different activities such as making Diya lights out of paper plates and painting Rangoli patterns. We have also been talking about fireworks and creating our own firework pictures using the chalks.
Towards the end of the week we began learning about Remembrance day. We watched a short video about remembrance day and talked about poppies and why we wear them. We have also been baking poppy biscuits too! Such a busy first week back!
Next week we look forward to reading our book 'The Wind Blew'.
W/C 04.10.2021
This week we have been busy learning about farming. Our book of the week was ' the runaway tractor', which the children have thoroughly enjoyed.
We have been exploring a variety of vegetables, chopping, peeling and tearing them. Discussing how they grow and where they come from. The children have really enjoyed scooping and pouring oats and other materials.
We have also been on some outings to visit the local library and to feed the ducks at the River Slea.
For Mental health awareness day we have looked at the book 'The colour monster', talking about how we are feeling and what emotions are.
We hope you have a lovely weekend and we are looking forward to seeing what adventures next week brings.


W/C 06.09.2021
We have had a very busy first week back. The children have settled amazingly and we are very proud of them. The first week back is all about building new relationships and allowing the children to settle in to their new environment.
We have read the story 'Owl babies' to aid the transition into nursery and have enjoyed getting to know each other.
W/C 10.05.2021
Story of the Week: Pirates Love Underpants.

This week's story has been about pirates, where the children have enjoyed digging and searching in the sand for hidden treasure.
Our water tray has had glitter and gem enhancements. We added small boats to the water to explore sinking and floating.
We enhanced our Writing and Art area with treasure maps to encourage the children to use different materials to create their own treasure maps.
We've had various group times where we have incorporated pirate themed number games, a game called across the water which supported early Phonic skills. The children demonstrated fantastic oral blending skills. Oral blending is a key skill to develop when starting school.
We created treasure chests and the children created coins and treasure out of play dough to add to the chests.
Our number song this week has been '5 Little Monkeys.'
The children decided that our nursery rhyme of the week would be 'Twinkle Twinkle Chocolate Bar.'
We've had lots of fun throughout the week that has enhanced the children's developments in all areas.
W/C 26.04.2021
This week the children have enjoyed the rhyming book 'Twist and Hop Minibeast Bop' alongside our nursery rhyme of 'Incy Wincy Spider' and number song of ;Five Little Men in a Flying Saucer.'
We have looked at different habitats of minibeasts, having a tough tray filled with wood chips, stones, wood and minibeasts. The children used tweezers to help encourage fine motor skills.
We have also looked at sequencing using different colours and materials to make a pattern.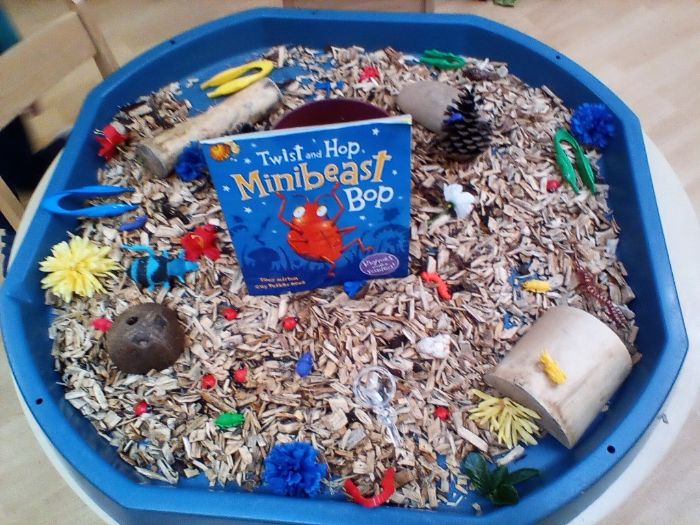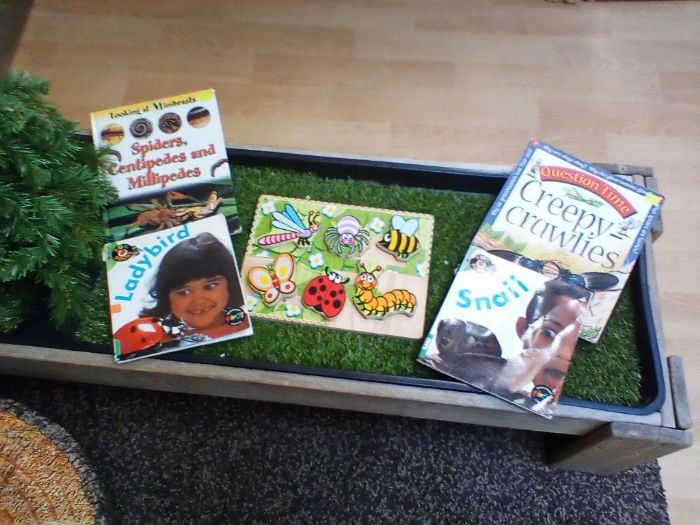 W/C 19.3.2021
Our book of the week this week has been 'The Very Hungry Caterpillar.' The children have enjoyed learning about the numbers of fruit that he ate, learning what a 'cocoon' is and how he turns into a beautiful butterfly.

The children have engaged in gross motor activities, where we have had our group times on the field. They can run to enhance their gross motor by kicking balls, rolling hoopla and finding the number that goes with the fruit on each day.

We have encouraged their fine motor by using cheerios and pipe cleaners to careful place the cheerios into the pipe cleaners to make their own hungry caterpillars. We have also enhanced the area by putting out a variety of different fruit and vegetables to cut up and tweeting out the seeds, which once dried out we shall be planting them to see if they grow.
We have added lemons to the water tray which some children have been making lemonade.
The children have also enjoyed being outside with the warmer weather and we have been looking at different bugs, making mud pies and painting on our outside board.
W/C 22.3.2021
This week our story has been 'Farmer Duck', leading into our Farmers visit on Wednesday via zoom.
The children have been practicing their printing skills using different vegetables, making carrots out of playdough.
We have had ducks in our water tray for the children to explore and sing the 5 little ducks song.
The children have been exploring the farm that was created in our small world area. The children have been interested in where our food comes from.
Today, the children have been creating their own potato and carrot heads using the arms, eyes and feet from the plastic potato head. They have then used their imagination to create their own stories.
As the children have shown a varied interest in this week's activities, our book next week will be 'Supertato' alongside Easter activities.
W/C 15.3.2021
This week we have been reading the story of 'The Tiger Who Came to Tea.'
The children have enjoyed doing activities relating to the story. We have been playing what's the time Mr Tiger, where we have been encouraging the children to count their steps, wait their turn and run on the field helping to support their gross motor skills.
We have had play dough out where the children have been creating tigers, tea party food and spoke about the different food's that the tiger may like at our tea party.
We have also encouraged the children to make sandwiches using bread, butter, ham and cream cheese, using our spreading and cutting skills.
In the water tray we have had a tea set with a tiger in to encourage the children in the tipping and pouring skills, using words such as full, empty, careful pouring as cups of tea are hot.
In our fine motor tray we have added some coloured sand, pom poms, tweezers, tigers and pots to encourage the children to use the tweezers so that it helps with their writing skills.
Key words in the story has been asking the children what a grocer was, as well as a milkman.
We were asking the children if it was nice for the tiger to eat all the food, or if it would of been nice to share it?
Towards the end of the week the children have created some tiger faces of their own using paper plates and tissues.
W/C 8.3.2021
This week our story has been 'A Squash and a Squeeze'. The children have taken part in many activities based on the story. Some of the children acted out the story in the small world tray and some children have been practising squashing and squeezing different fruits in the water tray. They then used these fruits to pretend to make potions. Whilst reading the story, we talked about the different rhyming words we could hear. Some children have also been practising their mark making skills. They used the large paper and chose to paint lots of different pictures onto it. Outside we explored the windy weather. The children used the ribbons to twirl them in the wind and we also took a kite onto the field and had a go at flying it in the wind too.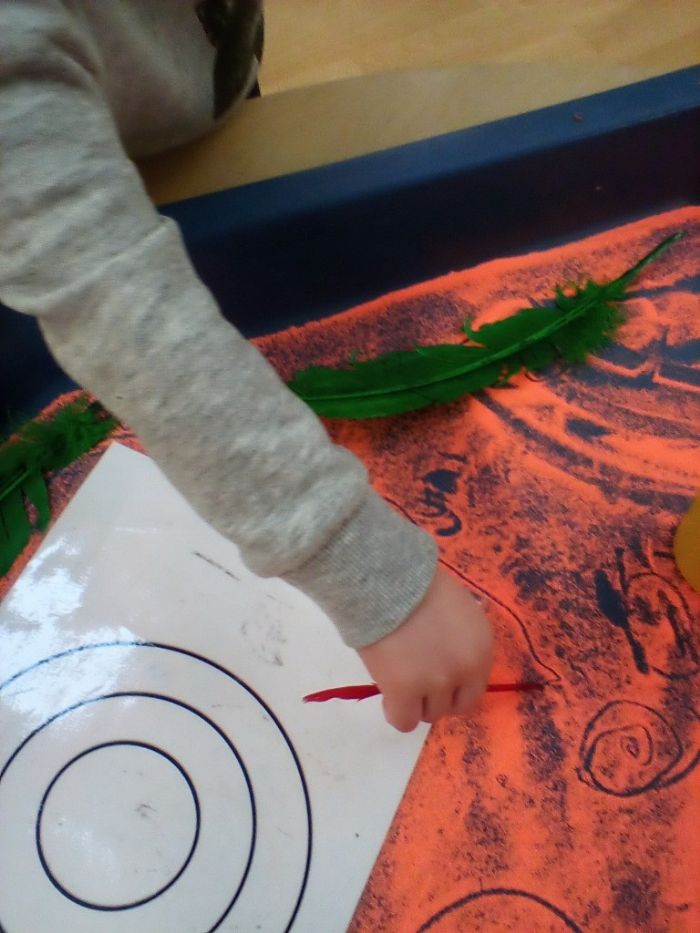 W/C 1.3.2021
This week we have been reading the story 'Jack and the beanstalk'. The children have taken part in many activities throughout the week. We have baked Frittata's and included green beans in our recipe. Some children have been acting out the story with the props and some of the children have painted pictures of beanstalks too. We have been using lots of language about size to talk about the story and the beanstalks.