W/C 9th March 2020
There is no let up this term! We have jammed an awful lot into our week AGAIN…
To further develop our understanding of different religions and cultures we learnt about the Hindu festival of Holi. We discovered that it indicated the start of spring. To prepare us for the whole school celebration we first took part in a number of class activities:
Colourful sand art
Rangoli patterns
Mixing colours
Bollywood dancing
We really enjoyed watching some Bollywood dancing and had a good go ourselves! We enjoyed moving our hips and shaking our whole bodies to the beat of the music. We used scarves and ribbons to make our dancing more exciting.
We then enjoyed taking part in the Holi festival. The children had a fantastic time, throwing powder paints at each other. It was lovely to hear lots of giggles and for each child to really embrace the wonderful experience.
Our story of the week has been 'The Ginger Bread Man.' We have enjoyed creating our own gingerbread people, acting out the story and writing shopping lists. We then made our own Gingerbread people… they were delicious!
W/C 2nd March 2020
We have had a crazy busy week in Reception.
On Monday we visited Sleaford Library. This was visit number two and we noticed a massive difference in behaviour and following the Library expectations. The children used their 'indoor voices' and settled really quickly into choosing and reading a story book. We are looking forward to our next visit.
On Tuesday, we had a tractor visit. We have never seen the children so happy and in complete 'awe and wonder.' The children enjoyed looking around the tractor and asking questions about the different buttons and features. We really enjoyed sitting in the cab – it was really high up! Miss Hakes was asked to press the horn- it was really loud!
On Thursday, we celebrated World Book Day. Thank you for the fantastic costumes and supporting us to foster the love of reading books. Please let us know what story your child chose with their book token.
Alongside the range of experiences we have provided the children, lots of fantastic child-led learning has been seen. Our 'Book of the Week' has been 'The Three Billy Goats Gruff.' The children have made some fantastic bridges using a range of small and large materials. Lots of problem solving and perseverance was observed.
Thank you for those who attended Parents Evening. If you did not attend, please book an alternative time with Miss Hakes or Mrs Daynes.
W/C 24th February
Our story of the week has been 'The Tiny Seed.' This story was chosen due to the children's interests in seeds and planting. This inspired us to learn the following:
Different parts of a plant
Painting Eric Carle Paintings
Planting beans and cress seeds
Painting Daffodils
Using our Phonics to label parts of the plant
Exploring different fruits to see which fruits contain seeds
We also celebrated Pancake Day. We learnt about the importance of 'Shrove Tuesday' in the Christian calendar. We explored making our own pancake mix and then ate freshly cooked pancakes. They were delicious!
We have introduced a voting system for the children. The aim is for each child to vote for which story they would like us to read at the end of the day- for pleasure!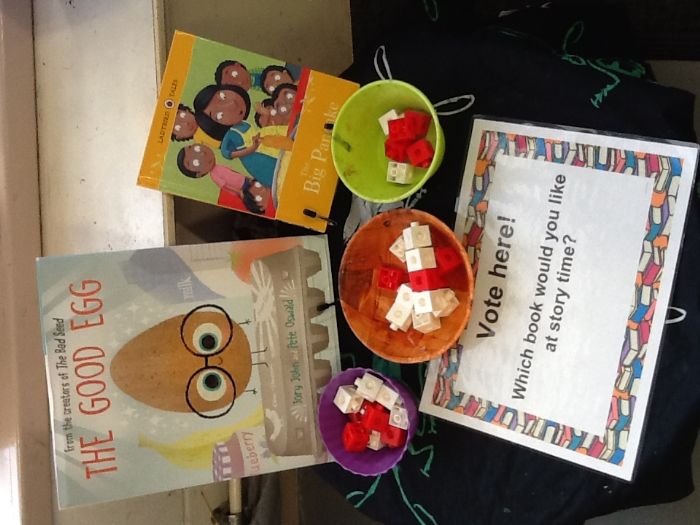 W/C 24th February
Alongside our continuous provision and enhancements we will be learning:
Phonics/Literacy
Re-cap set 1 and set 2 sounds
Practice letter formation
Sharing stories and talking about what we have read
Write simple sentences with a capital letter and full stop
Thinking of own ideas and being able to write it down
Read back own writing
Maths
Counting to 9 and 10
Comparing groups of 10
Combining groups to find the total
Number bonds to 10- part- whole model
Number bonds to 10- ten frame
3D and 2D shapes
W/C 10th Fenruary
Storm Ciara has really influenced our learning this week. We have had lovely discussions about the effect of Storm Ciara on Sleaford and the rest of the country. We then painted some fantastic stormy pictures, carefully thinking about the colours and patterns to create the desired effects. We hope you have enjoyed looking at our display in the cloakroom.
We also created our own kites to test in the wind. The children demonstrated fantastic problem solving and perseverance skills. We enjoyed holding the kites from different heights to see if it made the kite fly higher or lower.
Our 'Story of the Week' has been 'The Highland Cow.' This book linked well to our interest in Storm Ciara. We discovered where Scotalnd is and what the weather can be like up North. The story was about celebrating our differences. We discussed our differences as a class and drew a self-portrait to look closely at ourselves. It was suprising that a few of us did not know what colour eyes we had!
W/C 27th January
We celebrated Chinese New Year with Pre- School. We took part in a wide range of activities:
Chinese dragon dancing
Making Chinese lanterns
Prepared our own stir- fry and ate it!
Arts and crafts
Chinese Role Play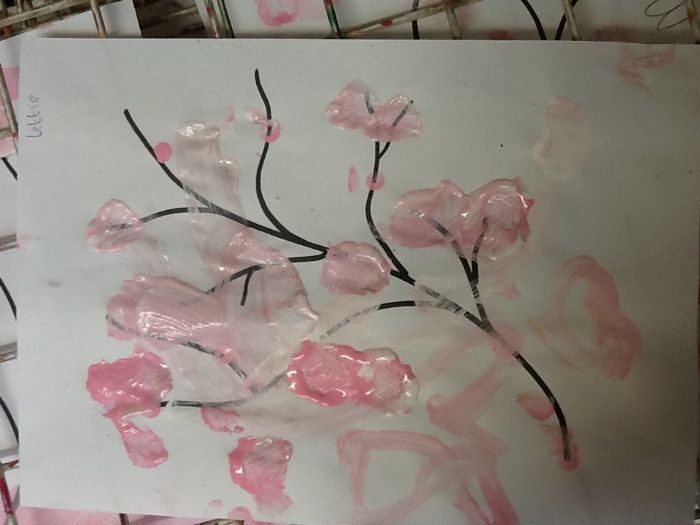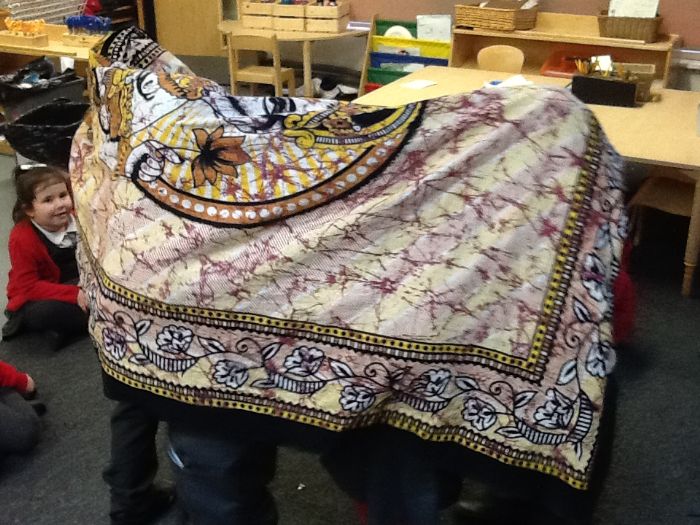 Our 'Book of the Week' has been 'The Nibblesome Knight'. This story inspired some of the children to create their own shields and armour. We saw some fantastic designs. We then went onto learn about different castles and why Knights wore armour. We asked the question… "What castles do you know of?"
The children replied:
Ben and Holly Castle
Frozen Castle
Buckingham Palace
Mike the Knight
To extend we looked at real life castles, particularly local ones to Sleaford.
W/C 20th January 2020
This week we introduced a CD player into our book area. We have purchased some new Julia Donaldson picture books along with the audio CD's. This week we started with 'The Gruffalo'. We were expecting the children not to know how to use the CD player as it is a thing of the past but they did! The children took it in turns to listen to the story using the headphones. The children had to listen carefully to the audio CD and wait to hear the music before they turned the page.
In Literacy, our story of the week has been 'The Gruffalo's Child.' This story provided a good talking point for the season of winter. We talked about how it would feel to be lost in the forest in the freezing cold. We also discussed what animals we might see along the way. On Wednesday, the children had to create their own Gruffalo and attempt to write some labels. The children produced some fantastic drawings and we were impressed with some of their independent writing.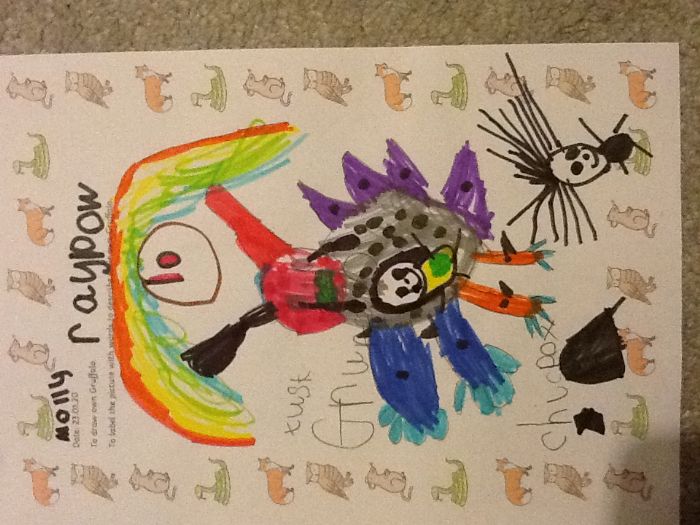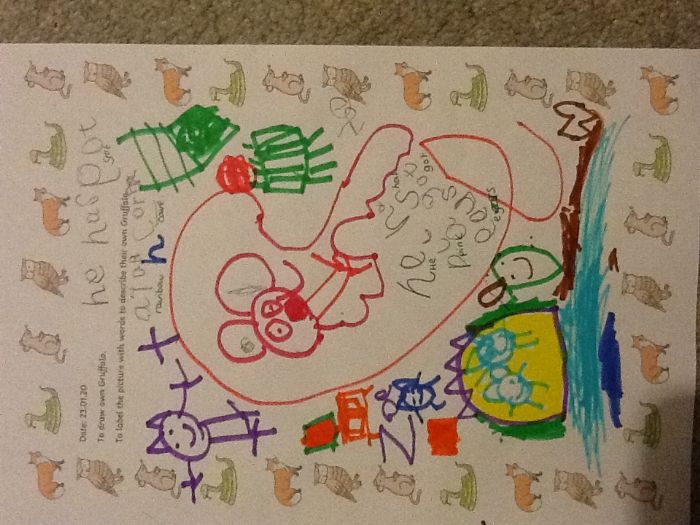 Thank you to those parents who came to the story time session in the Library. We had a lovely time sharing a story and taking part in some crafts. We hope to see more of you next time!
W/C 13th January
Everyday we are amazed with how creative Reception class are. We have had a fantastic week exploring Music and Poetry. This was sparked by a group of boys creating their own band outside. They used pots, pans and guttering to create different sounds. We discussed names of different music groups. To extend this interest we added a music provocation to the classroom. The children used the variety of materials to create their own instruments.
Our book of the week has been 'Stoke the Cat' by Wes Magee. We learnt one of the poems along with actions. By the end of the week we were great at performing it!
We hope your child received their login for our new Maths programme- Mathseeds. Please let us know if you need any help using the programme.
W/C 6th January 2020
The children have come back well rested and ready to learn. We really enjoyed listening to the children tell us about their Christmas holidays.
We have introduced 'Story of the Week.' Each week we will focus our Literacy around the story. This week, we shared the story 'Oliver's Fruit Salad.' We discussed healthy eating and wrote our shopping list to make our own fruit salad. On Tuesday, we prepared our fruit and either made a fruit salad or a fruit kebab. We particularly enjoyed the pineapple. It was very juicy!
One of our highlights has been our child- initiated science investigation. It all started with a child putting on a large silicon numicon shape and informed us it was a swimming costume. This led us to test the material to see what would happen if it got wet. We had lots of fun spraying each other to see what would happen. We discovered that the water ran off and it dried really quickly! Next week, we will continue testing different materials.
Alongside our child- initiated time we will be learning:
Phonics/Literacy
Re-cap set 1 sounds and introduce set 2 sounds
Practice letter formation
Sharing stories and talking about what we have read
Creating story maps
Making predictions
Read and write simple sentences with a capital letter and full stop
Maths
Number bonds to 5 then 10 using ten frames and part- whole model
Combining two groups to find the whole number
Spatial awareness
2-D and 3-D shapes