Spring Term 2016
Reports and photographs from the competitions that pupils from Church Lane Primary took part in during the Spring term.
Archery
On Friday 11th March four children went across to Carre's Grammar School to take part in an Archery event. The children had the opportunity to try out Archery with Archers from the Sleaford Maltsters Archery Club.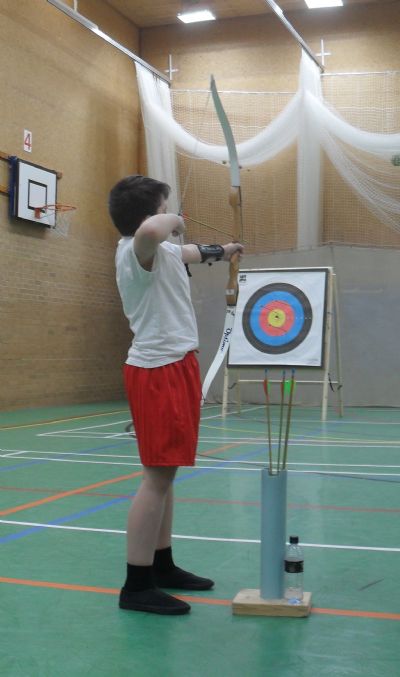 The children had a tutorial, learning how to hold the bow and insert the arrow. They then had three attempts with 6 arrows to try and score as many points as possible.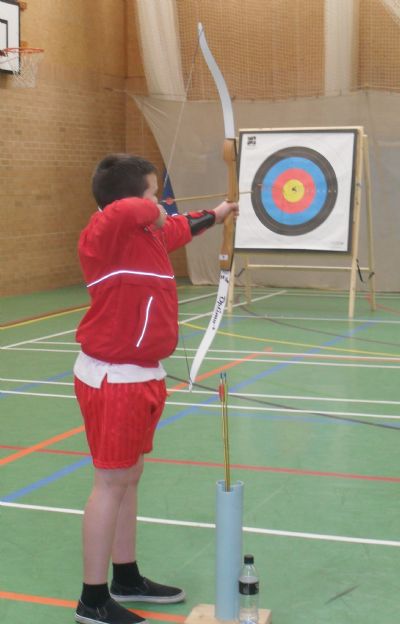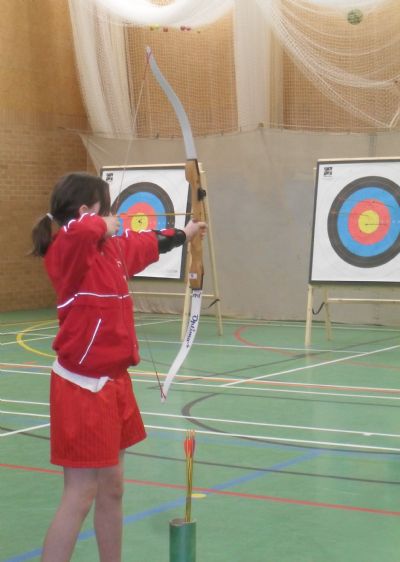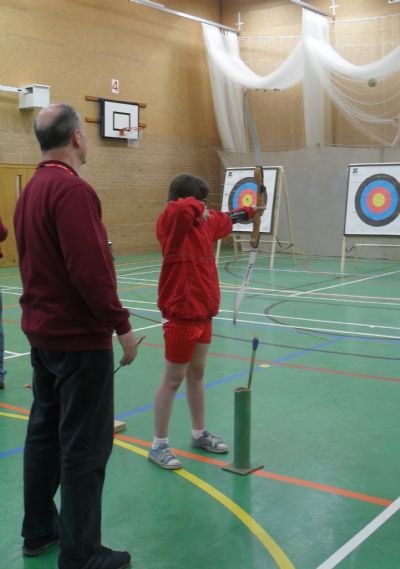 TAG Rugby tournament
On Friday 4th March, eight children from Church Lane travelled over to Sleaford Rugby Club for the annual TAG Rugby tournament. Teams from fourteen different schools entered and were split into two groups of seven. Each team would play six 8 minute matches each, scoring 3 points for a win and 1 for a draw. The teams with the highest points score will qualify for the final.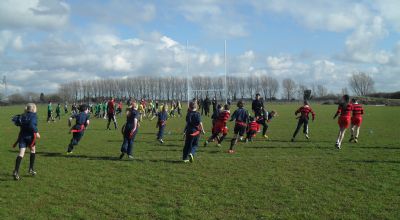 Church Lane's first game was against Helpringham (photographed above) Church Lane started well, Harvey scoring a try early on. Some fantastic teamwork enabled Harvey to score again. Final score 2 - 0.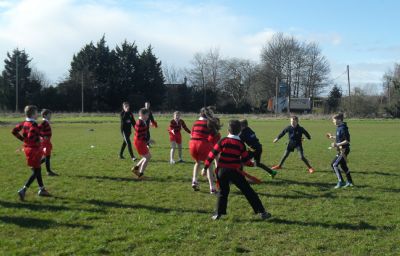 The second game saw Digby as the opponents (pictured above). Church Lane were confident having won their first game and started well, tries from Jennifer, Karolina and Harvey gave Church Lane a 3 - 0 lead. But Digby faught back, taking the final score to 3 - 3.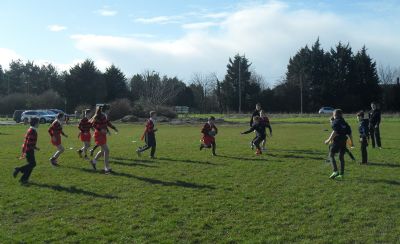 The next game was against Kirkby la Thorpe, a closely faught game with only one try scored for Church Lane, which was by Karolina. The final score was 2 - 1.
Next up were Heckington, another closely faught game, Heckington scoring first gaining a two try lead. Church Lane battled hard to get two tries back, both scored by Harvey. However Heckington pushed on and managed to score one more in the dying seconds. Final score 3 - 2.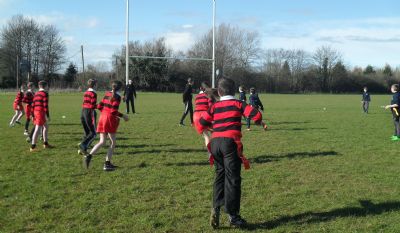 Church Lane's next game was against Tatershall, both teams were evenly matched, scoring one each, Church Lane's try was again scored by Harvey!
The final game of the group stage was against Winchelsea, again another closely faught game. Both teams needed a win and were determined to get it. Two tries for Church Lane, from Dovydas and Jennifer, matched the two from Winchelsea. Final score 2 - 2.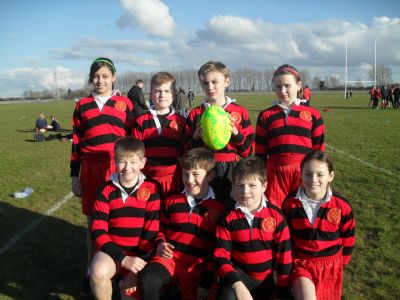 At the end of the group stage Church Lane had scored 6 points, which unfortunately was not enough to get them through to the finals.
Well done to all who played.
Netball v William Alvey
On Tuesday 1st March the Church Lane Netball team of Emma, Karolina, Jennifer, Jessica, Marija, Joe, Harvey and Kristers travelled the short distance to William Alvey for a Netball league match.
The game started well for Church Lane who quickly dominated, Kristers and Karolina both scoring one goal each. Fantastic defending from Harvey and Marija stopped any goals being scored at the other end. 0 - 2.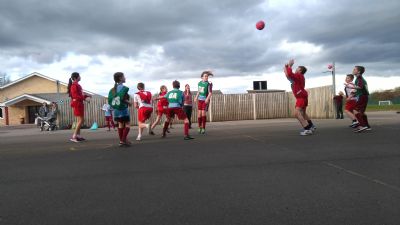 The second quarter saw excellent end to end play from both teams, Church Lane were able to stretch their lead a bit further with an excellent shot from Jennifer 0 - 3.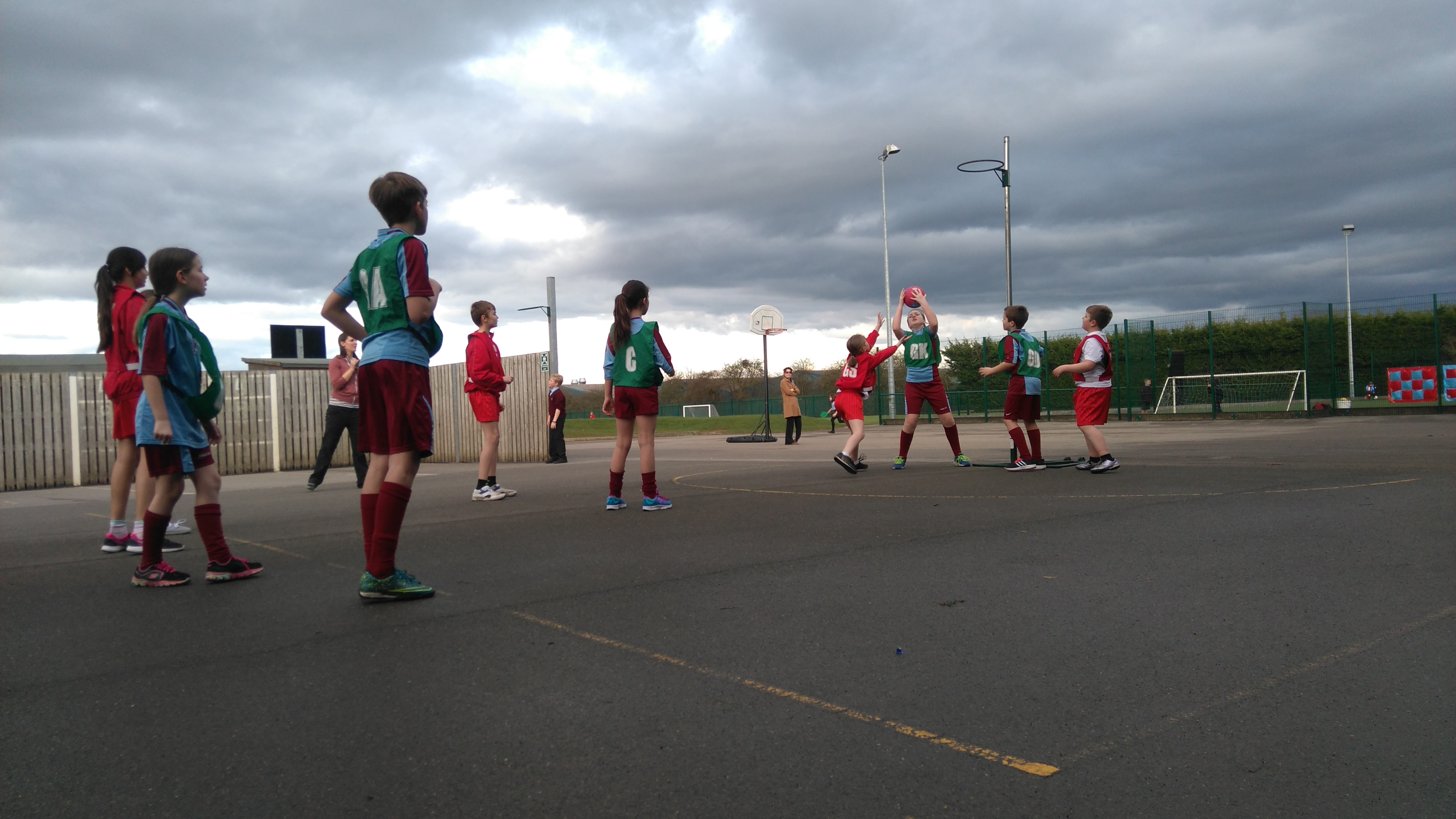 The third quarter again started well for Church Lane. Harvey, playing well as centre was able to give Marija the chance to score and she did so with ease opening up the lead a little bit more. But William Alvey were determined to pull it back and were able to score their first goal of the match, 1 - 4. They showed excellent determination and managed to pull the socre to a very close 3 - 4.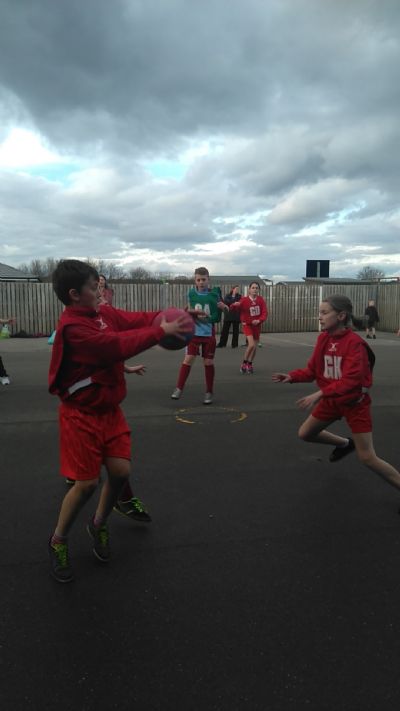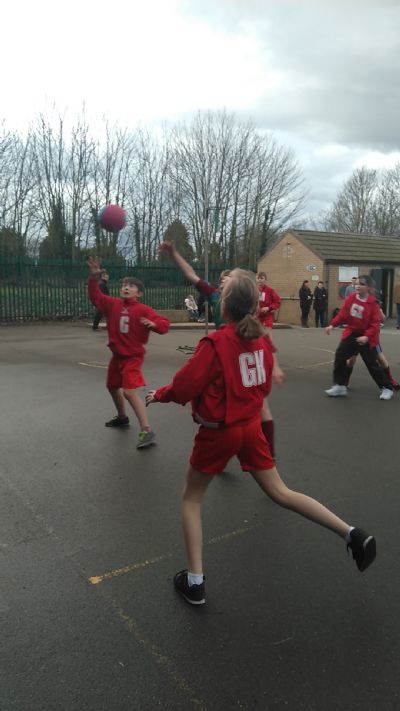 The final quarter was set to be a close one, it started well for Church Lane with excellent passing play from Kristers and Marija. Harvey was able to score quickly into the final quarter stretching the lead further, 3 - 6.
William Alvey showed great determination and were able to pull back two more goals to take the score to 5 - 6 with only a few minutes left to play. However Church Lane's excellent teamwork, determination and excellence allowed Harvey to score two more taking the final score to 5 - 8.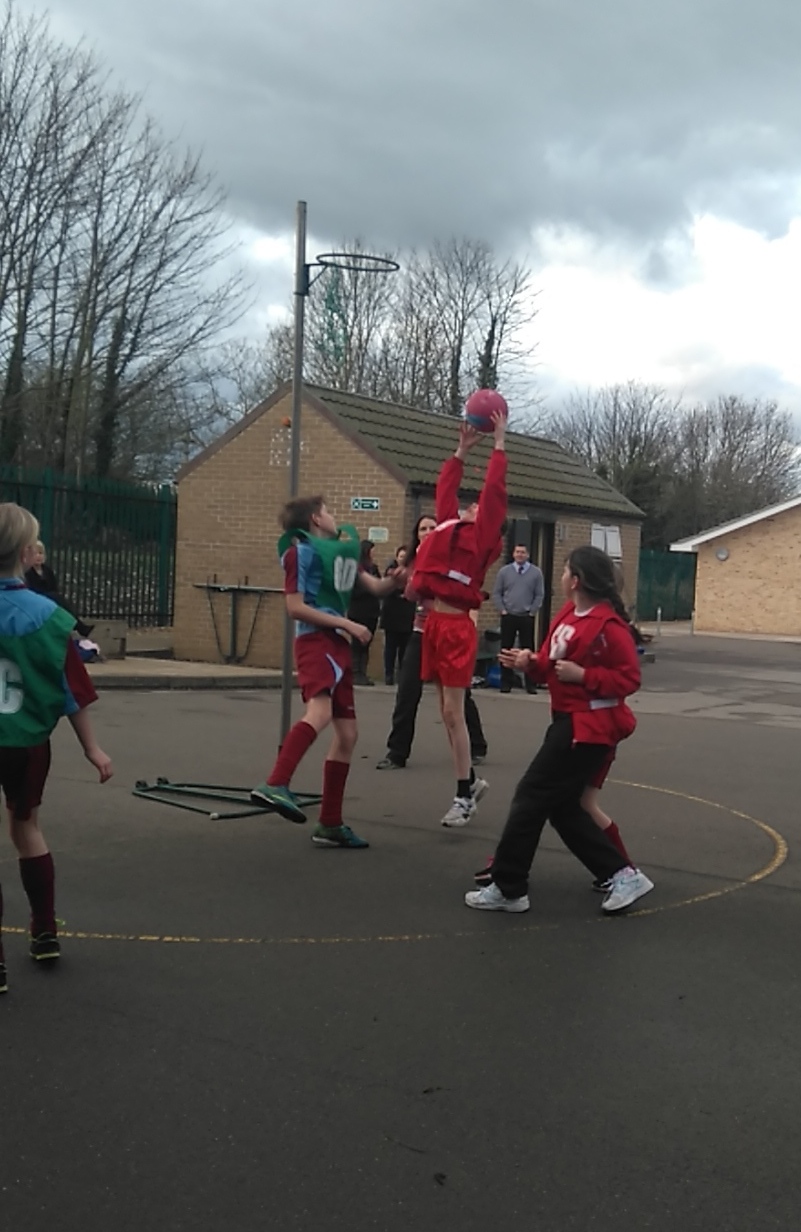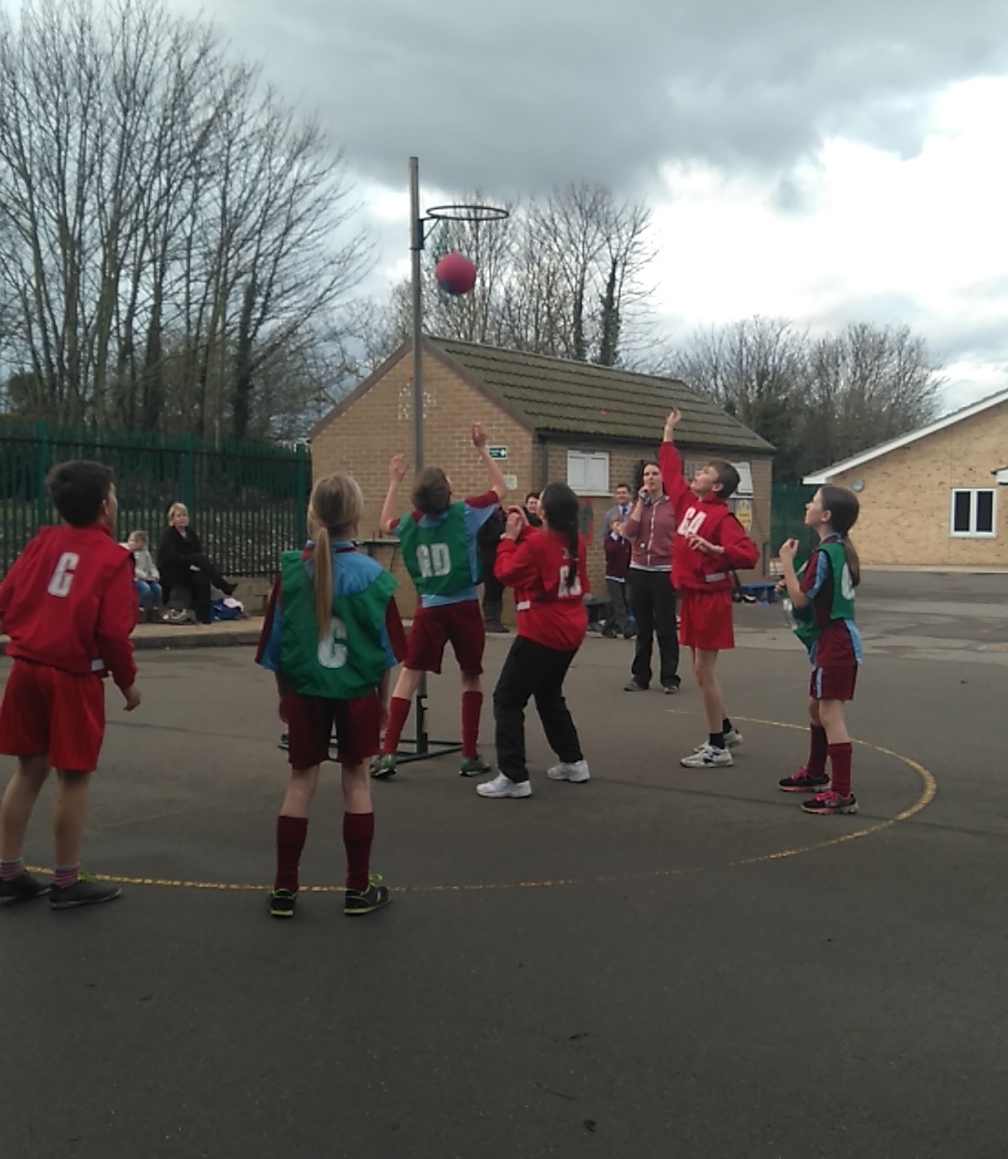 Well done to all who played, an excellent game played to a high standard.
Football v Cranwell
On Monday 29th the Church Lane Football team of Lucus, Kieran, Nathan, Karolina, Gvins, Kristers and Harvey travelled to Cranwell for a league match.
The game started well with end to end play, both teams attacking and defending well. Lucus was forced to make some amazing saves to keep the score line at 0 - 0. With only 5 minutes left to play in the first half a Cranwell player went through on goal and slotted the ball past Lucus. 1 - 0.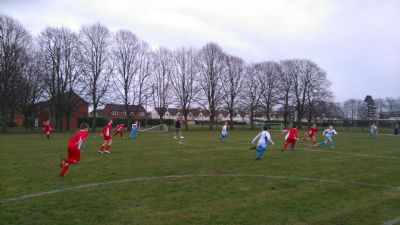 Both teams continued to work hard, but at half term the score line remained at 1 - 0.
The second half started well for Church Lane, an excellent run from Kristers down the wing, crossed into Harvey saw Church Lane pull back to a draw. 1 - 1. This lifted the teams spirits and instantly they were playing better. A corner for Cranwell unfortunatley bounced off a Church Lane player giving them the lead again. 2 - 1.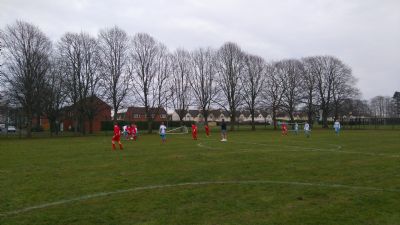 However Church Lane did not give up, the team showed fantastic determination. A goal kick for Cranwell was stopped by a great header from Karolina, passed into Kristers who tapped it to Harvey, who was able to score from just outside the area. 2 - 2. The great play from both teams continued, unfortunatley a hand ball in the box gave Cranwell a penalty and the chance to take the lead once again. Lucus went the right way but was unable to stop the shot 3 - 2.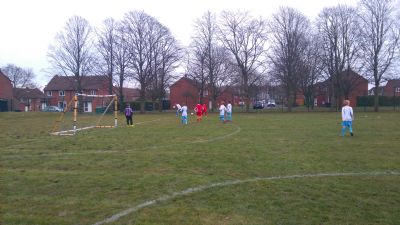 The game was drawing to a close and both teams were tiring, however a final runthrough from Cranwell saw them score a fantastic goal in the top right corner, taking the final score to 4 - 2.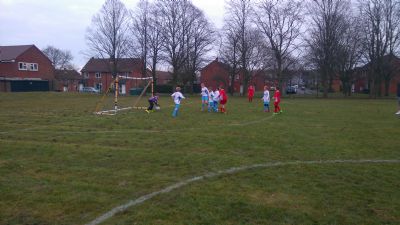 Well done to all who played.
Netball v Rauceby
On Tuesday 2nd February the Church Lane Netball team hosted Rauceby in a league match. The weather was bitterly cold and both teams were eagar for the win. The game started well for Church Lane who quickly showed their dominance. Karolina and Kristers were able to get seven goals between them before the end of the first quarter.
After the rotation Rauceby found their stride and managed to get three goals back to two goals from Joe and Emma. Half time score 9 - 3.
The third quarter saw Rauceby dominate, scoring five goals, Joe and Emma in defence battled hard and were able to get the ball up to Jess and Harvey who scored one goal.
With one quarter left the play the score was 10 - 8, Rauceby were determined to get the win and had a number of scoring opportunities. Great intercepting from Jess and Harvey prevented an onslaught of goals and Rauceby were only able to get one goal back.
Final score Church Lane 10 v 9 Rauceby. An excellent game from both teams played in great spirits. Well done to all who played.
Football v Heckington
On Monday 1st February the Church Lane football team travelled to Heckington for their second game in the second of the mini football leagues this year. Church Lane had already hosted Heckington in round one, loosing 5 - 3, so were determined to do better this time.

Church Lane had a difficult first half, playing into a strong head wind. Heckington dominated the first half, scoring four goals within the 20 minutes. Lucus and Nathan defended well, supporting Kieran well in goal.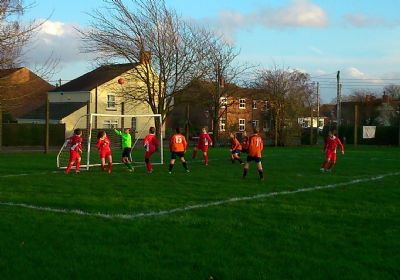 At half time the Church Lane team discussed how to improve in the second half, they discussed tactics and strategies. At kick off Harvey took the ball through past two defenders and was able to score straight away. This lifted the Church Lane teams spirits and they instantly started to play much better football. Kristers scored another goal taking the score to a more comfortble 4 - 2.
After a defensive error, Heckington were awarded a penatly, Kieran looked confident to save it, went the right way but narrowly missed the ball. 5 - 2. Another good goal from Heckington took the score the 6 - 2 with only a few minutes left to play.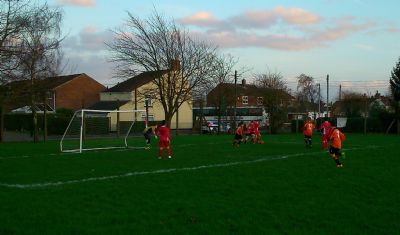 Church Lane were awarded a corner, Kristers made an excellent strike, which was tapped in by a defender. 6 - 3. Heckington wanted to make up for this mistake and managed to sneak another goal before the final whistle.
Final score 7 -3, well done to all who played, player of the match Lucus.
Friendly Football match v Leasingham
On Friday 29th January Church Lane hosted their collaborative partners Leasingham. The game was a friendly, but that didn't stop the children (and the staff) wanting to win the game.
The game got off to a good start with Church Lane passing the ball around and showing some excellent attacking play. Within a short space of time Harvey scored taking the score to 1 - 0.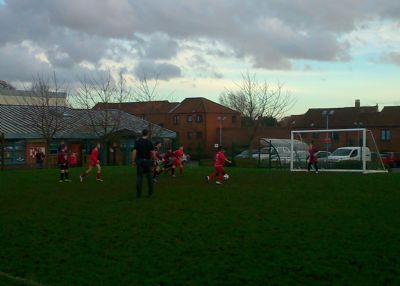 Church Lane continued to play some excellent football, with Harvey scoring again before half time. Half time score 2 - 0.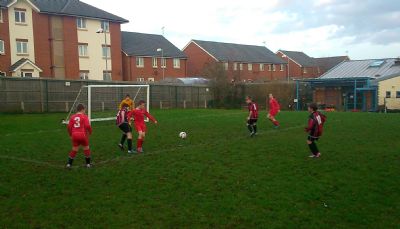 The second half was underway and Church Lane continued to play to a high standard. Harvey scored again completing his hatrick, followed by Kristers sinking three goals and gaining his hatrick.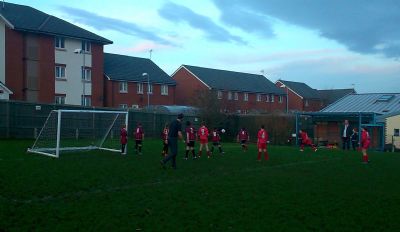 Final score 6 - 0, well done to all who played, pictured below are both teams, with Mr Ross (referee)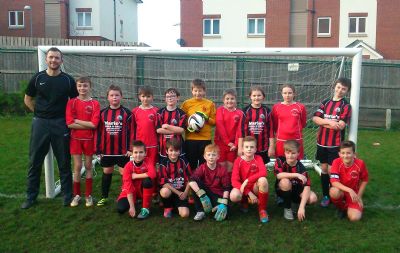 Netball v St Botolphs
On Thursday 28th January, seven children from the Church Lane Netball team had a league fixture against St Botolphs. Having only played against them the day before in a tournament, the team were eager to show what they can do.
The game started well with a good attacking combination from Kristers and Karolina. Emma worked the ball into the shooting circle and allowed Karolina to score 2. The defence of Marija and Harvey was strong, intercepting the ball at every opportunity. Quarter time 2 - 2.
After the rotation Joe and Emma were the next shooting pair, strong defensive play from Kristers and Karolina kept the ball away from St Botolphs shooting circle for most of the quarter. Emma and Joe were able to score one each with St Botolphs only scoring one. 4 - 3 at half time.
The third quarter was again just as evenly matched, Jess and Harvey had numerous chances to score, with Harvey crucially scoring one half way through. St Botolphs fought back to take the score to 5 - 4 with one quarter left to play.
The final quarter was very tense, both teams wanting to secure the win, however it was not to be. Church Lane had a few chances but missed out on the crucial goal. St Botolphs came into their own and manged to score three more goals taking the win 5 - 7.
Well done to all who played, the team will have another league match next week against Rauceby.
Netball tournament
On Wednesday 27th January, seven children from the Church Lane Netball team took part in a Sleaford Schools Netball tournament. Teams from twenty different schools took part in the event which took the format of a ladder tournament.
Matches were played over 7 minutes using the High 5 Netball rules and regulations, this means that pupils rotate positions after each game, ensuring all pupils get the opportunity to play in every position.
The team started at the top of the ladder and their first opponents were St Botolph's. Unfortunatley for Church Lane they dominated from the start and the Church Lane shooters were unable to get the ball into their shooting cirlce. Final score 3 - 0.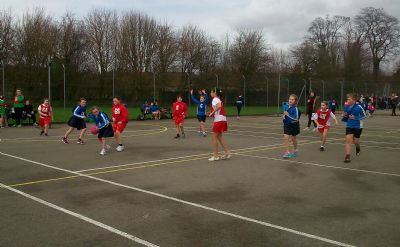 After a disappointing first game Church Lane moved down the ladder and faced Leasingham. The game was extremely close with both teams intercepting the ball from one another. Both had a few opportunties to score but were unsucessful, final score 0 - 0.
After the draw Church Lane moved back up the ladder where they were set to face St Botolph's for a second time, a final score of 5 - 0 did not reflect how well the Church Lane team played, their defending was greatly improved and they had a couple of opportunities to score.
Moving back down the ladder Church Lane were up against Leasingham for a second time. This time Church Lane showed their strengths and had obviously learnt from their mistakes. A number of shooting chances saw Church Lane win 1 - 0.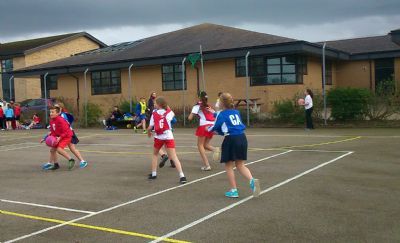 Back at the top of the ladder Church Lane were now set to face William Alvey, another excellent game from both teams with Church Lane missing out by one goal. Final score 1 - 0.
The next opponents for Church Lane was Our Lady, this game saw great defending and attcking skills from both teams which resulted in a very close game. Our Lady scored early on and Church Lane worked hard to get a goal back. With the game drawing to a close Our Lady battled hard to gain a vital goal just before the end of the game. Final score 2 - 1.
With the competition drawing to an end there were only two games left to try and get back to the top of the ladder, Leasingham were for the third time Church Lane's opponents. As with the previous two games both teams played some excellent Netball, but this time Leasingham were victorious winning 1 - 0.
The final game was now upon us and Church Lane knew they would not reach the top of the ladder but wanted to finish in style. Their final opponents were Kirkby la Thorpe, this is where Church Lane really displayed some excellent Netball scoring four goals to Kirkby's one. Final score 4 - 1.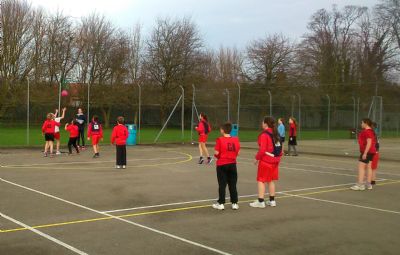 Unfortunately the team did not progress to the semi-finals, however all pupils involved enjoyed the experience and developed their game playing skills. Well done to all who took part.
Volleyball tournament
On Thursday 21st January Church Lane entered two teams into the annual Sleaford schools Volleyball tournament. Teams from twelve different schools took part and were split into four mini leagues.
The 'A' team played Digby first (pictured below), they dominated the game winning 25 - 1!

The 'B' team were up against Our Lady (pictured below), a closley fought game, with both teams developing their skills throughout the game. The final score saw Church Lane win 17 - 10.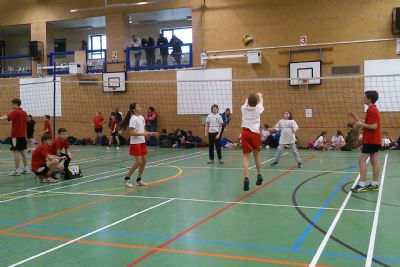 Both teams then played anbother two games, the 'A' team beating Welbourn 22 - 8 and Caythorpe 20 -8. The 'B' team had two close games, one against St Botolph's, where they narrowly lost by one point, 13 - 14. In their final game, they displayed excellent three touch Volleyball, unfortunately loosing 18 - 14.
At the end of the group stage the 'B' team missed on qualification to the quarter finals by just two points, whilst the 'A' team qualified as group winners.
The quarter finals saw the 'A' team up against Chestnut Street, both teams played fantastic three touch Volleyball throughout, Chestnut Street managed to take a five point lead but the Church Lane team worked hard to level the score. In the last few minutes of the game Chestnut Street took the lead and won the game 15 - 13.
At the end of the competition Cranwell were victorious, however Church Lanes hard work did not go unrecognised. The organisers and young leaders voted to award both Church Lane teams for fantastic three touch Volleyball (pictured below)
Well done to all who took part.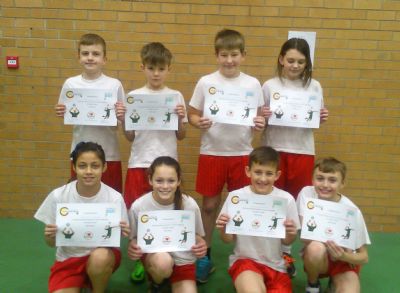 Football v William Alvey
It was the first game of 2016 for the Church Lane football team and they faced local rivals, William Alvey. The pitch was flooded, the grass was long, the air was brisk but this did not deter the near 10 crowd.
Managers for the day, Mr Barratt and Mr Ross picked a strong starting 7 that went out eager to get the victory. The whistle blew and it was clear that the Alvey were going to be a strong side. In the maroon of Barcelona, they played some tika taka football, passing and moving all over the park. However, it was the red of Church Lane who had the first chance, a one-on-one opportunity that was just spurned over the bar.
Soon after, William Alvey began to take hold of the game, first scoring from a neat finish and then sharply doubling their lead with a world class finish straight into the top corner. HALF TIME 2-0
The second half began with Church Lane strongest to every challenge, again though, missing a couple of opportunities. It was then a wave of maroon attack that all but ended the game scoring with two neat finishes one after the other.
The day did not end too badly as Church Lane pulled back a consolation just before the final whistle. A good performance against one of the areas strongest sides and a much bigger school.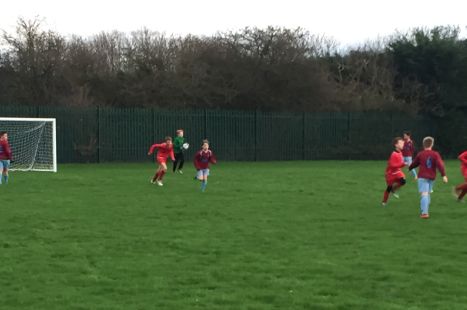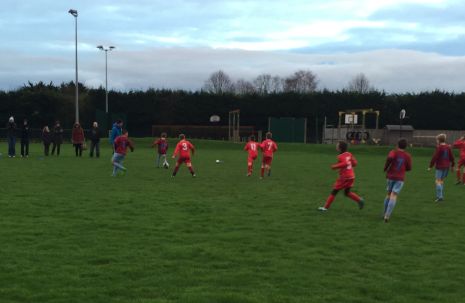 Pop Lacrosse
Today (Friday 8th January) the children got the chance to play a new sport, pop Lacrosse. We started the afternoon practicing the basic skills required for the game and then got into our teams ready to join a tournament. In our group we had local schools, Leasingham and Our Lady. Having beaten Our Lady 4-1 in the first game, we went into the second game with Leasingnham hopeful, however we were unlucky to concede just 1 goal and the game finished 1-0. We then played the two schools again, narrowly beating Our Lady 2-1 knowing then we had to beat Leasingham to progress. Unfortunately, Leasingham showed their skills and unfortunately beat us 3-1 meaning we did not qualify for the next stage.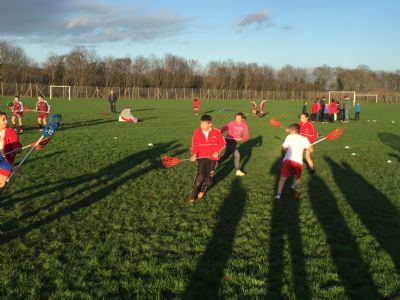 Despite being knocked out at the group stage, the children thoroughly enjoyed themselves and learnt a sport which is slowly gaining popularity in the country. Hopefully the children can use the skills developed today and apply them to the other sports we do across our P.E curriculum.