W/C 12th March
This week we created a Post Office at the writing table to follow on from an interest. This simple idea has been a very effective way to encourage independent writers. The children were able to take risks with their writing when writing letters for their friends. We have never seen the table look so full. Even our most reluctant writers were engaged in this activity. A lot of children asked us what the stamps were for. Have a go at writing and posting a letter with your child. Can you post it to school and see if we receive it?

During our circle time this week we asked the children if they brush their teeth every day. We were quite surprised that some children forget to brush them twice a day. We talked about the importance of looking after our teeth. We then set up a teeth brushing station for the children to practice brushing on a big set of teeth.
In Maths, we have explored weight using balancing scales. The children have learnt the language 'balance', 'heavy' and 'light' really quickly and understand each concept.
Next week, as part of our R.E whole school project we will be learning about the Creation story and creating a banner to represent Day 2 of the story. The display of all the banners will be at the entrance to the school.
Here is a reminder of the red words learnt so far. Please keep practicing on a regular basis.
| | | |
| --- | --- | --- |
| I | the | to |
| no | and | it |
| is | go | at |
| am | dad | can |
W/C 5th March
After an unexpected break from school we had an exciting Monday. We celebrated World Book day. Thank you for your support and donations, the children looked great. We also had our monthly visit to the Sleaford Libray. The Library assistant read us two of her favourite storybooks and then we had the chance to share stories together. The children always do us proud with their excellent behaviour and polite manners.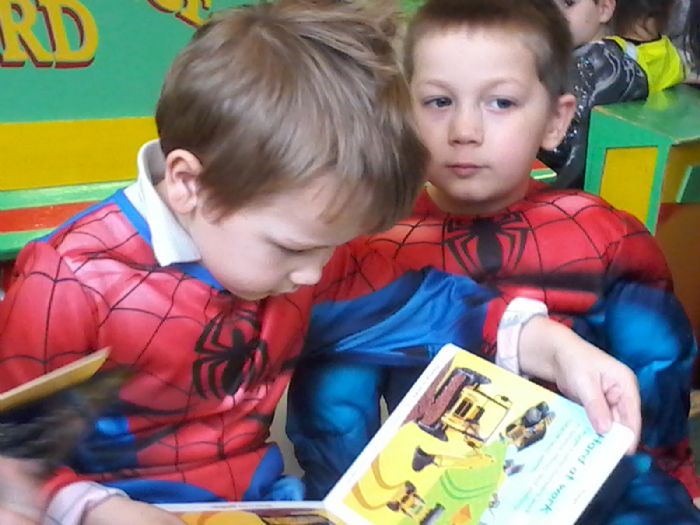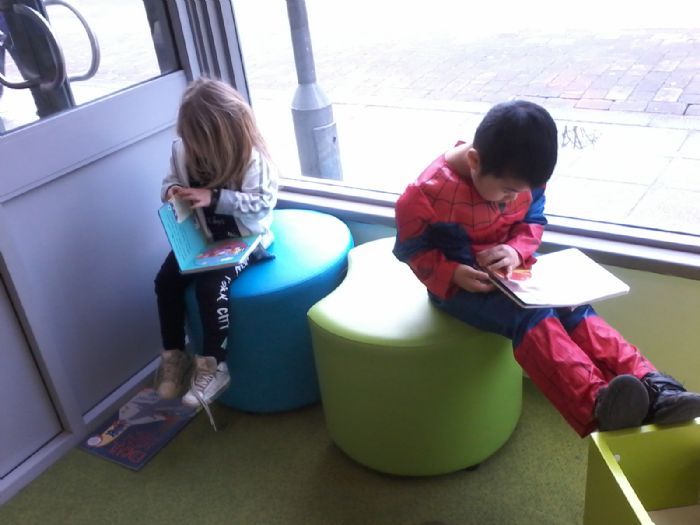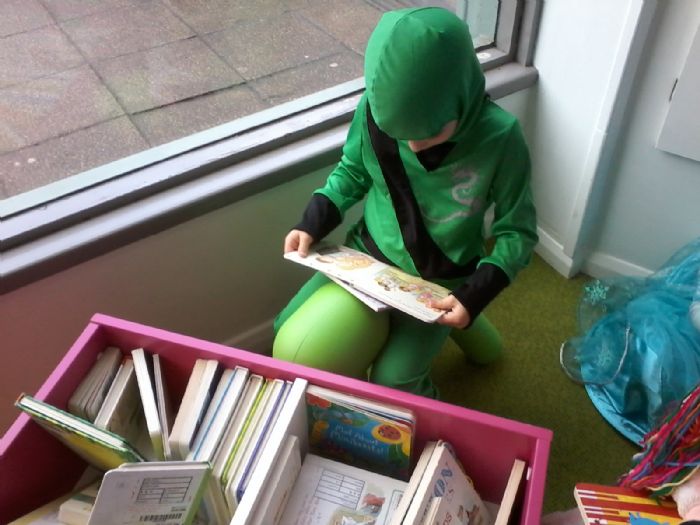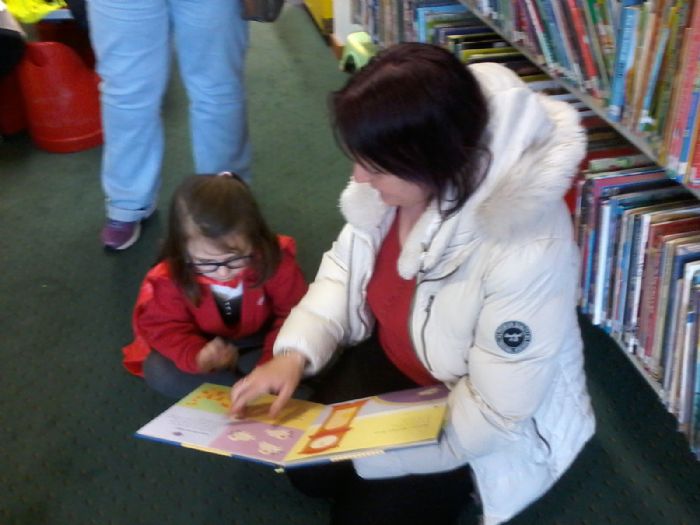 We have also been working hard on creating Mothers day cards. We used tissue paper to create the flowers. This activity was completely child-led so every card was unique and special. We then wrote in the cards. We hope you received your special card and had a lovely day.
We found a caterpillar in the garden. To build on this interest the children worked together to create a suitable habitat. We researched what a caterpillar enjoys to eat and where they like to live. Thank you to the children who kindly brought in an apple for the caterpillar. The apples have been nibbled!
We have created a fact book about caterpillars. We are so proud with the children's growing confidence when writing.
W/C 26th February
It has been a short week with the 'Beast from the East' arriving. We hope you are staying warm and making memories in the snow.
With school being closed we have set you some important homework that we would like you to do:
v Play in the snow
v Go sledging
v Have a snowball fight
v Make snow angels
v Enjoy a hot chocolate with marshmallows
v Paint in the snow
v Make a snowman
We would love to see some photos from your snow adventures. Enjoy!
Hopefully see you back on Monday 5th March.
W/C 19th February
We have had a great first week back. The children are eager to learn and don't seem to have forgotten any of their learning which is always a bonus!
To follow on from an interest on creating maps we set the children with a challenge to create their own 'Envelope City'. The children had to use different size envelopes to create different buildings. We had some very creative ideas. The children created sweet shops, schools, flats and castles. They were then challenged to write labels next to the buildings. Come and see our display in the classroom.
Before half term the children asked if they could make their own Planets as we had been learning about the Solar System. We have worked hard this week to create them. We used the technique of Papier Mache to create the shape and then once dry we painted them the correct colours.
On Wednesday we celebrated Chinese New Year with Nursery. Chinese New Year occurred during half term but this is one of our favourite festivals so it couldn't pass us by!
We enjoyed the following activities:
Dragon dancing across the whole school!
Pancake roll making
Making dragons out of junk modeling
Pin the dog on China (Year of the Dog).
Chinese Restaurant role play
Sharing Chinese artefacts and learning about the traditions.
Shared the story of 'The great Race.'
Thank you for your kind contributions. The money raised helped us to buy the cooking ingredients to make Pancake rolls.
W/C 29th January
This week the children have been making Rock Buns. Each day the children have added different fruits to the buns. We have then tasted them and voted for our favourite flavour. Can you guess which it was?
We hope you all received your recipe on how to make rock buns at home. Please let us know if you try making some and if you have any new ideas.
In Literacy, we read the story of Jack and the Beanstalk. The children were very fond of this traditional tale. One of our highlights was making our own beanstalk. The challenge was to work together to make it as long as possible. We counted over 50 leaves. Throughout, the children demonstrated great counting skills and number formation when writing each number on the leaves. Great Maths!
We have also had the pleasure this week of watching a fantastic production by Rhubarb Theatre. It was called Sydney's Shed. Through a time travelling machine, we were taken back to Roman times, to The Great Fire of London and Viking times
We all had such a fun time as well as enjoying an educational extravaganza!
W/C 22nd January
Healthy living has been a big hit this week with the children. We have been learning about all the foods that are healthy/unhealthy. We have particularly focused on snacks.
We used a new app on the Ipads to find out if the rest of the school has healthy snacks for playtime. The app has been created by Change for Life and is a food scanner. We visited every classroom, including the staff room and asked to see their playtime snacks. We scanned the items barcode and it informed us whether it was healthy or not. The rule is, if it over 100 calories then it is unhealthy. We then created a tally chart to see if the whole school is healthy or not.
Can you guess the room that was the unhealthiest?
The staffroom was very disappointing with lots of sugary snacks to eat. The teachers need to do better. However, I am pleased to say that overall the school has healthy choices for play times. Lots of fruit was evident. Great job everyone!
We have also spent the whole week making smoothies. The children had the choice of what fruits they would like to add. Red fruits were a popular choice. The children chopped their fruits and helped Hayley to blend the ingredients together. The children thoroughly enjoyed drinking their smoothie. The children asked if they could take a recipe home for them to make with you. We hope you found the recipes handy. Any photos of them making them at home would be great for us to share together.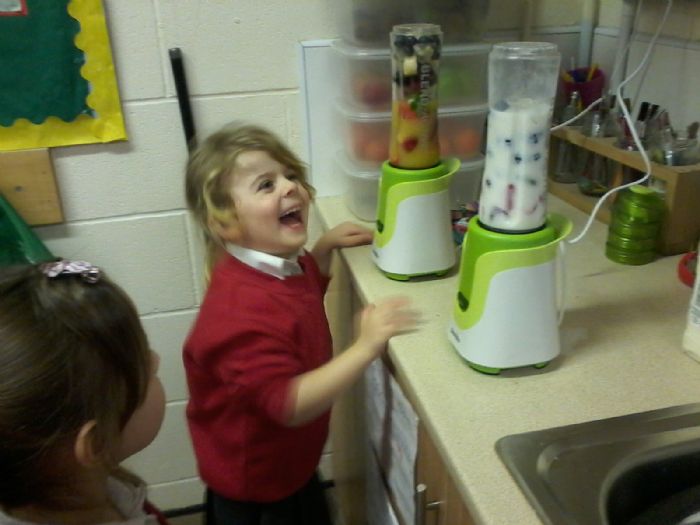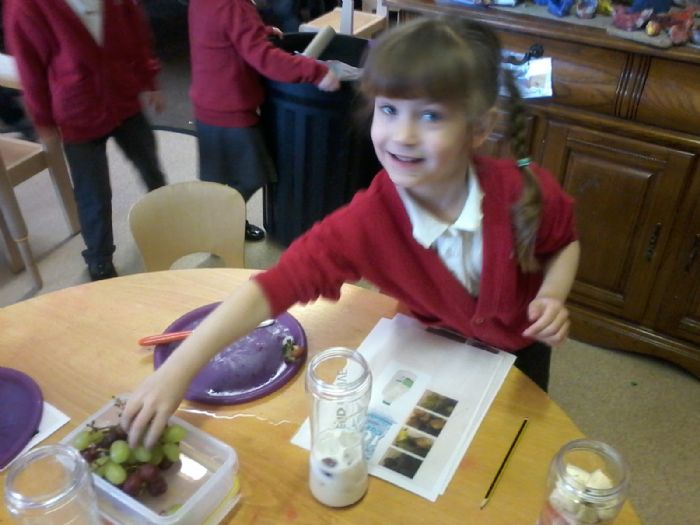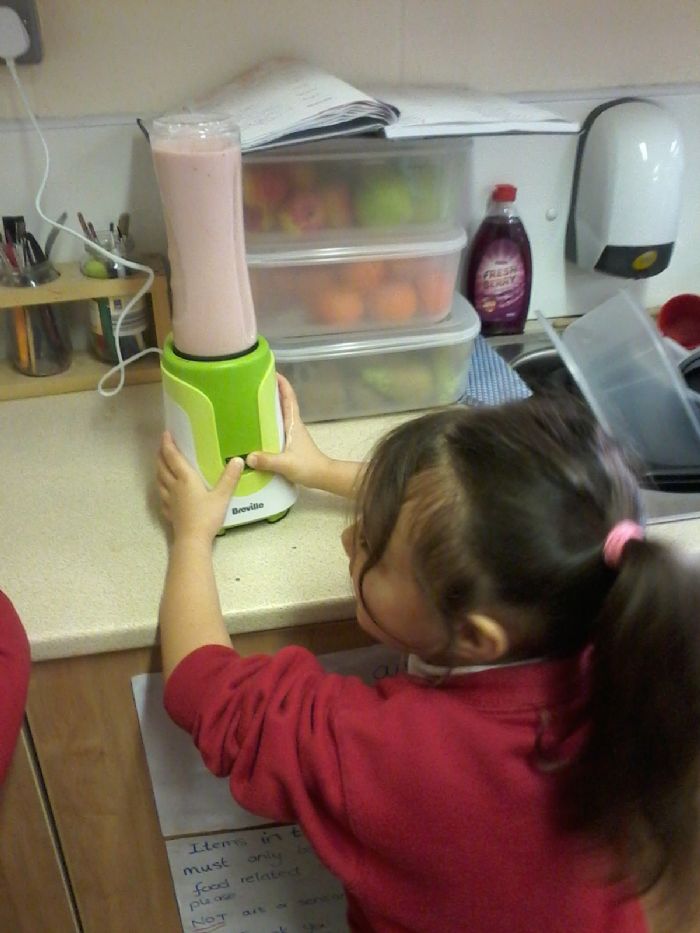 As well as talking about healthy eating we also discussed the importance of exercise. Throughout the week we have taken part in different dance routines to get our hearts pumping. We now know where to find our heart and how exercise effects it.
Have a go at one of our favourites...
Thank you to all parents for sending back the ICT 'WOW' stars. We have really enjoyed reading them and sharing them with the class. Please return any stars ASAP.
W/C 15th January
We hope you have noticed that in the mornings the children are coming in and taking part in our Reading Challenge- Boys v Girls. Throughout the week the children split into boys and girls and read a variety of different words. We then record points in form of a tally chart. The group that wins receives a sticker to put on the weekly Reading chart. At the end of the week, the group that wins overall receives a certificate in Achievement Assembly on Friday. The children are really enjoying the competition and we have noticed an increased confidence with reading out aloud!
We had a problem on Monday. Hannah came in and told the class that her Hamster had gone missing. She told us that her cat had knocked the cage over. The children listened carefully and decided that they could help by creating posters to try and find the Hamster. We had some lovely writing from the children. We hope you find your Hamster Hannah!
To follow on from one our stories read this week, we have made homemade soup. The children helped us prepare the vegetables and we then cooked it. The children enjoyed tasting the soup. Logan commented, " This soup is wonderful!"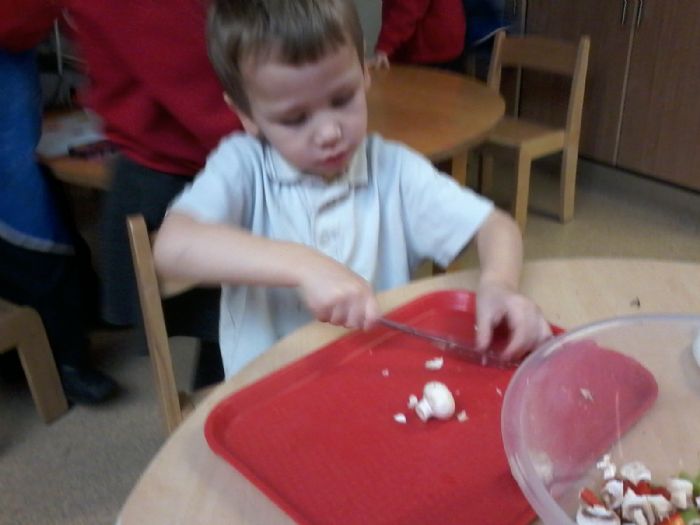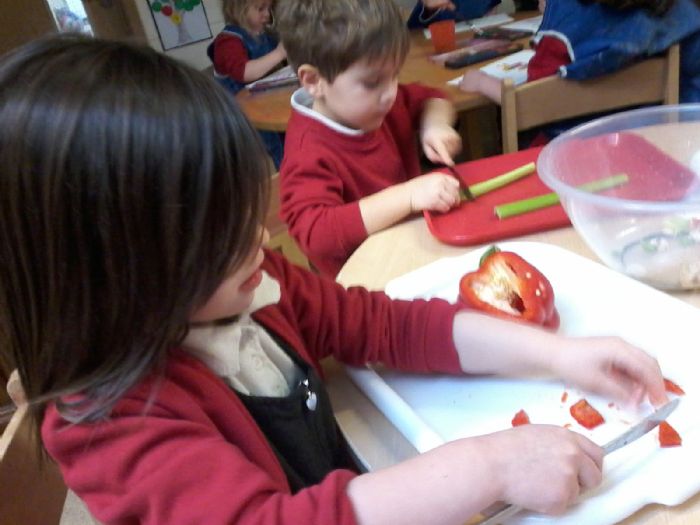 Next week, we hope to make fruit smoothies and talk about healthy eating. Have you seen the new advert about "100 calorie snacks...2 a day max?' We will be watching this advert and discussing the reasons why this is important.
We have some exciting news...
We are lucky enough to be visiting Sleaford Library every month. We will be taking part in story sessions and will have the chance to loan some books to read in class. We are really trying to promote the importance of reading for pleasure.
We will be sending out new 'red words' next week for you to practice at home with your child. Thank you for those of you that are supporting your child at home.
W/C 8th January
The children have settled back in well after the exciting Christmas break. They have enjoyed talking to us about their Christmas traditions and have written about their favourite present. The children are beginning to understand that everyone is different.
Early Learning Goal: People and Communties
Children talk about past and present events in their own lives and in the lives of family members. They know that other children don't always enjoy the same things, and are sensitive to this. They know about similarities and differences between themselves and others, and among families, communities and traditions.
The children have enjoyed exploring Numicon this week to support their understanding of representation. We are working to be able to look at a Numicon shape and recognise the number without counting the holes. To extend, some children have to looked at adding two shapes together and finding the total.
To follow on from the 'Three Little Pigs' story, we watched a video clip on how bricks are made. The children were fascinated to learn that they are made of clay and coal. We watched the whole process. The children then asked if they could make their own bricks out of clay, so this is what we did! We had great fun manipulating the material and molding it into cuboids to make the shape of a brick.
On Wednesday we introduced the story of 'Goldilocks and the Three Bears'. We acted the story out and talked about the feelings of the characters. We then tasted some different cereals and produced a tally chart to show the most popular cereal.
Spring 1
Alongside learning from your child's interests we will be learning the following:
Phonics/Literacy
Continue to revise all set 1 sounds and 'tricky' words
Introduce set 2 sounds
Continue to work on forming letters correctly
Continue to read simple words and begin to read simple sentences
To share Traditional stories together and to write for different purposes. We will be writing lists, invitations, letters, recipes and breakfast menus for Goldilocks!
The Traditional stories that we will be reading are:
Little Red Riding Hood
Cinderella
Billy Goats Gruff
Jack and the Beanstalk
Goldilocks and the Three Bears
Three Little Pigs
Please support our Literacy by reading some of these stories at home and talking about the beginning, middle and end. Can you think of a different ending to the story? We would love to hear them!
Maths
We are going to be working really hard on understanding 10 and representing each number in different ways. We are using 'Numberblocks' which can be viewed on Cbeebies to support our project on representation. Numberblocks has been designed and created by a Mathematician and is highly recommended to help support children's understanding of number.
Reminder:
Please take home more stars to record your childs WOW moments on. Your involvement is very important to us and it will help us to build a better picture of your child's interests and development.
Thank you
Kelly and Anne