W/C 11th July
We are still working extremely hard in Reception even though the holidays are nearly here!
In Maths we have been learning how to tell the Time. We have been focusing on half past and o' clock. We have discussed our daily routines and linked them to a specific time. The children can now tell us when it is Maths time (9.00am), lunch time (12pm) and home time (3pm) by looking at the clock on the wall. Have a go at asking your child to tell you the time!
In Literacy, we have focused our writing on the film 'Tangled.' We have watched the film throughout the week, discussing characters, scenes and alternative endings. The children have produced some fantastic writing.
The children continue to practice their reading skills. We set the children a challenge to sort out the 'silly' words and 'real' words onto either 'Planet Real' or 'Planet Nonsense.' The boys particularly enjoyed this activity and we heard some super reading.
On Thursday the children met their Year 1 teacher, Miss Cragg and spent the afternoon with her. The children had a super time and could not wait to tell us all about it when then came back!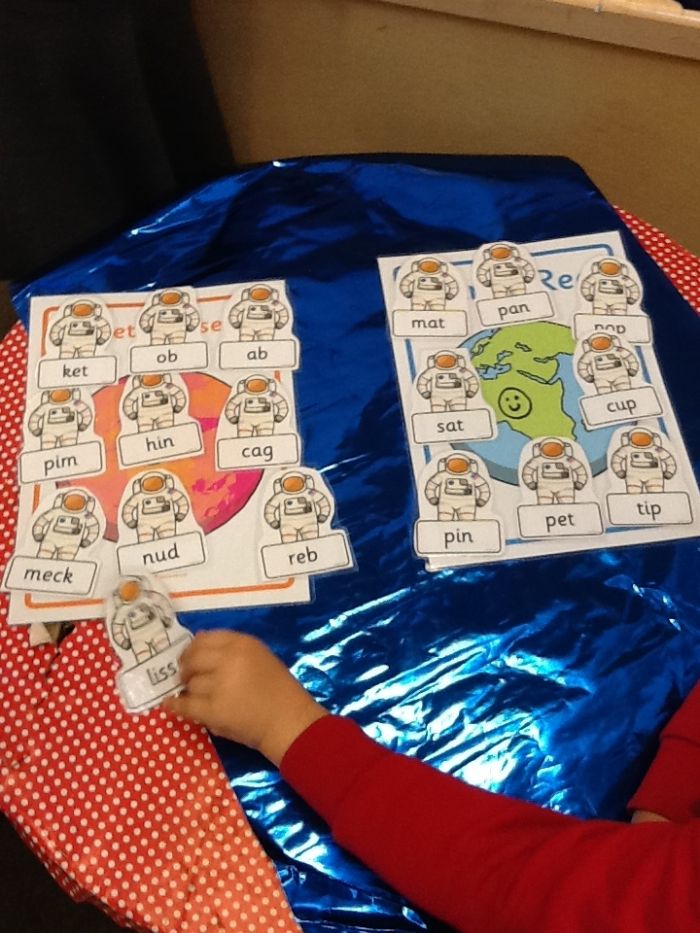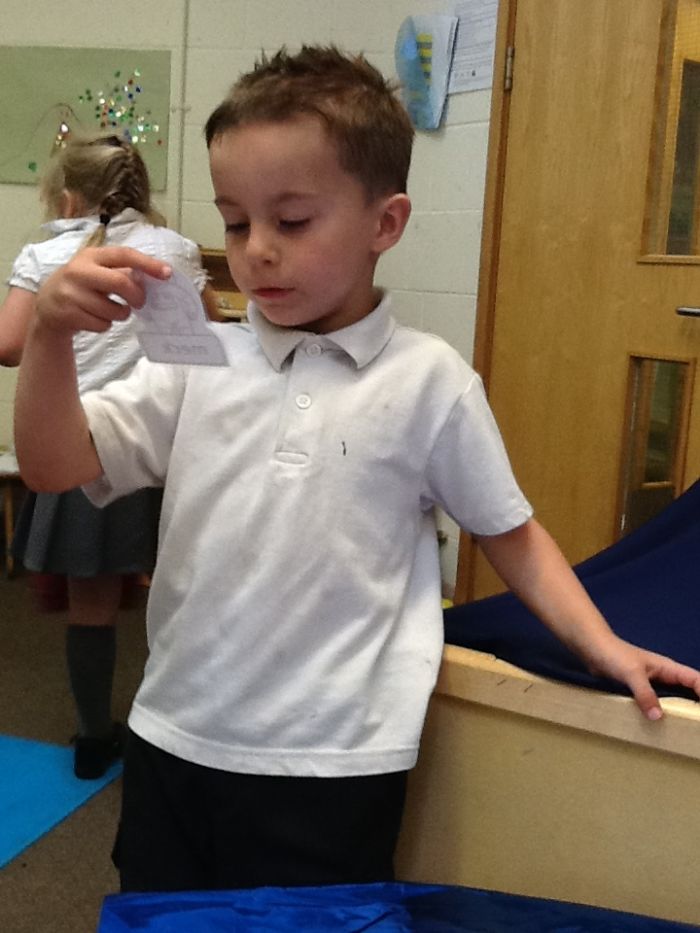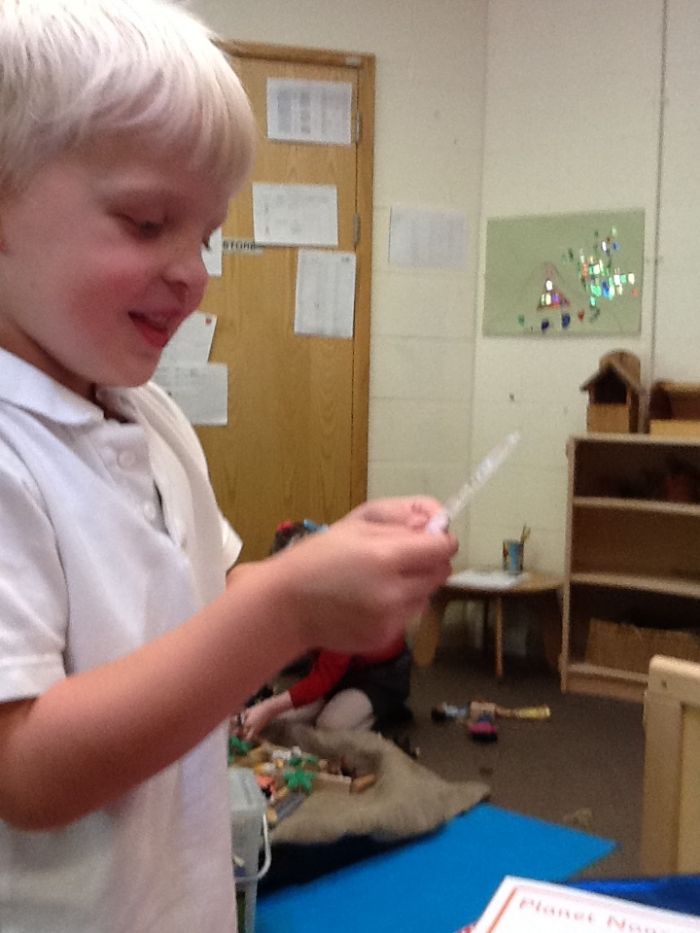 We look forward to seeing you on Friday for the Awards Assembly. We will be handing our your child's Special Learning Journey to take home and reflect on this amazing year together.
W/C 4th July
It is getting very close to the end of an amazing year and still the children continue to make us proud with their attitude to learning. The children continue to consolidate all of the skills that they have learnt this year to ensure they are Year 1 ready.
This week, we have been writing our own songs by choosing a song that we already know and changing some of the words to make it unique. The children have created some silly songs that have made us laugh and writing Christmas songs has been very popular too!
Here is one of our favourites by Ruby C (In the tune of Mary had a Little lamb).
Ruby had a Little Kelly,
Little Kelly, Little kelly,
Ruby had a Little Kelly,
Her face was white as snow.

Well done Ruby. This song made the whole class giggle!
W/C 27th June
We had a fantastic trip to Tattershall Farm Park on Wednesday. Although the very wet weather, it did not spoil our fun!
We were lucky enough to meet some of the animals and have a cuddle. We stroked the Giant Rabbit, Tortoise, Baby Rabbits and even held a Snake. Some of the children even put the snake around their neck. The children were very brave! We learnt lots of facts about all of these animals. Ask your child what Snakes like to eat. I think you will be shocked.
During our walk around the Animal Trail, we saw Goats, Alpacas, a Highland Cow, Sheep and hairy Pigs! The Goats were very cheeky as they kept jumping over the fence to try and say hello to us.
During the wet weather we had lots of fun in the indoor play area, play barn and the giant sandpit.
We were very proud of all the children and their impeccable behaviour around the farm. We would like to say a big thank you to all of the staff that helped make our trip a day to remember.
Photos to follow...
Dates for your diary-
Thursday 7th July- Reception and Key Stage 1 Sports Day.
Friday 8th July- End of Year Disco 6.00pm-7.00pm
W/C 20th June
It has been National Sports Week and we have been learning all about the Olympics. Miss Dix asked us to learn more about France and Cycling. Here is a brief description about what we have been doing...
France- We were lucky enough to have Miss Melloy from Year 6 come into our class and teach us some basic words in French. Ask you child if they can tell you how to say 'Please' and 'Thank you' in French. We have also been busy practicing the French nursery rhyme 'Frere Jacques' ready to sing in assembly on Monday.
We have also created our own French flags and built our own versions of famous landmarks in France e.g. Eiffel Tower.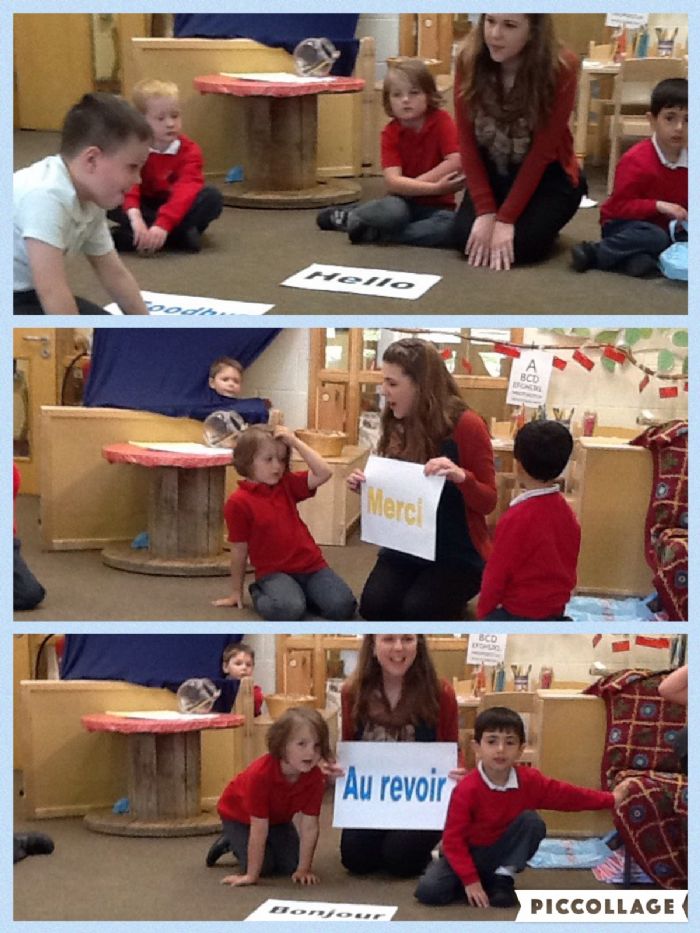 Cycling- We have watched video footage of athletes from the 2012 Olympics competing in cycling races. We then went onto design our own Olympic bike and write about it. We had some very funky bikes!
Olympics-We have created large and mini Olympic rings and learnt about what each colour represents. We looked at the Map of the World and placed each ring on the correct Continent. We also did some fantastic writing pieces about the sports that take part in the Olympics and which sport we would like to go and see!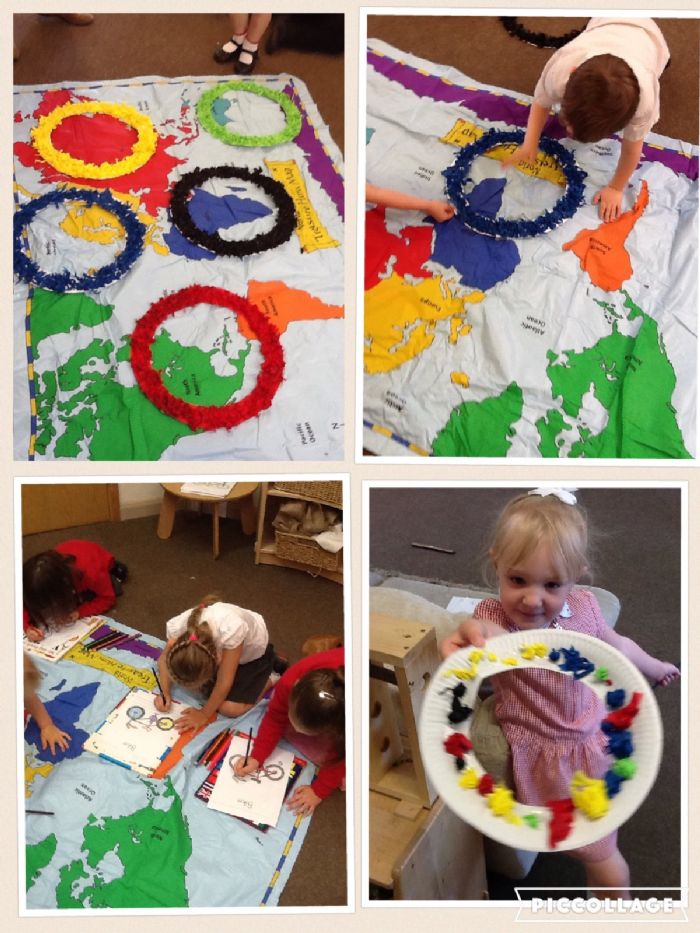 W/C 6th June
Welcome back. We hope you had a super half term and that it wasn't too wet!
The children have come back ready to learn and we have had a fantastic start. This week we have been learning all about the Queen in preparation for celebrating her 90th Birthday. We were super excited when we were lucky enough to see the RAF Flypast at lunchtime. The children wrote some wonderful writing pieces inspired by the Aeroplanes.
We have been very busy creating our own crowns ready to sell at the Summer Fair. The children were very particular about their designs, taking lots of care to get them just right. The children have shown lots of interest in where the Queen lives and her family. To learn more, we have used the internet to answer our questions.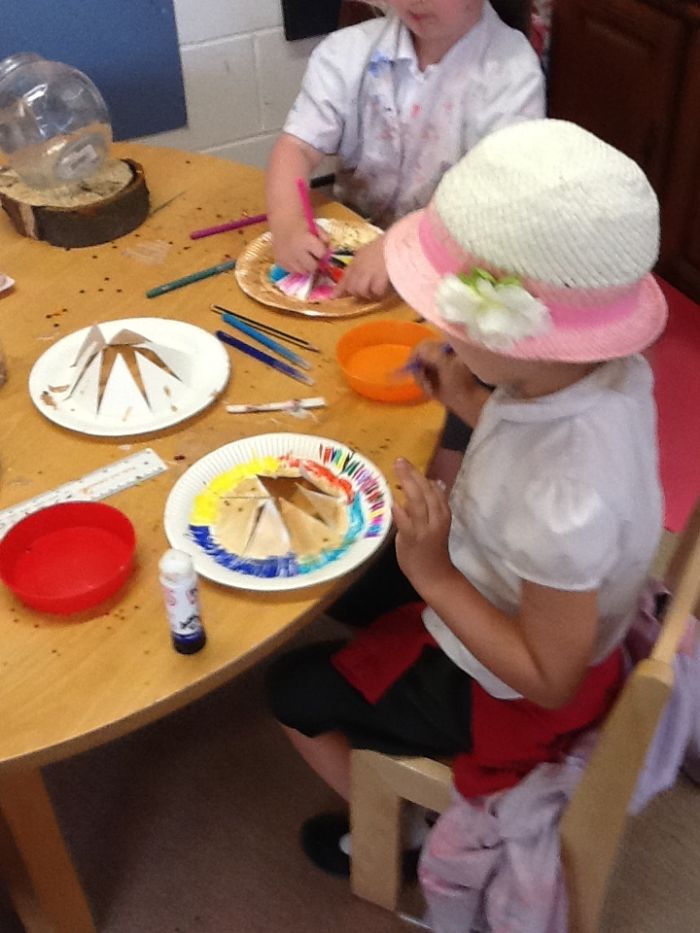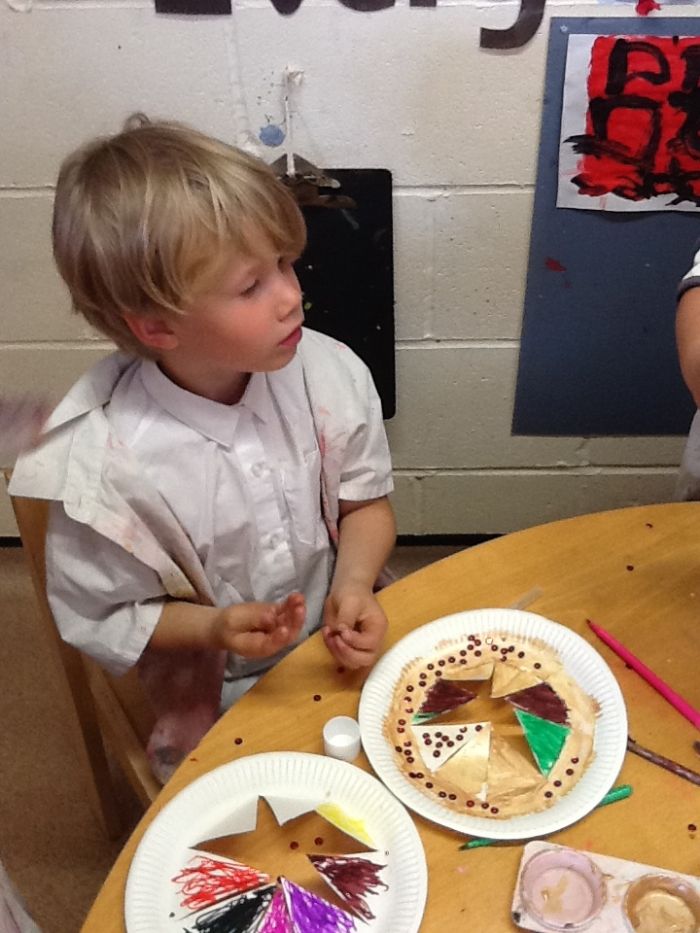 W/C 16th and 23rd May
Watch out monsters are about...
The children have been crazy about monsters over the past two weeks. It began with a group of children drawing monsters and sticking them on Kelly and Anne's cupboard door. The children wanted to scare us every time we opened the cupboard. It was very scary...arghhh!
Inspired by their interest of monsters we provided the children with different learning opportunities. Some of the activities included monster maths, monster writing challenges and painting our own monsters!
We have been very proud of their monster maths. The children had to solve addition and subtraction number problems. To work out the answer they used googly eyes, adding and subtracting them when necessary. The children loved placing the eyes on the monsters. They looked very funny.
Ask you child if they can work out the following:
7+3= 10+5= 15-3= 9-3= 20-1=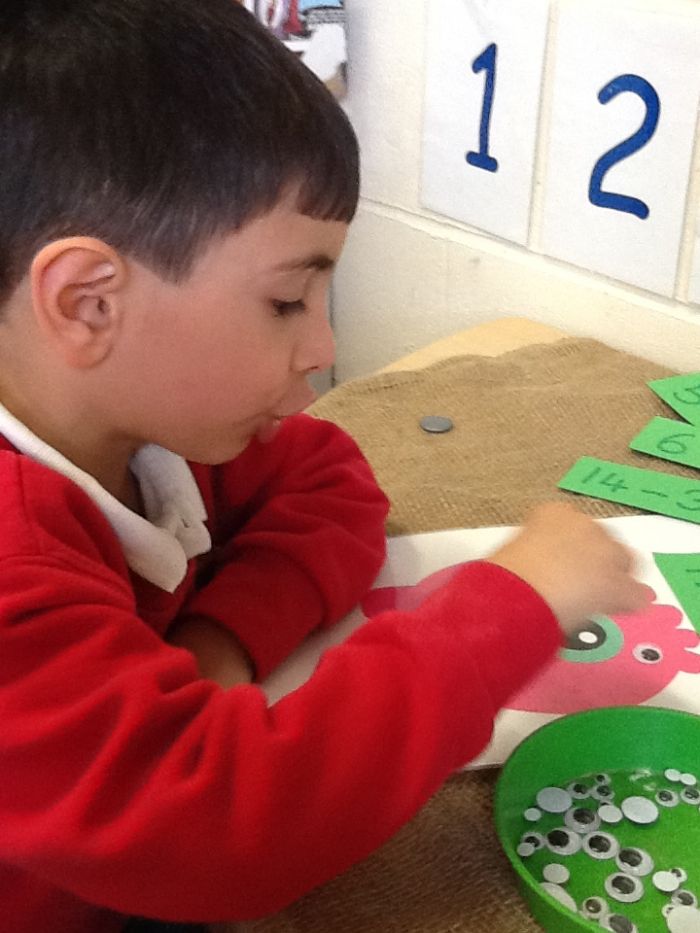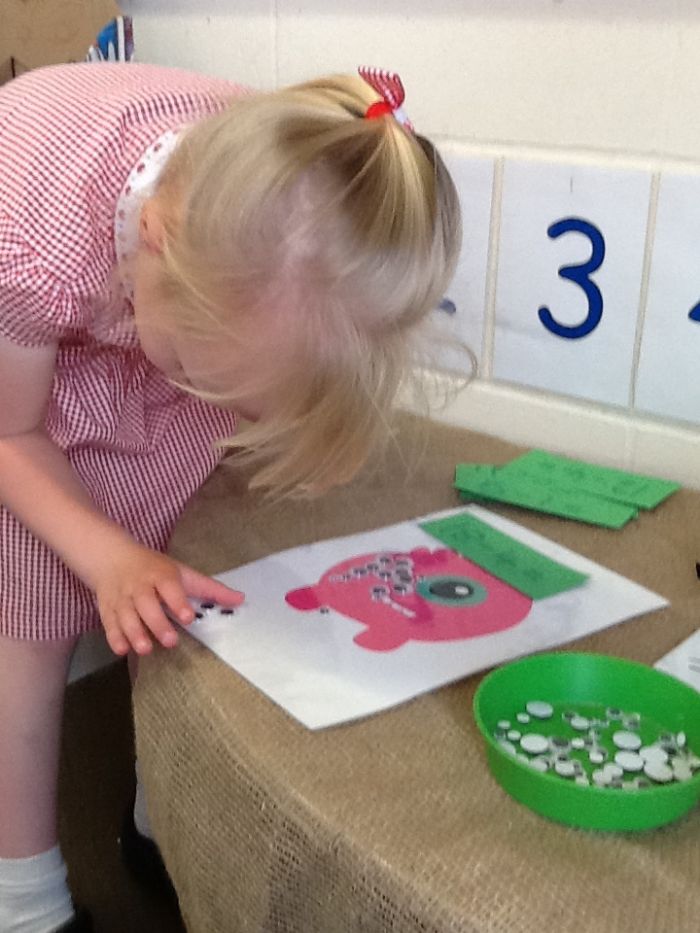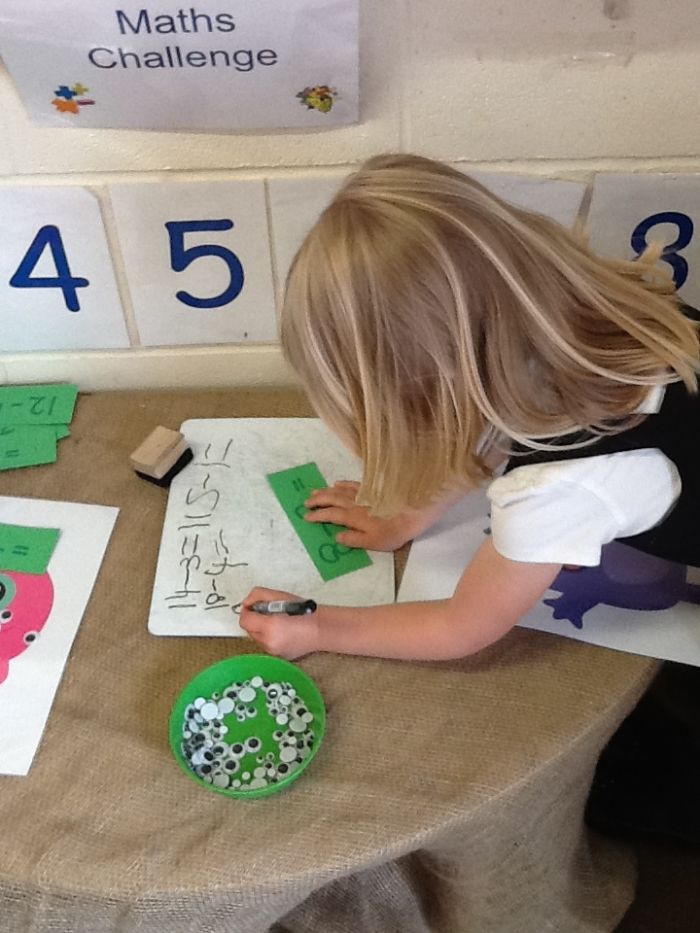 Next term is very important in Reception as we will be getting the children ready for Year 1. Our focus for the last term will be ensuring that your child has the required skills consolidated to make the transisiton as smooth as possible. If you would like to know how you can help us with this transition then please ask Kelly or Anne.
Reminder: please remember to hand back permission slip and donation for our trip to Tattershall Farm. The trip is on Wednesday 29th June.
W/C 9th May
We have had a super week working with the Year 5 children. The Year 5's have really helped us with our reading, writing, story telling and art skills. Some of the Year 5 girls helped our children create puppet shows from stories that we have read so far this year. The children worked together to perform the story of 'The Three Little Pigs' and 'Room on the Broom.' We were so proud of how well they all worked together when creating the fantastic puppet shows.
This week in Literacy we have read the story of 'The Naughty Bus.' Ask you child where the bus travelled- don't be surprised when they say it went in the baked beans! From this story we have created some fantastic writing pieces, art work and taken part in our own red bus adventures. Next week we hope to continue on this adventure and see where the red bus goes next!
Reminder: please remember to hand back permission slip and donation for our trip to Tattershall Farm.
W/C 2nd May
This week we decided to do some ICT using the Ipads. A few weeks ago we planted sunflower seeds and on Tuesday we noticed that the seeds have began to germinate! The ICT challenge was to take a photo of their plant, put it onto a collage app and then write about it using the keyboard on the Ipad. I was amazed at how confident the children were at taking the photo, changing the size to fit and then using the spacebar and delete button. I am sure the children know more than me!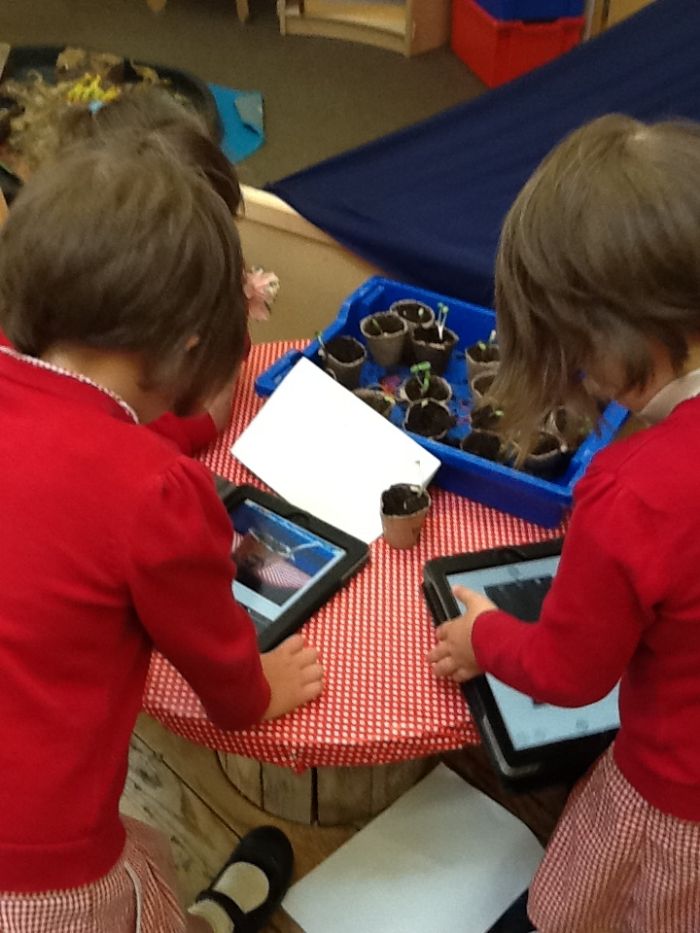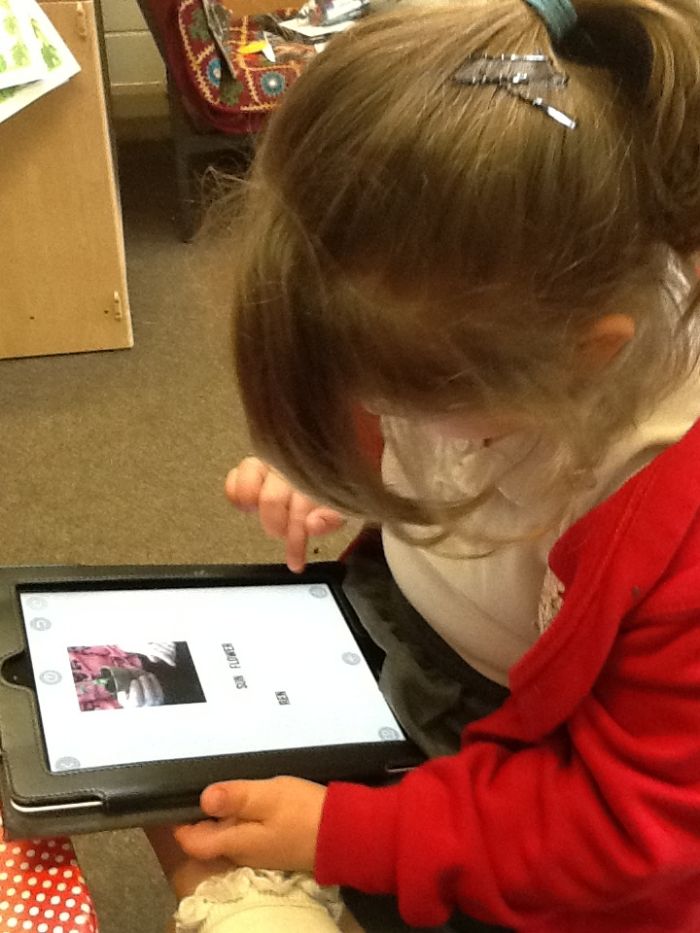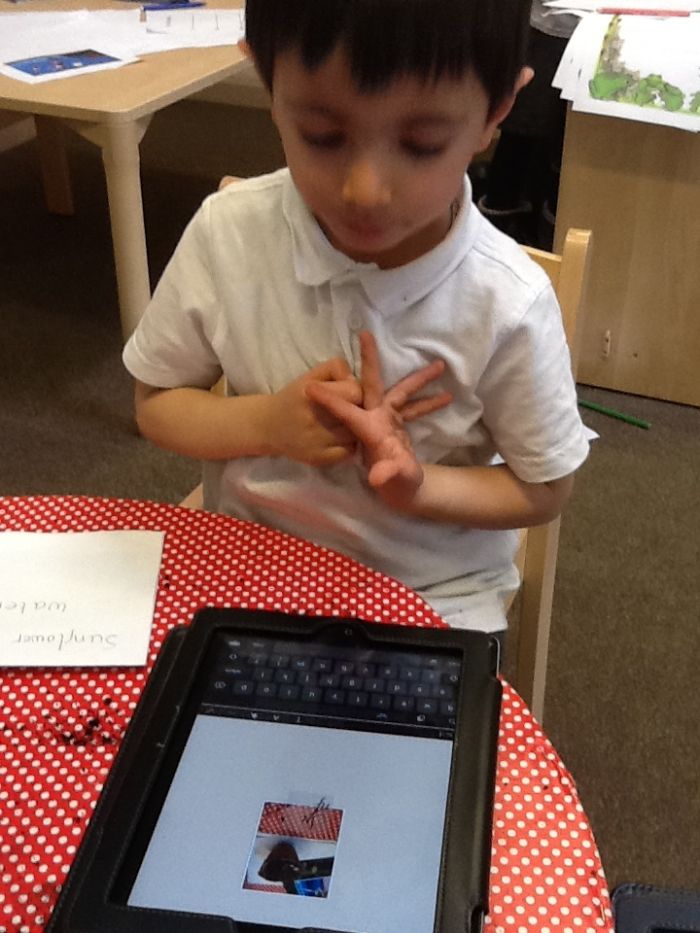 What glorious weather we have had this week. We love spending time outside so please can you ensure that your child is wearing sun cream and have a sunhat in school.
Thank you.
W/C 25th April
We have been learning all about the lifecycle of a frog. We have watched short films and read non-fiction books to help us understand. The children represented this cycle by moulding playdough into the different stages. The children then labelled the different stages. Along the way we learnt some interesting facts about frogs. Did you know that frogs do not need to drink water? They absorb it through their skin!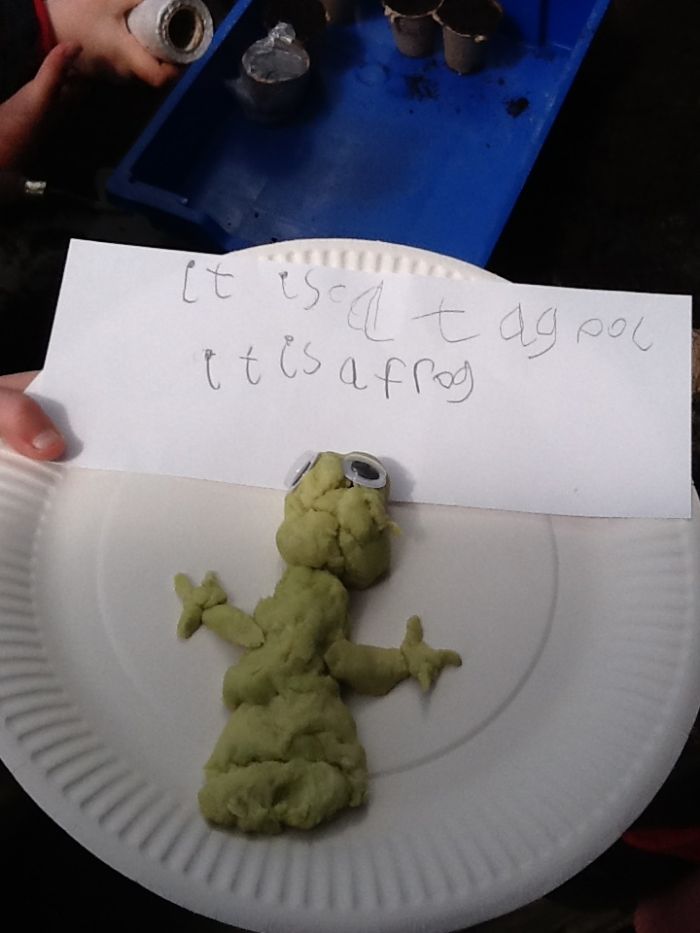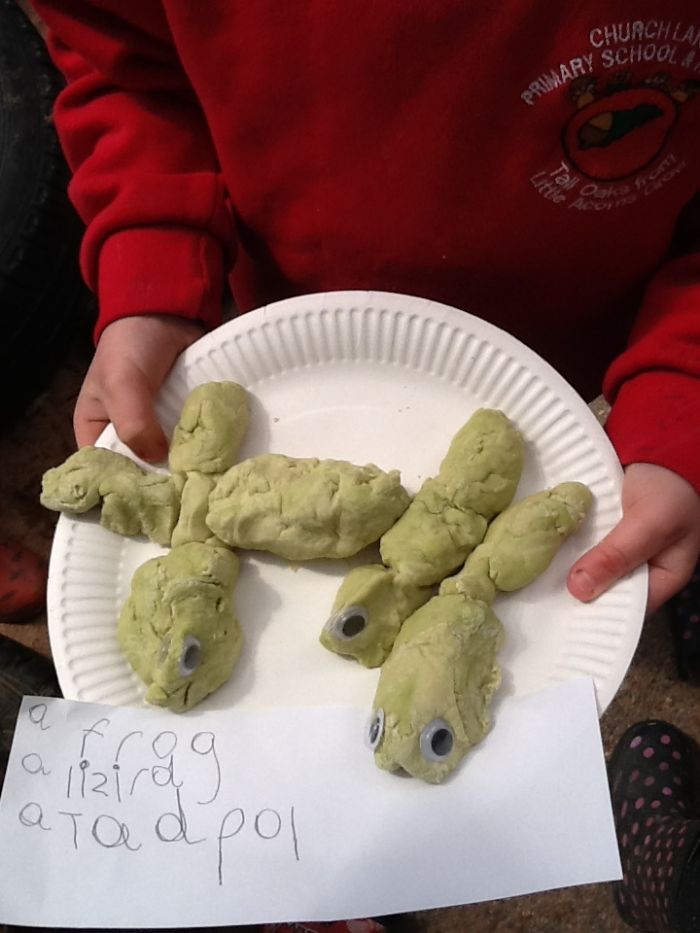 We also had a visit from the Dentist. We were shown how to brush our teeth correctly and what foods to try and avoid e.g. sweets and fizzy drinks. The children were all given their own toothbrush to keep in school and will be encouraged to brush them on a daily basis during the day.
The tooth fairy will be impressed with our shiny teeth!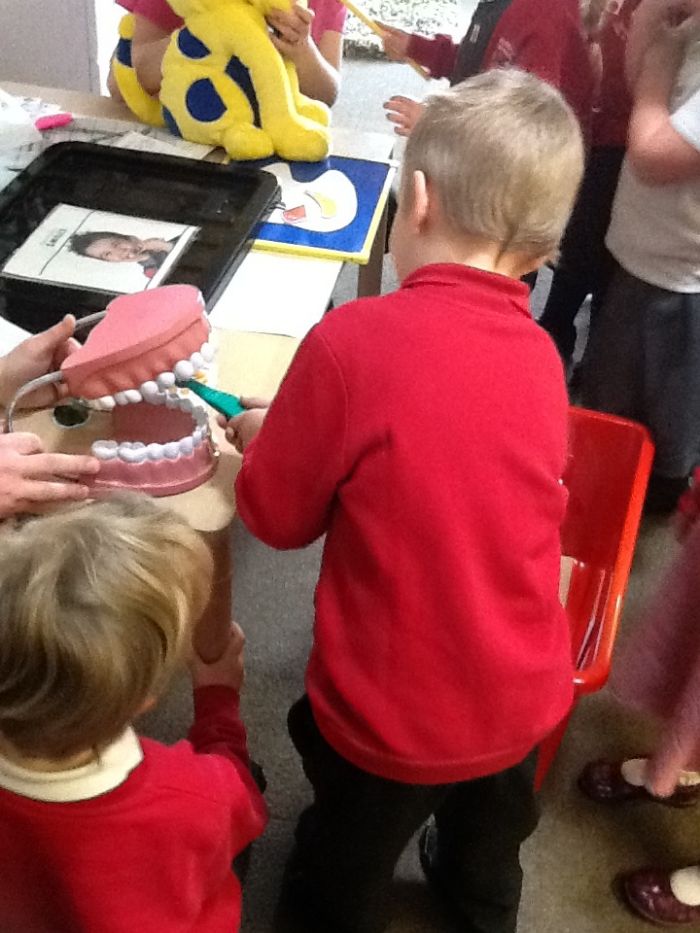 W/C 18th April
This week has been jam packed with great learning opportunities. Some of the children have taken up the challenge to create a Bulldozer with a wrecking ball that is strong enough to knock down a tower made out of blocks. The children created some brilliant wrecking balls. Once created we tested them ensuring appropriate safety measures! We soon realised that the soft pom pom balls were not as effective as the large stones to knock down our buildings.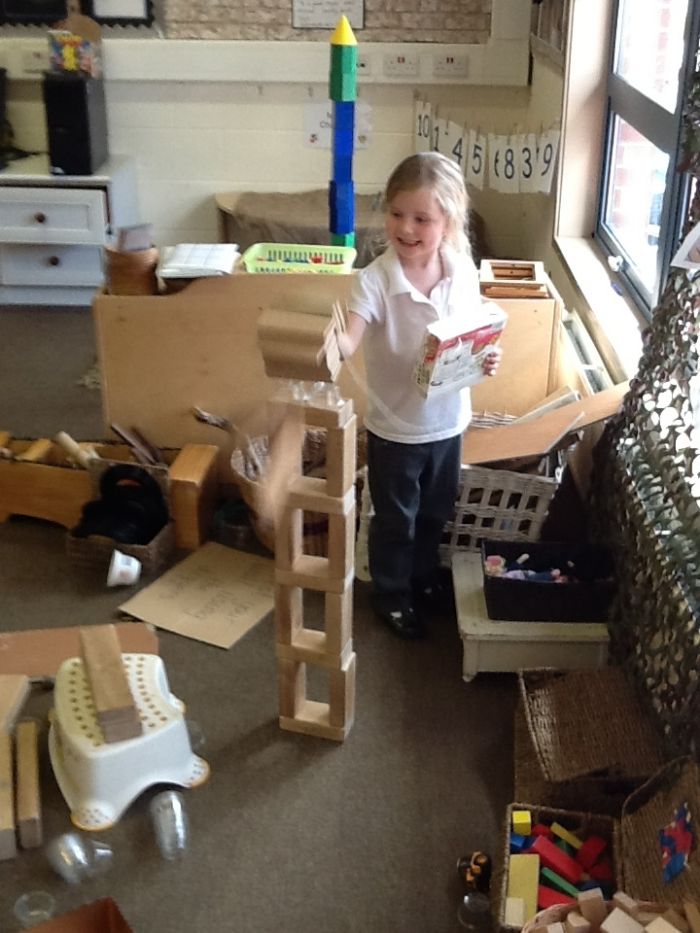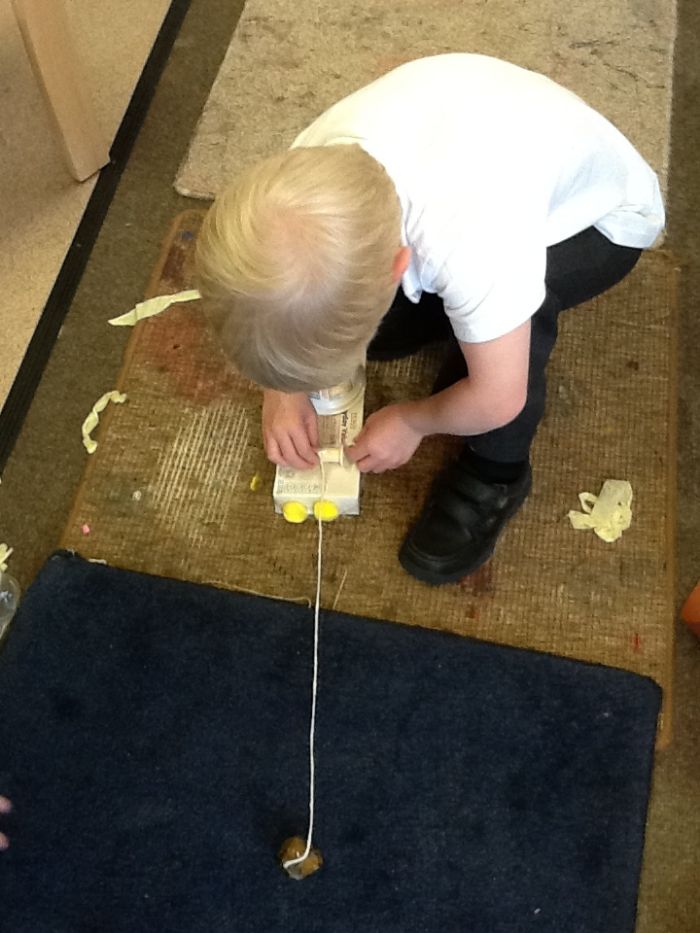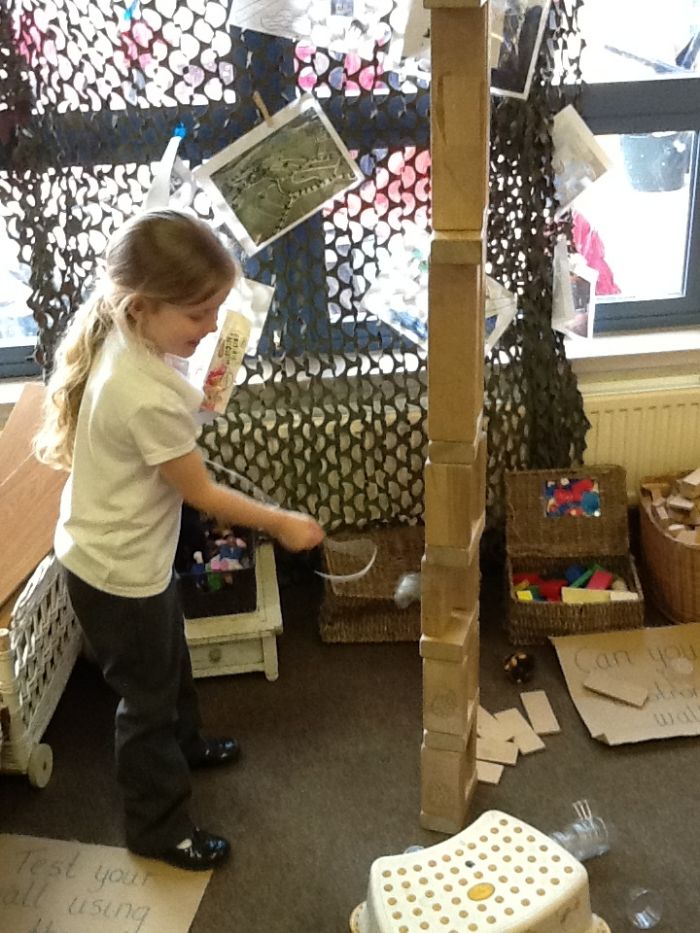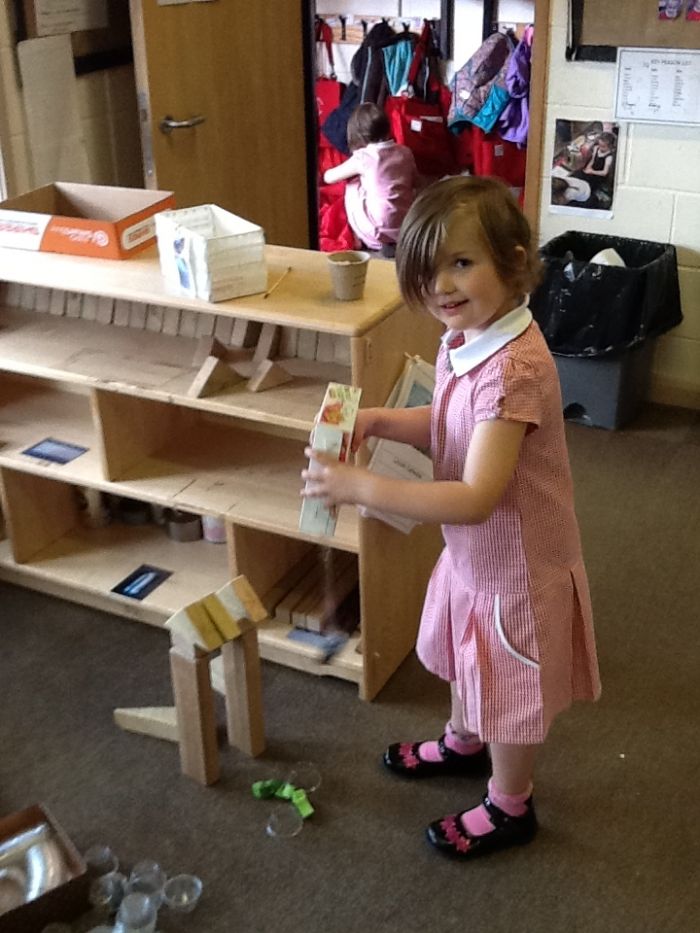 In Literacy we have read the story, 'The Tiger who came to Tea.' Did you know that we were invited to have tea with the Tiger? We made our own sandwiches to take with us. The children did some lovely writing by creating their own invitations.
W/C 12th April
Wecome back everyone after the Easter break.
The children have come back with new interests this week. We have been making shields.Lots of thinking has been done on how to make strong handles for them. We have decorated them with different designs. We then tested them by taking part in some drama. Our shields were large enough to protect our bodies from an attacking sword!
Ethan brought a snail to school. We had a big discussion about what snails eat. Did you know they have x2 tongues?!
Let us know about any special interests your child has and we will try to incorporate them into our exciting days.