W/C 11th July 2016
Today was a huge day for Year 5. We learnt about democracy and how democracy works, including looking at its history and origins. We learnt that it began with the Ancient Greeks and was adopted in 1669 within the U.K. We also had a look at the different types of Voting systems including first past the post and Proportional representation. After learning about Democracy 6 children, who wanted to become school concillors, selected members of the class to join their party and create a campaign which the class would eventually vote for. Each potential councillor had top create 3 policies that they would use as the base for their campaign. We had Tuck shops, swimming pools, a larger school, Jacuzzis for all (Ambitious) and a new trim trail. After some fantastic speeches and a little bit of corrupt behaviour (Bribes) the children eventually voted for their next school councillers. The reulting winners of the votes were, Oliver and Kamlyn. Congratulations and a fantastic day all round.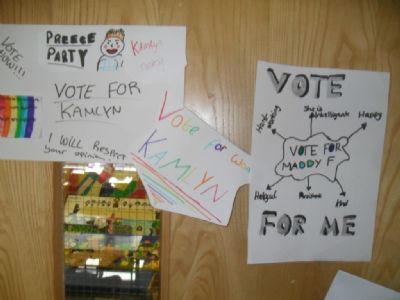 W/C 4th July 2016
Congratulations to Year 5 for their outstanding performance in Sports Day. Each child participated in a variety of different races. Connor demonstrated his fast sprinting skills, Maddy showed her stamina and all children took part with a smile on their face! A big well done to thoses children in Cedar who won the KS2 Sports day however the overall winners were Willow. Well Done!
1st July 2015
We have been enjoying a change in guided reading and have been reading a classic Roald Dahl book together!
27th June 2016
This week has been very busy, the children have continued learning about fractions and decimals which they have done fantastically well with. In addition, we have started watching a short film called roads end, the children have really enjoyed the film and the mystery around it. It follows a masked man in the desert, who hitches rides with travellers, which results in strange events occuring including car crashes and disappearing people.
In topic the children have been learning about Brazil, they have focussed their attention on the Favellas and learnt about life within them. The children found this really interesting and were able to compare and contrast with their own lives.
20th June 2016
This week the children have been trying to solve a crime which has taken place. They have taken witness statements from The three little pigs, who have stated that a Mr B B Wolf has blown down their houses and has attempted to break into a third property which has reulted in Mr B B Wolf being boiled alive. Despite this story of events being believable, evidence suggested otherwise. It became apparent from this evidence that actually Mr B B Wolf suffered with Asthma, which according to an expert meant he would not have been able to blow down the houses. In addition, it also became apparent that the pigs were in debt and owed thousands of pounds. Conveniently, the pigs took out home insurance the day before hand which would have paid off their debts. Finally, wolf claw marks were found on the stairs of the pigs house suggesting he hadn't come down the chimney but in fact had been dragged through the house.
The children then wrote a persuasive argument to the judge, pleading with him to find the 3 pigs guilty.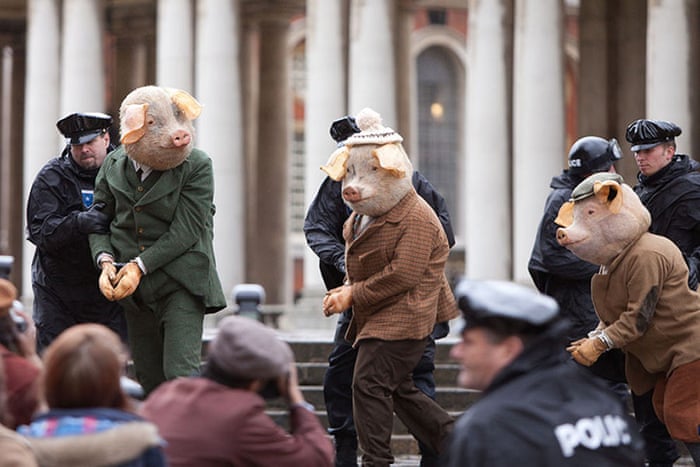 The children won their argument and the pigs were guilty of insurance fraud and murder!!
24th May 2016
Year 5 did a science experiment today. We are looking at soluble and insoluble materials.
Week commencing 16th May 2016
Homework was given out last Friday to all Year 5 children, if anyone is stuck please come and see Sophie or I and we can happily assist.
With the slight disruption of last week over, the children have come back this week raring to learn. The children have been getting the teetth stuck into some tricky work on Fractions. We began the week exploring equivalent fractions and simplifying them to their lowest common denominator. Since then, we have now moved on to comparing fractions by making them all the same denominator. The children have demonstrated an excellent understanding of these concepts and are now starting to explore them in more depth using investigations from the Nrich website.
Week commencing 25th April 2016
Wow!! What a great week we have had. In Maths, the children have demonstrated they are now confident with the formal methods of Multiplication and Division and will be moving on to look at these concepts in depth next week. In Literacy, the children have been recapping the key features of a biography and will be writing Howard Carter's biography.
On Friday we had our Egyptian day, the children came in some fantastic costumes, we had Mummies, Cleapatra and even some Egyptian Slaves. Throughout the day the children tried some traditional Egyptian foods, practiced writing heiroglyphics and watched National treasure- a film about the mystery of the pyramids.
Week commencing 19th April 2016
This week the children have continued their topic of Ancient Egypt. The children have been learning about Mummification and the River Nile. In addition, the children have also been learning about Buddhism, where they tried a traditional dish, which included Rice, coconut milk and sultanas. Furthermore, they also made a Wesak lamp, which Budhists use in celebrations.
In Numeracy the children have continued recapping addition and subtraction, they have looked at numerous investigations linked to the topics, which have allowed them to further their understanding.

Week commencing 12th April 2016
I hope everyone had an enjoyable Easter break. The children have come back this week to a bit of change in terms of class teachers and a different classroom layout, however, they have been really positive and eager to learn- which has been fantastic.
This terms topic is the Ancient Egyptians, where the children will be learning about Howard Carter and his discovery of Tutankahmun. The children will also learn about the River Nile, Mummification and to really get into the topic they will be dressing up as pharoes as part of an Egyptian day.
This week the children have been writing a first person description, imagining that they have been walking across the Desert looking for the Egyptian pyramids. As part of our Numeracy, the children have been recapping place value, rounding, addition and subtraction.