Week commencing 9.12.19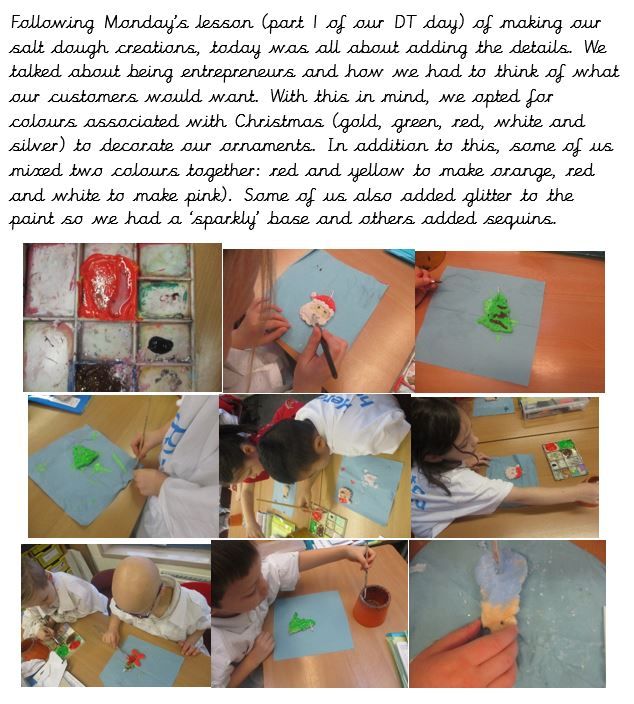 You will be pleased to know that ALL of our products sold. We are offically successful business men and women. Well done, year 2!
We have one more week to go in school and yet still so much to do. Next week, we shall be finishing off the endings to our twisted Rapunzel stories with a Christmas theme, deepening our understanding of why Christmas is important to Christians and delivering our AMAZING nativity to our school friends and family- 2 days running!
Week commencing 2.12.19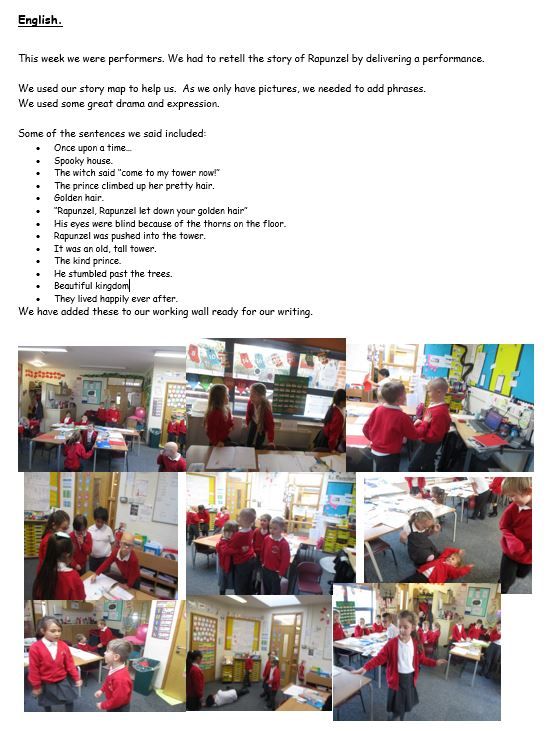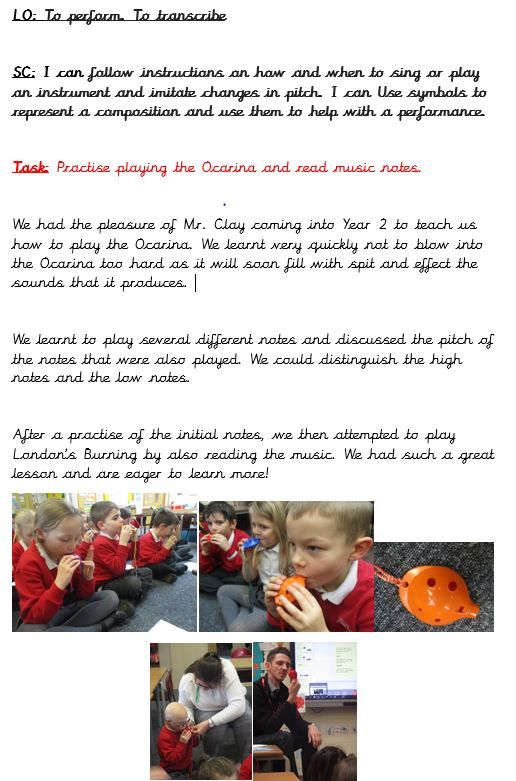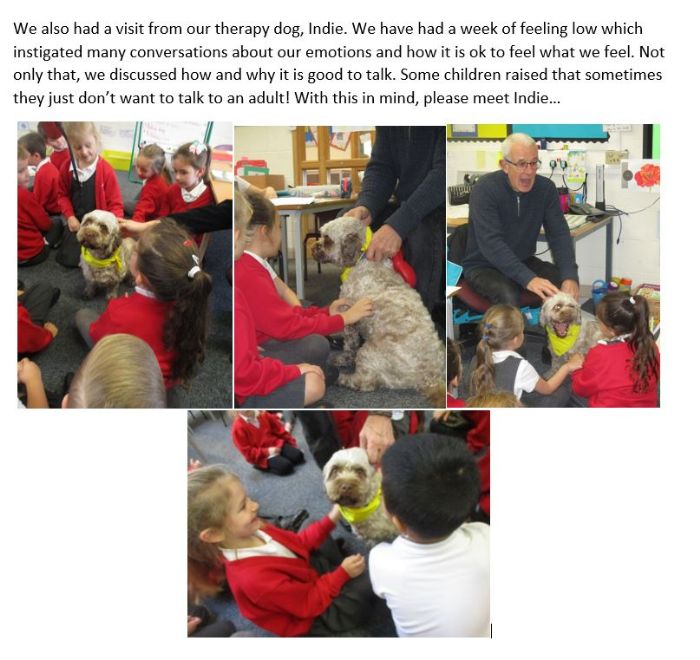 Week commencing 25.11.19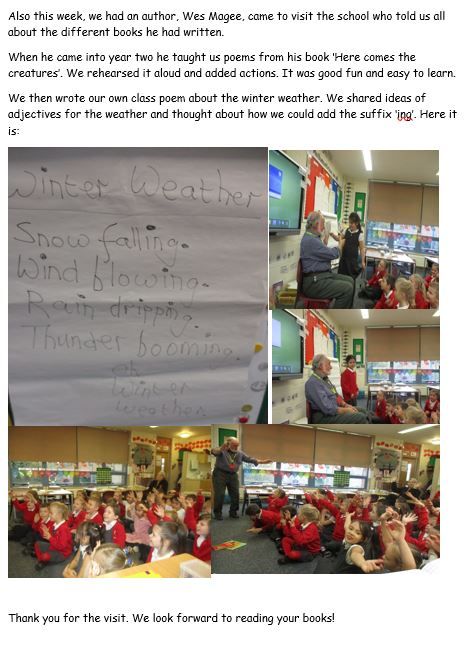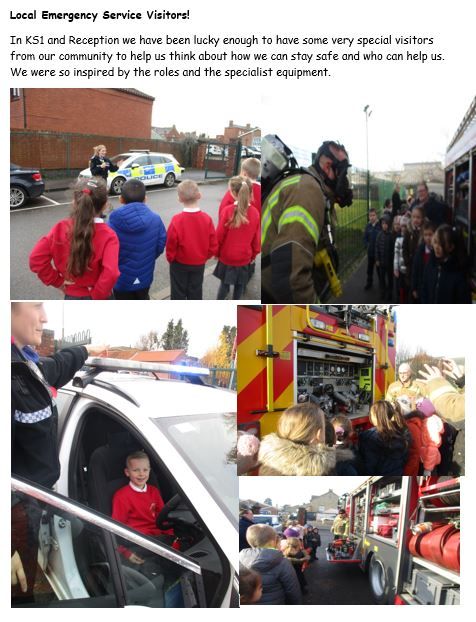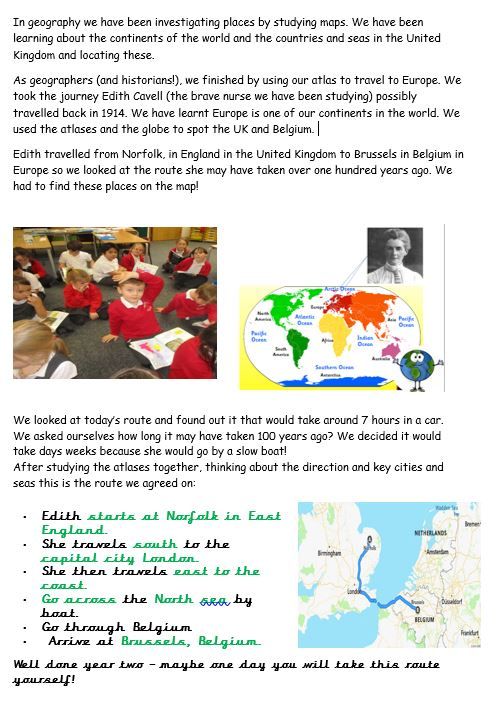 Week commencing 18.11.19
This week has been a very full on week. We have moved on to numbers bonds to 100; completed a big write which was a biography about Edith Cavell and read a waide range of books. However, our highlights this week has been: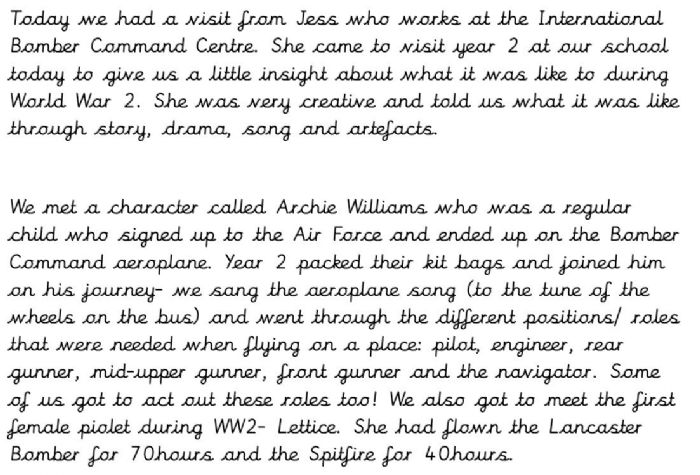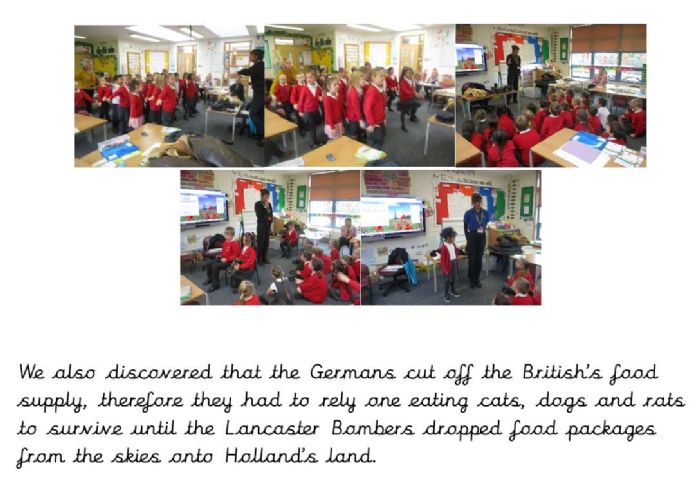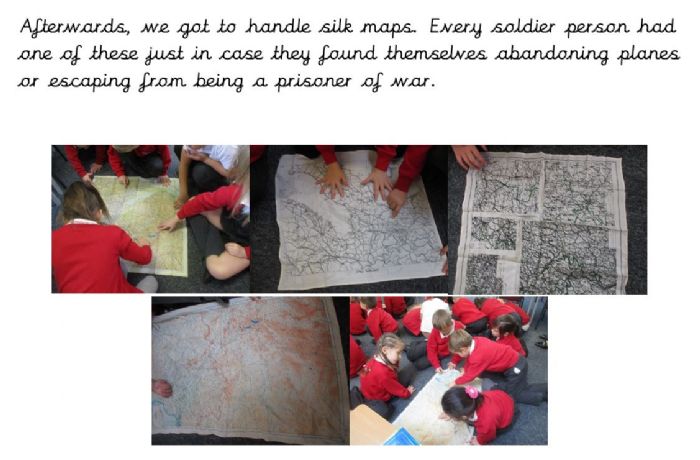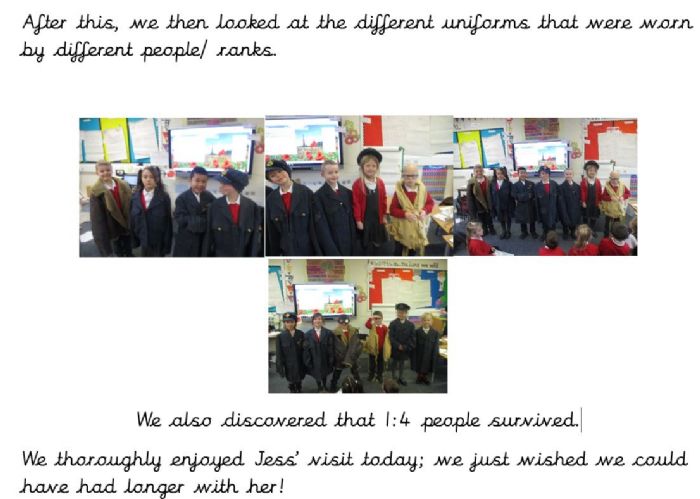 Not only were we blessed to have Jess visit us, we also had an author: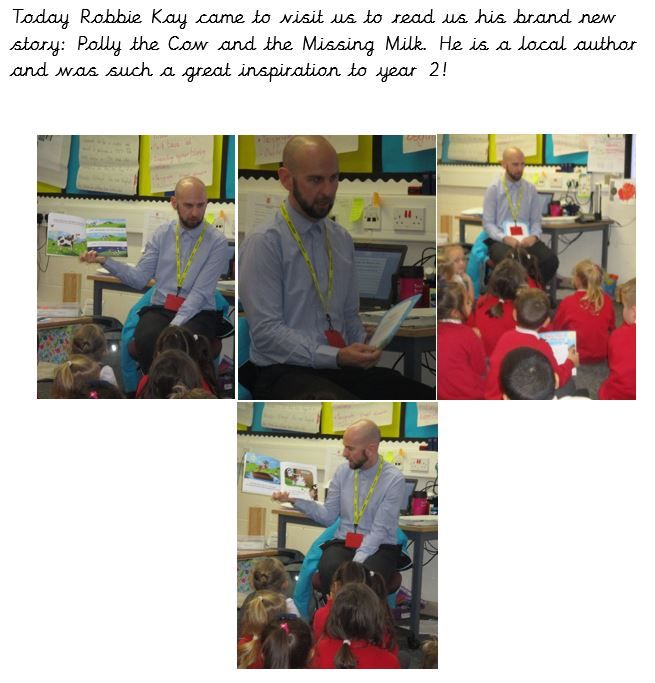 As you can see, year 2 truly are having the best time learning! I think they all derserve a relaxing weekend, so with that in mind, enjoy your weekend and I am looking forward to seeing you all next week!
Week commencing 11.11.19
We started the week with our 2 minutes silence to celebrate all those that fought to protect us.
For the rest of the week, we have continued our learning of WW1.
Writing:
In writing this week, we have focused on Edith Cavell. We found her really interesting and brave. We have spent the week collating facts and practising writing in the past tense. Find out more about her by following this link:
https://www.bbc.co.uk/bitesize/clips/z8dqmp3
Our aim is to write a biography about this significant lady!
Reading:
During our reading sessions, we have been learning about bones and their functions. We have looked at X-rays and had a good debate about how casts help the healing of a broken arm. We also tried to show each other what we would look like if we had no bones.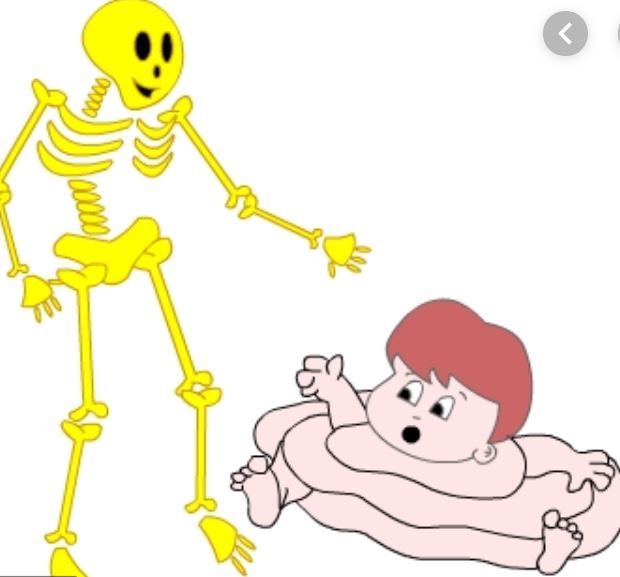 Science:
In science this week, we have kept with the health element and completed lots of work around diets, excerise and hygiene. We also devised a workout for WW1 sodliers which was great fun!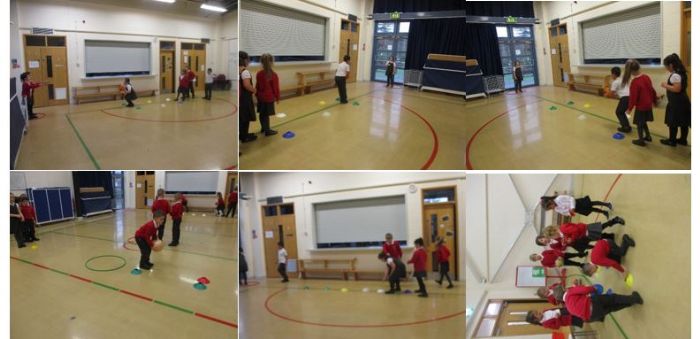 We have also been celebrating Children in Need by coming in our Pjs. It was tough, especially with our days having less light... we all wanted to spend our day snuggled up under a duvet with a film and a hot chocolate... but... the year 2 team were mean! :-)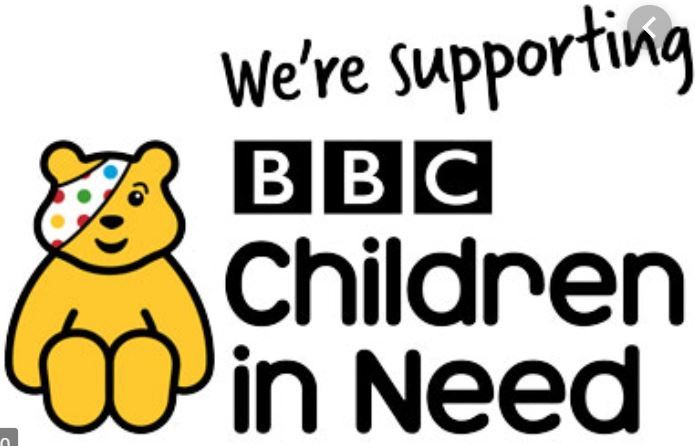 We hope you have a wonderful weekend, please take care if the rain continues to fall! See you next week for a very exciting week.
Week commencing 4.10.19
How lovely to see you all coming back after 2 weeks off refreshed and ready to grow that brain some more!
This week, ALL our lesson have been about the Poppy and the purpose behind the wild flower. All children have been absolutely inspired by the lessons and thoroughly enjoying the history.
Art: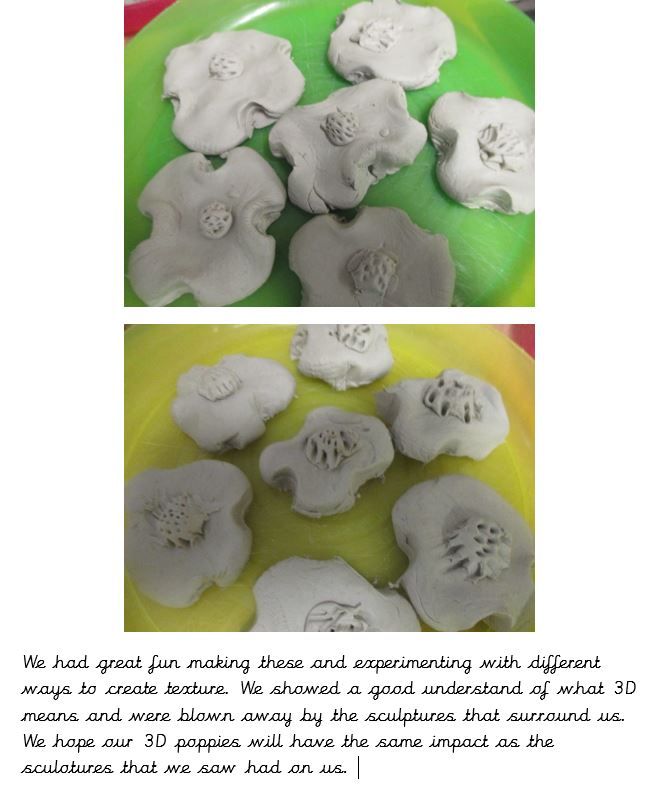 Not only this, but we have also 'escaped' school to learn and take part in a Rememberance Ceremony at the Internal Bomber Command Centre. Take a look...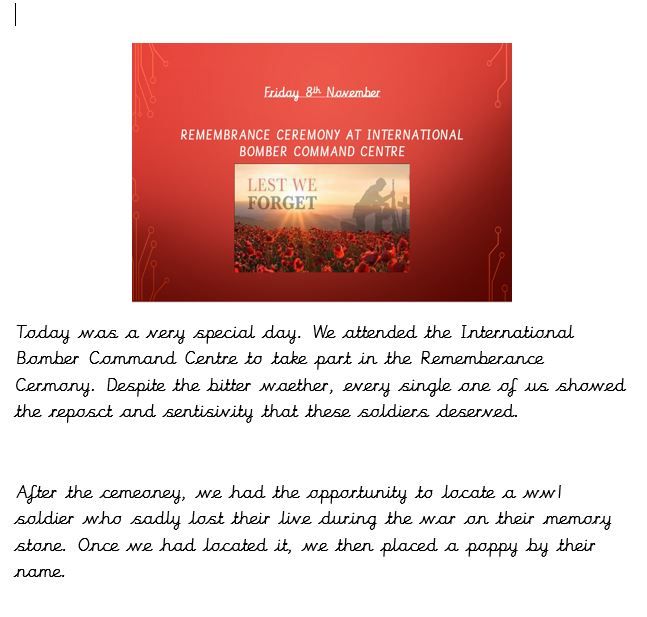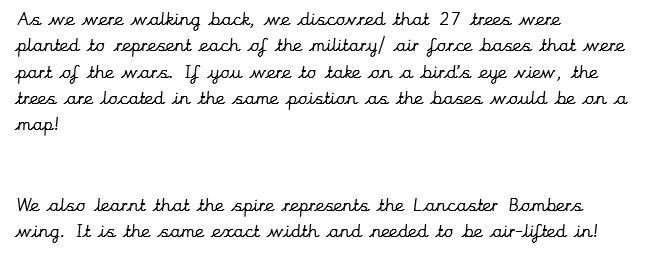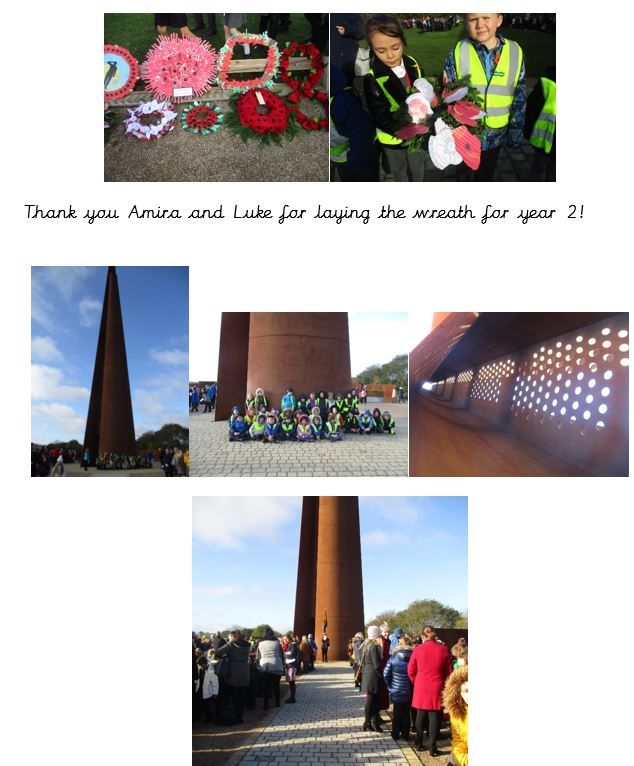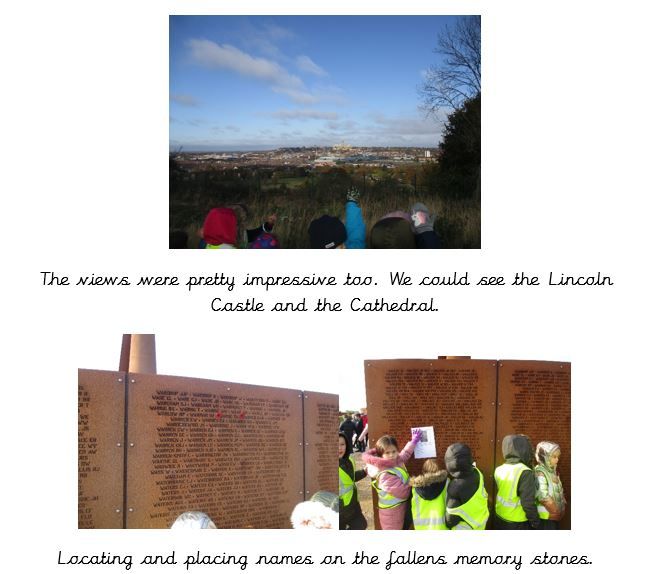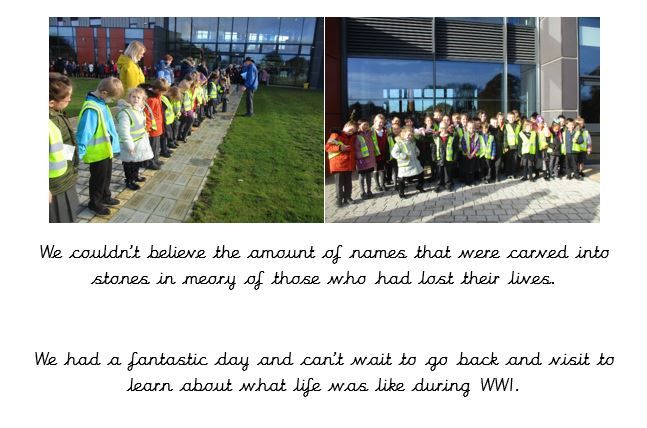 Don't forget you can celebrate Rememberance Day with the Sleaford Commnity at the Market Square by the Cenotaph on Sunday 11th with a 2 minutes silence commencing at 11am. I hope to see you there.
Week commencing 14.10.19
This week we have completed our non-chronological reports on Wolves. We have included some fantastic factual sentences and have tried really hard to ensure that the features of the genre are present.
Also, on the 18th October we celebrated Developmental Lanaguage Awareness Day by banning all pens and pencils. In year 2, we decided to have a Halloween theme. Take a look: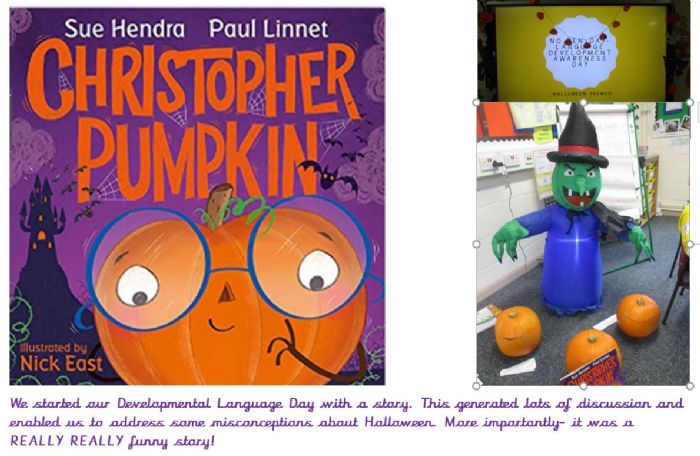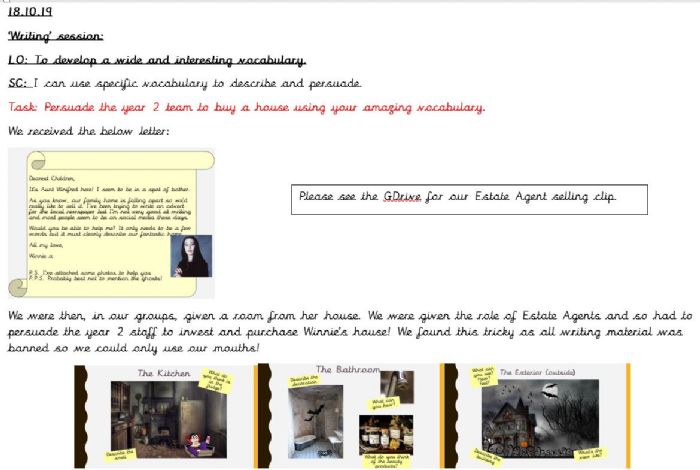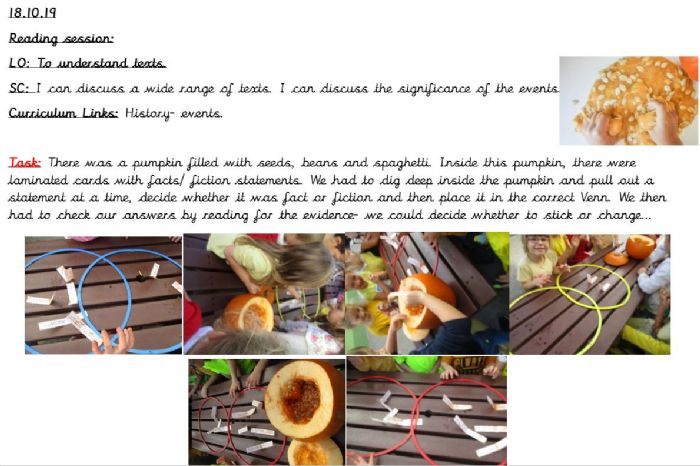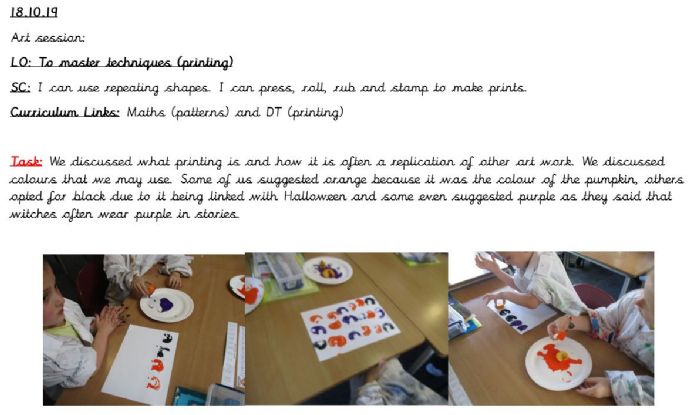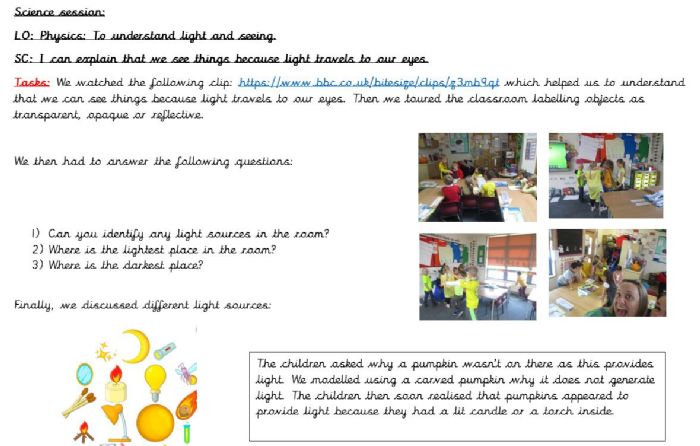 As you can see, we have had an amazing day and it really did make us realise how important talk and language is. Thank you Year 2 for a wonderful day.
It is now the start of half term so please remember to keep yourselves safe whilst having lots of fun. Enjoy your two weeks off! Ensure you are ready for action after half term!
Week commencing 30.9.19
What is Sleaford like?
What a beautiful autumn day to go on our first class trip out – a walk around our town as part of our whole school Sleaford day. We had a great time observing our town and asking and answering questions about it.
Year 2 Trip to Sundown Adventure Land.
We had a wonderful, sunny Autumn day for our Year 2 trip to Sundown Adventure Land. It was definitely a day of awe and wonder and the children were smiling all day! We had fun exploring Story Land and zipped in and out of all the interactive fairy tale houses. I'm sure I'd love to live in a Lollipop Castle made of 'marshmallow' bricks and sleep on a chocolate box bed! We of course excitedly tried all the rides and finished our day with the whole class having a ride on the Christmas sleighs (in Autumn!) Well done Year 2, behaviour was exemplary and everyone looked after each other.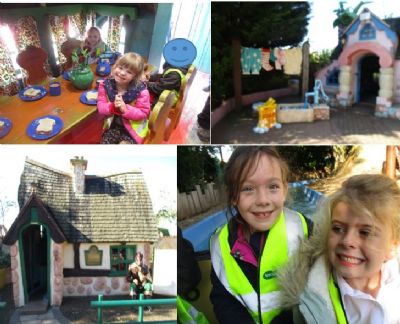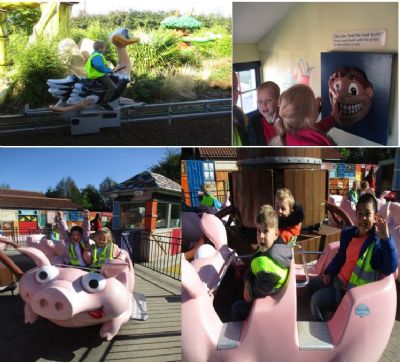 Week commencing 23.9.19
Maths:
We are continuing to look at two-digit numbers and place value. We used number lines and tens and ones to help us compare two numbers. We rehearsed using the greater than, less than and the equal sign to make our number sentences and enjoyed writing them on our tables using white board pens! We did wipe it off afterwards!
English:
We have been preparing to create our own story book cover. We looked at a variety of front covers from the 3 little pigs and the twisted versions. We thought about what makes a good illustration/ book cover. We shared our ideas in groups. We liked some of the bright colours used, the clear drawings and we identified the shapes we could see in the drawings, the light and dark shades, if the title was clear and the positioning of the characters. Some children even suggested which books looked more suitable for younger children and which for older children or adults! Wow!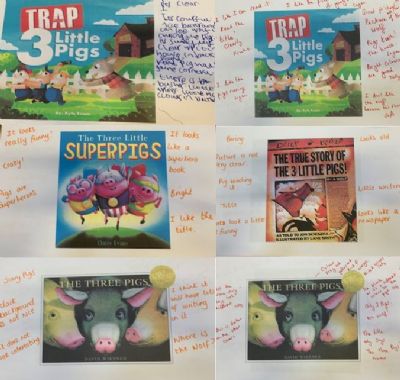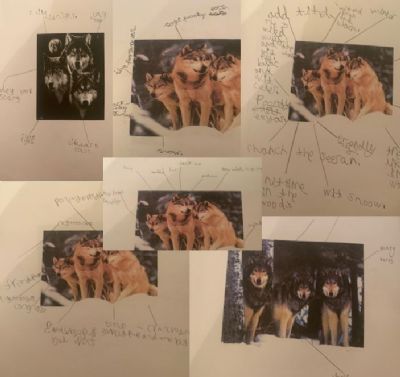 History:
In History we have continued to explore homes built a long time ago and explain how they have changed. We created a timeline comparing typical houses from different times in the past and labelled with which houses were oldest (medieval homes) and which were newer. As a class we wanted to find out what we call the present time on our timeline and researched this and decided on 'modern'. I am hoping our class will spot the 'Tudor house' nearby our school when we go out for Sleaford Day next week!
Art: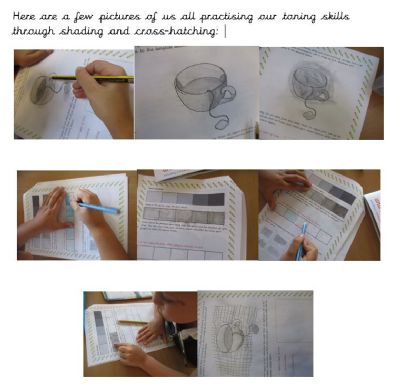 We discovered in order to create light shading/ toning we had to adjust our hand grip. We had to hold our pencil loosely near the top. For darker shades, our hands shifted to the bottom of the pencil and the grip tightened.
We couldn't wait to see what we would produce when we pulled all our skills together...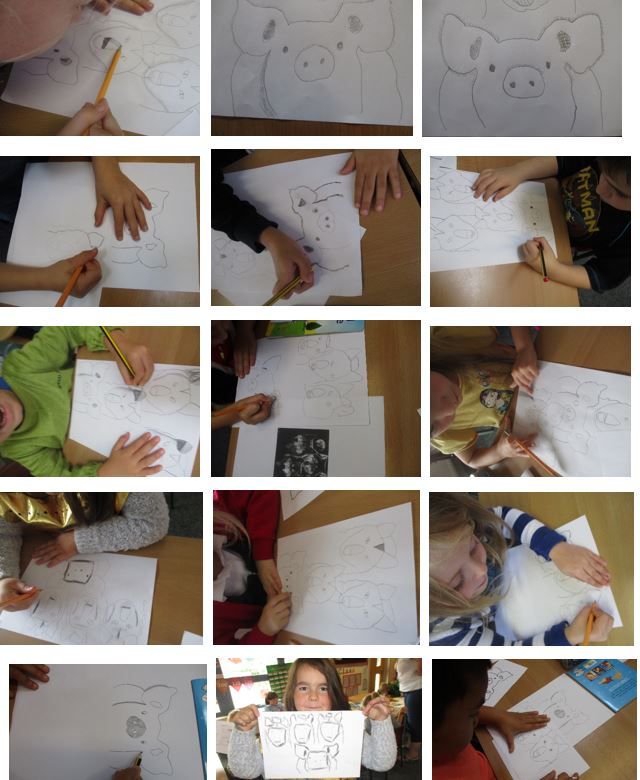 Not only have we completed all this wonderful learning, but we have also celebrated Roald Dahl, here is what we have been getting up to:
Based upon the book: Revolting Recipes, we created our own Halloween Dinner menus...
Halloween dinner menu 1
Starter:
Chicken feet soup with fleshy gums and bloody scabs.
Main Course:
Wormy spaghetti with meatball spiders. This world be delicious with a yummy green fly salad.
Pudding:
A crunchy snail chocolate cake smothered with boiling blood.
Drinks:
Devil's Drenchers
Menu produced by:
Luke, Daisy, Mason, Scarlett Barnett, Amelia, Steven and Sofia B
Halloween dinner menu 2
Starter:
Worm blood bubbling soup served with fried crunchy spiders.
Main Course:
Fresh mud-burgers with hot frogs. This comes with a side of chip fingers and rotten fish eyeballs.
Pudding:
Blood flavoured ice-cream served with Hansel and Gretel's leg. Finish this delicious pudding by drizzling warm car oil over the top.
Drinks:
Devil's Drenchers
A peppery and sweet tasting drink that will set your mouth on fire!
Menu produced by:
Tally, Frankie, Logan, Bentley, Sofia T, Sophie, Elli-May, Lian and Georgia.
Halloween dinner menu 3
Starter:
Slimy slug soup served with fresh human and fish eyeballs. Finish this soup off by sprinkling dead spiders over the top.
Main Course:
Fried frogs and burger bombs served with cockroach chips and sloppy brains.
Pudding:
Blood flavoured ice-cream served with a horse head and a drizzle of raw fish guts. Our snake skin spoon would be perfect to scoop this delicious ice-cream up.
Drinks:
Devil's Drenchers
A red hot, burning drink that sets your tongue on fire. This is only for the brave… or the headless!
Menu produced by:
Scarlett Bain, Amira, Tyler, Millie, Finley, Angel, Hannah, Wiktor, Blake, Markus, Sara and Vanesa.
Following on from this, we then had a go at making Devil Drenchers and breathing a ball of fire 6metres...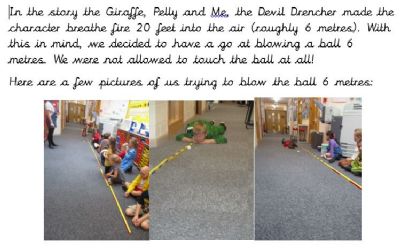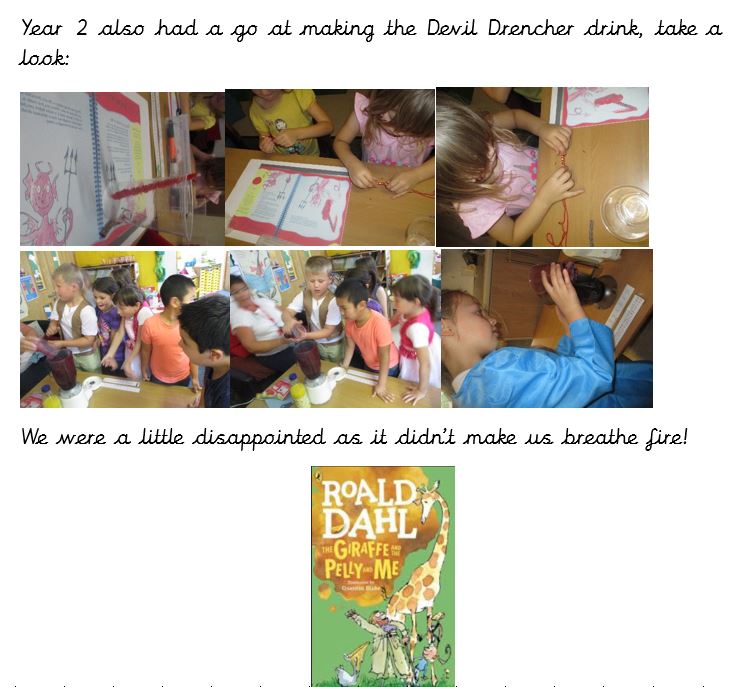 After all this work and fun this week, we have all deserved a rest. Can't wait to find out what next week is going to bring. :-)
Week commencing 16.9.19
As mathematicians we are continuing to count forwards and backwards within 100. We are also beginning to partition our numbers using base ten, part whole models and place value charts. We have been doing lots of rehearsal with our maths equipment to make the two -digit number and partition it into tens and ones. Some of us even chose to try to draw their base ten pictorially….
Watch this space!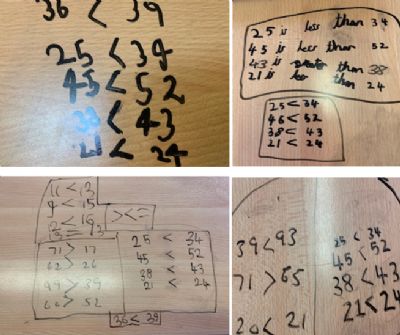 In reading we have been exploring new vocabulary and writing sentences using it. We stuck our ideas onto our working wall.
Here are a few examples:
Beware of the big bad pig!
He was trembling in the house.
He had a cup of tea out of his china teapot.
I escaped from the horrid wolf!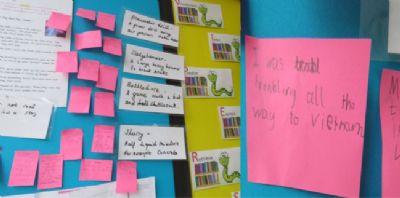 In our writing this week, we ahve been completing our very own twited stories of The 3 Little Pigs. Year 2 were given a title of: The 3 Wolves and the Big Bad Pig. We worked really hard on capital letters, full stops, finger spaces, handwriting and adjectives.
In computing, we read a story together about Smartie the Penguin who had an Ipad for his birthday. He love playing on his IPAD but he sometimes found himself feeling unsafe. Because he was unsure what he needed to do, Smartie the Penguin needed Year 2's help. We sang a song to Smartie the Penguin to remind him what he needed to do before he pressed anything:
Before you click, click, click
You need to think, think, think
AND TELL SOMEONE.
Smartie the Penguin luckily listened to the class and he remained safe. However we did discuss what else we could when we felt unsafe online. We discussed the following:
Blocking
Muting
Reporting
Speaking to a trusted adult (teachers, police, parents)
Ignoring.
We looked at different scenarios and then decided what the best solution would be.
Not only this, we have had a really exciting assembly this week where we practised the bee-bot scat based on the infamous Ella Fitzgerald.

On Monday, your child shall be receiving homework based on what we have taught in the first week of year 2. By doing this, it ensures that these skills are constantly being practiced. If you have any questions in regards to this, please can and speak to one of the year 2 team.
Just a reminder that our PE times are Tuesday and Wednesday. Please ensure that your child has the correct PE kit and that all their belongings are clearly labeled.
Also, don't forget that next Friday is Roald Dahl's day... all the adults in class shall be dressing up and we can't wait to see you in your outfits. If you don't have anything, wear the colour yellow- this was Roald Dahls favourite colour.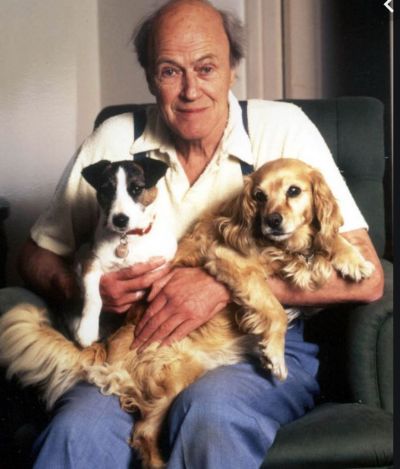 We hope that you have a lovely weekend and we really cannot wait to see you all next week. You make us smile :-)
Week commencing 9.9.19
In true Year 2 style we have got stuck right into our learning. This is what we have been up to this week.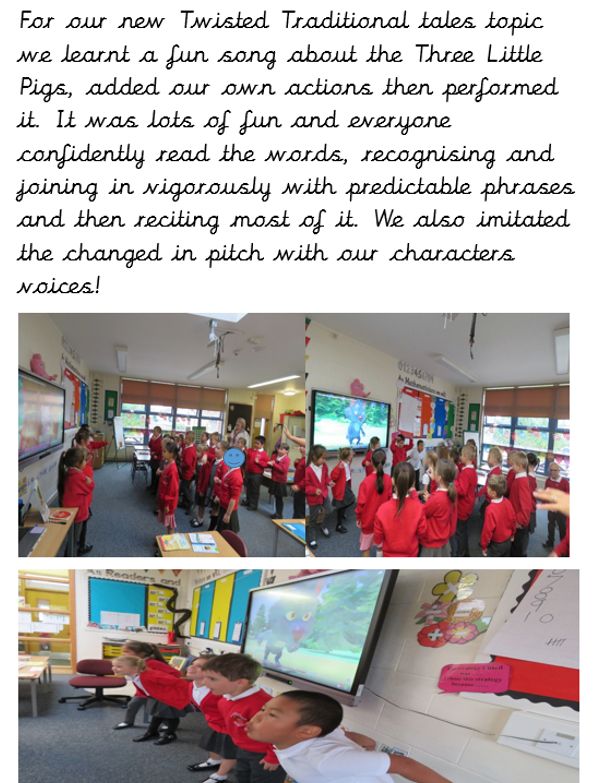 #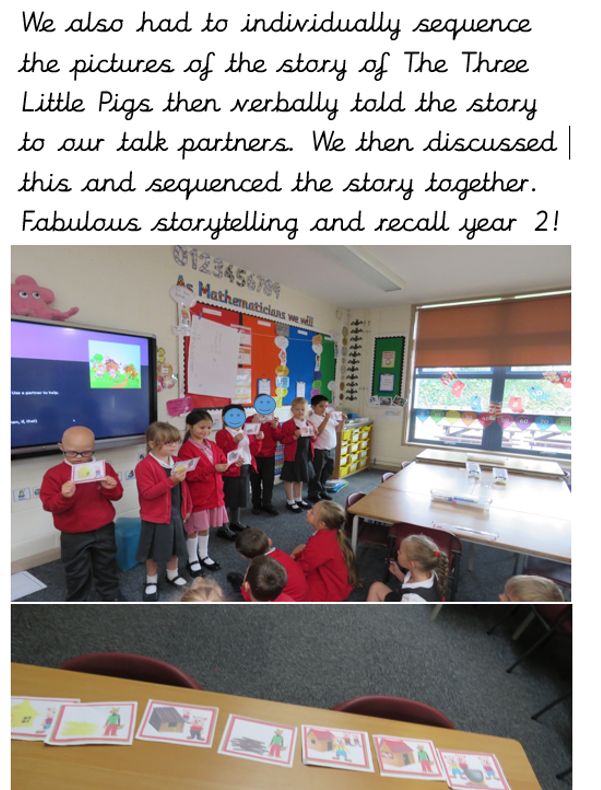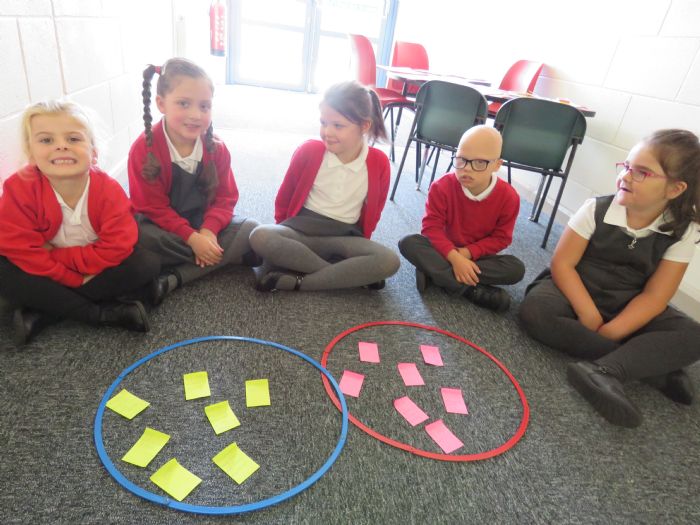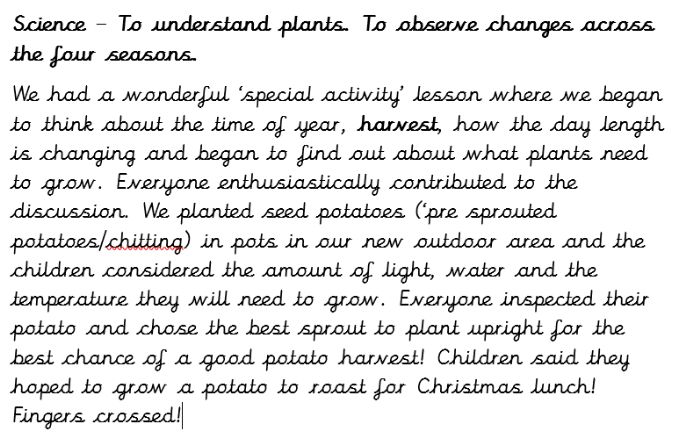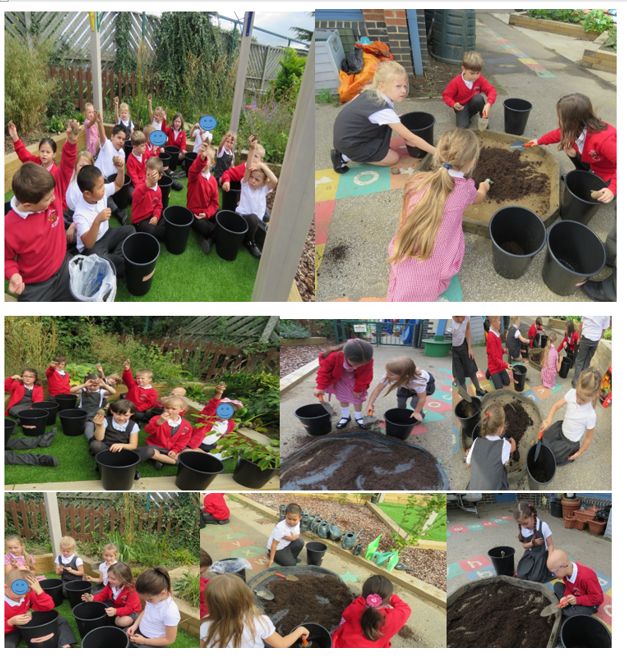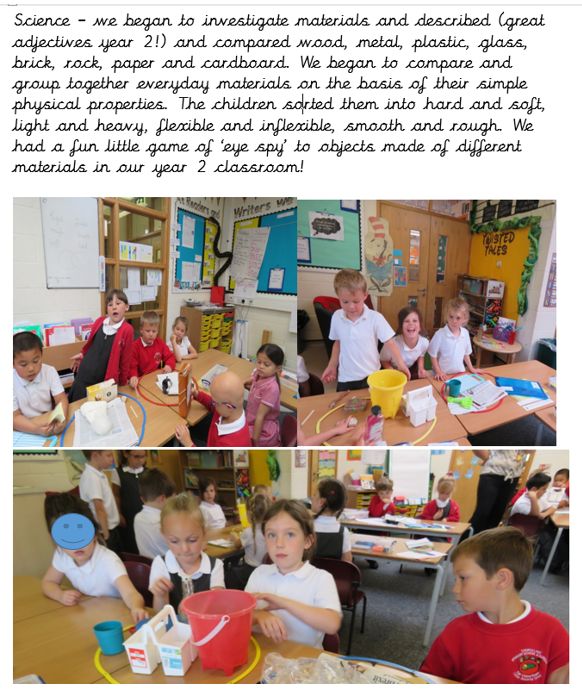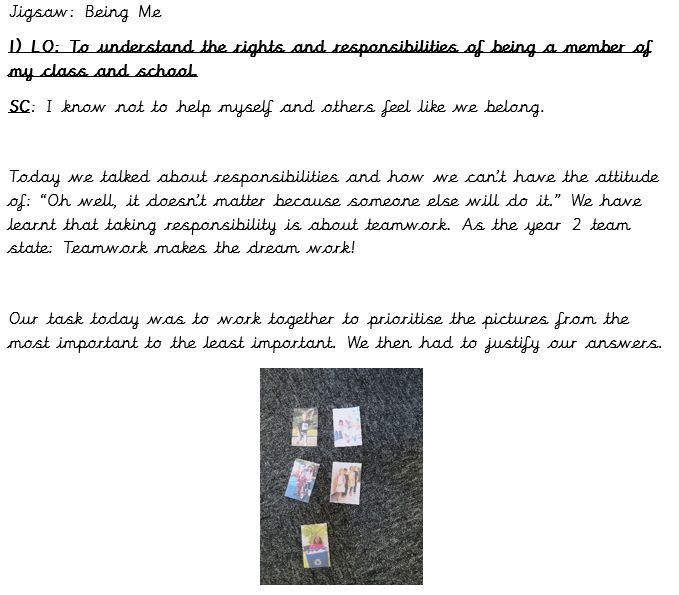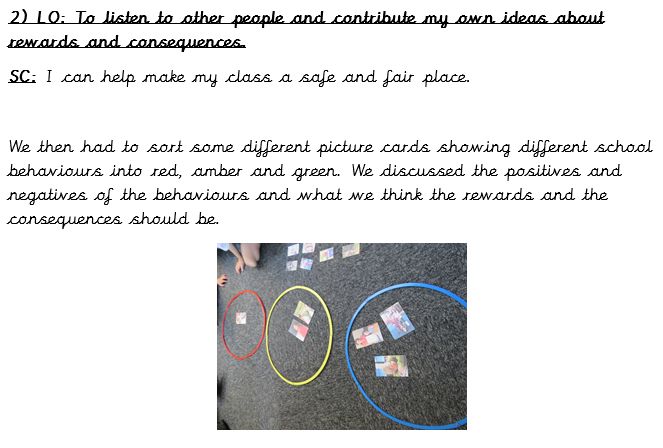 As you can see, we have packed in lots of learning this week across our year 2 curriculum. Well done year 2 for embracing the new learning challenges in our classroom.
Reminders:
Reading diaries MUST be in school EVERY day.
To hear your child read to an adult 3 times a week (minimum)
Practise daily counting
Practise timetables (starting with x2, x10, x5 and then x3).

Ensure that all clothes items are clearly labelled with a name.
Week commencing 4.9.19
Welcome to year 2! We are so happy to see all your smiling faces, we have been so excited to formally meet you all and welcome to our year 2 family.
Take a peek at what we have done this week.