W/C 10th July 2017
We have had a very busy week and had some very special treats. We have taken part in lots of different workshops across the week and also had lots of time in our new Year 1 classroom with Miss Cragg and Alex. We are all impressed with how well the children settled into their new classroom. The children made a fantastic impression- Miss Cragg and Alex were very happy and can't wait for September!
On Monday, we had the chance to take part in a workshop all about Eid. Eid is a special Islamic celebration, which has recently taken place and is very important to some of our children and their families in school. We dressed up in some very special celebration clothes and learnt some interesting facts about the Muslim faith.
On Wednesday, we had our summer trip to Tattershall Farm. We had the most amazing time exploring the park. It was lovely to see the children giggling and chatting about what they can see.
The Birds of Prey experience was great and we got very close to lots of different breeds. We had a personal flight demonstration. Did you know a Barn Owl is a silent flier? We listened really carefully but could not hear a sound!
On Thursday the whole school took part in a sponsored Welly Walk in aid of the African Angels Independent School in South Africa.
Thank you for all your sponsorships J
On Friday we also took part in a Bollywood dancing workshop. The children had lots of fun!
Dates for your diary:
Friday 21st July- Last day of school and our whole school celebration assembly. Parents/Carers are invited.
W/C 3rd July 2017
We had a super day on Sports Day. We hope you agree that the children worked very had and showed great sportsmanship. Please follow the link to our Sports Day gallery.
Thank you to the adults for supporting us and cheering us all on!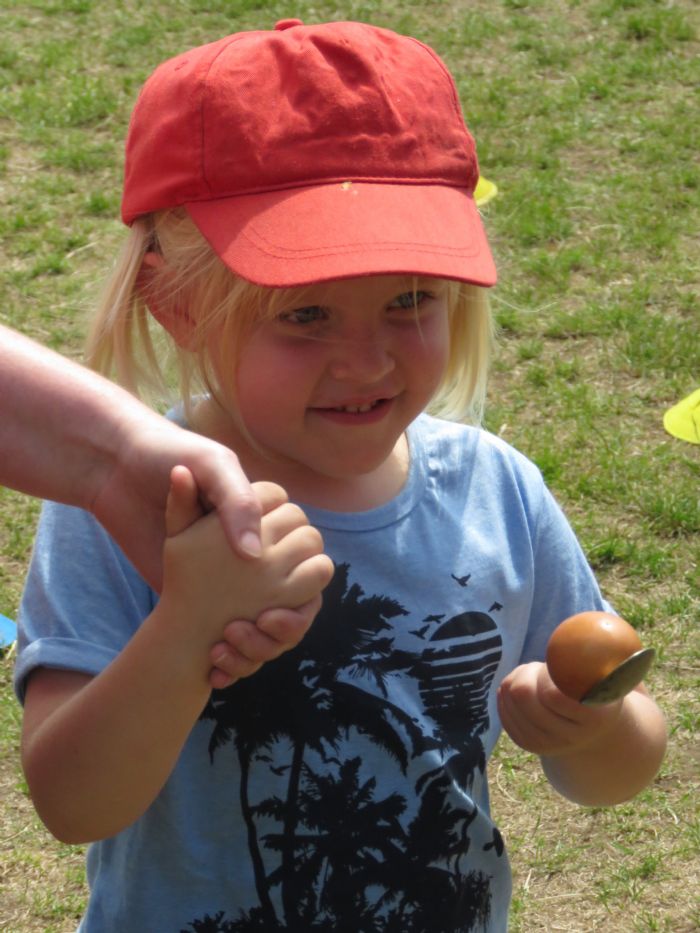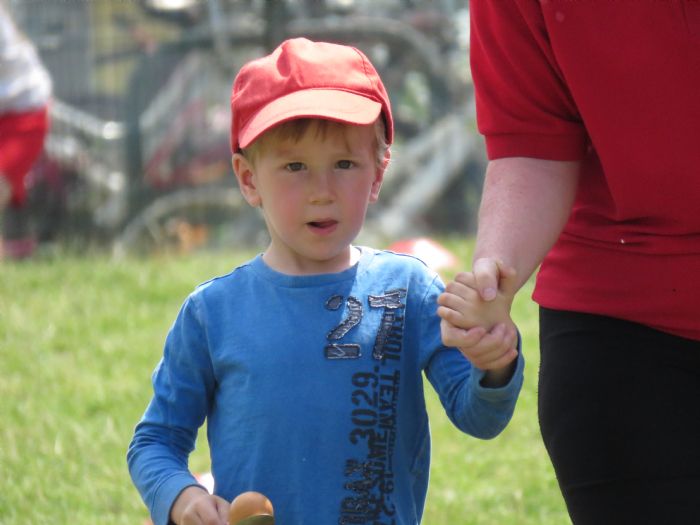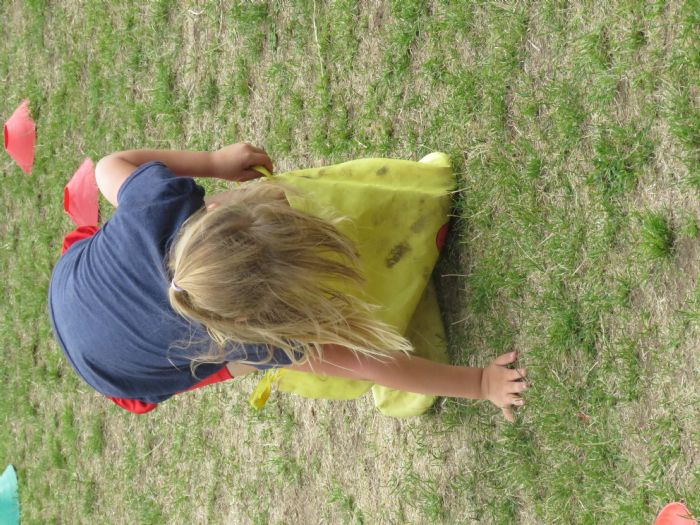 Sports day gallery.

W/C 26th June
We have had a fantastic week and we have been very busy.
On Monday we worked with the Year 1 children and explored moving Bluebots around the set mazes. We paired off our children with the Year 1 children to work on the set task. It was lovely to see the Year 1 children sharing their knowledge and skills with our children. They all worked together beautifully and successfully managed to direct the Bluebots around the mazes.
On Wednesday we were invited to visit Tesco and be part of the 'Farm to Fork' project. We had a brilliant time and took part in the following activities:
We went into the Bakery and watched how they make bread, bread rolls and finger rolls. We learnt all about the machinery used and each stage of the process.
We went on a fruit and vegetable hunt and learnt some interesting facts about them.
We had a tour of the Warehouse and we went into the big fridge and freezer. It was extremely cold in the Freezer!
We made Magic Muesli that the children could take home with them. We hope you enjoyed it for your breakfast.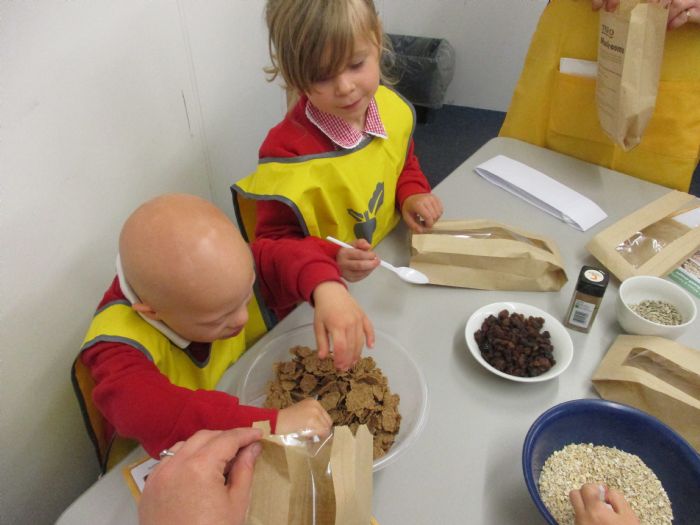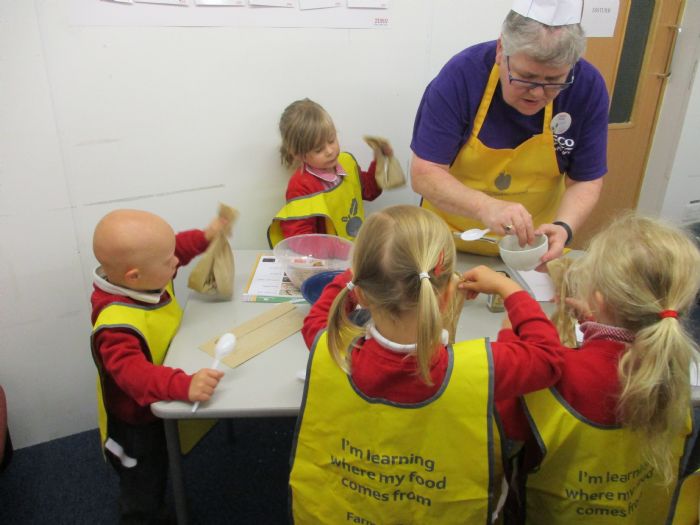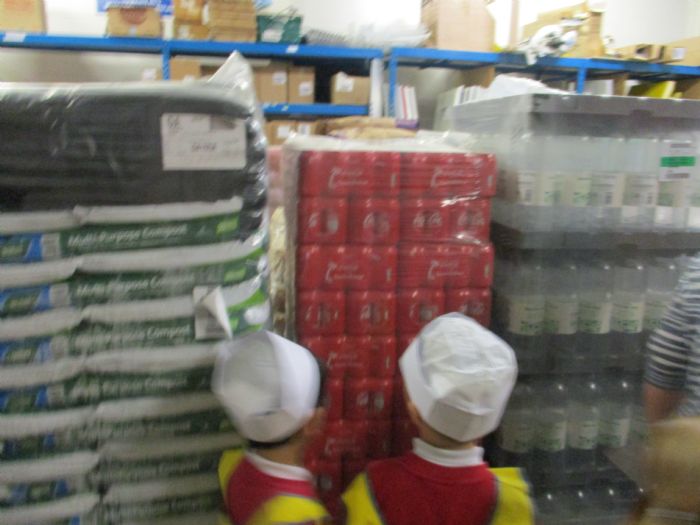 When we got back to school to show our appreciation we wrote letters to say thank you. The children created some wonderful letters :)
Please remember it is Sports Day on 6th July. If you need to know what house colour your child is in please ask Kelly, Anne or Hayley. Thank you
We hope to see you all there!
W/C 19th June
We had a huge problem in Reception on Monday morning. All of our crayons had vanished, only leaving us with pencils. We were very worried at first but then we spotted a book that we had to read. From reading the story we realised that the crayons had quit!
After a long discussion the children decided to write some letters for the crayons to ask them to come back. We had some fantastic writing pieces and one by one the crayons decided to come back to class!
The children were very excited by this problem and some children even suggested to make traps to trap them overnight.
On Wednesday we went into Mr. Barratt's class and joined the Year 5's. We spent the afternoon working with Bluebots and the Ipads. The Year 5's really looked after us and taught us new ICT skills. We had a brilliant time- thank you Year 5.
W/C 12th June 2017
The children continue to enjoy the outdoor environment. It has been wonderful to see some of the children engage in different activities and to try new things. The children's 'can do' attitudes really astounds us every day when trying out new physical challenges. They have loved exploring all the physical equipment and continue to get better and better at using some of the difficult equipment.
As the children are spending more time outside and the sun is now here, please ensure your child has a sun hat and a labeled sun cream that they can apply themselves. We will make sure your child tops up their sun cream at lunch time.
We have been very lucky to have Katie come in and work with the children. She has taught them how to cross-stitch. Over the next couple of weeks each child would have cross-stitched their initial from their name. Katie commented that she has been pleasantly surprised with how well the children have done when cross-stitching as it is a very intricate skill!
Dates for your diary-
Friday 23rd June - School Fayre 2pm-5pm
Thursday 6th July- Reception and KS1 Sports Day 1.15pm
Wednesday 12th July- Reception school trip to Tattershall Farm.
Coach leaves at 9.00am
Please ask Kelly or Anne if you need a new letter for the trip.
W/C 5th June
Welcome back to the final term before your child starts the next chapter in their school life. This term is one of our favorites as the children's progress usually spirals and we usually see some wonderful independent learning. This term we will be focusing on:
Becoming independent Readers and Writers
Consolidating our understanding of Number, Shape, Space and Measures
We will be covering our SRE topics, which are: Our Day, Families and keeping Ourselves Clean. You should have received a letter about this.
Transition into Year 1- We will be meeting the Year 1 Teacher over the next few weeks and working closely to ensure the transition is as smooth as possible for your child.
We have our summer trip to Tattershall Farm Park with a Birds of Prey encounter to look forward to. Please ask Kelly or Anne if you need a new letter.
New Reception Parents- Kelly and Anne look forward to meeting your child on our Open Afternoon on the 21st June 2017 at 1.15pm.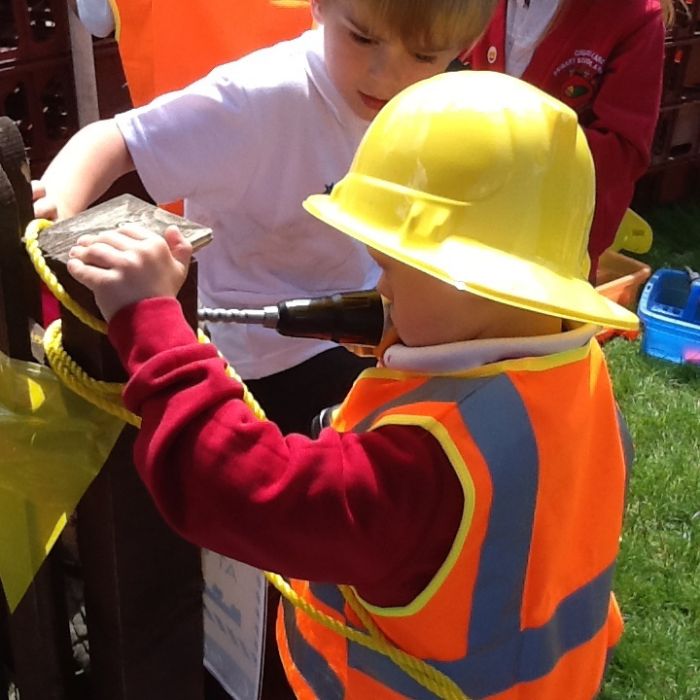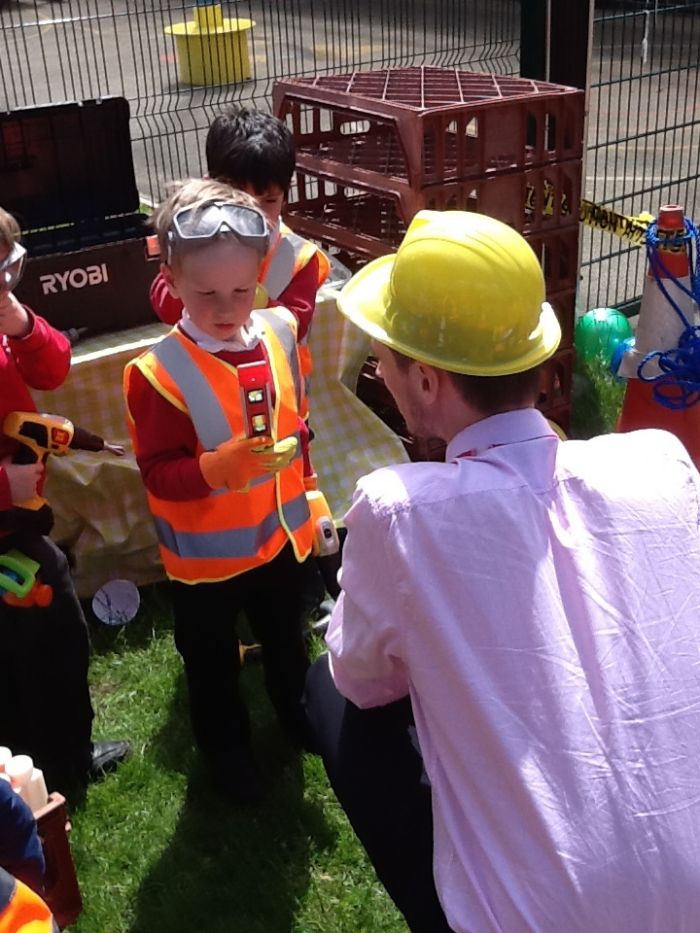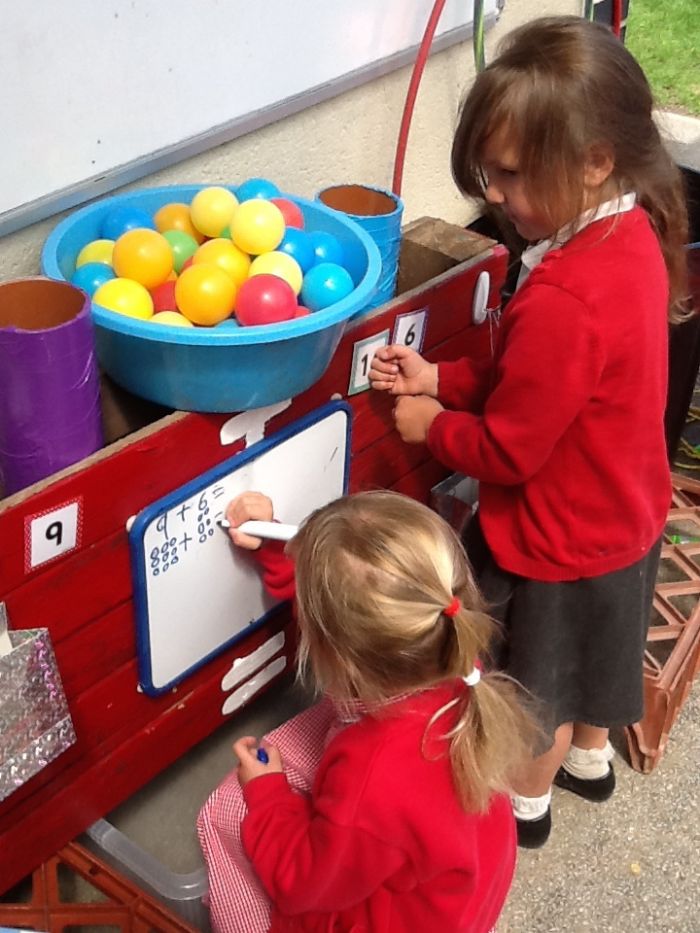 Our first week back has got off with a flying start as the children have explored our new revamped Outdoor area. We hope you like it as much as we do!
Already, we have seen some fantastic learning take place. The children have enjoyed inventing their own games with our new Physical equipment. The children's confidence when exploring the equipment has astounded us. Lots of Maths has been seen as the children record their points and find the totals.
The Herb Kitchen has been a big hit. The children have used all of their senses to create cupcakes and other food items. The chatter we have heard has been lovely and their imagination makes us smile.
We are very excited by the next few weeks to see where the children's learning takes them!
To keep the Outdoor Area tidy, please can we politely ask that you wait outside our gate until an adult greets you when dropping off and collecting your child.
Thank you for your support J
W/C 15th May
Outdoor games has been the interest of the week. The children have been making their own games with rules. The games have provided lots of opportunities for Maths to take place in the outdoor environment.
One of the games included jumping through the big hoop until they could not jump anymore. The children then recorded their score. After each child had two or three turns they had to look at the numbers and tell Hayley which score was the lowest and highest. The children demonstrated very good understanding of high value numbers.
Try this at home with a skipping rope. Count the skips together and record the answer. Can your child tell you which score was the highest? We would love to hear all about your own games at home!
Please remember that Reading books get changed on Monday, Wednesday and Friday each week. We really would like to see a big push on reading next term to ensure your child is ready for Year 1. If you have lost your reading book, please ask Kelly or Anne for a new one.
Thank you for your support.
W/C 8th May
We have been learning about how the Police can help our community and us. Most children had the view that the Police only caught 'bad guys.' To help the children have a better understanding of the different things the Police can help us with we invited our local PCSO to come and talk to us. We had a lovely discussion and she even came back the next day with a Police van for us to look around!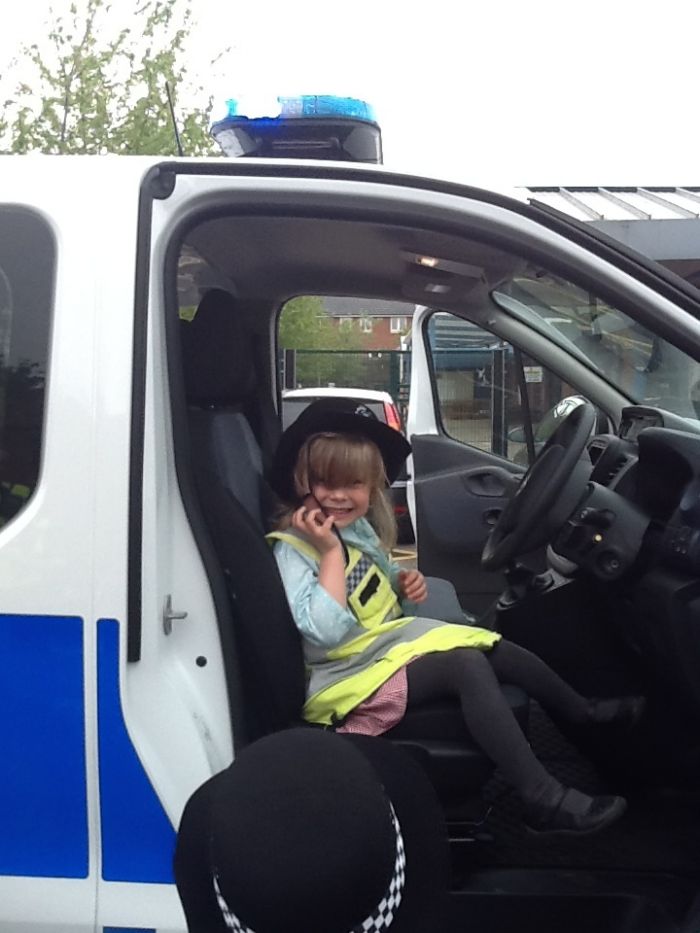 We now have a better understanding of the Police service and next week we will be writing about what we have learnt from the visit.
Alison from Nutkins kindly donated some 'Flying Butterflies' for us to have lots of fun with. The children were keen to have a race and see who's Butterfly flies the furthest. We turned this into a fantastic Maths opportunity. The children had to record on a 'Tally Chart' every time their Butterfly went the furthest. We then added up the points to see who won the game!
W/C 1st May
It has been a very quick week!
We have been consolidating our Addition skills before we move onto Subtraction. The children have enjoyed using the Ladybirds and adding on spots to solve the Addition number problem. Some children have been using their knowledge of number bonds to 10 and doubling to solve the problems.
Recycling has been a big interest with the children. We set up an activity to encourage the children to explore different materials and to sort into different groups. The children were very good at identifying the different materials and talking about their properties.
We found a Caterpillar in the garden, which has sparked a new topic. We learnt about the Life Cycle of a Butterfly and used play dough to create the different parts of the cycle. We will continue this learning next week.
We have made a few changes to our classroom to help prepare the children for the transition into Year 1. We have added a few more active tabletop activities to help consolidate our Maths, Reading and Writing. If you would like to talk to us about how you can help at home to get your child ready for Year 1 then please ask Kelly or Anne.
Thank you
W/C 24th April
On Monday, Kelly came in with some big news to share with the children. At the weekend Kelly had a water leak outside her house and there was lots of water everywhere. Kelly went on a hunt for some sandbags to protect her house but instead a Fire Engine turned up to help Kelly and Oscar with the water leak. They ended up putting out an inflatable barrier to stop the water from flooding the driveway!
Kelly needed some help from the children to write some letters to say 'Thank you' to the Firefighters for all of there help. The children were very excited by this and were keen to write some letters.
We were very impressed with their independent writing. We have saved the letters as we are hoping to get a visit from the Fire Service very soon. We will then pass on the letters.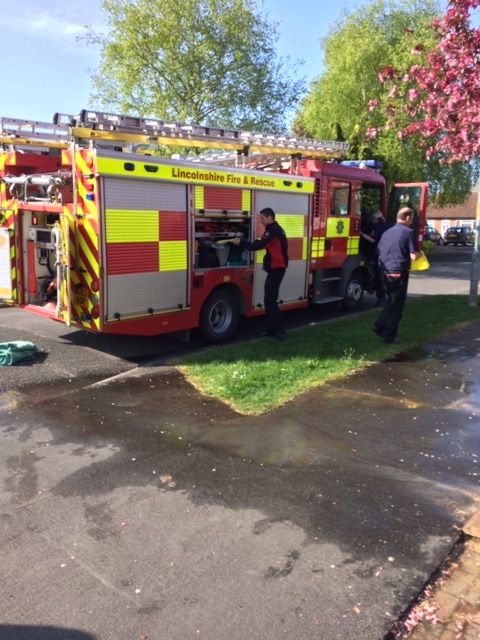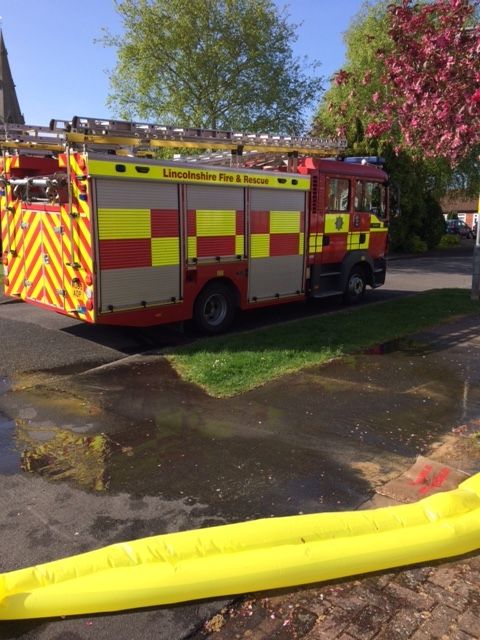 Alongside writing letters we have been learning about Animals from around the world. We used the Internet and Non- Fiction books to learn more about wild animals. We then used the information to create a fact file about Tigers as this seemed to be the most popular animal.
Did you know Tigers can swim in water and climb trees? Ask you child if they can tell you a fact about a wild animal.
Next week, we will be learning how to care for our Pets and then using this information to write a small care guide.
In Maths, we have been consolidating our careful counting skills to 20 and beyond. We would love to see some counting activities that you do at home with your child.
Welcome back.
We hope you had a lovely Easter break and didn't each too much chocolate!
We are in the final term and have lots of work to do to consolidate our skills in Literacy and Maths. This will ensure we are Year 1 ready!
This Termlet we will be focusing on:
Literacy/Phonics:
Continue to consolidate our reading skills. This will include reading short story books and learning our High Frequency words.
Continue to work on our letter formation by making sure our letters are formed the right way.
Making sure we remember our finger spaces, full stops and capital letters when writing.
We will be focusing on Information texts. We will be writing fact files about 'Animals from around the world' and about 'People who help us' e.g. Fire Service. We are hoping from visits from the Fire and Police service to support our learning.
Maths:
Consolidating our counting- 1's, 2's, 10's to 100
Estimating from 10,20, 100 objects.
Add 1,2,3, to any number by counting on.
Addition including number bonds to 10.
Doubling and halving to 10
Subtraction
Reading every night with your child really will help with supporting their Phonics. If you need a new Reading Record book please ask Kelly or Anne for a new one.
Thank you for your support :)