W.C 27.03.17
And we have sailed past the finish line, another term over and done with! We're not going to lie, it's not been all plain sailing this week. I think the adults are just as ready for a rest as the children as we have literally not stopped for a breath pretty much this entire term! The workload has been huge but then so has the progress so give yourselves a huge pat on the back for a job well done. We definitely deserve the rest!
In English this week we've been very busy creating dinosaur acrostic poems and remembering how to write instructions. Miss Cragg put an exciting app on the iPads called "Walking with Dinosaurs" based on the film where you can take photos with dinosaurs in them! We had lots of fun playing with our friends making the dinosaurs pose and we also put a picture of ourselves with our pet dinosaur in our books to write about taking care of it. We wrote about what sort of dinosaur it was, where it would sleep, what it would eat, how we would walk it and how we could keep it clean. The results are very imaginative to say the least! We also managed to become palaeontologists for a lesson and used paintbrushes to uncover fossils. Some new careers in the making!
In Maths we've been looking at shape, both 2D and 3D. We've used the shape vocabulary of sides, faces, edges and vertices and talked about the difference between flat shapes and solid ones. We've also done more work on positional language as well as direction and used the Beebots to direct them around maps with left, right, quarter, half, three quarter and whole turns and also used clockwise and anticlockwise. After the Easter holidays we will begin to learn about measurement including time, length, weight and capacity.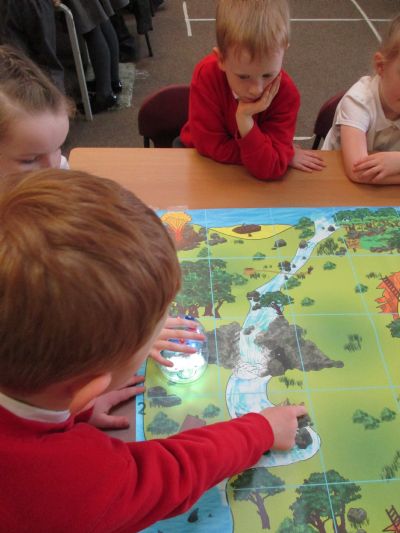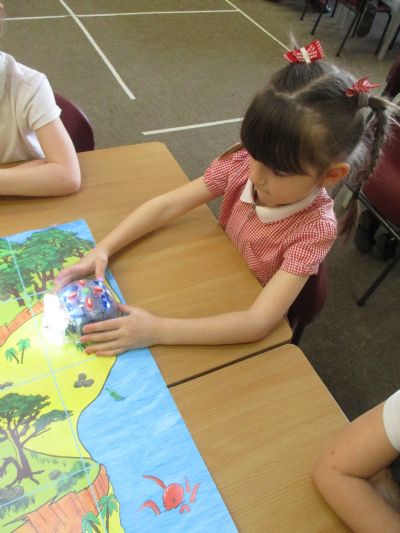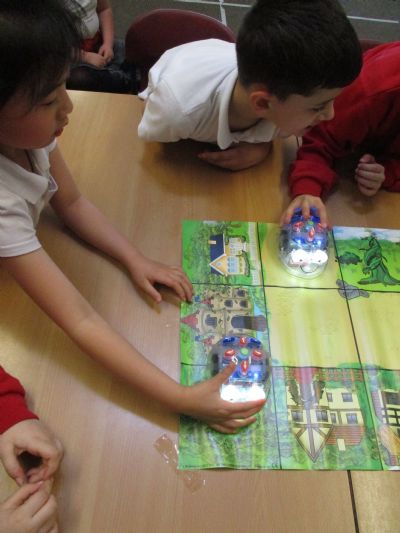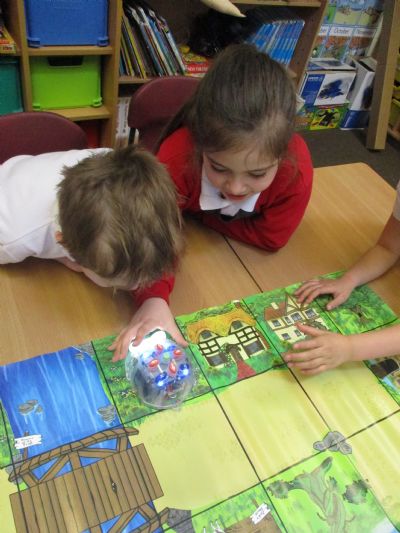 We have had a focus on RE this week with Easter coming up, and had Father Phillip in to talk to us on Friday about the Christian festival. We have learnt about the events of Palm Sunday, Maundy Thursday, Good Friday and Easter Sunday as well as learning about why and how Christians celebrate Easter.
All that is left to say is have a chocolaty, fun filled and safe Easter break and we look forward to seeing everyone back on Tuesday 18th April.
W.C 20.03.17
What a week to be in Year 1! Just before we start talking about all of the amazing work we've done this week, firstly we need to say a huge thank you to all parents who attended our fantastic art exhibition. It was a triumph! All of the work looked brilliant (especially Year 1!) and it really shows off what wonderful artists we all are.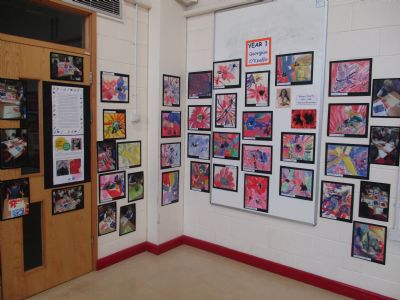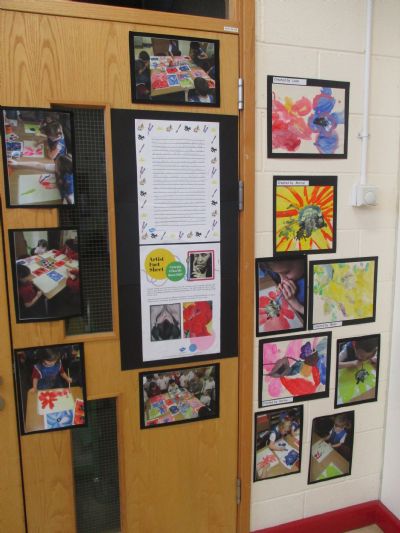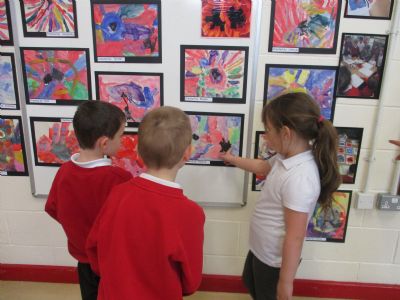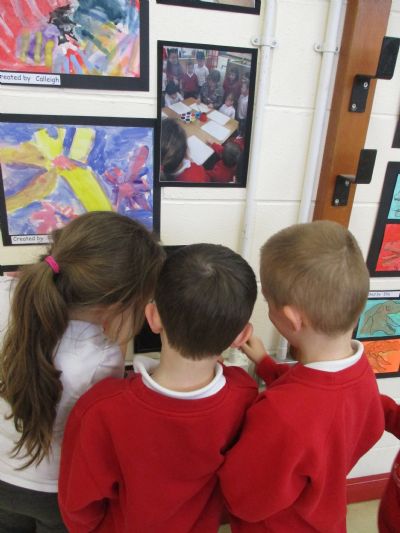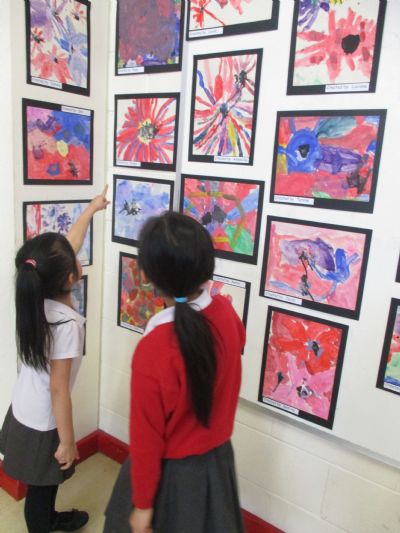 Back to this week. We had a visitor in the classroom on Monday…Fiona discovered a huge egg in school which we had a suspicion was a dinosaur egg! We worked hard to describe it using adjectives and to think carefully about what sort of dinosaur might be inside. We have learnt about how reptiles develop in eggs and then on Thursday…it hatched! There were sightings of the dinosaur across the school, it was seen making a mess in the outdoor area, it nibbled on some plants in Year 2 and it destroyed the classroom spreading chaos everywhere! We had lots of theories about the dinosaur but we think it's definitely a herbivore so no need to panic about getting nibbled. We think it might have gone into Sleaford to see some of the sights so keep an eye out for it!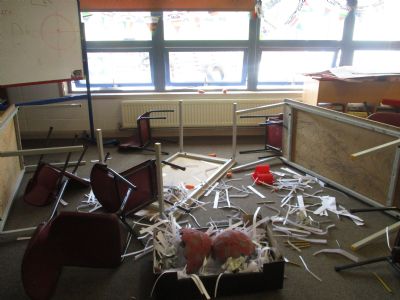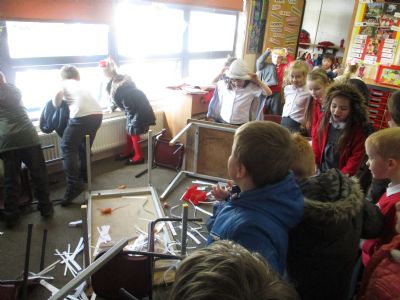 Oh no! The dinosaur came back to nibble some more of Year 2's plants! Looks like Alex has made a new friend...
In Maths this week we've turned our focus to a new area of the curriculum after some very strong results in our fractions post-test. Miss Cragg and Alex are impressed and proud about how hard everyone is working and how much we're able to show this in our books, to visitors and in practical work. We have moved on to position and direction as well as shape so we're now talking about half, quarter, three quarter and whole turns and 2D and 3D shapes.
In Geography this week we've been mapping the UK and comparing it to Brasilia. We've been using the atlases to look and read maps and can label maps with confidence. We've also begun to create some super mosaic dinosaurs in art as well as make a giant Celtic cross to go on display in the main part of school in conjunction with an RE focus on Easter. Speaking of which, not long now until the Easter holidays! We finish next Friday on the 31st March.
W.C 13.03.17
Edging closer to the Easter holidays now Year 1! There's no slowing down or coasting here though. We've had another busy week exploring our topics and demonstrating our knowledge and understanding to all of the grown ups in and around the classroom.
In English this week we've been recapping our knowledge of dinosaurs and learning some new facts about our favourites. We are experts at telling the difference between fiction and non-fiction now and have reminded ourselves about how and when to use exclamation marks. We have learnt about dinosaur fossils and how they were made over thousands of years. I think we'd all like to be palaeontologists when we grow up, especially Miss Cragg!
In Maths we have been continuing to focus on fractions and we're getting really good at explaining how we know if it is a half or a quarter now. We've moved on to three quarters of shapes, objects and numbers and whilst it's tricky we're beginning to get the hang of it. We've still been using objects and containers as well as the more abstract concept of three quarters word problems to develop this mastery.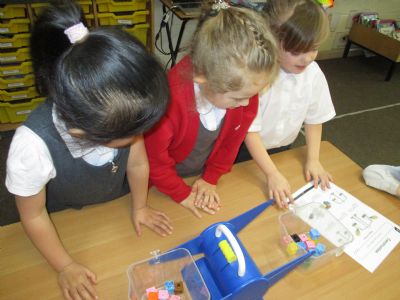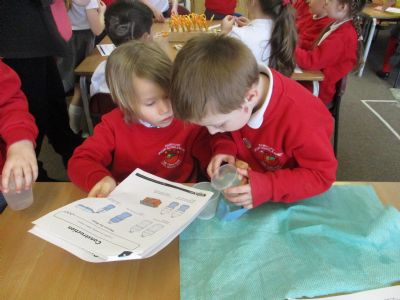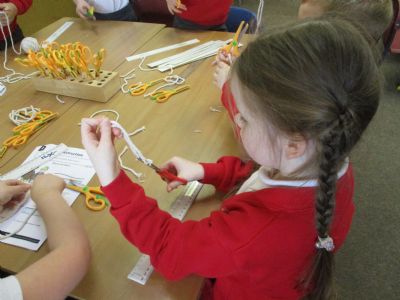 In Geography we used Google Earth on the iPads to explore where we live, where our school is, our town of Sleaford and we also got to look at Lincoln and London. In Science we learnt about veterinarians in our topic of Scientists and Inventors and got chance to diagnose and treat some poorly pets! Some of us got to show off our spelling, punctuation and grammar skills in a SPaG test this week too. We have been busy bees!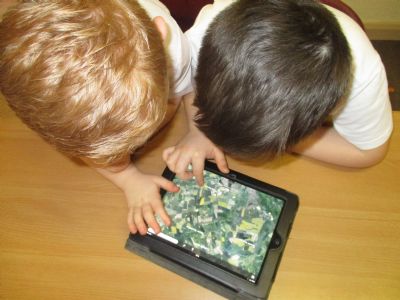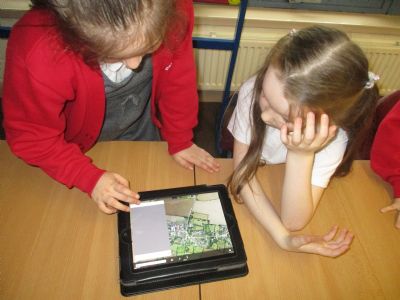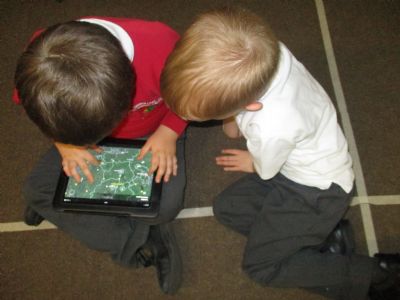 There will be an art exhibition in the hall after school on Friday 17th March where the children will be displaying their art and English work based on a particular artist. Our artist is Georgia O'Keeffe who was an American artist, she pioneered bold, bright artwork based on close up views of flowers and nature. Our paintings are amazing! Please come along and join us at 3:15pm. We look forward to seeing you there.
W.C 06.03.17
We've been going fractions mad this week with lots of Maths activities set up all over the classroom for us to practice finding half, a quarter and three quarters. We are really consolidating our understanding and are getting better at explaining how we know as well as practicing our speaking and turn taking skills.
We used water...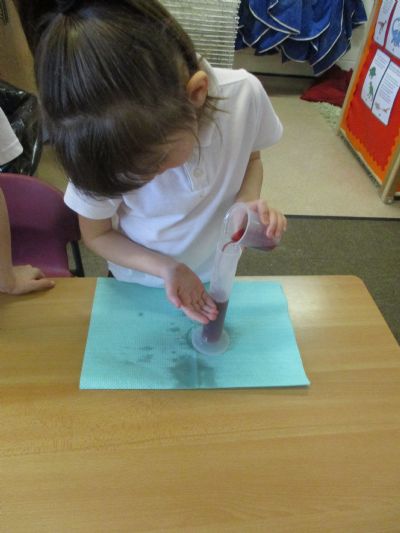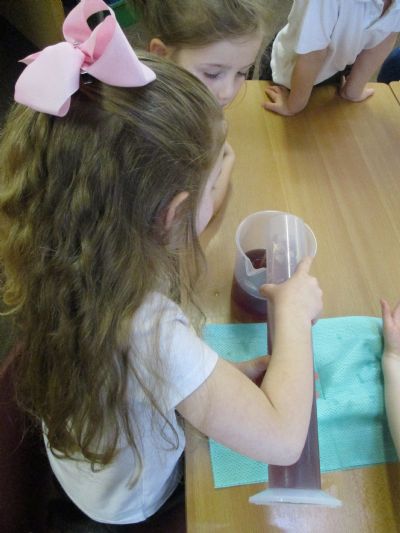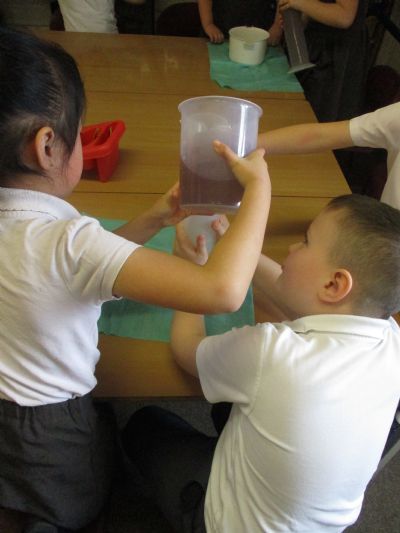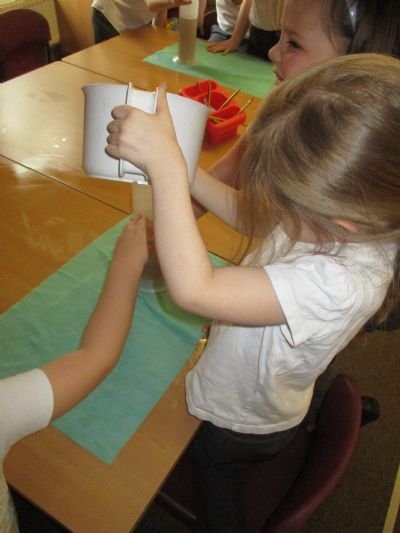 Objects and pictures...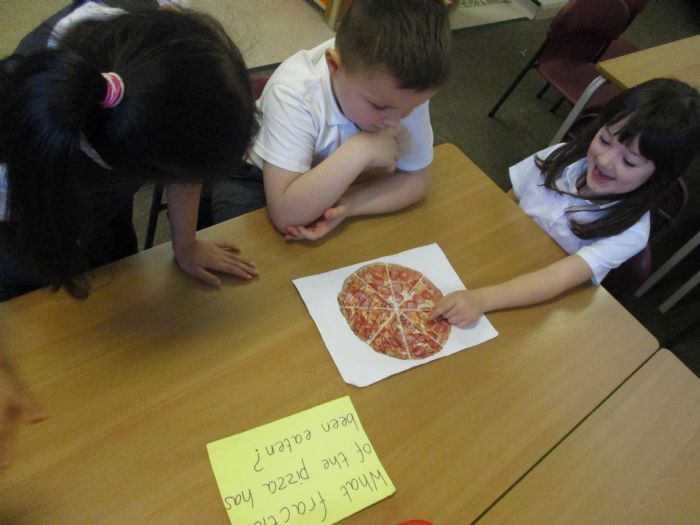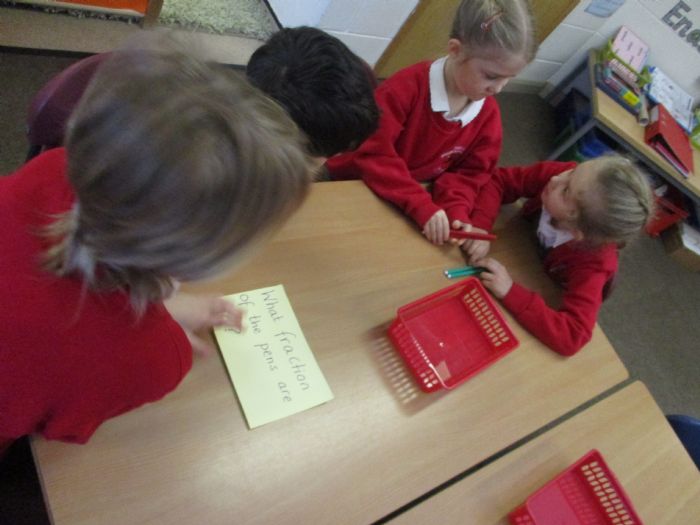 and Smarties!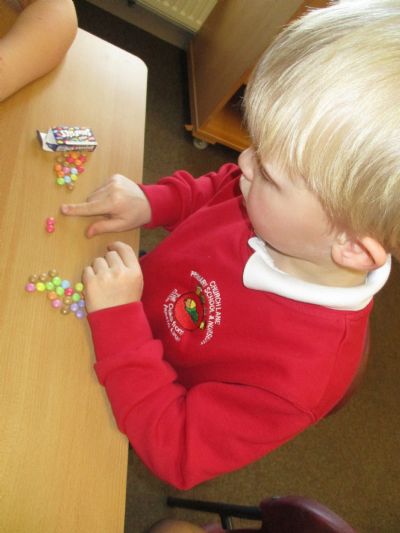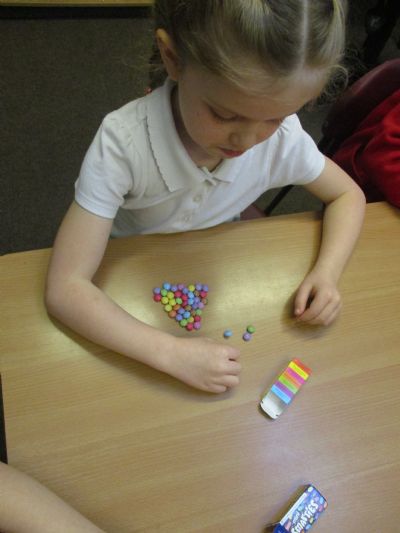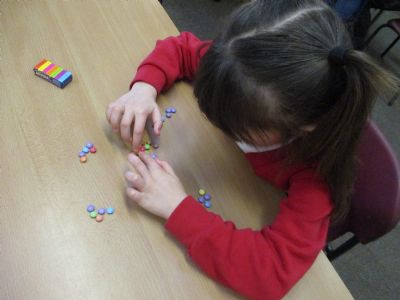 In English we've been continuing to learn about fiction and non-fiction and this week, and we've had the chance to identify sentences from stories and information books and classify them correctly. We've also done some super carnivore and herbivore dinosaur sorting with Mr Clay! We're getting really good at exploring the features of these books and even know why a fiction book would have a contents page.
In Geography this week we've been continuing to learn about the United Kingdom, this week focusing on England, the country where we live. We can draw the map and a symbol of England as well as identify the capital city, longest river and highest point. We've been practising our reading skills all week and applying our comprehension skills in guided reading.
In Science we carried on with our inventors topic looking at George Mottershead who pioneered the first natural environment zoo, now known as Chester Zoo. We learnt how to classify animals into groups and could explain our choices. As you can tell, we've been focusing on our speaking and listening skills this week as well as reasoning and going into greater depth!
Parents Evening was a huge success, thank you to all grown-ups who attended. If you have not seen Miss Cragg to discuss progress then please make an appointment at your earliest convenience.
W.C 27.02.17
It's been a wild ride in Year 1 this week with lots happening and the chaos of World Book Day! Everyone dressed up as their favourite characters and had lots of fun showing off their costumes to the rest of the school on Thursday.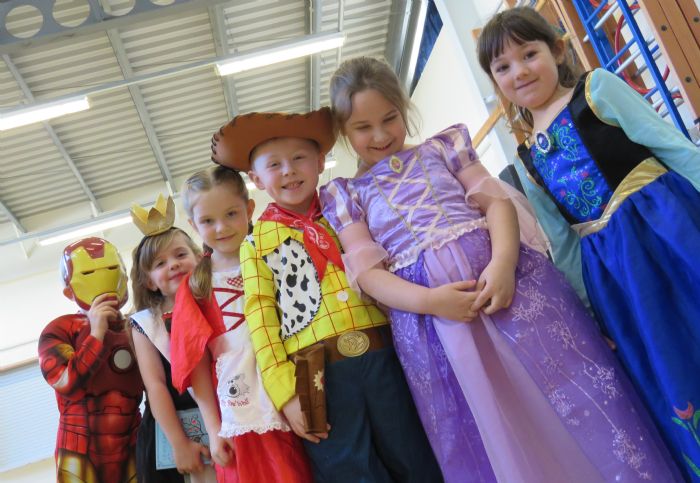 In English this week we've been continuing to look at non-fiction and really reminding ourselves of these features. We have focused on alphabetical order this week and have also written a glossary to define words found in a non-fiction book and have written captions for dinosaur pictures. We've done some learning about dinosaurs and are beginning to think about these creatures that lived so long ago.
In Maths we've continued to learn about halves and quarters. We've been finding half of an amount this week as well as being able to identify if a shape is split into half. We know that half means two equal groups and are great at spotting if the shapes are not equally shared. We will continue to learn about this next week.
In Science we learnt about our first Inventor, Ole Kirk Christiansen who invented Lego! We found about how Lego was made, the material it is made from and identified its properties. In Geography we continued to learn about the United Kingdom and explored some atlases this week, looking at maps of countries, cities and seas. We labelled a map of the United Kingdom and looked at our flags and symbols which represent these countries.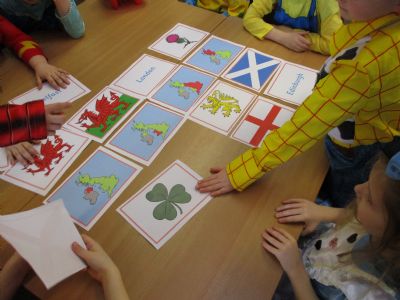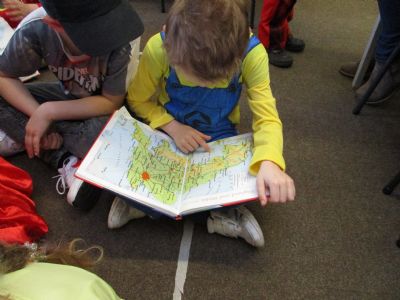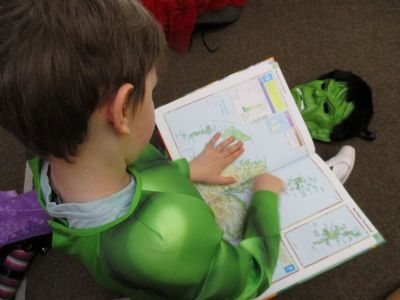 Guided Reading is going well with each child in Year 1 determined to commit to trying their hardest when reading. Lots of practice at home is really paying off with our confidence growing and our writing getting better all the time. We can give opinions and are beginning to locate information in the text to answer questions.
We also had a visit from Farm Kitchens who make all of our yummy school dinners on Friday. They did a tasting session with us and we got to make lots of different dishes as well as try them all. If we come home with green faces that is from the smoothies!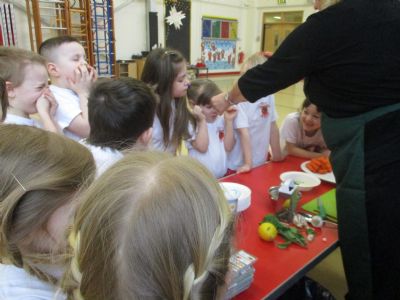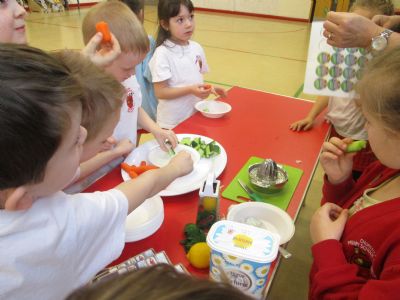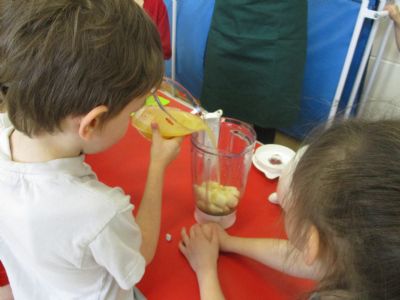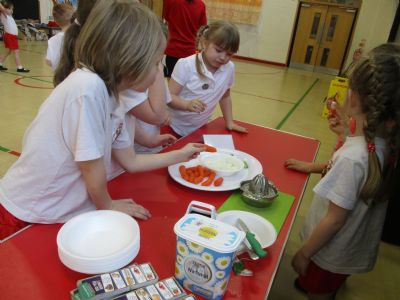 Don't forget its Parents Evening on Tuesday 7th March. If you have not made an appointment please see Miss Cragg to book in for a chat whenever is convenient for you.
W.C 20.02.17
Welcome back! We are officially half way through the school year now, a term and a half down and the same to go. We are determined to be ready for Year 2! This week we've kicked things off with introducing new topics. We're going to be learning about dinosaurs, about scientists and inventors in Science, about Easter and Surprises in RE and about our country in Geography. We've also moved on to looking at fractions in Maths.
On Monday we had an art day, filled with learning about the artist Georgia O'Keeffe and painting some flowers in her huge, bold, close up style. We learnt lots about her life and her work, and how she took her inspiration from nature to paint in a style that no-one at the time was using. We used bright colours to paint large flowers which filled the page then used some paint blowing techniques which Fiona taught us to make the middle parts look really authentic. We will be having an open afternoon soon which grown-ups are invited to to look at all of our fantastic Georgia O'Keeffe paintings.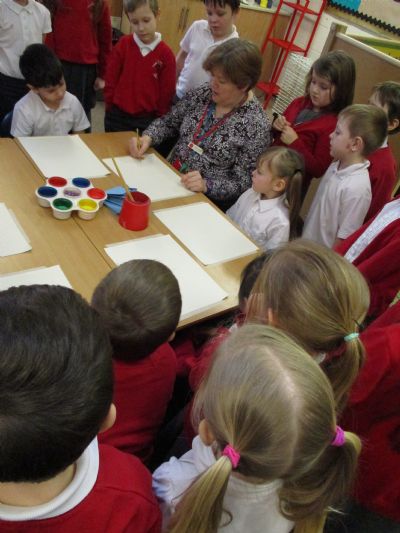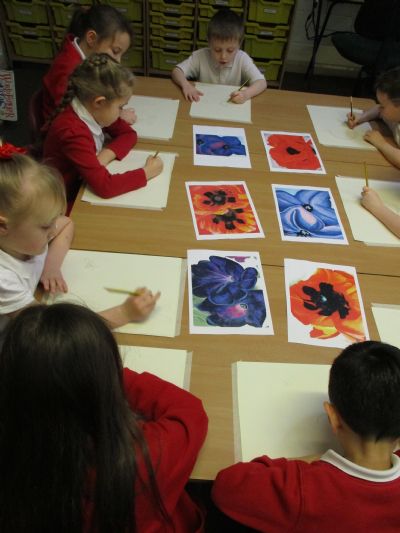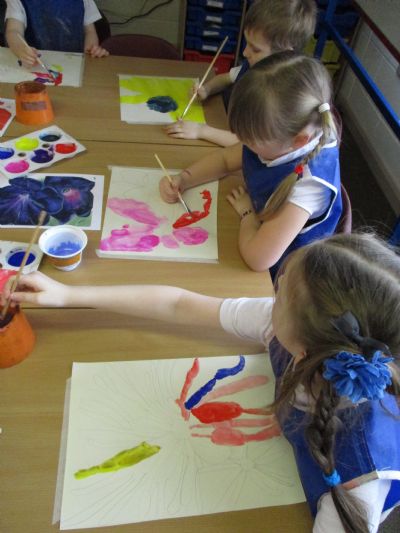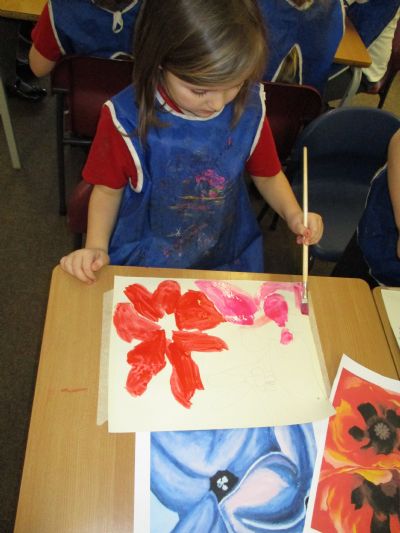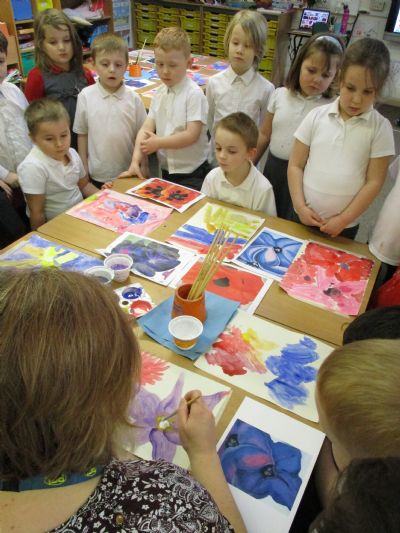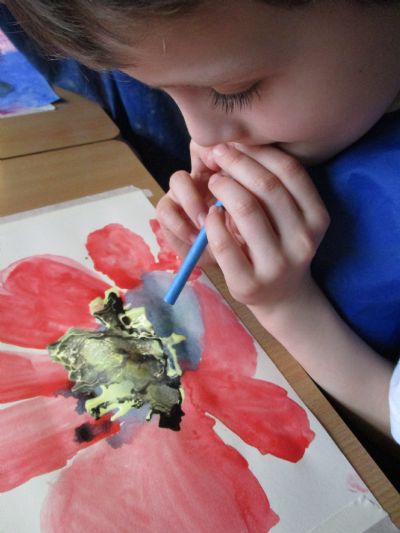 In English we've been finding out about the differences between fiction and non-fiction. We can spot a story book or an information book from the front cover and have been sorting books into groups as well as identifying the main features of each. We know that fiction books have illustrations, characters and settings and are made up whilst non-fiction books are real facts with a contents, glossary and index page as well as headings, captions and photographs. Next week we will continue to look into fiction and non-fiction and also start to learn about dinosaurs ready to write our own information text.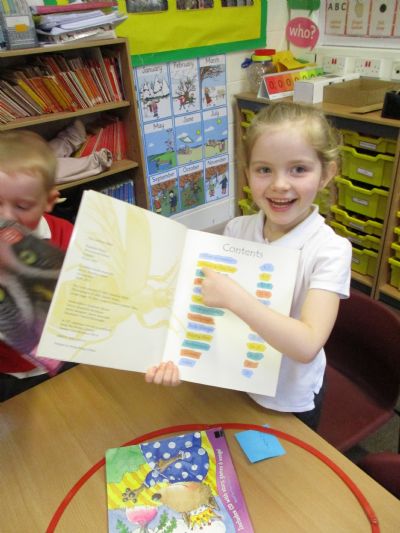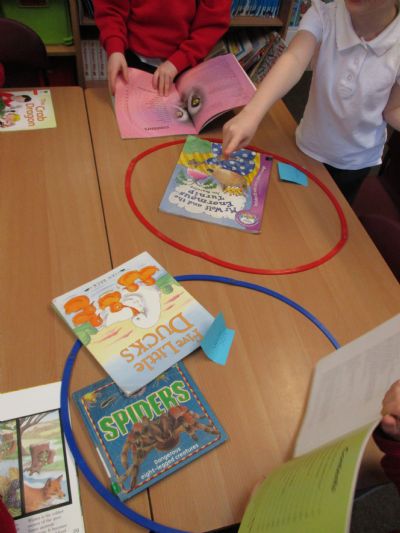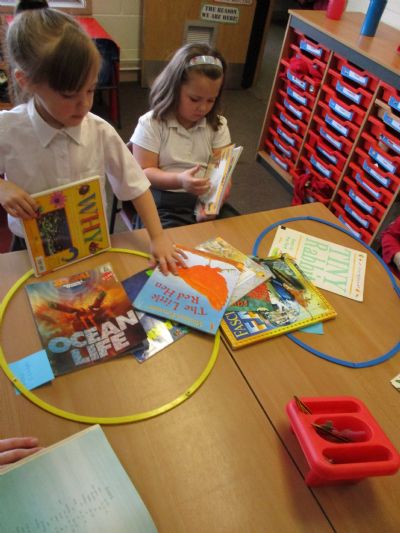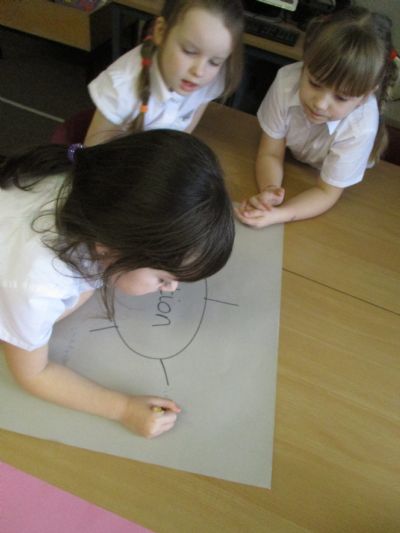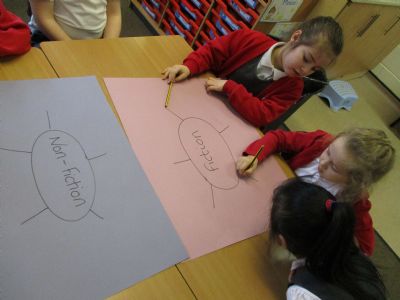 In Maths we began to look at fractions, focussing on half and quarters this week. We know that half means the object or number is split equally into two groups whereas quarters means there are four groups with the same amount in. We also had a chance to turn this into a practical lesson making fractions with chocolate and biscuits!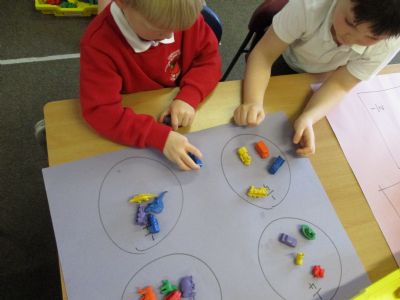 We began our first Geography lesson by looking at the difference between the countryside and the city and some of us were able to say where we'd rather live! We read 'The Town Mouse and the Country Mouse' and made some good comparisons between the two places. We will continue to look at the United Kingdom as a whole in these lessons.
Please don't forget to make an appointment for Parents Evening which is on Tuesday 7th March.
W.C 06.02.17
And that's it, the end of another half term and Christmas seems like a distant memory! We've all worked so hard these last five weeks and we deserve a lovely break to sleep and play and catch up with all of our friends. Please don't forget to read lots, use Maths Whizz and have great adventures to share with everyone when we're back at school!
In English this week we've been writing our superhero stories, putting into practice everything we have learnt about adjectives, settings, characters, exciting sentence openers, different punctuation such as exclamation marks and ellipsis, capital letters for names, story mountains, beginnings, build ups, problems, resolutions and endings. Lots to remember! We're getting really good at evaluating our own work and that of our peers too, as well as reading, editing and changing it as we go along which is a great skill to have in our writing toolkits.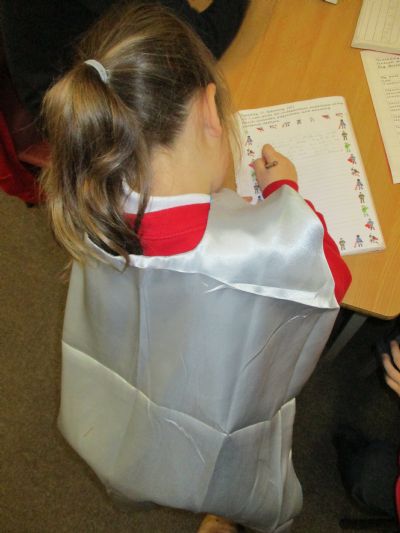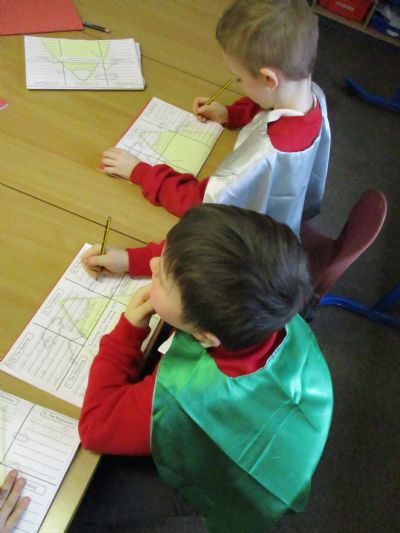 In Maths we've been revisiting double and half, and that's what our homework is about too this week. We've been making links between division and multiplication and know that the numbers get bigger when we double and smaller when we halve. We've also all completed a post-test in Maths which assesses the learning we have done as well as our progress over the half term. This will be a more regular occurrence as we move towards Year 2 readiness.
In our final lesson on Everyday Materials in Science we tested different materials to see which were suitable to be a waterproof cape for Fire Boy – as you know, his weakness is water! We tested a bin bag, felt, a rubber glove and a paper towel. We were able to make a sensible prediction and write up our results after our practical experiment.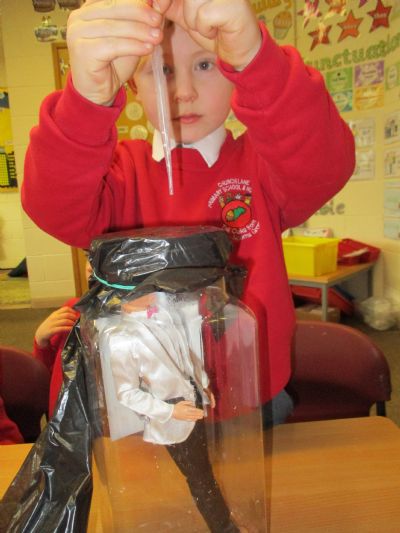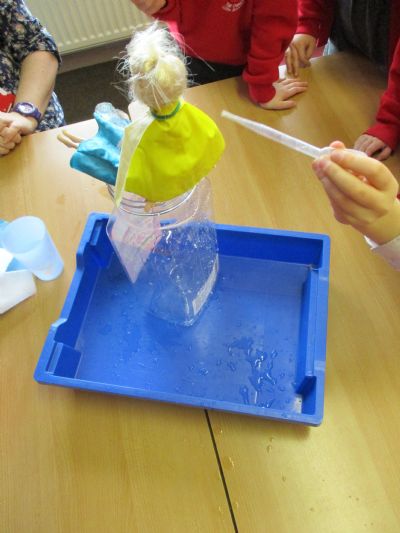 We've had time in the ICT Suite on the computers and the laptops as well as with the iPads this week and have finished off our Toys topic in History. We can identify toys from the past and present and can put them into time order, identifying the oldest and newest toys. We've also done some fantastic music lessons with Sue, playing with the trumpet and xylophones and serenading Miss Cragg on the ukuleles!
Have a wonderful break and we'll see you back on Monday 20th February.
W.C 30.01.17
Another week, flown by in the blink of an eye! Another busy one in Year 1, we don't stop to let the grass grow under our feet you know! In English this week we've been concentrating on stories, using the story plan to write our shared story about Fire Boy defeating Electric Man in the big city. We've started developing our own new character and setting and begun to plan a new story which we will be writing by ourselves early next week. We can identify and use adjectives and wowed Mr Clay and Miss Jackson with this knowledge when they came to visit us this week! Miss Cragg and Alex have been amazed by all the imaginative ideas that have literally been flying around the room, we can't wait to read all of these exciting adventures.
Guided reading is also going well and is giving everyone lots more chances to read in class and to be listened to by an adult. Please continue to read at home with us, it makes such a difference to our school life. Once grown ups have read with us they could ask us questions about the story, maybe to ask us to retell it in our own words or to decide how the character felt at a certain part, or the reason for their reaction. Or you could ask our opinion of the story and the reasons why we feel that way. All of this will help us to think more deeply about what we have read and will give us comprehension and inference skills which are needed as we progress through school.
In Maths we've been working hard to master using a number line. We've used it for multiplication, addition and subtraction this week! Did it confuse us? Oh no! Sue has also been helping us put this into a practical basis during the time she spends with us. We know that when answering multiplication and addition calculations the number gets bigger, and in subtraction it gets smaller. We also know which way we have to jump and how – if it is in groups or if it is in single jumps. Next week we'll be reminding ourselves of doubles and halves.
In Science this week we had a practical lesson looking at some of the properties of our everyday materials in more depth. We investigated a variety of materials to see if they were bendy or not, waterproof or absorbent as well as transparent or opaque. We have really got to grips with this tricky vocabulary.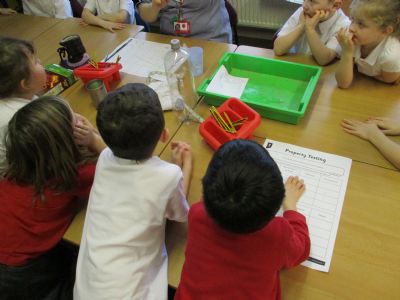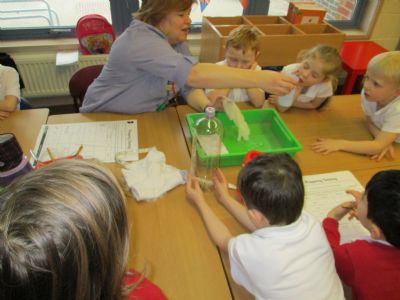 We also managed to squeeze in some ICT time using the computers, laptops and iPads as well as a well deserved golden time slot to chill and choose what to play with in the classroom. One more week until half term!
W.C 23.01.17
Gosh the weeks are flying away, only a couple more until a well-deserved half tem break! Everyone in Year One has been trying their socks off lately and have made Mr Clay and Miss Cragg really impressed by their efforts in a mock test of the Year One Phonics Screening which will take place around June. If we're chatting about 'alien words' or 'nonsense words' then that is why! Any extra practice that you can do with your child at home would be appreciated, such as making up silly words with them and then sounding them out carefully. Speak to Miss Cragg or Alex if you need any support with this.
In English this week we've been looking at the story mountain and learning how to build an exciting story. We know that the beginning needs a description of the setting and the main character, the build up needs to start telling the reader about something that's going to go wrong…leading up to the problem where there is a catastrophe! Then it's on to the resolution where it is all sorted out, and finishing with an appropriate ending. We have made up an amazing story as a class with a hero called Fire Boy trying to defeat the evil Electric Man! We've also been trying to use interesting punctuation such as ellipsis and exclamation marks. Next week we're going to write our own version of a superhero story using everything we've learnt about the story mountain.
In Maths we've been focussing on division. We can recognise the divide symbol and we know that this means sharing into groups. We know that the biggest number goes at the beginning of the number sentence and some of us can even write the inverse for the multiplication number sentence too! We're going to keep going over this as well as revisit addition and subtraction next week to make sure that we're really confident with all of these mathematical operations.
In Science we continued looking at Everyday Materials. This week we were sorting materials by their properties and looking at really descriptive language to use to tell others how they felt and looked. We used lots of different scientific vocabulary and can identify materials and objects as well as being able to tell the difference between the two.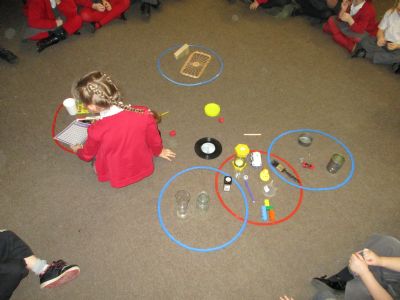 We've also had a couple of opportunities this week to use our ICT skills on the iPads and MacBooks…even though we were interrupted by a VERY chilly fire drill on Thursday! Our History lessons continued looking at the history of toys and focussing on Meccano and Crayola, identifying similarities and differences between these toys and their modern counterparts, still used today over 100 years later.
Reading is incredibly important, especially in Year One when we're laying the foundations for our education. Learning tricky words by sight, blending and getting an opportunity to practice our phonics can help us a great deal in the future; it can also impact our skills for writing and our imaginative play! Please try to read with us at home as much as possible and return reading books and journals to be changed as often as you can. Just 10 minutes per day really does make a big difference. Thank you.
W.C 16.01.17
A long old week this week! The grown ups have been feeling the effects of the new term as well as the children. I think we're all tired after working so hard!
In Maths we started off revising everything we learnt about multiplication last week looking at repeated addition and arrays, writing multiplication sums and answering word problems. We've also been commuting the multiplication sentences and reversing them, so we know that 2 x 5 is the same as 5 x 2 and we have the tools we need to answer problems when we don't know the times table in question. Next week we're going to move on to division, putting objects into groups to share them and remembering that each group has to have the same amount.
In English this week we've been looking into character descriptions, using adjectives to describe what characters look like and also thinking about our own superheroes. We've been making up some background stories for them and deciding how they got their superpowers! Some of our heroes got their powers from their parents and some were affected by a terrible accident…our imaginations have been running wild in year 1!
In Science we continued our investigations into Everyday Materials and looked at the difference between an object and a material. We know that an object is an item or a thing and that a material is what it is made from. We are beginning to identify some different types of materials such as wood, plastic, glass and metal and have used terms such as transparent.
In History this week we carried on looking at toys, this week using the iPads to look at toys from the past. We looked at a selection of photographs on the internet using Google to search. We looked at some webpages and read some information about wooden Victorian toys. We loved looking at the old toys and know that lots of toys we play with today are the same that our grown ups played with when they were little!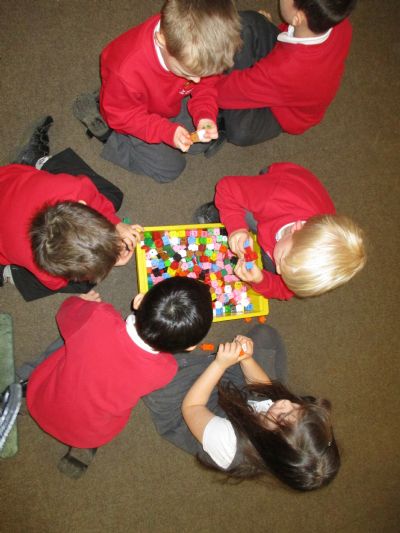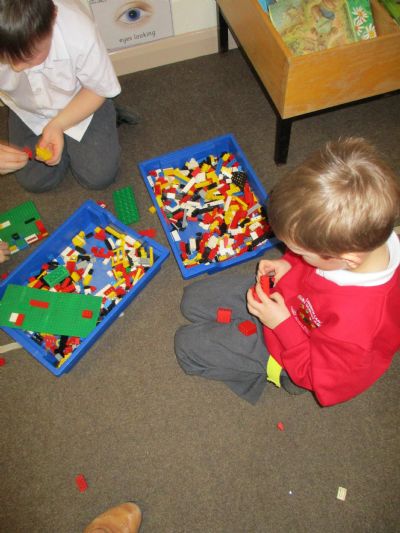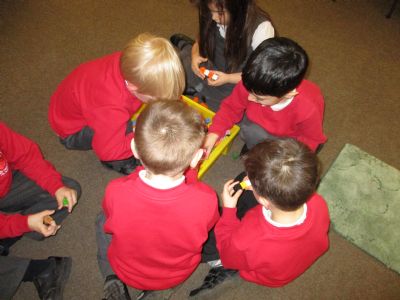 Guided Reading is going well and our handwriting is definitely improving from all the extra practice! Please continue to read every night, this has a huge impact on our reading and writing as well as our knowledge of story and sentence structure. If you do not have a book or reading journal, please see Miss Cragg or Alex.
W.C 09.01.17
Wow, the first full week back has flown by! We're getting stuck in now, started our new topics in Science (Everyday Materials) and History (Toys) and have been getting our teeth into our Superhero topic too.
In English we've been working on creating some super settings, really getting our descriptive skills into gear. We've talked about using our senses to say what we can see, smell, hear, touch and taste in the setting as well as writing some great sentences with capital letters and full stops. We've also been introduced to verbs and have been adding 'ing' to them in our SPaG session. Next week we're going to look at character profiles and start working on the story mountain, focusing on the structure of fiction stories.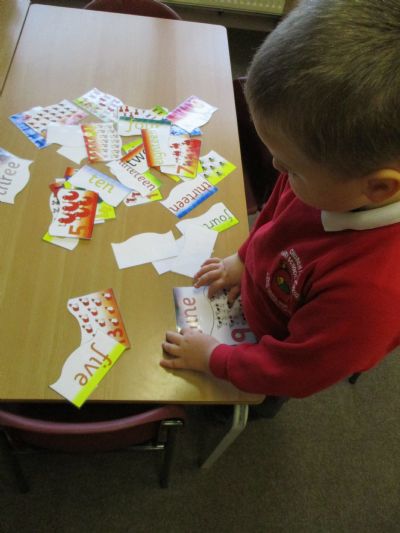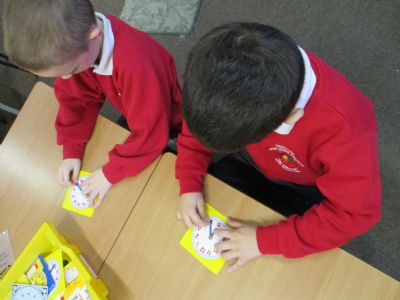 In Maths we've been going multiplication crazy! We know that the multiplication or times symbol looks like an x and it means the numbers get bigger. We're beginning to understanding that it means groups of numbers rather than adding them together. We've worked on repeated addition and arrays this week and have impressed lots of people with our super skills, apart from Miss Cragg and Alex who are really proud, Mr Barratt and Mr Hodgson were very happy with how we're getting after from their visit to one of our Maths lessons this week. We can find answers from arrays and even draw our own. Look out Year 6, we're hot on your heels!
In Science we started our Everyday Materials topic looking at different materials and their properties. We explored wood, metal, glass, plastic, rock and water – it was very funny when Fiona tried to pass water around the circle! Ask us what happened to the water and our hands – it didn't get very far! We talked lots about how the materials felt and came up with some great describing words. In History we started our new topic called Toys. We looked at toys from the past, some toys from 100 years ago are still around today! We know that children in the past played Twister and Monopoly like we do, and they played on bikes as well as with dolls and teddies.
We've begun spending time each day on a focused guided reading session. Some children read with Miss Cragg or another adult looking at a particular book together. They each read part of the story then are asked a series of questions about the type of book (fiction or non-fiction and how they know) and other comprehension type questions about the text. Other children are doing independent reading, handwriting or are practicing their number and letter formation. We hope to see the impact of these sessions in our other lessons.
W.C 04.01.17
Happy New Year! Welcome back, we hope you had a wonderful break. The children certainly returned ready and raring to go! Some changes in the classroom to greet 2017, Fiona will be spending Mondays with us in Year 1 and we will have Alex for the rest of the week supporting us. Fiona has taken on some of Sophie's many roles whilst she is on her maternity leave. Alex has a great knowledge of the children from their Reception days and we're very excited that she's going to be working with us.
We hit the ground running this week and have started working on our new topic, "I Need a Hero"….all about superheroes! Miss Cragg has been really impressed with the way that the children have already embraced this; we've been discussing what superpowers we would have and have been designing our own personal superheroes. We're going to be creating our own comic strips in the weeks to come and are looking forward to some great quality fiction writing.
In Maths we've been consolidating previous learning as well as looking into greater than and less than. All of the children know that the crocodile eats the biggest number! (Ask your child to explain!) They can all identify the largest and smallest number and can say which symbol to use, including equals.
A short week this week but hopefully it will ease us in gently to what should be an exciting and busy term!