W.C 25.03.19
Almost at the Easter break, one more week to go!
What a week it has been, we're working our socks off at the moment and the quality of work we're producing is improving all the time.
In English this week we've been continuing to write about 'The Bog Baby' by Jeanne Willis. We have sequenced pictures from the story as well as reading sentences to match. We have created a story map by drawing pictures and writing sentences and acted out the story using drama. Then we have spent some time writing out the story with adjectives, nouns, verbs, prepositions, capital letters, finger spaces and full stops. The grown ups have been very impressed with beautiful letter formation and handwriting, we have tried very hard. Some of us will be editing and assessing this work next week. Also next week we're going to make the move to non-fiction writing about pond creatures. Miss Cragg thought about bringing some frog spawn into school to look at….then decided against it!
In Maths we have spent the week recapping some previous learning. We have gone over counting in 2's, 5's and 10's as well as looking at addition using numbers within 20. In particular the counting has gone really well, we're getting used to saying these numbers by rote and have been introduced to the multiplication symbol as well as talking about repeated addition. We will be ready for looking at multiplication and division after half term! We've also revisited practical ways of adding numbers together by using tens frames, part whole models, bar models and number lines. Next week we will go back over subtraction and remind ourselves of place value to 50.
In our Science lesson this week we were talking about plants again. This time we planted sunflower seeds. We gathered a seed, a pot, compost and gave our seeds some water. We discussed what a plant needs in order to grow, we know they need sunshine, water and soil. They have gone onto the windowsill in a nice, sunny spot. We have performed an experiment and have planted a seed with no soil, one with no water and have put a seed in the cupboard to see if it will grow without sunshine.
In Geography we discussed aerial views, looking at something from above. We thought about what we could see, hear and smell in a variety of aerial photographs from all around the world. We looked at a view of the city of London, a countryside scene in France, the Grand Canyon, a beach in Australia and a Portmeirion in Wales. We also discussed the human and physical features which were apparent in each picture and began using geographical vocabulary to describe what we could see.
In ICT we used Maths Whizz on the new computers and in PSHE we discussed where we feel safe, who makes us feel safe and we role-played how to cross a road using the Green Cross Code. We've also had a little time to look at the fairy story of Little Red Riding Hood, sequencing pictures and sentences.
What a week!
Dates for your diary:
Friday 5th April 2019 - non-uniform day and end of term.
Spellings
Group 1: asked, because, great, time, make
Group 2: day, if, get, back, me
WC 18.03.19
That's week 4, done and dusted. Two more weeks until the Easter break!
In our English lessons we've finally reached the end of 'The Bog Baby' by Jeanne Willis, and what a beautiful story it is too. This week we've had lovely discussions about caring for animals, why animals belong in the wild, what real love means when looking after animals and wanting to do the right thing for them. We've written sentences with time adverbials, about how to care for the Bog Baby when he gets sick, and also thought carefully about the moral dilemma when the girls need to tell mum they found the Bog Baby and they should have told her about going to the pond. Next week we're going to sequence and retell the story using all of the lovely adjectives, verbs, prepositions and time adverbials we've been learning about lately.
In Maths we've had a practical week! We have been learning about measurement and this week have focused on capacity and volume. We have got the water out to discuss the mathematical language of volume, using full, almost full, half full, nearly empty and empty. We have measured capacity using non-standard units of measurement and also compared capacity, putting containers into order based on how many units it takes to fill them. We have gone back to measuring in centimetres, spending time measuring lines and objects. We then went back to measuring weight, talking about grams and kilograms and reading scales in terms of mass and capacity using millilitres and litres. Next week we will have a week recapping addition and subtraction and reminding ourselves of the links between those operations.
In our Science lesson this week we investigated again the parts of the plants. In our classroom we have some wonderful examples of growth – our magic beans are threatening to take over the classroom they are growing so quickly! We made and decorated a castle in the clouds to put in our pots but the beans have overtaken them already, we're fully expecting a giant to come down and visit us any day now.
In our Geography lesson we investigated the seven continents of the world. We are beginning to understand that a continent is made up of lots of different countries and can label the continents on a map. In PSHE we talked about being healthy, looking after ourselves and taking medicine. In our Music lesson we warmed up our voices then sang some different songs on Charanga, talking about the different instruments we could hear. We have also had time for some learning about fairy stories, talking about the tale of Jack and the Beanstalk and sequencing pictures as well as sentences from the story.
Spellings:
Group 1: it's, from, people, house, old
Group 2: said, of, was, she, for
W.C 11.03.19
These weeks are racing by! The usual busy one this week, we had a wonderful time on Tuesday enjoying the play "The Selfish Giant" which was performed for us in the hall. We were the perfect audience as usual!
In our English lessons this week we have been continuing with The Bog Baby story, this time thinking about his feelings on being taken home with the girls and removed from his usual environment. We find empathy tricky but worked hard to put ourselves into his situation and think about how we might feel. We also discussed how he was cared for by the girls and practised our nouns and adjectives. Next week we will carry on exploring the story and looking at the beautiful illustrations.
In Maths we have continued to investigate measuring, this time turning our focus to measuring weight. We've had the balance scales out, first to compare two objects and use the language of heavier and lighter, heaviest, lightest and equal. We then began to weigh objects using non-standard units, in this case cubes. We can use the inequality symbols to compare weight as well as this wonderful maths vocabulary. Next week we will begin to investigate capacity.
In Science we are learning about plants. In our lesson this week we began to look at trees! We went on a nature walk looking at deciduous and evergreen trees and looked at the different trees we have around the school grounds. We're excited that the deciduous trees are beginning to grow buds for blossom and leaves and we're looking forward to them coming out as Spring continues. In our Geography lesson we looked at the five oceans around the world. We know that the Pacific ocean is the largest, the Indian ocean is named after the country, the Arctic ocean is extremely cold and ices over, The Atlantic ocean stretches between North America and Europe and the Southern ocean is home to Antarctica and Emperor Penguins!
In our PSHE lesson we talked about being healthy and making healthy choices and in our Art lesson we began to look at natural sculptures, this week making sketches of natural objects. All of our grown-ups went on Phonics training this week so we're looking forward to new look Phonics lessons which are starting right now.
Thank you for all of the support with Red Nose Day, we all had lots of fun in celebration assembly watching Mrs Barratt, Gemma and Mr Clay get a cream pie in the face! We enjoyed the audial delight of Mrs Dales and Mr Barratt singing "Shallow" (we won't forget the sight of Mr Barratt's legs in a dress any time soon!) and we loved supporting Rachel as she had her head shaved. We all think she was very brave indeed! A huge amount of money was raised for a fantastic cause.
Spellings
Group 1: it's, from, people, house, old
Group 2: said, of, was, she, for
W.C 04.03.19
What a week it has been! I'm sure we're not the only ones to be very glad we've made it through.
Tuesday was our trip to Farm Kitchen. Farm Kitchen make our school dinners and we had the opportunity to visit Ewerby and see first hand all of their hard work. A better behaved group of Year 1's I doubt you could find! We travelled beautifully on the coach (no sickness either, bonus!) and were polite, attentive and patient from the get go. We donned our hairnets and were shown around the kitchens, we learned about the arable crops farmed on the land and had our picture taken with the tractor. At the reading rooms we made bread with garlic, basil and tomatoes and we had the chance to plant a basil plant too. We had sausages for lunch, yoghurt and shortbread for pudding and a wonderful day out. Thank you very much to everyone involved and for all of the adults who gave up their time to come and help us.
In English this week we've continued working on The Bog Baby. We've been learning about the parts of speech and have so far covered adjectives, nouns, verbs and prepositions. We can use adjectives to describe the Bog Baby and the wildlife, flora and fauna around his pond. We can use verbs to describe what he is doing and we can use prepositions to position him in his little habitat. We know that nouns are the names of people, places and things. Next week we'll be moving on to labelling and thinking about the differences between people and the Bog Baby.
In Maths this week we firstly undertook a couple of tests. We know that tests are important in Year 1 because they show just how much we learn and how much we progress. Firstly we did a Place Value post test and completely wowed all of our grown-ups with a huge amount of incredible scores! Next we did a measurement pre-test to show off what we already know. We have moved on to learning about measurement this week, firstly length and height, using firstly non-standard units of measurement such as straws and cubes. Then we moved on to standard units of measurement using rulers to measure cm, discussing mm and measuring the playground in m. Next week we will move on to weight.
In Science we discovered what a plant needs in order to grow. We had the opportunity to plant some magic bean seeds using compost and a clear plastic pot. We gave it a little water and put it in a sunny spot on our classroom windowsill. We also labelled the parts of a flower after our successful flower dissecting lesson last week! Finally we sequenced planting pictures to show how a flower grows. In our Geography lesson we moved on to using the atlases to find countries, cities and rivers in the United Kingdom, trickier than it sounds!
In PSHE we looked at what sorts of things we need to inform adults about. Are we trying to get a friend into trouble or is someone hurt or in danger? We will carefully consider what we need to tell grown ups in the future.
Spellings
Group 1: when, don't, back, Mr, could
Group 2: today, they, by, the, do
W.C 25.02.19
First week of a new term, done! We hope you all had an enjoyable and safe break from school. It seems like we've not been off!
In our English lessons this week we've started looking at a new book, "Bog Baby" by Jeanne Willis and Gwen Millward. We started by wondering what on earth this strange creature was and we had some wonderful ideas. We thought of questions we'd like to find out the answers to and recorded these in our books. We went on a Bog Baby hunt, looked all around school and then sequenced pictures. We reminded ourselves of sequencing words, otherwise known as time adverbials, and used these to write sentences about each picture. We then moved on to discussing the moral implications of the children in the story going somewhere dangerous (a pond) without telling a grown-up where they were. We talked about the dangers of the place and what might happen and then discussed stranger danger. We spoke about safe strangers and safe places and Miss Cragg challenged everyone to learn their addresses and their grown-up's names just in case they were ever lost.
In Maths we have come to the end of our learning about place value and numbers to 50. We have been comparing numbers and objects using the inequality symbols as well as counting in 2's and 5's. We can notice patterns and think about the sequencing of the numbers. We have also begun to discuss if the numbers are odd or even. Next week we will be moving on to look at measurement of height and length which will include lots of practical activities using non-standard units of measurement before we move on to the standard units. Any extra times table practice at home would be wonderful.
In Science we have begun our plants topic by thinking about our gardens and the open spaces where we go to have fun. We looked at common flowers and designed our own dream gardens. We also had the opportunity to look at flowers in more detail. We used magnifying glasses to examine flowers and weeds. We can find their roots, leaves, flowers, buds and stems. We took them apart and had a closer look, we even found water in the stem!
In our Geography lesson we began to look at OS maps, paying particular attention to the key and the symbols used. We used BeeBots to give directions and thought about their positions on the grid. Next week we will practise our atlas skills by using the index to find cities and rivers in the United Kingdom.
Dates for your diary:
Trip to Farm Kitchen on Tuesday –ensure permission slips are returned.
Parents Evening Wednesday evening – please book an appointment.
Spellings
Group 1: down, looked, very, about, will
Group 2: says, your, pull, full, are
W.C 11.02.19
Hello half term, we've been waiting for you! What a week, culminating in a very successful David Walliams day on Friday. Thank you grown-ups for all of your support dressing children up and sending books in, we really appreciate it. We learnt the stories of Gangsta Granny, The Midnight Gang, The First Hippo On The Moon and The Slightly Annoying Elephant as well as designing a new mobility scooter for Gran AKA The Black Cat, International Jewel Thief.
In our English lessons this week we have been learning about Meerkats. We've gathered information, written sentences with the conjunction 'and' then put all of this together in a Meerkat fact file so we are basically Meerkat experts now. We have even decided whether we would rather be a penguin or a Meerkat and can explain why! Our writing is really coming on, lots more of us can hold our own sentence, use our Phonic knowledge to sound out, start each sentence with a capital letter, end the sentence with a full stop and include finger spaces between each word.
In Maths this week we have been continuing with Place Value to 50. We have been practicing counting forwards and backwards and counting in 10's. We have looked at building and representing numbers with tens and ones on tens frames and tens grids using base 10. We have also reminded ourselves of the inequality symbols and have been comparing objects using greater than > less than < and equal to =. When we come back after half term we will be comparing numbers.
In Science this week we continued to look at the seasons. We have started to investigate what might begin to happen soon as our season turns from winter to spring. We finger-painted leaves and blossom on the trees in our books to show what happens during each season. In Music Sophie collected every single musical instrument that we have in the entire school! What an afternoon that was! Miss Cragg's ears have only just stopped ringing. We had the opportunity to handle and play a huge range of instruments, lots of which we might find in an orchestra. We tried the trombone and the trumpet from the brass family, violin and cello from the string family, keyboards, recorders, guitars and ukuleles, you name it, we played it! You can imagine the delightful noise that was created…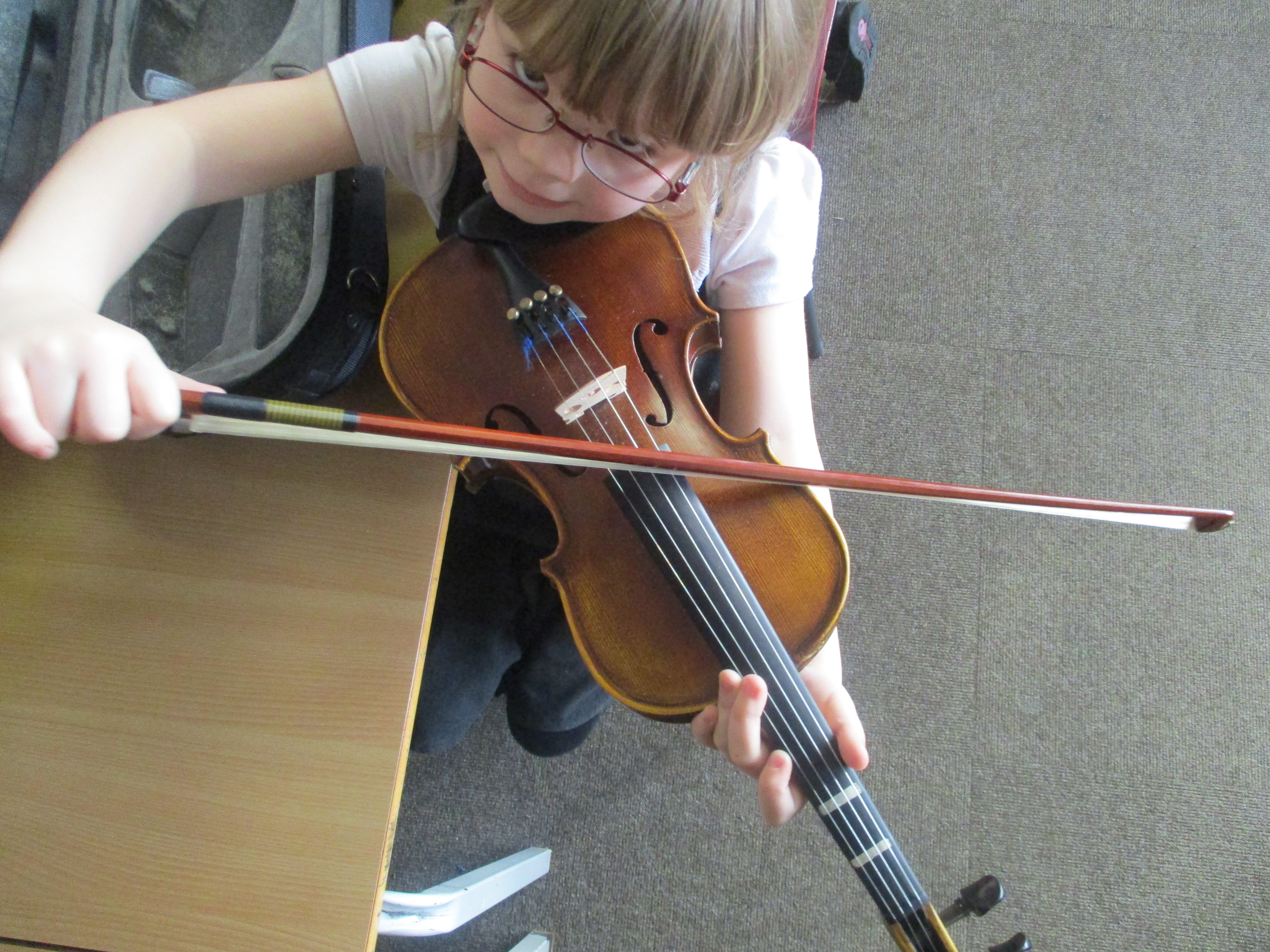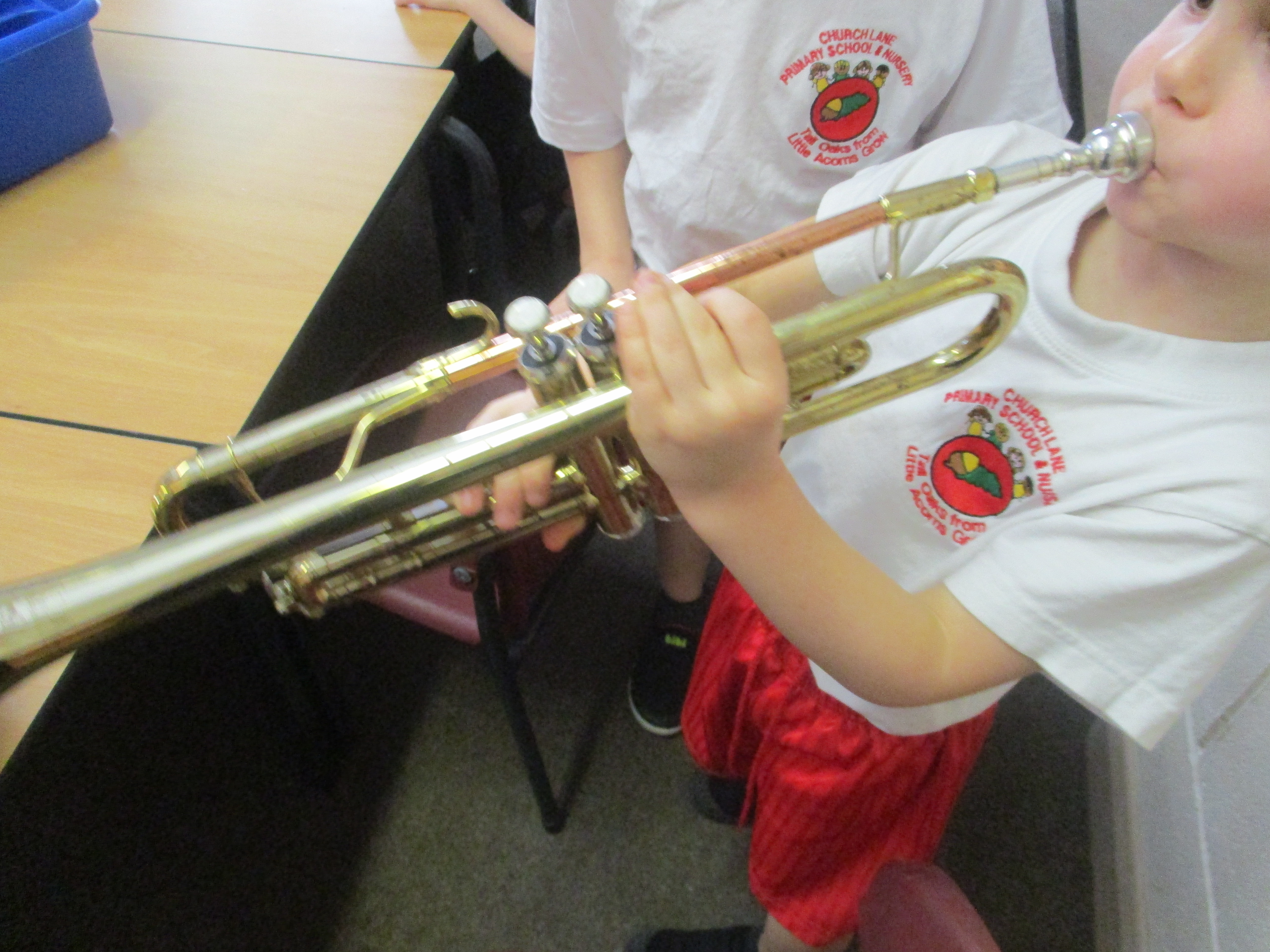 In our Geography lesson with Mrs Smith we investigated the imaginary line around the world called the Equator and we coloured in maps of the world with the climate zones. In our RE lesson we concluded our learning about the Islamic faith, this time learning about the special things that happen when a baby is born and how that birth is celebrated. We know that a special prayer is whispered into the baby's ears, honey or date is rubbed in their mouths and that their hair is oiled then shaved off when they are 7 days old. We also had the opportunity to see Miss Cragg's abaya from the United Arab Emirates and talk about how Muslim people dress.
No new spellings this week, please could children practice all spellings from the half term. A test will occur on the first Tuesday back after the holiday on 10 of these spellings.
PE kits have been sent home, please could these be returned immediately after the break. Our PE lessons are now on Mondays and Tuesdays, thank you.
Have a great time off and see you on Monday 25th February 2019.
Dates for your diary:
Friday 1st March - World Book Day - £1 donation.
W.C 28.01.19
We are rattling through these weeks, thats week 4, done and dusted! Plenty of hard work completed this week which has kept the grown-ups in the classroom happy. We are showing off our mature attitudes and our behaviour has been wonderful.
That being said, the Maths we have been learning this week has been enough to turn poor Miss Cragg, Alex and Amie grey! It's been really tricky but we have been battling through. We have had to partition numbers and then subtract using tens frames, easy enough in theory but in practise it was a different matter. We've worked hard to master this technique as well as others to help us decrease numbers and our understanding of tens and ones is now through the roof!
In English this week we've finally discovered the identity of our mystery book - it is called "Lost and Found" and it is by Oliver Jeffers. We have watched the film version of the book too and spoke about feelings, we can show lots of empathy and put ourselves in the shoes of the penguin as well as the boy. We have made predictions about how we thought the story would end and the moral of the story. We have worked hard on including capital letters, finger spaces and full stops in our writing and have had lots of chances for independent sentence holding this week.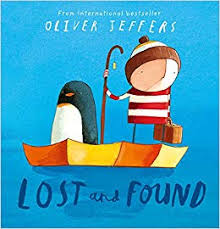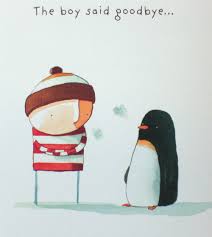 In our Science lesson we continued to look into the seasons, this week focusing on winter and what animals do to survive the harsh weather. We learned about migration, hibernation and adaptation and identifyed which animals did which.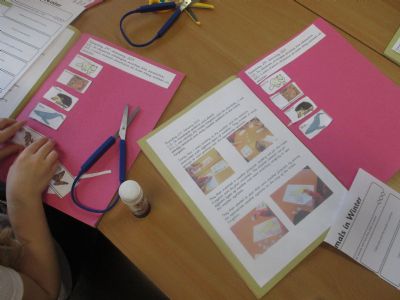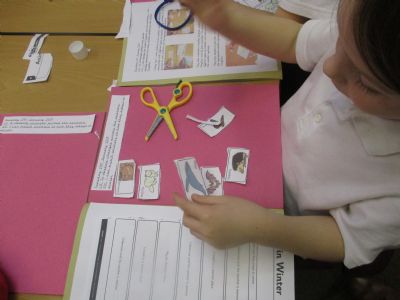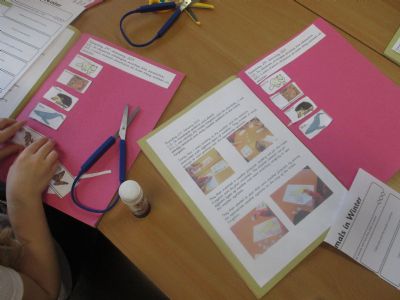 In our Geography lesson with Mrs Smith we paired up to present our weather forecasts for the United Kingdom. The glare of the classroom lights clammed some of us up when it came to speaking in front of our friends but we flew through it with ease and learnt about some new extreme weather in the process. Almost all of us have finished our Maths Whizz assessments now and we're working hard to progress. In our Music lesson we explored the parts of the orchestra, looking at string, brass, percussion and woodwind instruments. We warmed our bodies up and then sang songs, we are learning how to hold and change notes using our voices.
Spellings - test on 5th February
Group 1
was, you, once, ask, friend
Group 2
are, my, put, here, ask
W.C 21.01.19
Can you believe we're three weeks into a new year and a new term? No, us either!
In Maths this week we have turned our attention to addition. We have reminded ourselves of the symbol and the vocabulary as well as the fact that numbers get bigger when we combine them! We have done some excellent work with making 10 and then recognising the teen numbers to 20, we've found the tens frames to be invaluable with helping us visualise this. We know that when we are writing numbers the tens come first and then the ones and are counting very carefully.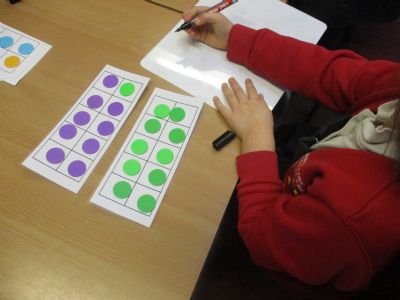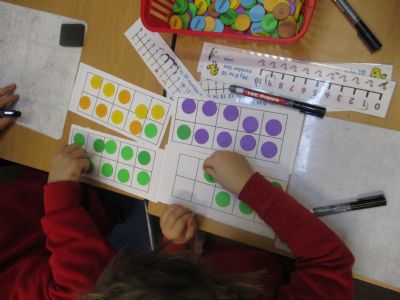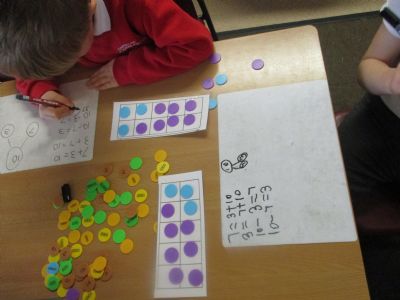 In English we've been working slowly and steadily through our mystery book. Our levels of empathy are through the roof and we can certainly identify with the boy for wanting to help the penguin in any way he could. We're not sure if we want to row to Antarctica to take him home though! This week has held lots of writing opportunities for us to think about how we would travel to the South Pole, what we might pack in our suitcases and how the boy might feel on this complicated journey as well as his thoughts when they arrive.
In other areas of the curriculum we have been working hard. Almost everyone has completed their Maths Whizz initial assessment now and some people are able to log in and complete levels at home. Thank you grown-ups for your support! We will continue to support children at school to use Maths Whizz during ICT time. In our Science lesson this week we began to look at the weather, using the weather equipment in our outdoor area to measure the rainfall, temperature and wind direction. We are getting good at identifying and describing different sorts of weather and have been working on this not only in our Science lessons but also our Geography with Mrs Smith. This week we created a weather forecast map. In our Music lesson with Sophie we did more singing as well as identifying the instruments in a piece of music and thinking about the pitch.
W.C 14.01.19
What a week, this one flew by in the blink of an eye. We've settled back into life at school as if we didn't have two weeks off, behaviour and maturity levels are through the roof. Thank you so much Year 1, we're so pleased with how you are coping with working all afternoon and with the introduction of early morning work when you first come into the classroom.
In Maths we continued to learn about place value, looking at one more and one less in more depth alongside comparing numbers using inequality symbols and the vocabulary of greater than, less than and equal to. Next week we will move on to addition again, this time with numbers to 20 using a variety of resources such as ten frames, straws, base 10 and number lines.
In English we have continued to use our mystery book featuring the boy and the penguin. We have been learning about Emperor Penguins, their habitat and their features. We have used the conjunction 'and' to link our sentences and have written a factfile with all the knowledge and facts we have learnt. I think our favourite fact about penguins is that when they hatch the chicks eat regurgitated sick from their dad's throat! We also linked our learning to some Geography looking at atlases and globes to locate Antarctica and the South Pole.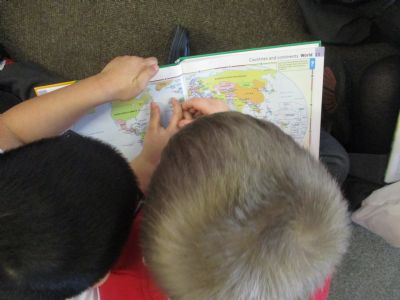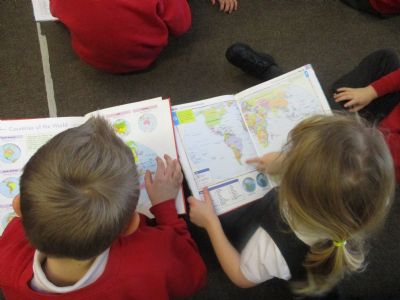 Because we have been learning about penguins in our English lessons we decided to explore the properties of blubber and how this insulates and protects penguins from the cold. In our Science lesson we discussed how our bodies cope with the cold and what we as humans do - we wear warm clothes! Penguins can't do that so their bodies have adapted to cope with some of the harshest weather on the planet. We held ice cubes in our hands, noticing that they melted with the heat. Then we put a glove on - penguins don't have fur or it would get all wet! We covered our hands in blubber (wearing a plastic glove!) and then put them into icy cold water - the hand with the blubber was easier to hold in the water for longer.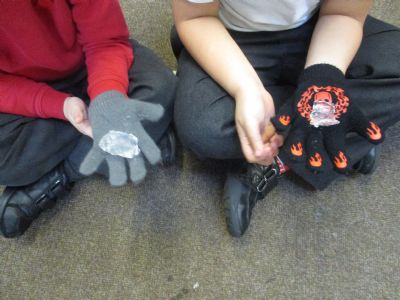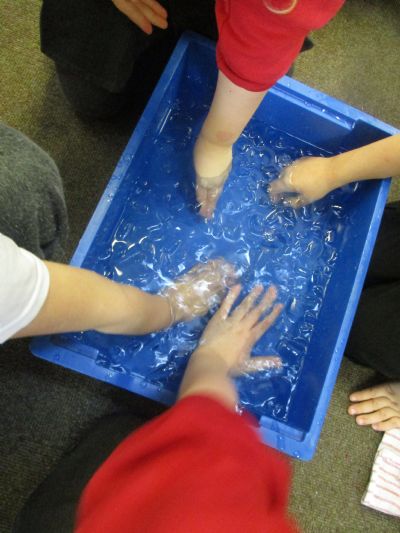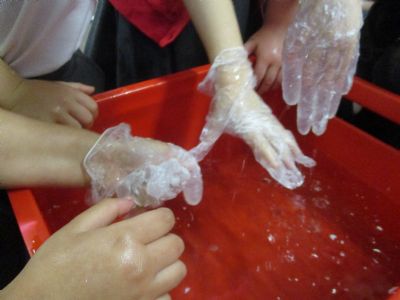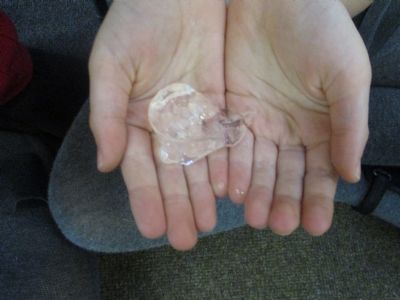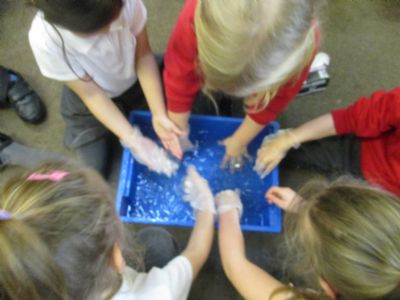 In our Geography lesson with Mrs Smith this week we were identifying seasonal patterns in weather by sorting the type of clothing we might wear for each season. In our Music lesson with Sophie we discussed pulse and tempo, using our voices to sing and our hands to clap a rhythm. We have also squeezed in an RE lesson this week discussing Islam and how people celebrate Ramadan.
PE kit reminder - if your child has not yet returned it to school please do so as soon as possible, thank you.
W.C 07.01.19
Happy New Year! We hope you had a wonderful Christmas and a safe and restful break.
We've hit the ground running this week, starting as we mean to go on. In English we have begun a book focus with a mystery book. So far we know that there is a suitcase, a penguin and a boy, we have established that the penguin is lost and that the boy doesn't know where to begin to help him. We are making predictions about the story, using feeling words to empathise with the penguin and coming up with ideas about how the boy could assist him. We are practising using capital letters, finger spaces and full stops as well as using our Phonics to sound out tricky words. I wonder what will happen next week?
In Maths we have been focusing on Place Value again, this time looking at numbers to 20. We have practised counting forwards and backwards, writing numbers with digits as well as words and have even begun to build numbers using tens frames, dienes, straws and the part whole model. We are beginning to partition these numbers into tens and ones which has helped when we are writing numbers. Next week we will be looking more into one more and one less as well as comparing groups of objects and numbers and reminding ourselves about greater than, less than and equal to.
Our new topic is Extreme Weather. We will be looking at different types of weather around the world, linking our Science and Geography lessons to it. In Science this week we have been identifying the seasons and looking at the different types of weather which are typical of each season. We discussed what season it is now, how we know, the types of clothing we are wearing and what is happening to the trees. In our Geography lesson we began to identify different sorts of weather, thinking about what we can see and hear and using descriptive adjectives and pictures to describe them.
PE remains on a Monday and Wednesday, please can all PE kits be returned as soon as possible. We also have Miss Hudson teaching us in our Wednesday lessons, this week we were learning how to use a racquet as well as different ball skills.
Thank you to those who have begun to use Maths Whizz at home, we won the class trophy this week for our progression and usage!
Spellings will be tested on Tuesdays and new spellings sent home on Wednesdays. Please continue to practise these at home.