WC: 01/04/19
We did it, we made half term! Well done to the whole of Year 3, a fantastic but tiring term. We completed our Fraction unit in Maths by showing Mrs Barratt how much we have learnt from our post-test scores! Next term we are going to be learning about statistics and shape.
In English, we have had to work extremely hard. We have been writing a discussion text using lots of sentence starters and conjunctions about whether 'Should fox hunting be banned?' This has been a really tricky task because we all agree that fox hunting should be banned, obviously because it is now illegal, but because we are reading Stig of the Dump and they go fox hunting we wrote a discussion all about why we should and why we shouldn't go fox hunting.
In Topic, we put a range of dates and events from the Stone Age through to the Iron Age into chronological order- we had to use our Maths skills!
In Science this week, we were looking at complete and incomplete circuits. We were using the apparatus to work out if they were or were not complete circuits. We enjoyed making the complete circuits to make as much noise as possible!!!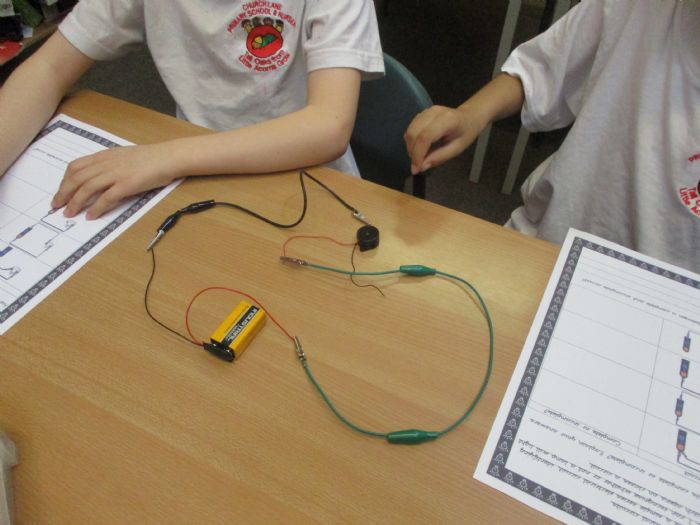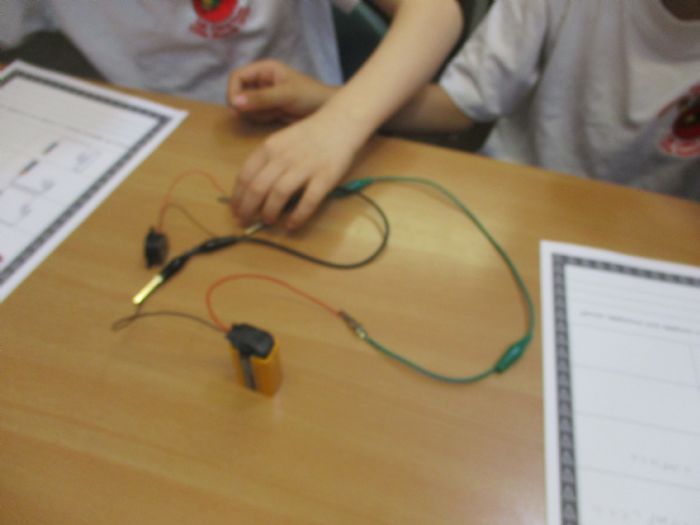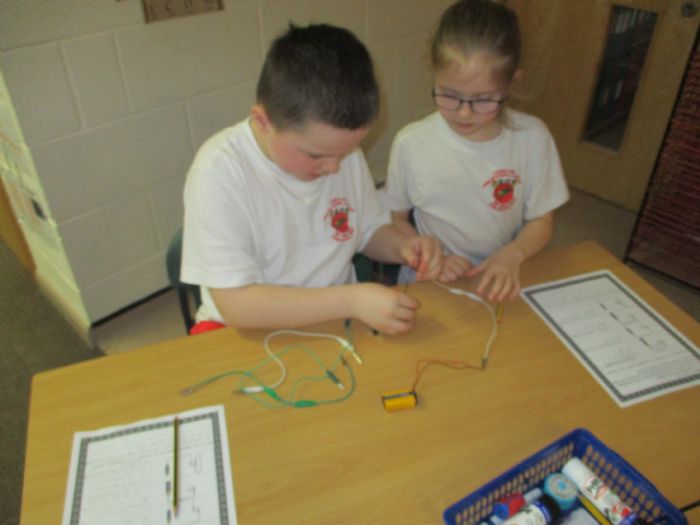 WC: 25/03/19
We have had a fun week yet again. This week we were really lucky to visit the Mosque in Sleaford. We got to listen to people talking about their prayers, the Quran and their values and beliefs. If you check out the Sleaford Standard we are in there next week!
In English we have been learning about discussion texts. So we began by looking at features of discussion texts and then we set up a debate in the classroom. One side was for and the other was against, we were given this question to discuss: Should school uniform be banned? The discussions had were very impressive! WE have also completed activities based around these two discussion points too: Should dogs be kept on leads? And Should zoos exist? The children have made very sensible and realistic discussions and used evidence to prove their point. Next week we will be looking at another discussion which links to our novel 'Stig of the Dump': Should fox hunting be banned?
For Science this week we have been working on sound and how sound reaches our ears through vibrations and how the vibrations change depending on the loudness of the sound. We then continued to work on our circuit knowledge, we looked at what appliances run on electricity and what run on batteries. We also looked at the dangers of electrical items and what damage they may cause.
WC: 18/03/19
Another week done! In English this week we have been drafting our cave description pretending we were Barney visiting Stig in his den. We used our real life experience of going into the Stone Age caves from Creswell Crags to help us write this thinking about all the senses. We then looked at editing our writing and then wrote it up neatly.
In Maths this week we have continued to work on fractions. We have been looking at equivalent fractions in a variety of ways and solving problems linked to equivalent fractions. Next we compared fractions looking at which ones are larger or smaller. We use this rule to help us: The larger the denominator the smaller the fraction!
In Topic, we wrote a leaflet teaching about Skara Brae including pictures to encourage people to go and visit. We then looked at the Stonehenge and what it was used and built for. Did you know that 700 men were used to move 1 stone it was that heavy!?
WC: 11/03/19
This week has been a very tough week, the children have been completing a range of Reading and Maths tests to show us how much progress they have made, and aren't we impressed with them all in Year 3! They have all done brilliantly and shown us how amazing they are. We are very impressed.
In Topic this week we were really lucky on Tuesday to have a performance come in a show us their show. We had so much fun and some of us even got to perform with them. We have also been learning about the religion 'Islam', so this week we focused on the five pillars of Islam and what they represent to Muslims. We also learnt about a mosque and some of the key features of a mosque.
In Art, we were pretending to be real life cave Neanderthals. The tables were covered all around the edges and paper was stuck to the top of the tables. We had to pretend we were in a cave drawing on the ceiling of the caves- we found this tough as it began to hurt our arms! We also drew a scene from the Stone Age using natural ochre pigments and sticks (like they did in the Stone Age).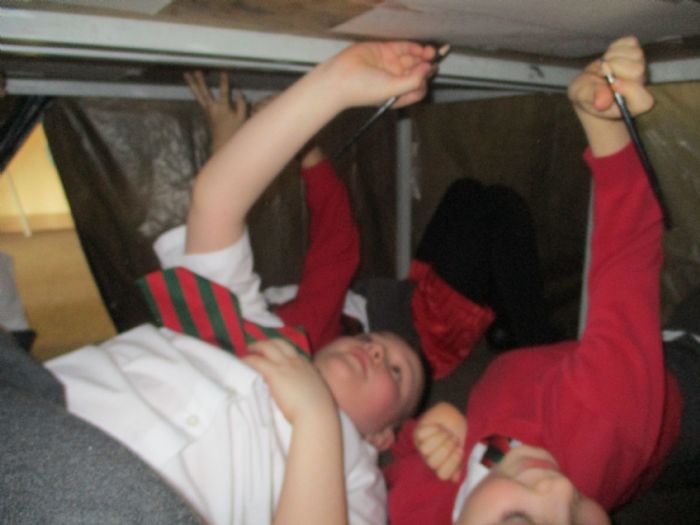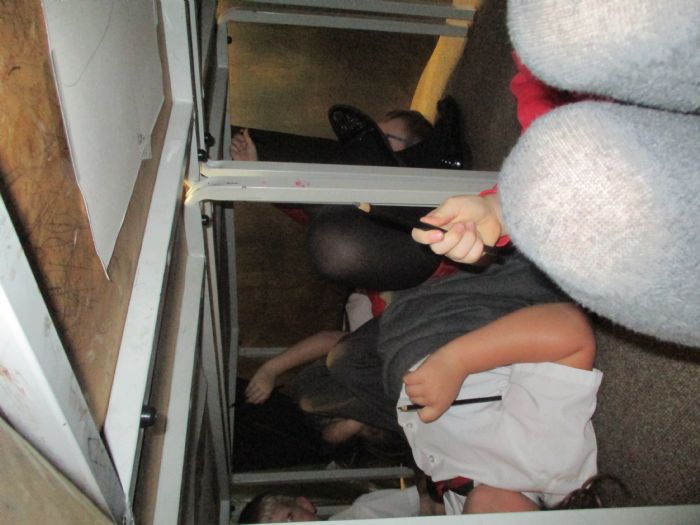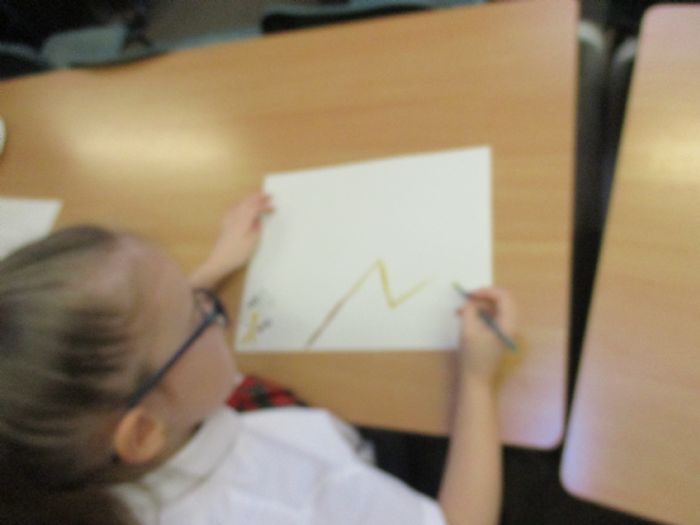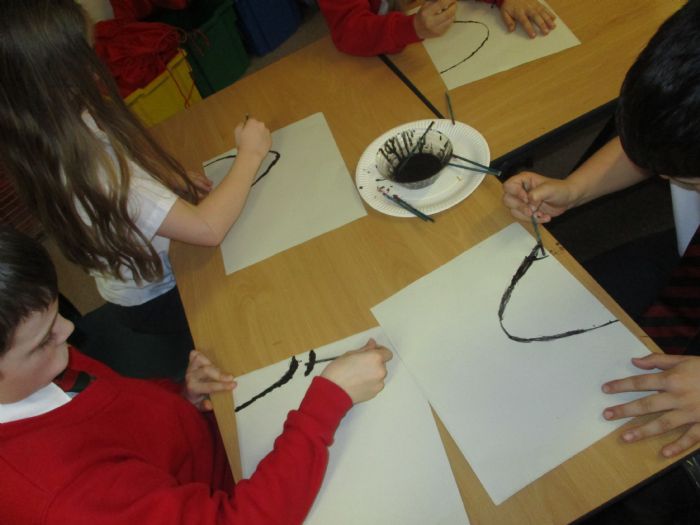 WC: 04/03/19
On Monday this week, we were really lucky to visit Creswell Crags in Worksop. We had three different activities: caves, art and survival skills. First of all we went into the caves, these caves are the original Stone Age caves and are thousands of years old. We wore our hard helmets and head torches and headed into a cave which was basically their living area. We then headed higher up into their sleeping area to see what it was like to sleep there and finally we headed into the deeper part of the caves where the animals would have stayed. We switched our torches off to see how dark it actually was without light! Secondly, was our art activity, we started by looking around the museum and then our art activity, we had a range of activities e.g. painting with sticks, scratching with flints and flicking paints over our hands. Finally, we completed a range of survival skills. We had to build a Stone Age shelter out of sticks, confer branches, intestines (it was rope really, but the Stone Age people used intestines!) and animal skins. Next we had to make a fire using sticks and a bow to produce friction, finally we had to hunt for deer. We used a spear made from wood and flint and aimed at the deer to catch it for our dinner. Our tribe leader said we all would have survived the Savage Stone Age too! An amazing day. Pictures are to follow, keep checking this page...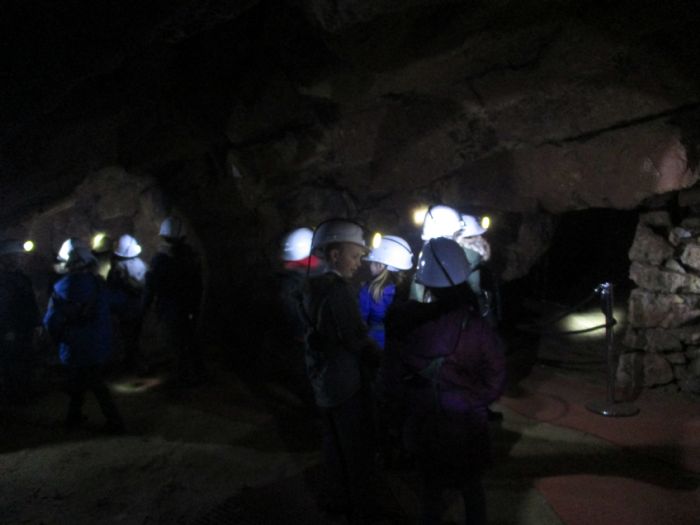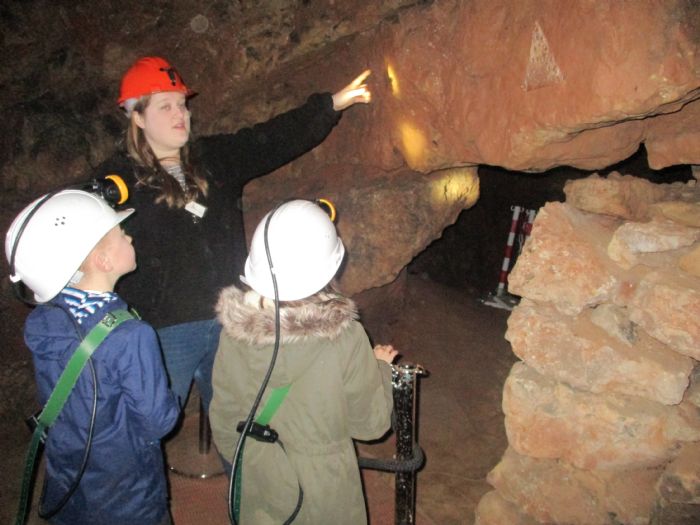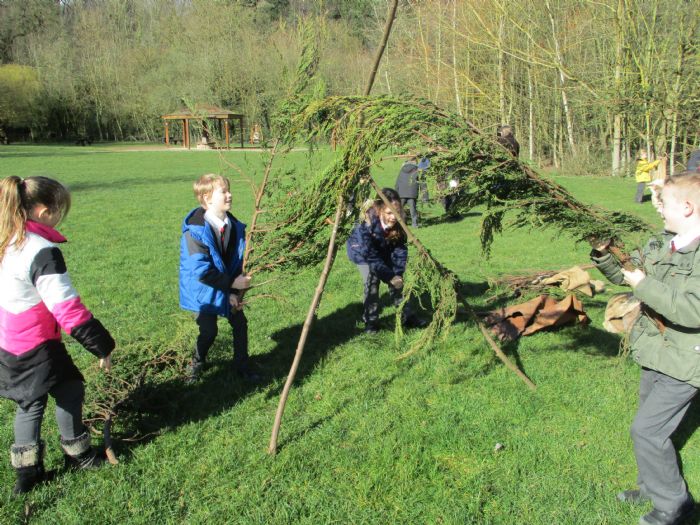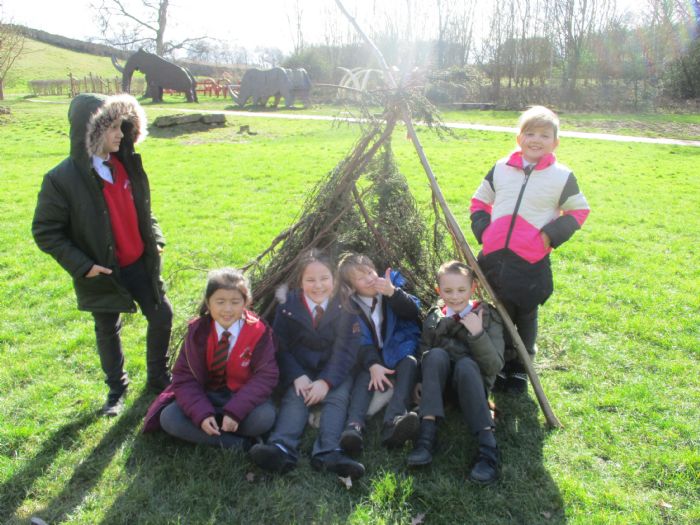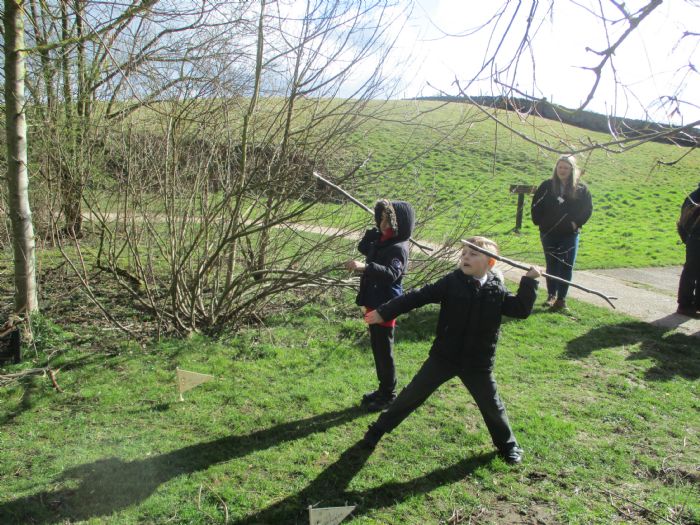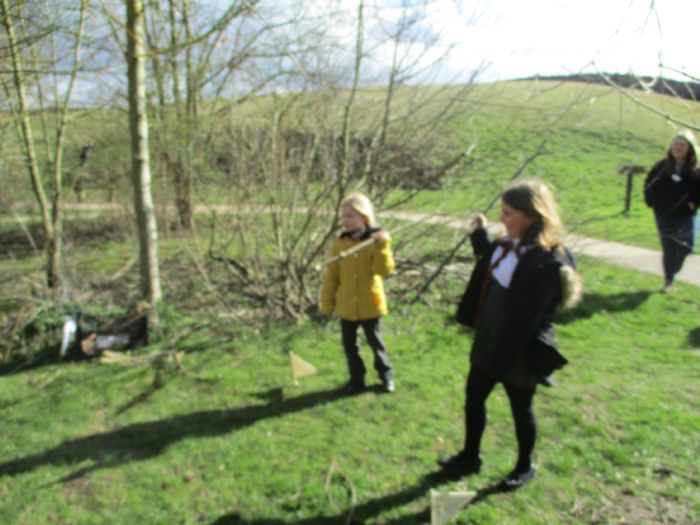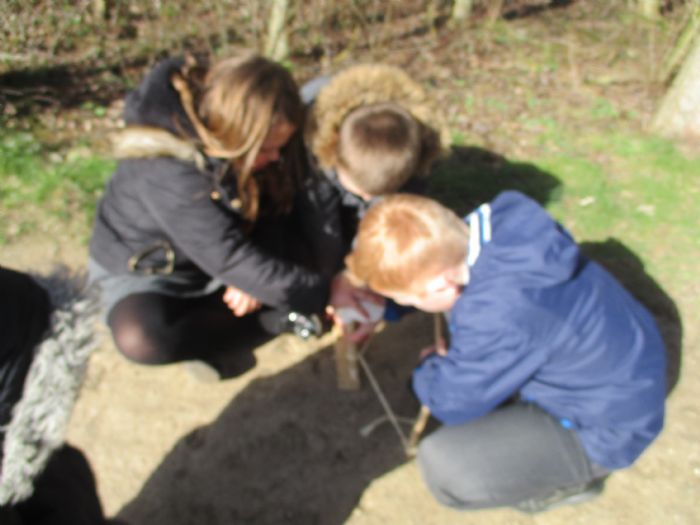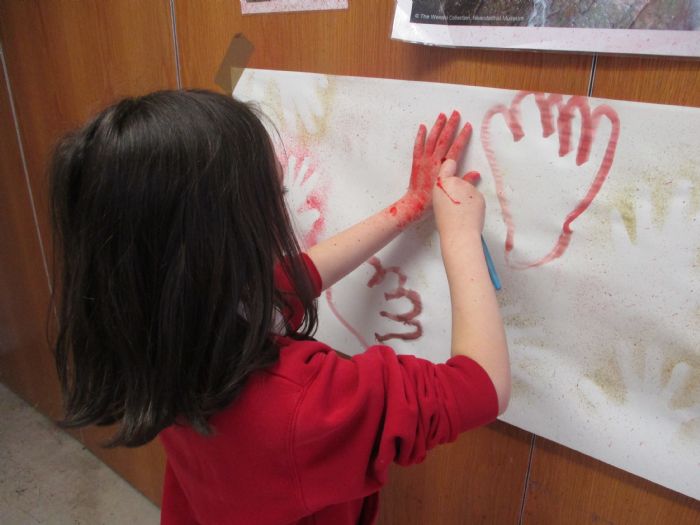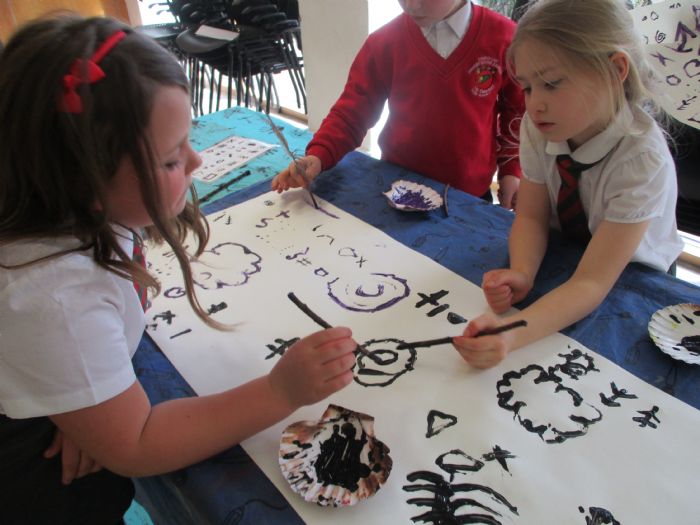 In Maths, we continued working on counting in tenths and have then moved onto fractions on a number line- this is really tricky!
In English, we have been drawing inferences about Stig and proving he is a Stone Age man from our novel. We then looked at some key skills getting ready for our big write at the end of next week.
In Science, our unit of work is Light and Sound. We know now that we need light in order to see things and that dark is the absence of light, also we learnt about how light is reflected from different surfaces. Remember, the moon is not a light source, the light is reflected from the sun!
WC: 25/02/19
Welcome back to Term 4. We are learning all about the Savage Stone Age this term. In English we have started our new novel 'Stig of the Dump'. WE have started by reading chapter 1 and understanding who Barney is and who Stig is. Using evidence in the text, we are aware that he is a Stone Age man (Neanderthal) because it says he wears rabbit skins and has no shoes or socks!
In Maths we have begun our topic of work 'Fractions'. We started with looking at unit and non-unit fractions and what they are as a number and as a set of objects. Next we looked at fractions within a whole, for example: 1/4, 2/4, 3/4, 4/4=1 whole. WE then looked at counting in tenths and following sequences.
In Topic, we learnt about Stone Age people and researched the tools they used, about their campsites, how they hunted for food and what food they ate and finally the pets they had and whether they are like pets we have now. WE used all of these skills to create a fact file. This then lead us onto to our Art. We created our own Stone Age people using our faces: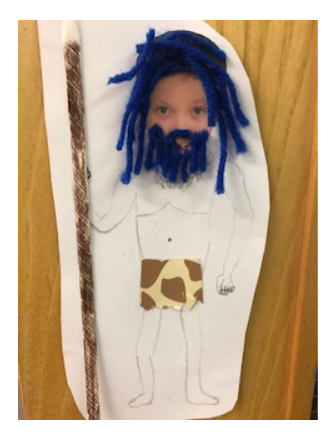 Don't forget our trip to Creswell Crags on Monday, the bus is leaving at 8:30am and you need to remember your coat and lunches!
WC: 11/02/19
Final week of term 3 is upon us already and hasn't it flown by. We completed our novel Alice in Wonderland which we really enjoyed reading as a class in English this week.
In Maths, we finished working on our division strategies and used the bus stop method to help solve the number problems after using Base 10 to show how we share equally when dividing. We then completed our Post-test, the scores were mega!
In Art, we finalised ourt cross stitching. Here are our finished pieces alongside our plans....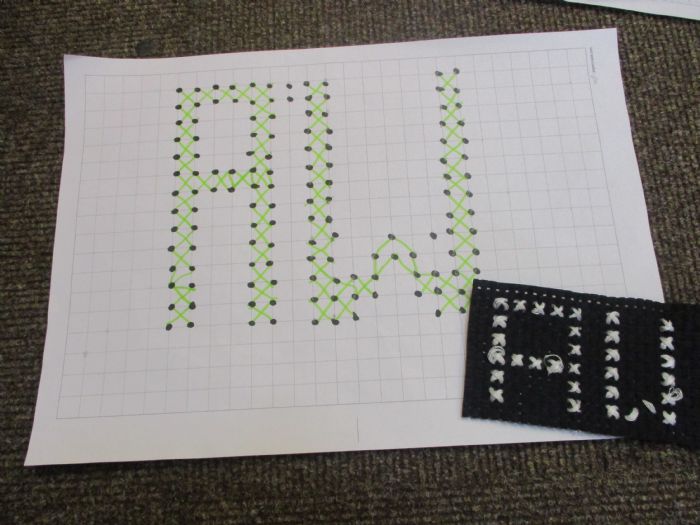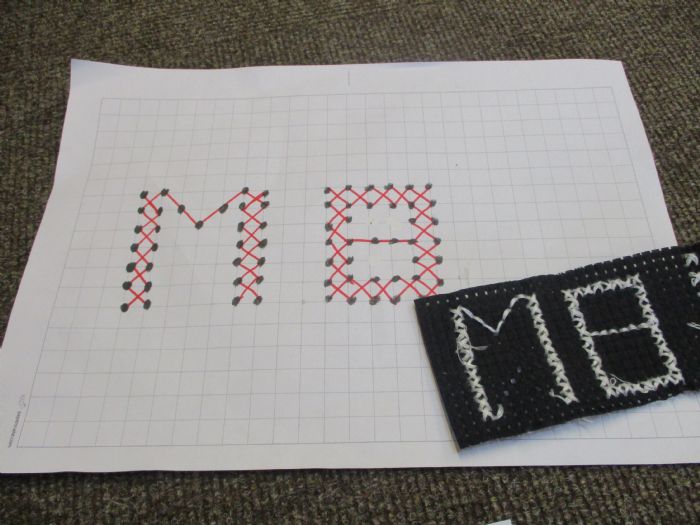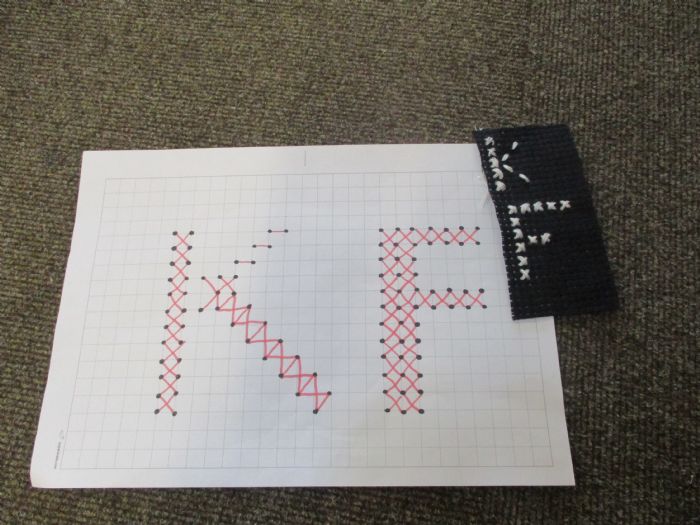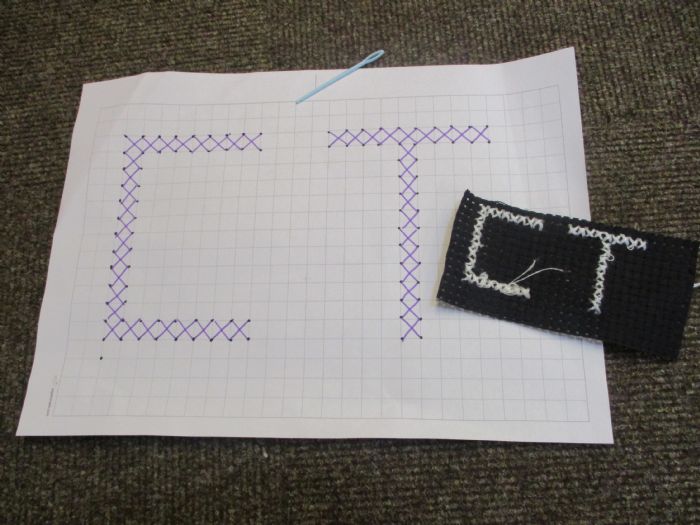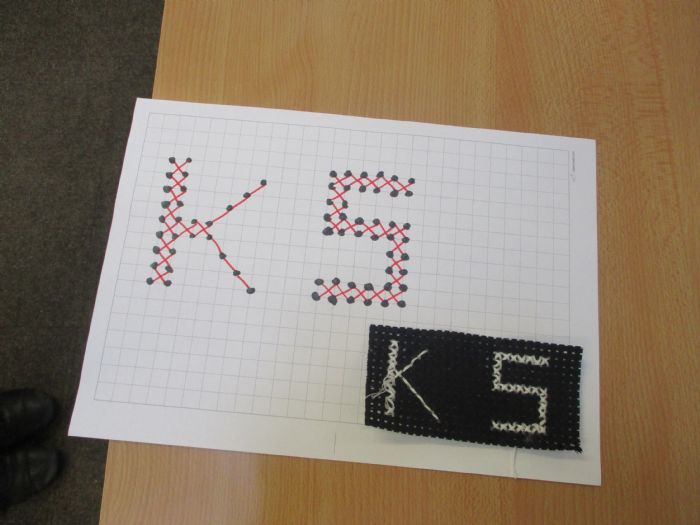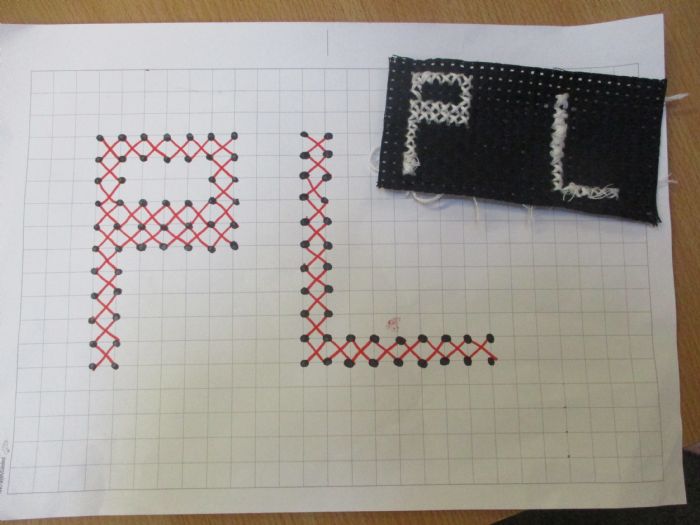 We finished the week of with David Walliams Day. We completed lots of activities in the classroom all linked to his novel 'The Midnight Gang'.
WC: 04/02/19
Another fun week has flown by! In English this week we were looking at writing an accurate set of instructions when making something simple like a jam sandwich. In pairs we wrote what we thought were an accurate set of instructions, but we were proven wrong when Mrs Barratt did exactly as we said... An example: Put the jam on the bread. So she picked up the jam and put it all on the bread! We had to remember to be very specific on how to put the jam on the bread and how much! This was a funny lesson as Mrs Barratt made a mess! We then planned, drafted and edited our own set of instructions; this was to teach people how to play croquet with a flamingo as a mallet and hedgehog as a ball. When we were happy with our edited pieces, we wrote them out neatly.
In Maths, we were multiplying using Base 10 and place value counters and then using the formal column method and we were even exchanging too. We have practised these a lot this week and are starting to get much quicker at them.
For our Topic this week, we continued learning about the Victorians, specifically the differences between a Victorian classroom compared to a modern day classroom. We acted out some of the lessons they had to do included rote learning and handwriting practice. Can you believe that everyone had to write with their right hand? Some of us found that really tricky as we are left handed, to add to the bad news; if our right hand wasn't neat enough we were called out to the front and hit with the cane across our palms! We have officially decided that a modern day school is a much nicer place to be.
WC: 28/01/19
A very busy week yet again. In English we had a game of croquet after reading more of our book. Unfortunately, we didn't get to play the game like they did in Alice in Wonderland because they used flamingos as the sticks, hedgehogs as the balls and then soldiers as the arches! We were quite good at this game after realising it wasn't the quickest who won; Fiona's team beat Mrs Barratt's team!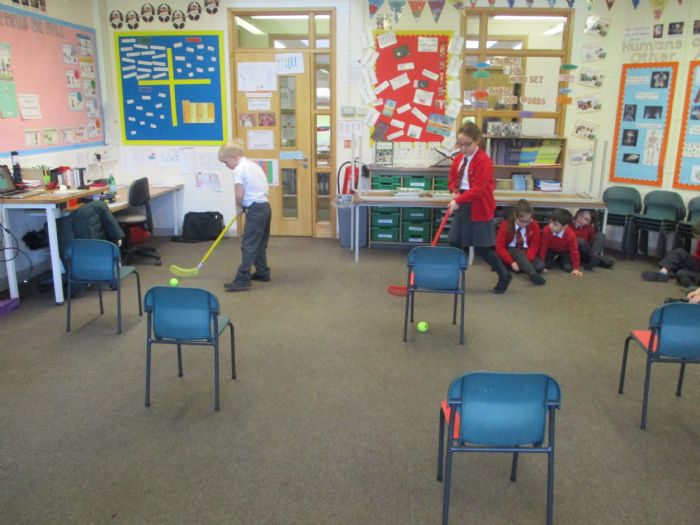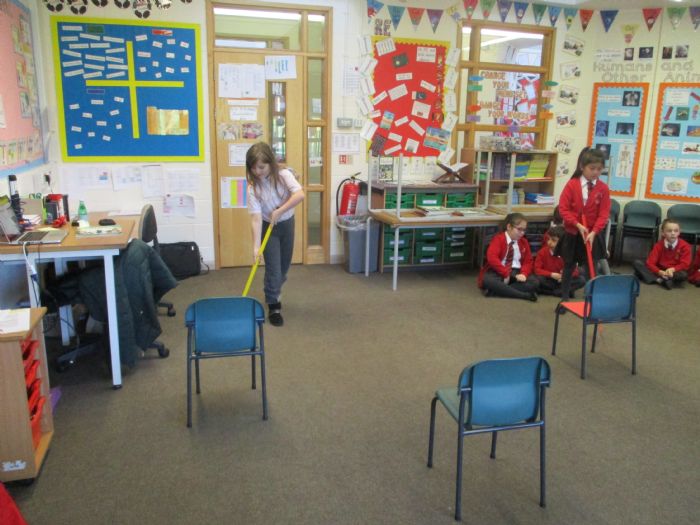 We then looked at the features and key skills including the use of imperative verbs, ordering and editing a set of instructions ready for writing our own set of instructions.
In Maths we have continued to practise with our multiplication tables. At the beginning of the week we were concentrating on the 4 different number sentences involved when multiplying and dividing. We then moved onto multiplying a number and then making it ten times bigger. E.G. 30 X 4= 3 X 4 = 12 X 10 = 120. We have now moved onto using the formal method to multiply 2-digits by a 1-digit.
In Topic, we looked at the differences between the Rich and Poor. We found out that the Rich families had lovely, big houses, good food on their tables, comfy bed, went to school and even had lots of amazing toys but they didn't get to spend much time with their parents, only certain allocated times of the day were they allowed to get a cuddle or have a chat. Whereas, the poor families lived very different lives. They had no clothes, barely any food that was substantial, no toys, had to work to support the families income, they were lucky if they had a house (but it wouldn't have been nice to sleep in!) However, poor children were allowed to spend as much time with their parents as they wished (as long as they weren't working!).
WC: 21/01/19
In Topic this week, we were continuing to learn about the Victorians, in particular Queen Victoria. We know all about her life and that she even had 9 children! She married her cousin Albert and when he died she wore black for the rest of her life because she felt so sad after he died. Did you know that when she reigned Britain, there were lots of other countries that she reigned too? These included Jamaica, New Zealand and Canada- just to name a few!
In English, we have been reading even more of our novel. We were able to comprehend part of the text we have read and even given our own opinions! We then turned to a full picture page and it revealed how the Duchess looked after the baby... not how we would today! The cook was throwing pots, pans and plates at the Duchess whilst she was holding the baby and even throwing the baby too! We used this picture page to design speech bubbles as to what they might be saying. Next, we used these speech bubbles and created direct speech using inverted commas, there was one challenge.. We were not allowed to use the word said!
In Maths this week, we have been practising our 8 times-tables. We have been using these skills to solve a range of missing number problems to multiply and divide as well as recognising that multiplication is just repeated addition.
WC: 14/01/19
In English, we planned and wrote our own shape poem about the white rabbit from our book 'Alice in Wonderland'. Our poems were amazing and Mrs Barratt was very impressed with them.
In Maths this week, we have been practising our 4 X tables. We have been focusing on arrays and problem solving including using division facts to help solve the questions. Luciana is currently in the lead of our 4 X table competition with 28 correct answers in only 1 minute! Well done Luciana!
On Friday, we were really lucky to have a WW1 soldier visiting us after being teleported a hundred and one years to 2019. He told us all about what life was like as a soldier living in the trenches during the war and their daily routines. Here are some photos of us wearing some of the outfits they had: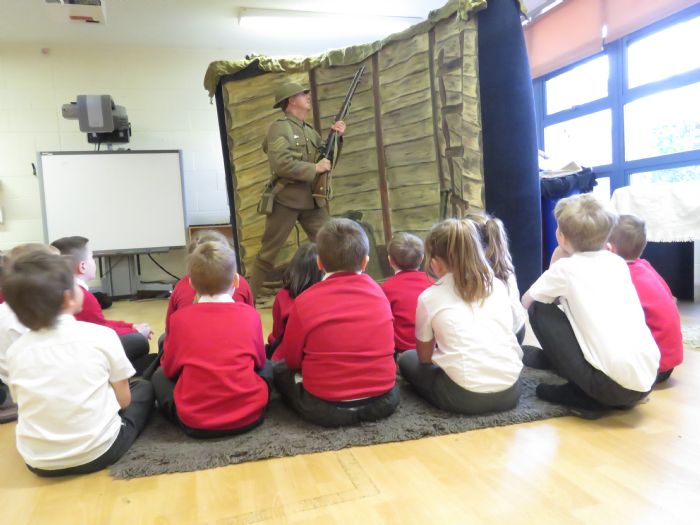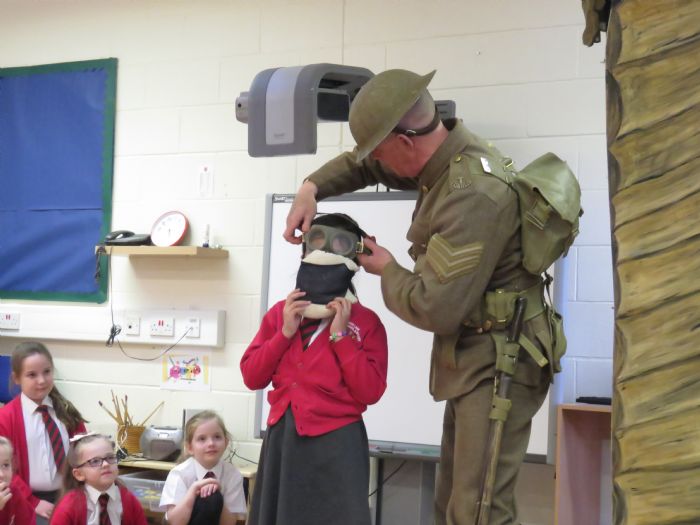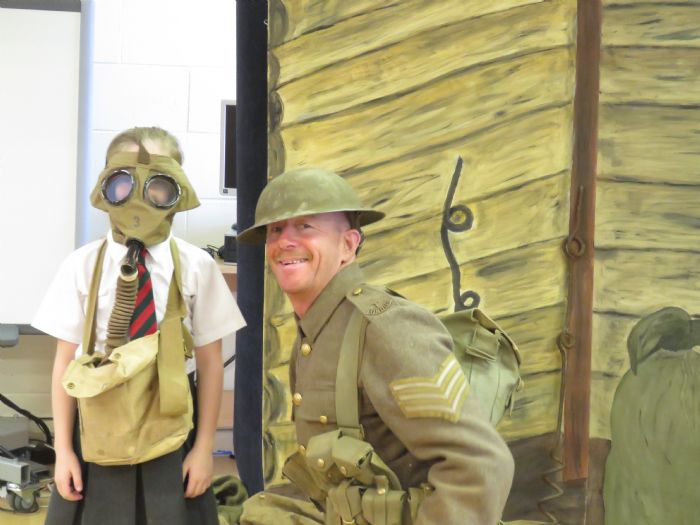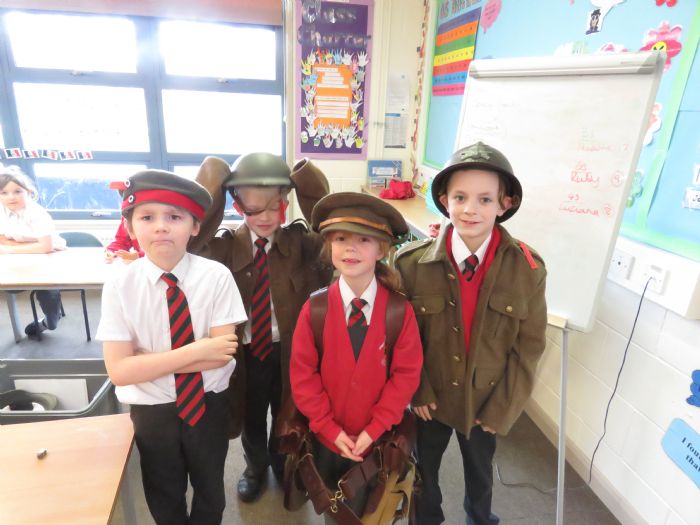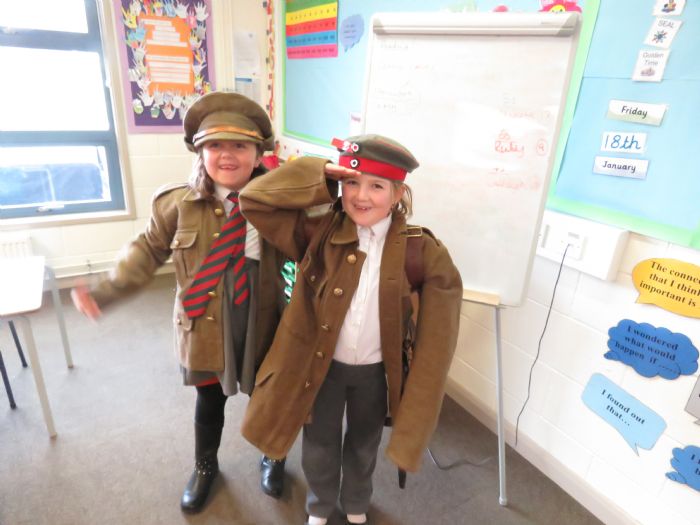 Welcome back Year 3, I hope you have had a fantastic Christmas and a very happy new year.
WC: 07/01/19
This week we have started our new Topic of the Victorians. We have used our Maths skills to place Historical events in order from the Victorian Times. This also links with our English novel 'Alice in Wonderland'. We have just started reading the book up to the part where Alice finds the bottle saying 'DRINK ME' on it and she does. From this, we made our own potions and created our own persuasive text persuading someone to drink them!
In Maths, we have started learning our multiplication tables. We have practiced our 2, 3, 5 and 10 multiplication tables both multiplying and dividing solving a range of problems. Next week we will be learning our 4 times-tables, make sure you practise these!
A great week back with fantastic attitudes to learning, keep it up Year 3!