Week commencing 20th March 2017

Year 5, this week, have begun learning about Geometry (shape), which sounds easy but as they and I will confess, it really isn't! We have to learn how to use a protractor - accurately. We must learn about different lengths of measure, translations and co-ordinates as well as knowing 2D and 3D shapes! It's going to be a tough topic area this one!!
In English the children have begun planning for their WW1 based fictions story. They are taking the idea that a 14 year old boy has lied about his age so that he can go to the trenches to fight, however, when he gets there he realises he has made a HUGE error in judgement! To help with the information for this story, we are going to visit the Imperial War Museum in Manchester next week! Please remember to return any permission/medical forms in you have not already done so!
In science we will continue to learn about forces, next week, its water resistance. The class will conduct an investigation to see how water resistance works.
Finally, we have begun making our RE/Art project - "What does the cross symbolise to you?" Children will think of as many words as they can to symbolise the cross at Easter. They will then write these words using lots of different pens and pencils before designing a 2D or 3D cross to overlay the writing.
Week commencing 13th March 2017
The children have taken a visit to "Dragon's Den" this week, with Mr Barratt and Miss Fryer acting as the Dragons. Children worked in pairs to persuade the dragons to invest in their unique, homemade pizza/burger sauce. Each pair mixed herbs and spices with either Mayonnaise or Passata to create their sauce before they gave it a name and a snappy slogan. They then had a couple of minutes, using their persuasive knowledge and techniques, to see if they could get any investment in their sauce. What a fabulous effort!! If the dragons had the money, i'm sure there would be some new sauces hitting the shelves of Tesco by the end of the term!!!
In maths, the children have taken their post test in statistics. It is with great proud that I can say every children has achieved a 'secure' across this maths curriculum area. What a great achievement this is!
The class have continued to learn about World War 1, we have discussed and learned about trench warfare. Interestingly, we discovered that they poor soldiers lived in horrific conditions, with a lot of them witnessing rats the size of cats in their living areas!!
Week commencing 6th March 2017

We end the week on some sad news, father is selling our best friend, Joey to make some money so that the farm can keep running. Therefore, we have written a persuasive letter to him to hopefully change his mind. We've been looking at groups of 3s, exaggeration, alliteration, emotive language and personal pronouns. The letters have been extremely persuasive and we can only hope that father reads them over the weekend and is persuaded not to sell poor Joey!
Timetables have been the thing of nightmares, in maths - is this because we simply don't see them any more? Does anybody take a bus or train? Many questions have been asked about this during the week and we are all blaming prices!! We hope that with the post test looming we can finally master the last few details to statistics.
Miss Fryer has been teaching this week so after 2 years the children have finally experienced being taught by another teacher - strange for both them and me!! :-/
We have reignited our guided reading groups which seem to be going well, children again are having the vital time in a small group to disect a piece of text and look at the comprehension to it.
Finally, a quick reminder that our trip to the Imperial War Museum in Manchester is in a couple of weeks, if you haven't returned the permission slip and medical form could this be done as soon as possible please! :D
Week commencing 27th February 2017

This week we have begun studying persuasive writing, initially looking at pre written persuasion texts and using our own success criteria to assess them. In the following week will be writing our very own persuasion texts, trying to persuade father not to sell Joey (War Horse by Michael Morpurgo.
In Maths, we are learning about statistics, particularly looking at line graphs and time tables. We will be creating our own data to put into these graphs and then interpreting the data from there.
We have just begun to look at our topics this week, they include forces (gravity, fiction etc...) and World War 1. Later in the term we will be visiting the Imperial War Museum in Manchester as part of our topic trip.
It was the final of our Bananagrams competition this week, after weeks of in class matches we finally have a winner, a HUGE WELL DONE to Olivia, who beat one of her closest friends, Lucie to take the crown of Bananagrams champ! She will now go on to compete against different schools in hope of reaching the final in London. Good luck Olivia!!!
Finally, on Thursday, it was World Book Day where children were allowed to dress up as their favourite book character. All the children looked absolutely fantastic with some real efforts put in on their costumes - well done parents!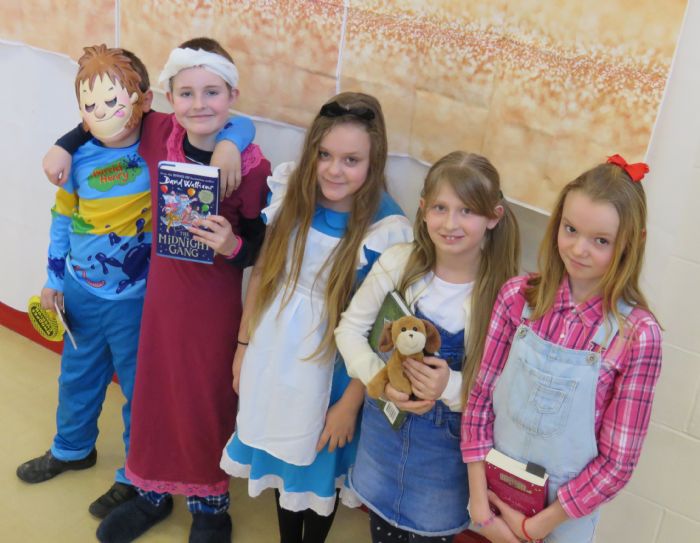 Week Commencing 20th February 2017
Welcome back to school, I hope you all had a great break. The children have got straight back into it with a very busy week. The children were lucky to be visited by some people from local businesses who work in the food and engineering industry (Sleaford Quality Foods). The children learnt about how their taste buds work and then went about creating their own burger sauces. Some of the sauces were quite tasty however some children in year 5 clearly enjoy spice!! The children also welcomed Miss Fryer to the class this week. She will be spending the next 6 weeks with us so please say hello if you see her.
Week commencing 6th February
It was the Hilltop residential this week for the vast majority of year 5. They participated in lots of fun and extreme outdoor activities in the FREEZING cold! All of the children that went faced many of their fears; staying away from home and climbing extremely high - attaching themselves to connectors to name just two. A huge well done to the impeccable behaviour on display, the staff at Hilltop loved them all and commented several times on how perfect their behaviour was.
Week commencing 30th January

Because it is Hilltop next week, the children have been using this week as their last week of term. They have completed a post test in Fractions, the average score being the highest ever! A huge 82% which is by far and away their top average score since I've been their teacher. I'm absolutely blown away by the effort they have put in this term.
Moving on to English, the class have finalised their two non-fiction pieces of work (explanation texts) and have now finished writing their dinosaur based narrative story. I have read these stories and they are humourous, descriptive and an absolute pleasure to read.
We have also come to the end of our sessions at Carre's Grammar school (science). I think it is fair to say the class have been brilliant. Dr Robinson expressed his delight at their attitude and willingness to learn and complete all the hands on experiments he produced for them. It will be a shame to finish however, we must say a huge thank you to Carre's Grammar school and their community programme for helping smaller schools teach science in a practical way.
Week commencing 23rd January
Week commencing 16th January


BANANAGRAMS!!! An awesome week all around this week. Children have begun the long road to London by starting the inter-class tournament. Bananagrams is a word making game similar to scrabble where the children complete in small groups attempting to spell as many words as they can from a certain amount of letter tiles. The winner of the inter-class competition will go on to play in potentially three more games against other schools' champions. If successful they will go and play in a grand final in London.
We are continuing fractions work in Maths, this is a huge increase in difficulty from Year 4 so the children are finding this extremely difficult. However, they are showing grit and determination to success which is great to see!
Finally, a quick mention towards the explanation texts the children have been writing. They are definitely the best the children have ever written, its fantastic to see the progress they are making and I can honestly say have made a gigantic amount of progress since this time last year! Well done team 5!
Week commencing 9th January
What a fantastic week it has been for year 5. The children have continued their brilliant attitude and determination towards their work from last year and are well on course to be as successful this year as they were last year.
This week, we have been delving into the world of fractions. Particularly looking at equivalent fractions. Homework this week will be on equivalent fractions, so parents - be aware! :)
We have begun looking at explanation texts in English - learning about all the key language features of the text before we attempt to write one next week. We are linking our science topic of properties to our English work which is proving very successful.
Week commencing 2nd January 2017


Welcome back and a happy new year to everybody! A short, sharp week to ease us all back in to school life, this week. It's assessment week this week, children will be assessed on Fractions in Maths and in English the children will be challenged to write an explanation text.
We have begun to study our new History topic which is Dinosaurs and using our Georgraphy sessions to discover where Dinosaur bones and fossils are found.