W.C 11.12.17
The countdown is really on now, not long left until we break up ready to celebrate Christmas! Bit of a topsy turvy week this week as Monday and Tuesday were focussed on all things "A Midwife Crisis". We performed a dress rehearsal to the whole school then performed again on Monday to our grown-ups at our lunchtime show. We appologise if anyone experienced any disruption to the performance, unfortunately the matter was completely out of our hands as it was a family event.
Then on Tuesday we practiced again ready for our evening show. Thank you to everyone who came back for it! We are so proud of how hard everyone has worked and all of their amazing effort in remembering their lines and their cues, and of course the amazing songs which sounded so fantastic. We haven't had much feedback from grown-ups so if you'd like to tell us something you enjoyed or something we could improve for next year please feel free to speak to Miss Cragg, Alex or the Year Two teaching team. We'd love to hear your opinion! Thank you for your support and your attendance.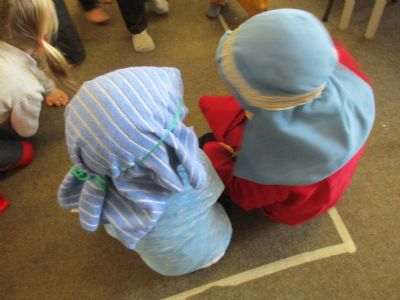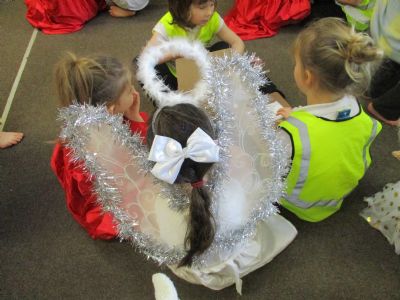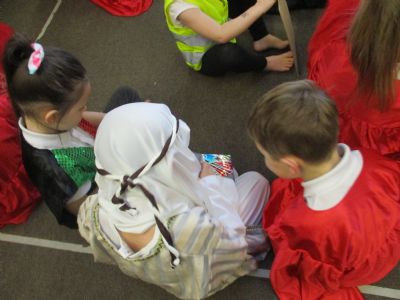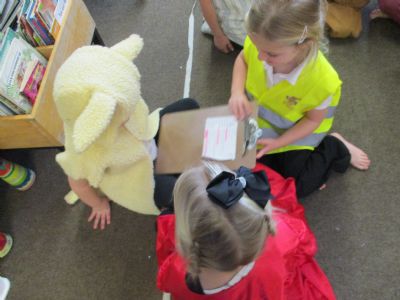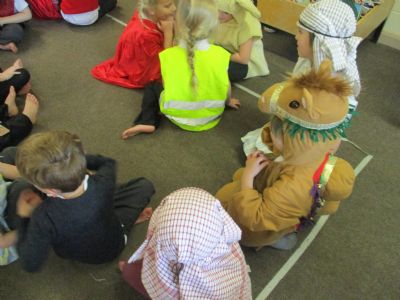 In Maths this week we've moved on to subtraction, still using the part whole model to identify missing parts and beginning to write subtraction and addition fact family number sentences. We have also worked on answering subtraction word problems and have completed a post-test to show our learning this half term.
In English we have been learning about imperative (bossy) verbs, identifying them, using them in sentences and also writing instructions. Everyone in Year One can write instructions on how to clean our teeth! We've also had the opportunity to practice our cursive handwriting, some of us are beginning to use joined up letters in our writing which is wonderful to see. Spelling test scores are increasing week on week and we're also using these words in our writing which is brilliant. We've also managed to squeeze in some Science this week, learning about identifying the seasons and have created some art work to show the affect of the season on a tree.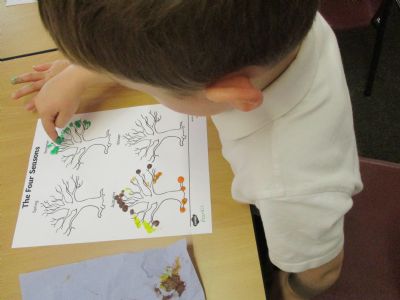 We had our Christmas dinner on Thursday which was very much enjoyed by children and staff members alike and on Friday our Carol Service with Father Phillip from St Denys. Only three more days of this half term to go!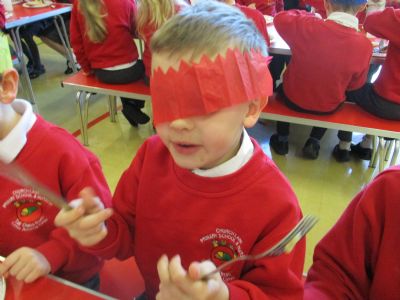 Dates for your diary:
Wednesday 20th December: Panto trip in the morning then Carols Around the Tree in the afternoon, all grown-ups welcome to attend.
W.C 04.12.17
Another busy week, this time focusing on all things Nativity. We are slowly getting there, ready for our performances next week of "A Midwife Crisis" on Monday at 1:30pm and Tuesday at 6pm. We're all very excited to show our hard work to our grown-ups and know that you'll all be blown away, especially by our singing! We've been rehearsing hard, Miss Cragg lost her voice after two rehearsals in one day and Alex's is on the way out, they'll be whispering the lines on Monday and Tuesday!
In Maths this week we've been consolidating our knowledge of addition and introducing the concept of subtraction. We're so good at identifying the whole and the parts of a number and are really working hard to find the missing parts in a subtraction number sentence. Next week we'll use a number line and draw pictures to help us find lots of strategies for subtraction. Mr Barratt was very impressed with us when he came to visit, we showed off our understanding of bar models, using our knowledge of subtraction and the part whole model to find missing numbers and answers to word problems. We are really working and listening hard!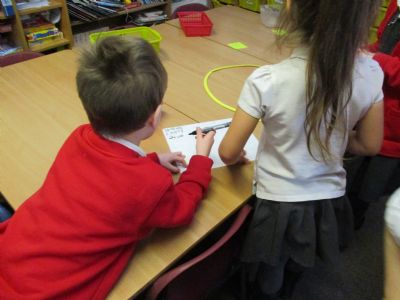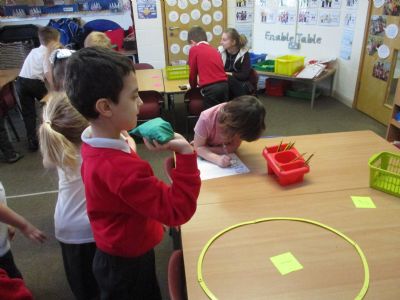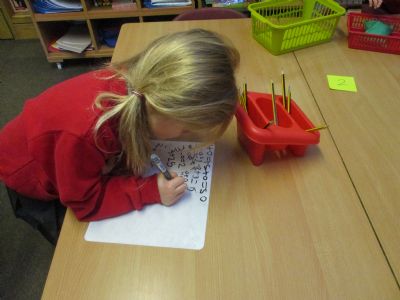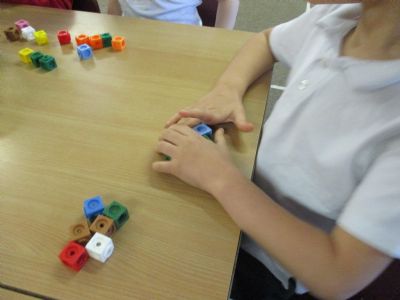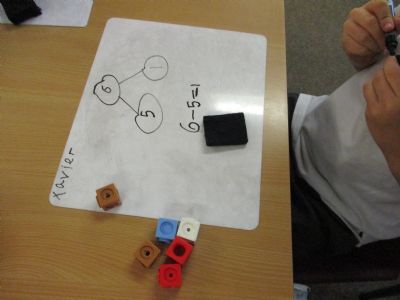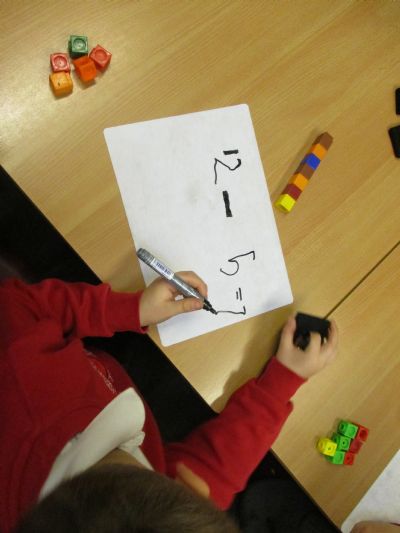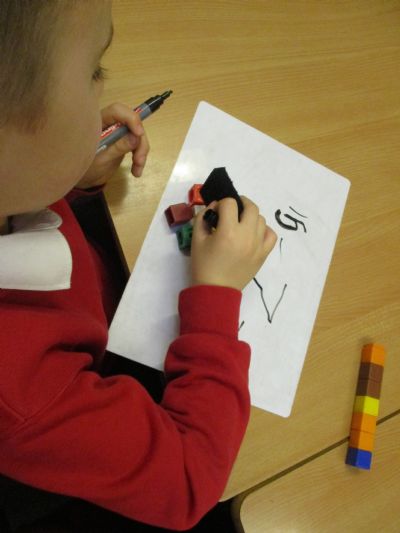 In English we've been finishing off our non-fiction booklets about Knights and Castles. We've written information sentences about knights this week, a caption for a picture, headings for our pages, a main title, we've numbered our pages, written a contents page and an index. All that is left to do next week is to finish off any information thats missing and draw the front cover!
We've also managed to squeeze in time to make some beautiful Christmas decorations ready for the Church Lane Christmas Fair! We hope you all managed to buy one before they sold out, we're sure they will be the finishing touch to everyones Christmas trees.
Dates for your diary:
Monday 11th at 1:30pm and Tuesday 12th at 6pm are the performance times for A Midwife Crisis. We hope to see you there! Please bring any outstanding nativity costumes to school in a labelled bag.
Christmas Carol Service in the hall - Friday 15th December at 2pm.
Carols Round the Tree in the hall - Wednesday 20th December at 2pm.
Whole school panto trip: Wednesday 20th December
W.C 27.11.17
What an exciting week we've had! We started off the week with our long anticipated trip to Lincoln Castle. Miss Cragg, Alex, and the other adults on the trip were very impressed with how knowledgeable and confident everyone in Year One was about castles, we definitely wowed our guide Jen! In particular we knew lots about Nicola de la Haye which was fantastic, we think everyone really got something from the day. We walked the castle walls, went inside the tower, explored the keep, had a banquet, performed medieval dances, played squires and dressed knights in their armour, shot arrows with bows, made shields as well as trying on real pieces of armour. All in all it was a fantastic day, thank you to everyone who made it possible.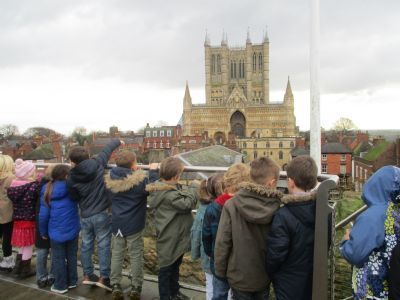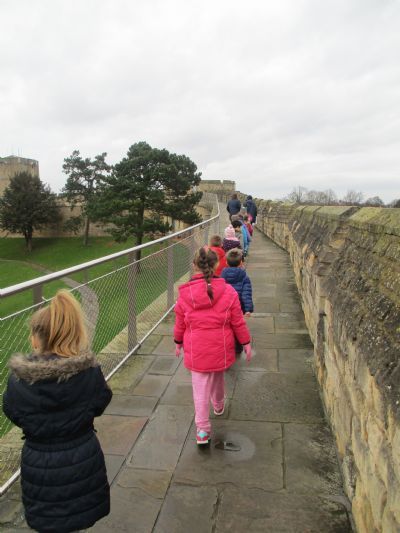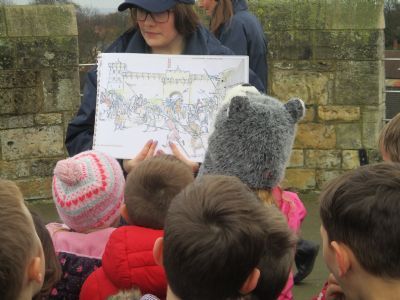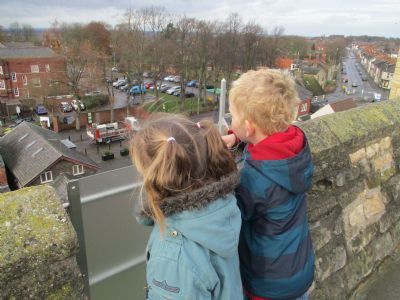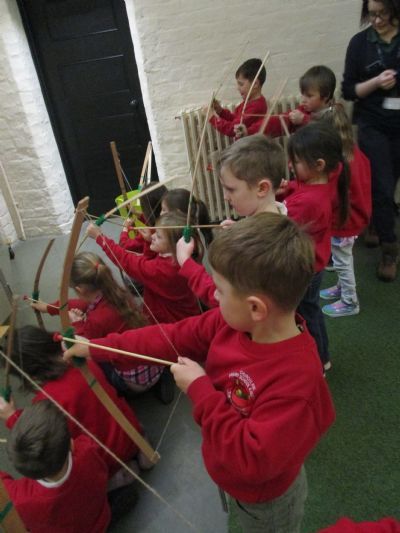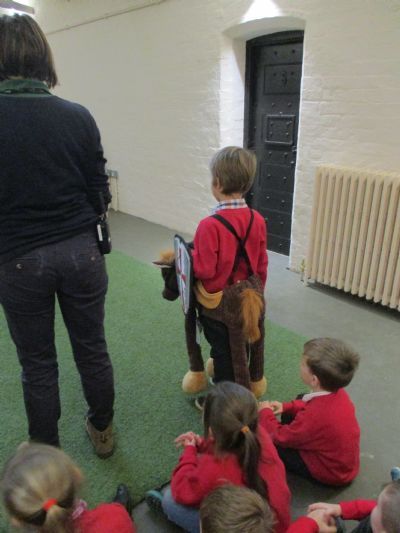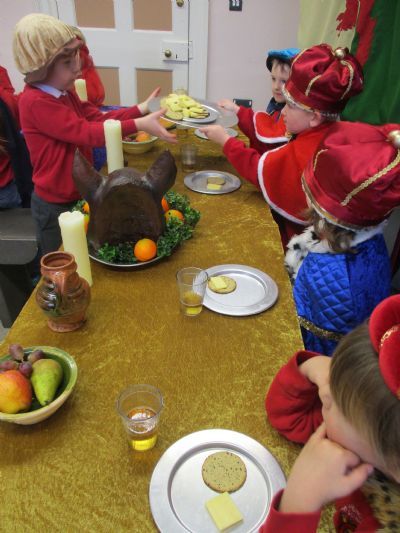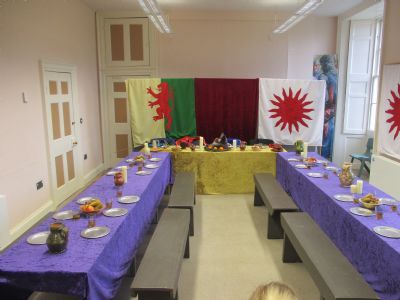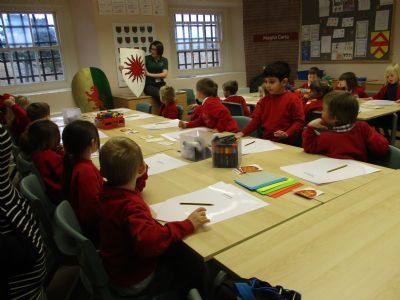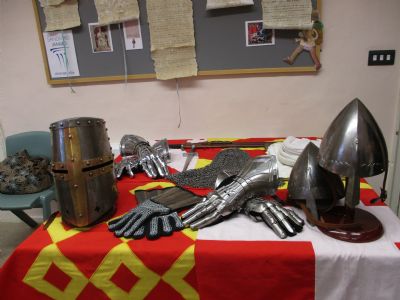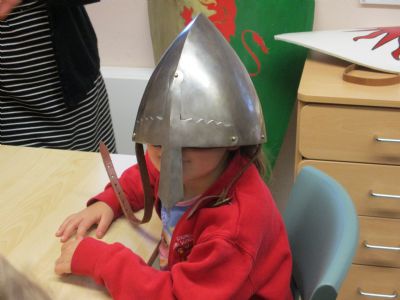 Following on from our trip, all of our English work has been about the day! We have written a recount as well as sequencing the events of the day into order and writing sentences with time conjunctions. Our independence is growing all the time and we all have a fantastic 'can-do' attitude when it comes to our writing.
In Maths we have concentrated this week on bar models. We have been finding missing numbers by applying our knowledge of the part whole model using resources such as 10 frames, counters, cubes, objects and Numicon. We can write addition number sentences and count on using a variety of strategies. Next week we will be moving on to subtraction.
We have been busy rehearsing our Christmas Nativity, "A Midwife Crisis" this week too. Hopefully those with speaking parts have been practising their lines at home ready for our performances on the 11th and 12th December. We're very excited to see it all come together!
Dates for your diary:
Christmas Fair - Friday 8th December
"A Midwife Crisis" – Monday 11th December at 1:30pm and Tuesday 12th December at 6pm.
Christmas Carol Service in the hall - Friday 15th December at 2pm.
Carols Round the Tree in the hall - Wednesday 20th December at 2pm.
Whole school panto trip: Wednesday 20th December
W.C 20.11.17
We're glad this week has gone quickly - we're closer to our trip to Lincoln Castle on Monday! We've kept ourselves busy with lots of work learning about castles and Nicola de la Haye who was castellan of Lincoln Castle way back in the 1100's. She was a very strong and independent woman who held a job unheard of back then, in charge of the defence of the castle. We have loved finding out more about her and have done some excellent fact writing. We've also started on our non-fiction booklets, so far we have written a glossary and labelled a diagram of a castle. Some of us have moved on to writing information sentences about castles too. We still have the front cover to design, the contents page to write and an index, as well as a caption and knight sentences.
In Maths this week we've continued to learn about the whole and its parts, completing systematic number bonds and noticing the patterns. We've reminded ourselves about greater than, less than and equal to and have been solving number patterns such as 4 + 2 = _ + 3 and 7 + 3 > 8 + _ We are great mathematicians in Year 1! We're also working on our reasoning and problem solving skills which are improving all the time.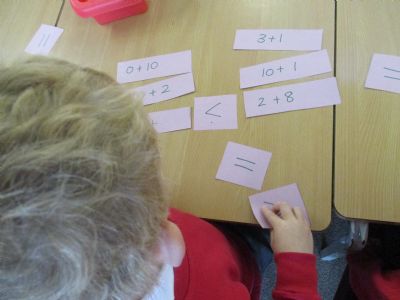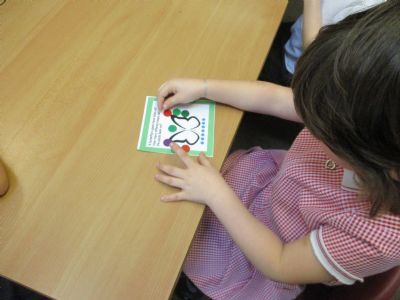 Rehearsals have begun this week for our nativity play, A Midwife Crisis. We're hoping to knock all of our grown-ups socks off by the time our performances come along on the 11th and 12th of December. We hope to see you there!
W.C 13.11.17
Another busy week this week, lots of learning taking place across the classroom. In Maths we have been focusing on number sentences and the order in which we can write them. We have ended with the equals sign as well as starting with it and have looked at missing numbers too. We keep coming back to the part whole model to remind ourselves and know that the whole stays the same but the parts can change. We then moved on to finding patterns in systematic number bonds, giving us a start and end point and ensuring that we can find all of the possible parts of a number. We are getting so good at making 10!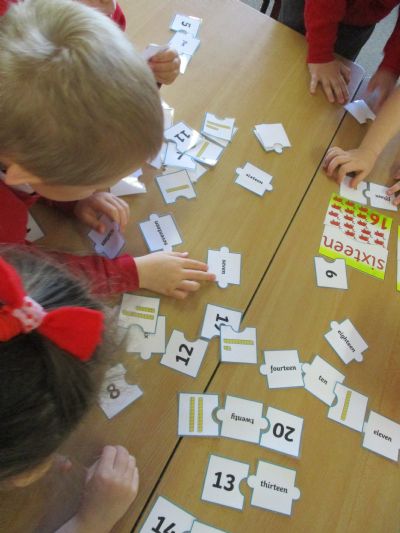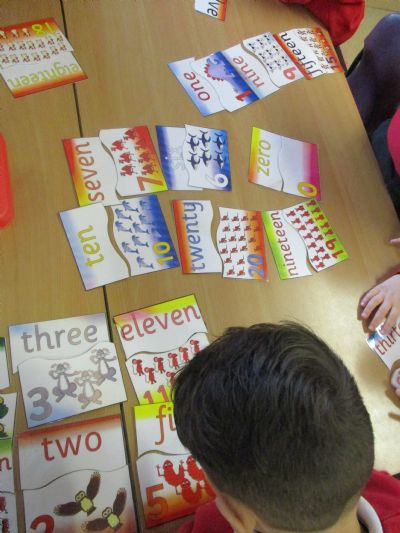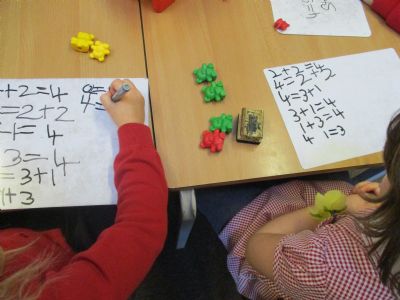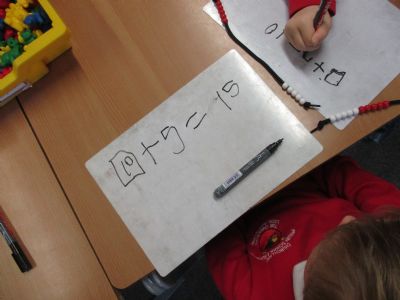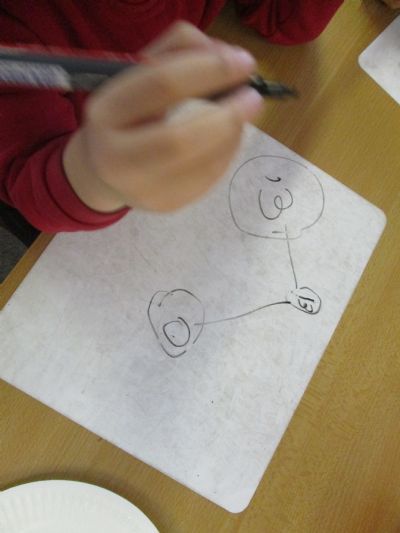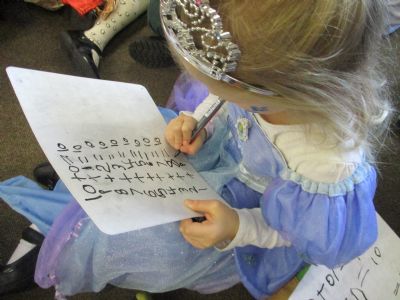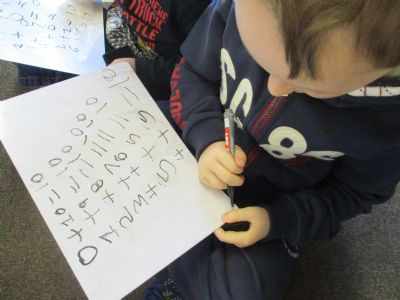 In English we've continued to link to our topic of Knights and Castles, recapping labels and captions from last week then beginning to write non-fiction sentences about Knights as well as glossary definitions of the parts of a castle. We've begun to learn about alphabetical order and have put our definitions in the right places. We're working up to writing a non-fiction information booklet about our topic which should be fantastic based on all of the facts we're learning!
This week our Science lesson was focusing on the changes which come with the seasons. We have talked about the seasons, the months of the year and the changes in weather as well as what happens to different plants. We went on a walk across the field to look at the trees and to see what is happening to their leaves. We then drew trees in our books along with some of the clothes we have to wear in Autumn.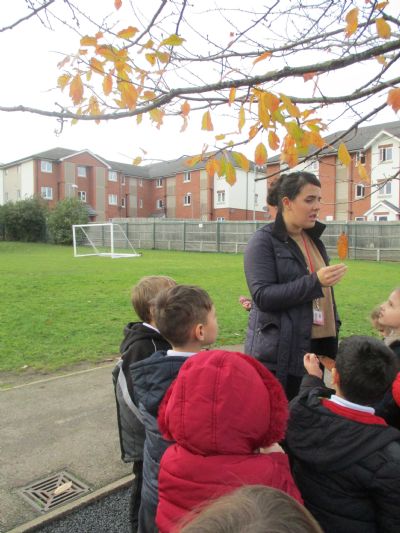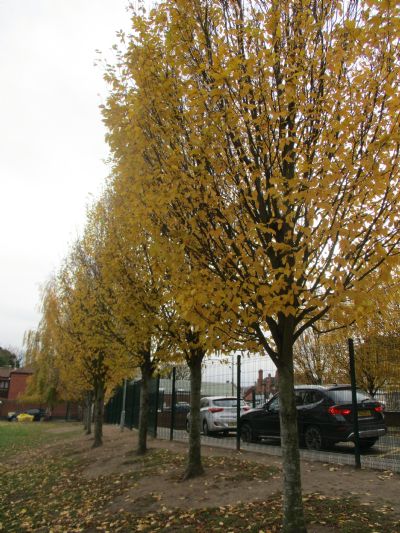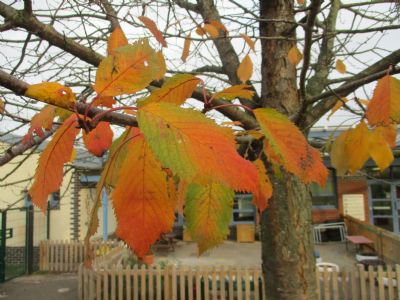 We ended the week celebrating and raising money for Children in Need. Thanks to our School Council members for suggesting that Miss Cragg and Alex put their feet in baked beans! What a lovely experience...! We have raised lots of money for this very worthwhile cause, thank you to all the grown-ups for supporting us.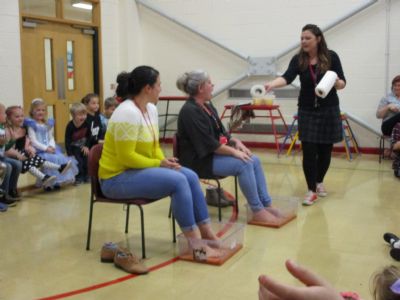 Dates for your diary:
Trip to Lincoln Castle: Monday 27th November. If you havent already, please ensure forms and money are returned to the office as soon as possible.
Nativity: A Midwife Crisis - Monday 11th December, performance at 1:30pm and Tuesday 12th December, performance at 6pm.
W.C 06.11.17
Welcome back! We hope everyone had a wonderful half term break and you come back well rested and ready to work work work!
We've hit the ground running this week, straight into our new topic "Knights and Castles" which the children have been very excited about. We've discussed what we'd like to find out about and have been learning about labels and captions. We've labelled pictures of castles and suits of armour and have written captions for exciting knight pictures. We can't wait for our trip to Lincoln Castle on the 27th November, not long to go now! If you haven't already, please ensure you pay and return your slip to the office soon, thank you. If you need another letter, please see Miss Cragg or Alex.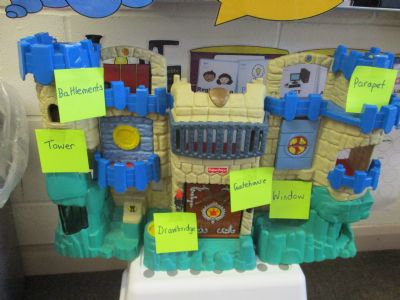 In Maths we've begun to look at addition, firstly investigating the part whole model and building numbers. We can break numbers down into parts, partitioning them and including the addition and equals symbols. We've done lots of talking about numbers, about zero and about different strategies to combine the total.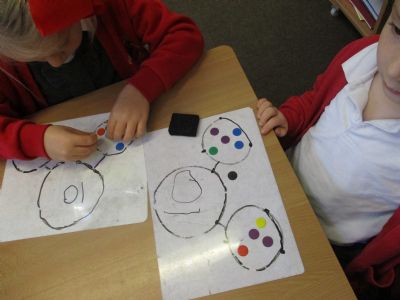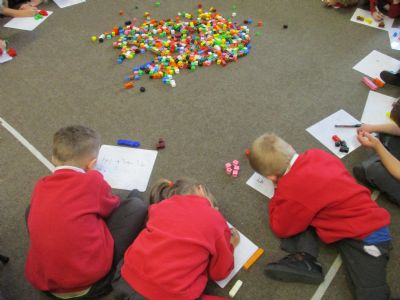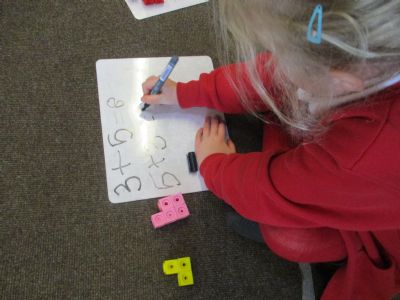 We've spent some time on Maths Whizz this week, completing our assessments and beginning to explore the console and study sections. Any time you can spare to log in at home would be fantastic and very beneficial. We've also done our first spelling test of the year! It went very well and we were impressed by the practice that everyone has obviously done at home, thank you to all of the grown-ups who are supporting us in this. It has been lovely to see the children use some of these words in their writing this week!
This week we've already managed to complete reading, SPaG and maths tests which are giving an indication of where we need extra support, intervention and focused teaching groups. We're so proud of our wonderful attitudes, we always try our best because we know that its ok to not know but its not ok to not try. Last but not least we've had a big focus on handwriting again this week, now that we are beginning to master capital letters, full stops and finger spaces its time to move on to working on sitting those letters on the lines and building up the strength and stamina in our fingers!
Thank you for all of your hard work this week Year 1, we hope you're ready to keep on giving your all as we head towards Christmas.
Dates for your diary:
Lincoln Castle trip - Monday 27th November £12.50 to the office ASAP please.
"A Midwife Crisis" Nativity performances, Monday 11th December at 1:30pm and Tuesday 12th December at 6pm.
W.C 16.10.17
And we have crossed the finish line! First half term in Year One, done! It's been fantastic to see everyone grow in confidence and ability already, Miss Cragg and Alex are very excited to see where the rest of the year takes us.
We've announced the title of the Nativity for this year, along with Year 2 we will be performing "A Midwife Crisis". Although traditionally lots of the speaking parts go to Year 2 children, there are a few of us in Year One who have some lines to say. Regardless, all of us will be learning all of the songs and dances and putting on a great show in December.
In English this week we've gone back to adjectives, even having to go outside mid lesson to touch a tree! We're starting to get the hang of describing objects though sometimes we depend on using colours. We can also write sentences with capital letters, finger spaces and full stops and unscramble sentences so that they make sense. Our pre-cursive handwriting is developing well and we're starting to produce the little hooks that join letters together in our handwriting lessons.
In Maths we've begun to explore place value using base ten, beginning to look at tens and ones to build numbers. We've also focused on ordinal numbers and can identify 1st, 2nd, 3rd, 4th etc. We're still working on naming them but did lots of practical running races and got medals! Some of us took a post-test this week to assess the learning we have done this half term and the results are very encouraging indeed.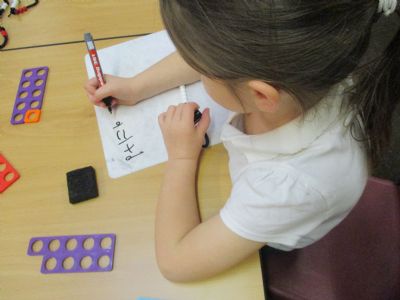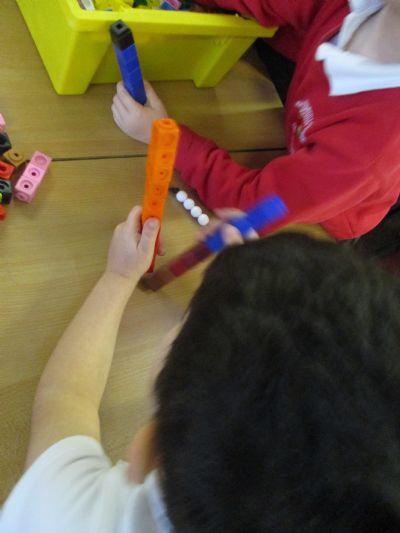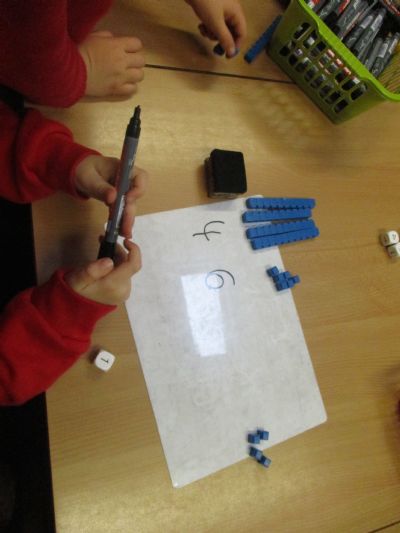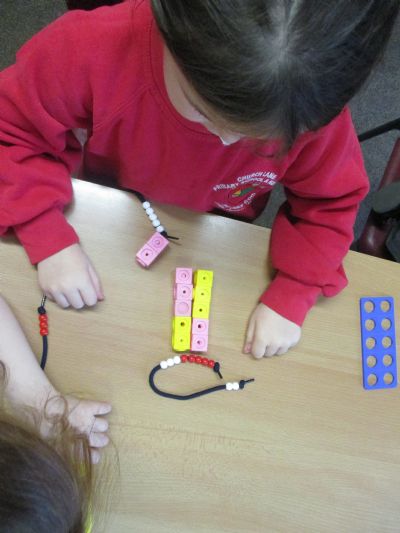 We've also managed to cram in some Science work! We did two investigations, the first one making magic potions with a chemical reaction using vinegar, coloured water and baking soda and the other one with kitchen roll and coloured water. The children asked a variety of scientific questions and thought about different ways they could answer those questions. They also experimented using different methods and quantities and there were some fantastic discussions taking place using scientific vocabulary.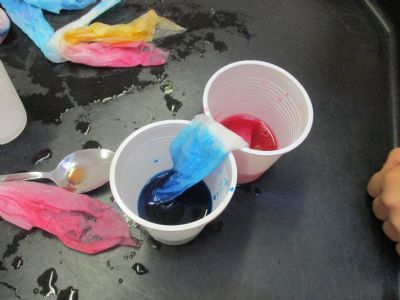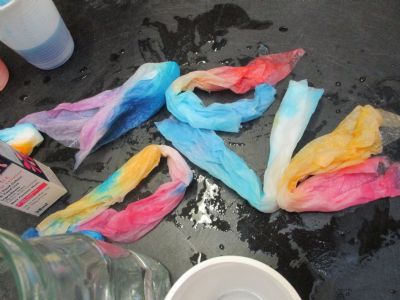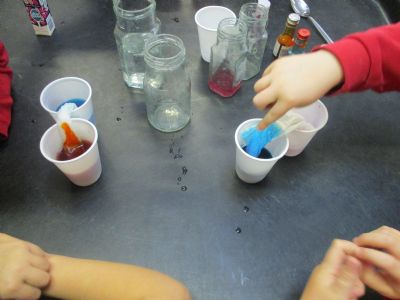 A wonderful (if exhausting!) half term and we're looking forward to seeing you all back on the 6th November ready to start again on the run up to Christmas! Thank you to all of the grown-ups for your support with coming into the classroom at the beginning of the day, pick up times as well as with homework and reading. There is additional homework this week because of the long school holiday as well as spellings to learn and reading books to read. The Maths Whizz log ins have been sent home too (finally!) so have a play on that when you have a spare second! Enjoy yourselves and stay safe!
W.C 09.10.17
Thank you to all the grown-ups who attended parents evening this week, it was a pleasure spending time with you all and we hope you found it constructive. We appreciate your support in and out of the classroom with your children's learning.
In English this week we've gone back to basics again, reinforcing the importance of capital letters, finger spaces and full stops in all of our writing. We have un-muddled sentences, decided if some sentences made sense, added the correct punctuation and written sentences about pictures and stories too. We've also completed some handwriting lessons where we are starting to use pre-cursive letters. We know that we need to continue to strengthen the muscles in our hands so that this becomes easier and easier, and all of our activities in choosing time are geared towards developing these fine motor skills.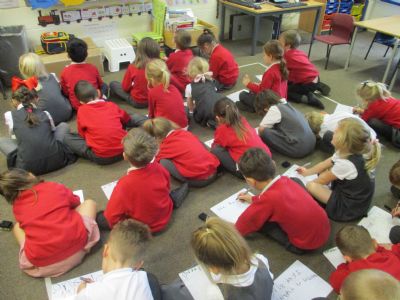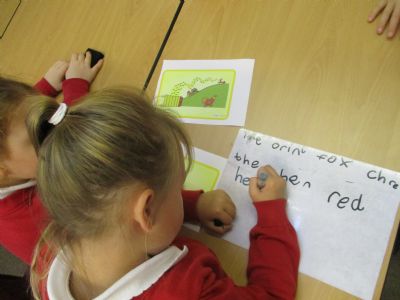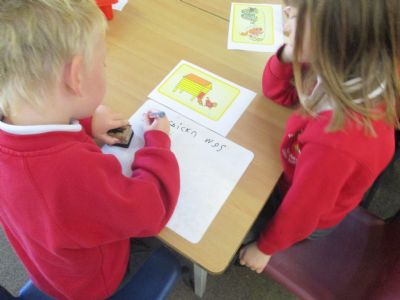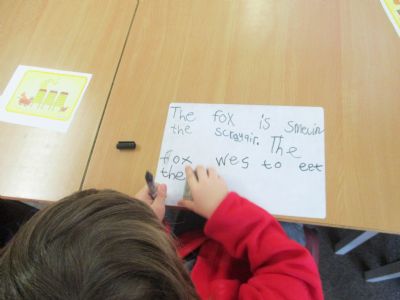 In Maths we've been continuing our work on greater than and less than, this week ordering groups of objects or numbers and starting to really think about how to frame our answers using thinking stems as well as using the < and > symbols. Thinking stems help us to verbalise what we know and why we think that way, helping us on our journey to mastery. Mr Snappy even came to visit us from his swamp to make sure we really understand greater than and less than! See if you can spot him in the photos... We have also been working on learning our number bonds to 10, which was our homework this week. If you'd like some additional learning at home, why not watch an episode of Numberblocks on BBC iPlayer and discuss the maths used with your grown-up?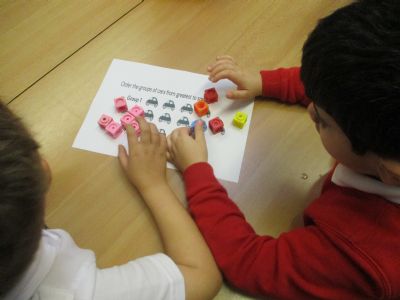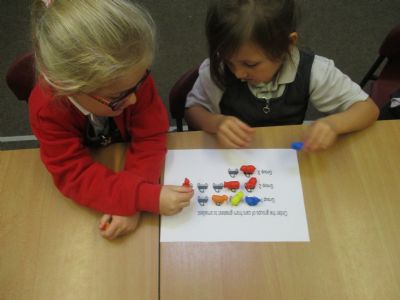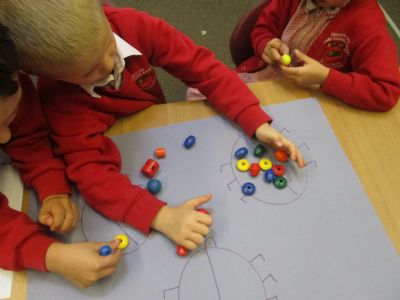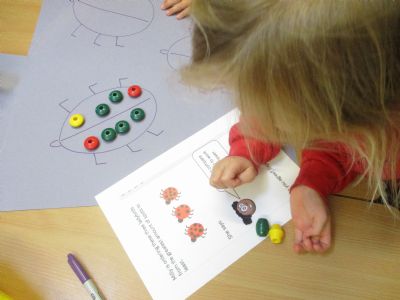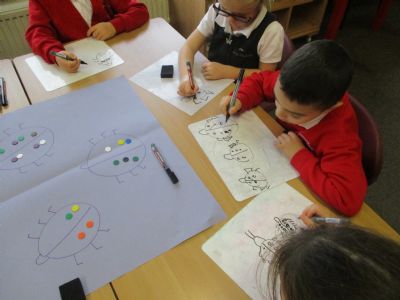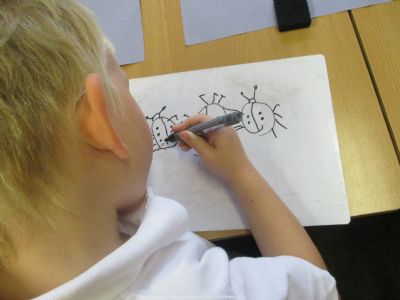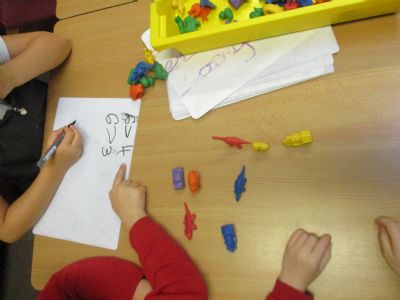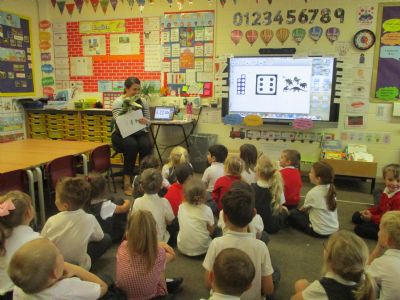 Lots of us are reading at home which is becoming more evident in our Guided Reading sessions, it is lovely to hear children trying hard to sound out and say more words then get the chance to discuss these stories. Well done for trying your best this week Year 1! One more week to go then we get chance for a very well deserved break.
Dates for your diary:
Friday 20th October - Quiz night! £1 per person, teams of no more than 6.
W.C 02.10.17
Another week where we haven't stopped for a breath! This week has seen us have a very important visitor to teach us all about the history in Sleaford, the visit of King John and some exciting facts about Lincoln Castle before our trip there next month! Mark Bamford came to see us from Sleaford Musuem and brought with him a wealth of knowledge and information which we lapped up. We asked him lots of questions and he was more than happy to respond to them all, he was just disappointed he can't come with us on our trip! He also brought with him some swords, shields and crowns to decorate which we really enjoyed doing. We're all definitely looking forward to starting our new topic about castles and knights after the October half term holidays.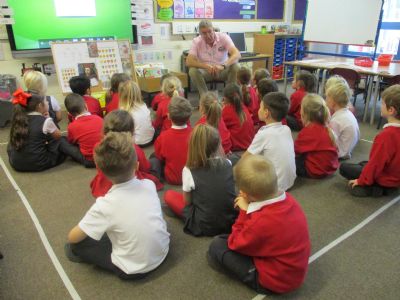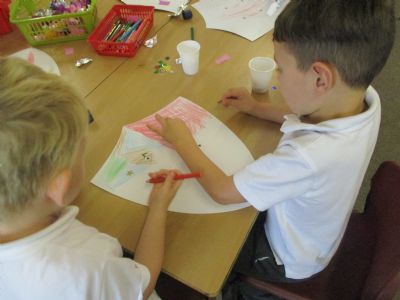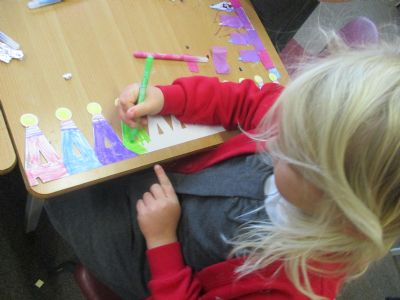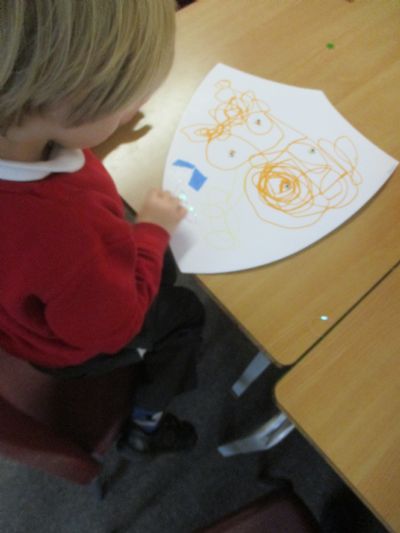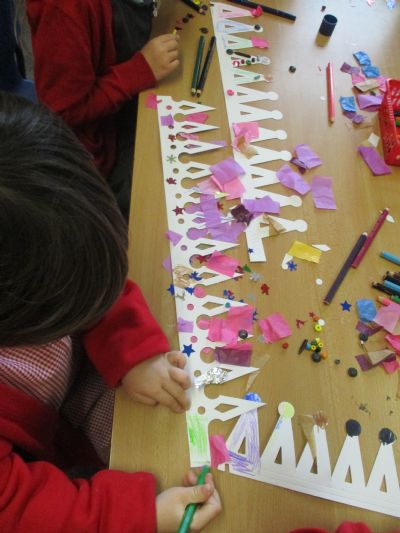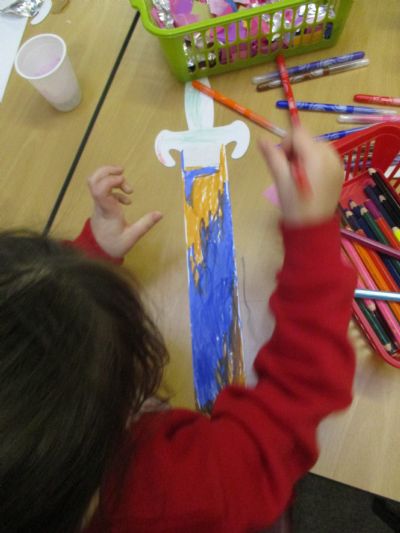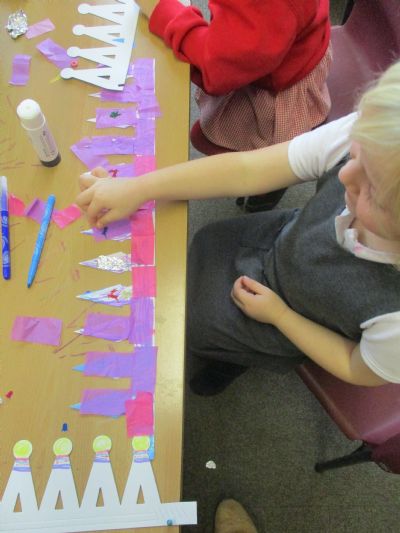 In Maths this week we have begun to explore the greater than, less than and equal to symbols and we are getting really going at doing this, as well as explaining our answers and why we think this. We have used numbers, objects, pictures and Numicon to name but a few things.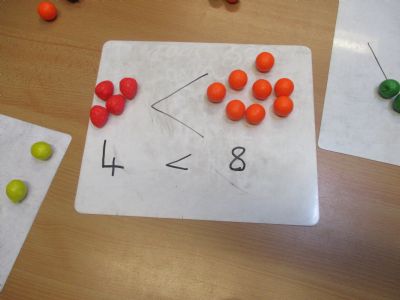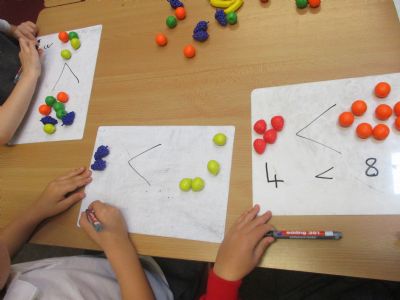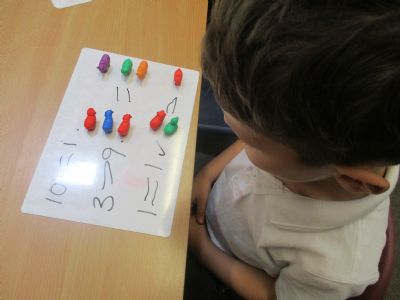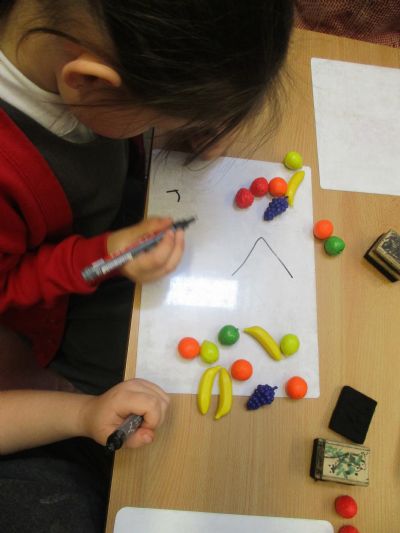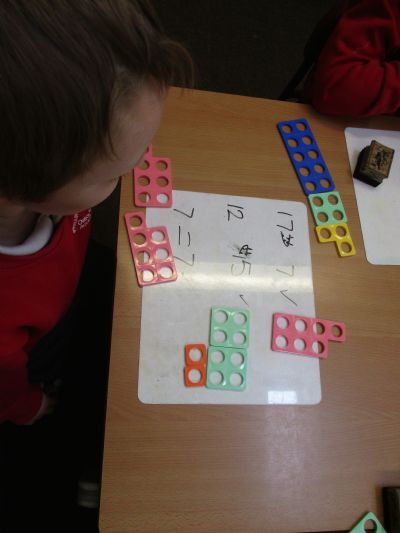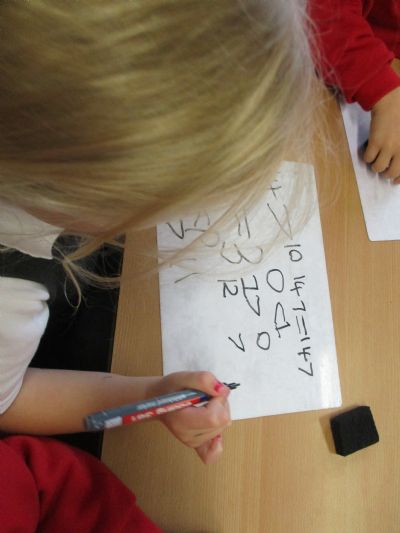 In English we have begun to explore adjectives. We know that these are describing words and are gettinggood at using our senses to think of exciting and descriptive adjectives. We even drew around one of our friends in Year One and wrote adjectives to describe him including his appearance and clothing! We have done more independent writing this week and are finding it easier to concentrate and do our best work.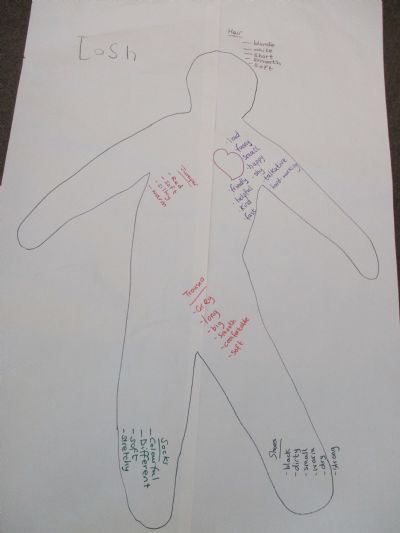 Guided Reading is going from strength to strength and we are also still enjoying our choosing time. This week the collage table has been very popular, as has the range of outdoor activities which the children can choose from, contruction, imaginative play and gross motor skills.
Dates for your diary:
Parents Evening is on Tuesday 10th October. There are a few appointments left, please see Miss Cragg to arrange a suitable time or alternative date for a meeting.
Pantomine on Wednesday 20th December. Please complete the form and return to school to confirm your child is attending.
W.C 25.09.17
What a varied and interesting week we've had this week! Lots going on, culminating in an incredible performance by the Zulu Nation on Friday. Hopefully all the grown-ups were there to see the amazing work that the children did and the wonderful performances and SUPER LOUD music there was to enjoy too. Alex even brought in her own Zulu shield from home to show us! We took part in dancing and singing workshops and enjoyed the whole school performances immensely. Mr Clay especially had lots of fun!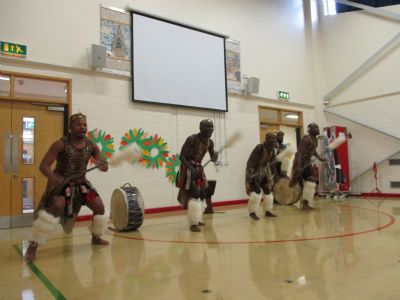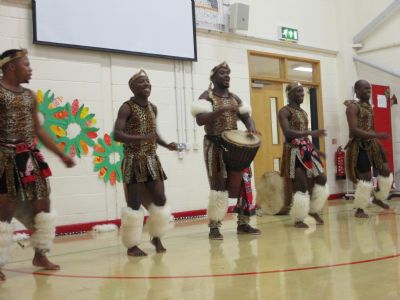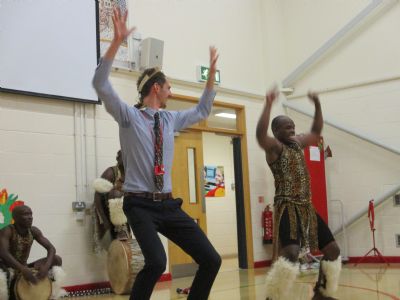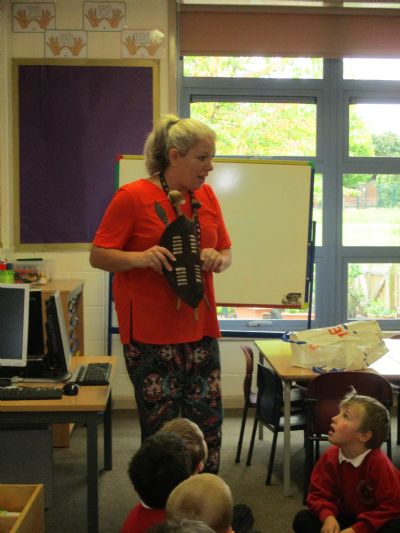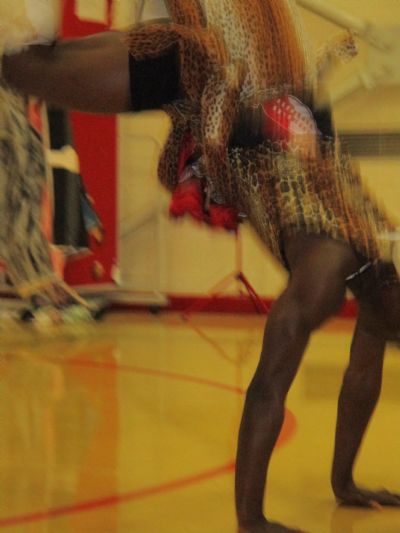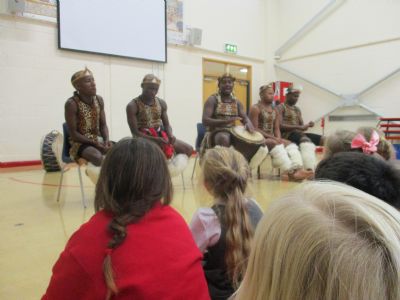 In English we have reminded ourselves of the features of fiction and non-fiction books, sorting book covers and sentences as well as creating some fiction and non-fiction sentences of our own. We then turned our attention to using our senses and did some brilliant outdoor learning, we listened to the sound of the church bells ringing and the birds chattering with our ears, we smelled the mint, lavender and rosemary in our outdoor area with our noses, we tasted the mint leaves (washed!!) with our tongues, we touched the grass, rocks, flowers and leaves with our fingers and we saw the bright colours all around us with our eyes. Next week we will move on to using adjectives in sentences and adding some extra detail with that description.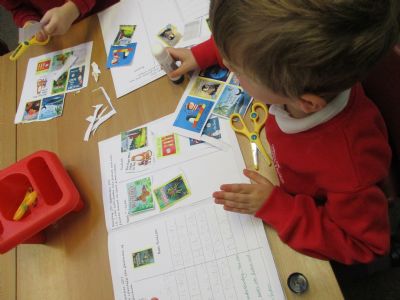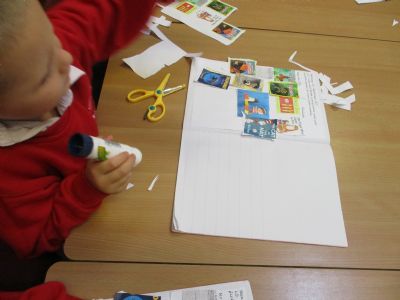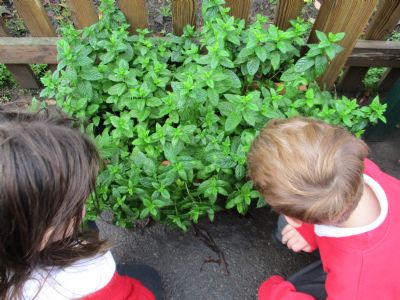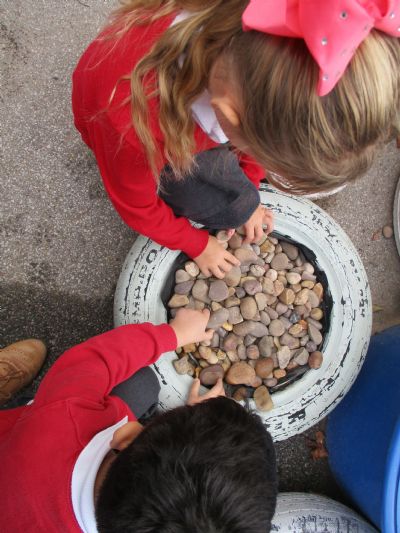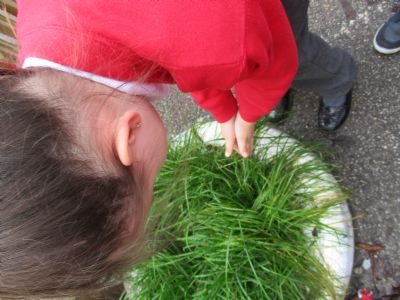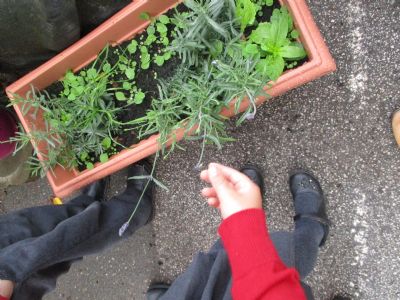 In Maths we've continued our work on place value, this week recapping one more and one less then looking at greater than and less than. We have been using the correct vocabulary to sort groups of objects, numicon and bead strings. We've also done lots of work on our reasoning and explanation skills to really start our journey to mastery, still with lots of practical, hands-on experience.
We have continued to pursue guided reading and we're all getting rather good at reading and listening to our group, answering questions, writing our answers and describing pictures from the story.
Dates for your diary:
Parents Evening is on 10th October. Please complete your appointment request slip and send back to school as soon as possible.
W.C 18.09.17
Another week, gone again and I think we all have that Friday feeling today! We've worked tremendously hard this week especially on our number and letter formation as well as our imaginative and fine motor skills.
In English this week we began to learn how to assess and edit our own work, and looked at the Big Write we did about the rainforest the previous week. We've continued our work on adding capital letters and full stops and are beginning to remember these as well as finger spaces when we write sentences. In the latter part of the week we have started to look into identifying the features of fiction and non-fiction books and lots of us are getting really good at sorting books based on these features. We can spot if a book has photographs or illustrations, if it has characters or information, and are beginning to find indexes and glossaries at the back of the book.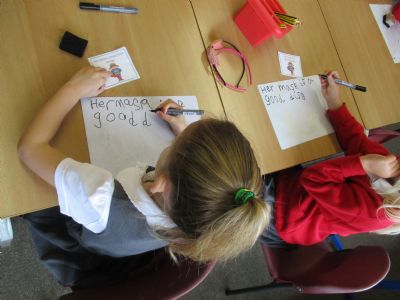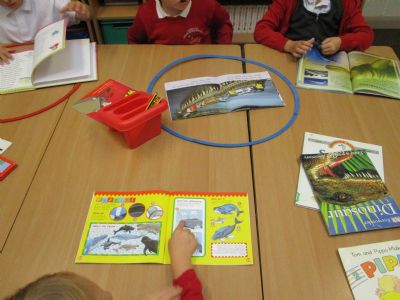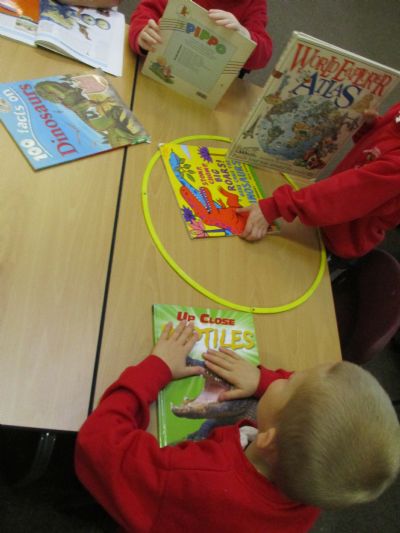 In Maths we've focused on one more and one less, using a number line, 100 square, objects, counters, ten frames and have even started to use the addition, subtraction and equals symbols to write number sentences! Miss Cragg and Alex are excited about this super Maths that everyone seems very capable of and are looking forward to how much progress we're all going to make, especially with mastery and starting to explain our thinking and how we know an answer.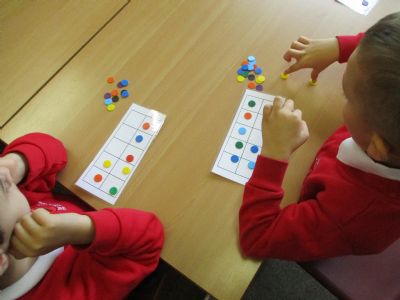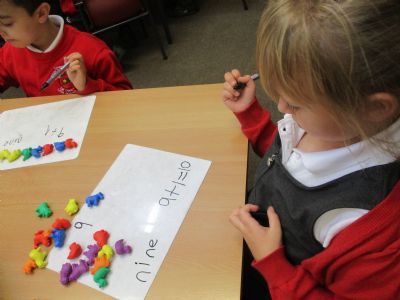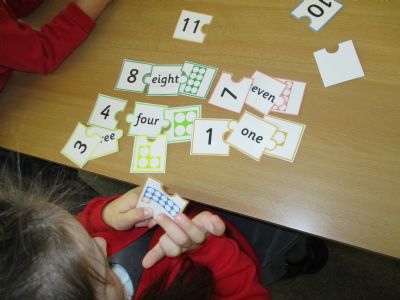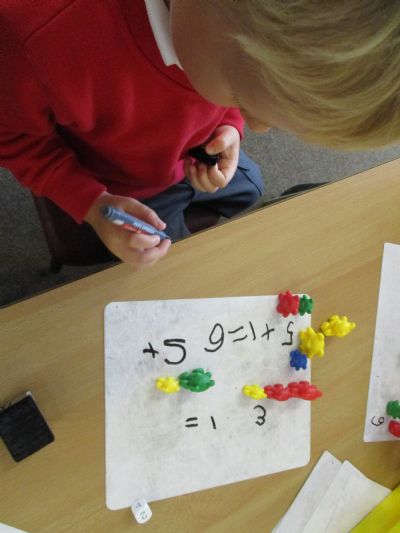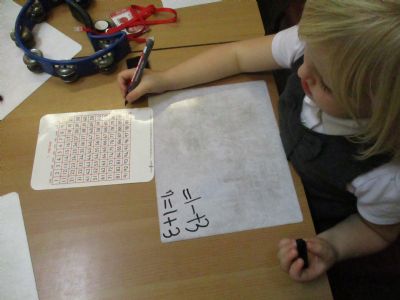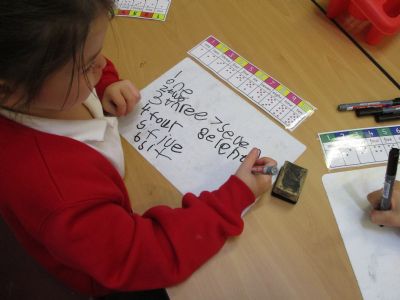 We have continued to work on Guided Reading, reading and answering questions about a text or a picture as well as practicing letter formation. We have also carried on with our choosing time during continuous provision in the afternoon. This week we have enjoyed playing with the tweezers and the pasta, painting, colouring with crayons and felt tips, cutting and sticking collage material and practicing our scissor skills, using the computers with a mouse, building structures with blocks, practicing pencil grip with whiteboards and pens, imaginative play with airplanes and monster trucks and collaborative play with Lego.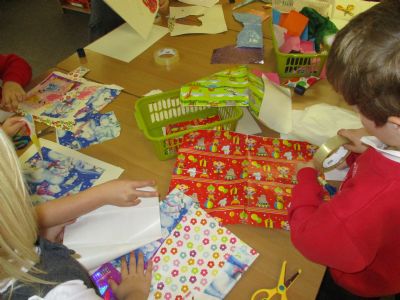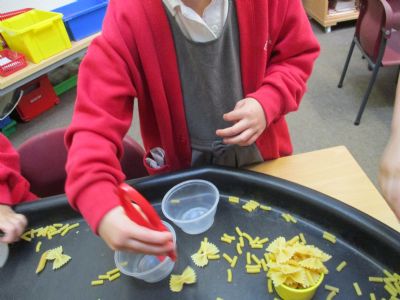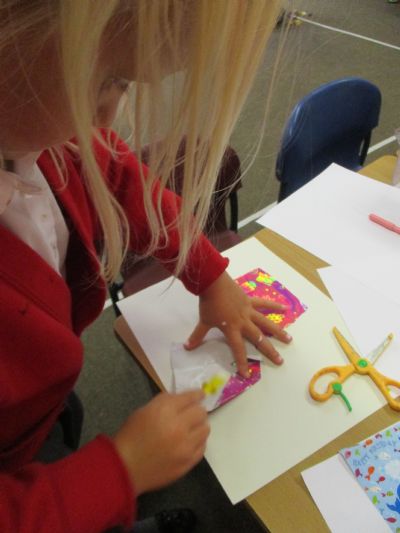 Please continue to remind your child to take their reading books out of their bags when coming into the classroom to put them in the yellow box to be changed. Thank you to those parents supporting their children to become more independent.
Homework this week is based on one more and one less which we have been learning about in our Maths lessons.
Dates for your diary:
Individual and family school photographs: Wednesday 27th September.
Harvest Festival: Thursday 28th September.
W.C 11.09.17
Wow, you can tell the term is well and truly underway now, this week has passed in the blink of an eye! We've been very busy in Year One, evident by our first complaint of the year to Mr Clay who was told that a particular child didnt like it because "we have to do work in Year One"! Sorry, we're still doing lots of playing in the afternoons and choosing those tasks to develop our fine and gross motor skills, our turn taking, communication skills and imagination but on top of that we have to practice our counting and number formation in maths as well as writing sentences with capital letters, full stops and finger spaces in our english lessons!
Here are some pictures of us enjoying our outdoor area.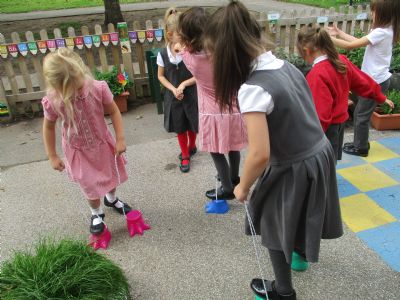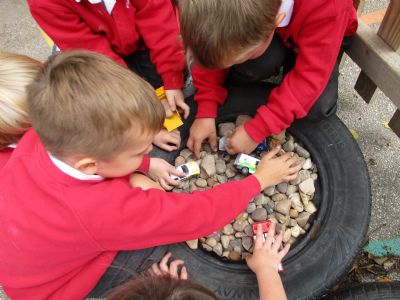 We're beginning to introduce the Jungle topic now and had our first ever Big Write on Friday where we had to write about a picture of the rainforest. Both Miss Cragg and Alex are incredibly impressed and proud of how hard the children are all working to remember how to form capital letters and start each sentence with them, to end them with a full stop, to use their phonic knowledge to sound out and spell words and to write them on the lines with finger spaces.
In Maths we have continued to develop our understanding of numbers to 20 completing missing number grids and number lines both in digits and in words. We can represent numbers in lots of different ways and have begun to use the tens frame to work on number bonds. Next week we will be moving on to thinking about one more and one less.
Thank you for your continued support at drop off time in the morning, this week we have tried to make the classroom a more exciting place to be with colouring, lego and yoga available to try and entice children away from parents. Please bear with us whilst they are transitioning into Year One. We appreciate those parents who drop off at the door and allow their child to independently enter the classroom.
Homework this week is counting forwards and backwards from 10 and practicing number formation.
W.C 05.09.17
A very warm welcome to the start of Year One! Miss Cragg and Alex are very excited to get to know everyone and start doing some new learning. Our first topic this year is 'Welcome to the Jungle' so we're going to be doing lots of work around the rainforest, animals and insects that live there, linking in with our Science topic too. We've been having more structured morning lessons and a relaxed, learning through play approach in the afternoons concentrating on aspects of team work, turn taking and communication, fine and gross motor skills as well as pencil grip and creative skills.
In English this week we've been concentrating on sentences - what a sentence is, what it needs and how to make one. We've begun to look further into capital letters, practising writing them and matching them to their lowercase counterparts. We have introduced nouns and the understanding that the names of people, places and things often need capital letters too. We've also been doing lots of fine motor activities which will eventually help us with pencil grip and letter formation, helping us to build up those muscles in our fingers and hands.
In Maths we have begun working on our understanding of number, counting forwards and backwards to 20 from zero and other numbers. We have spent time building and recognising numbers, sorting objects into groups, practising digit and word formation and talking about what we notice. Some of us have even managed to take a place value pre-test! Miss Cragg and Alex are expecting great things this year!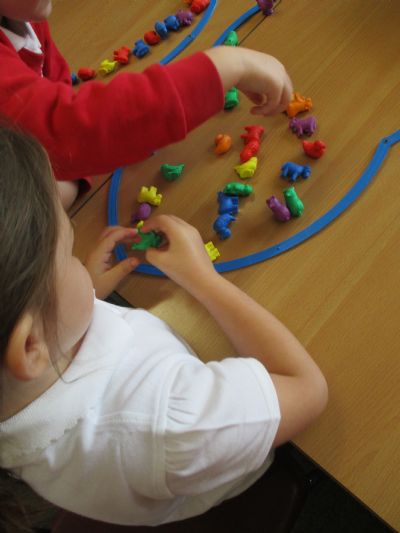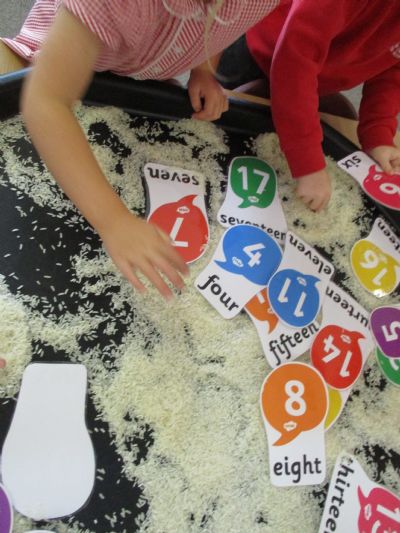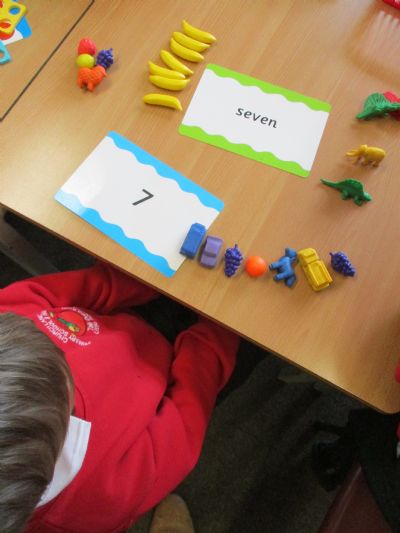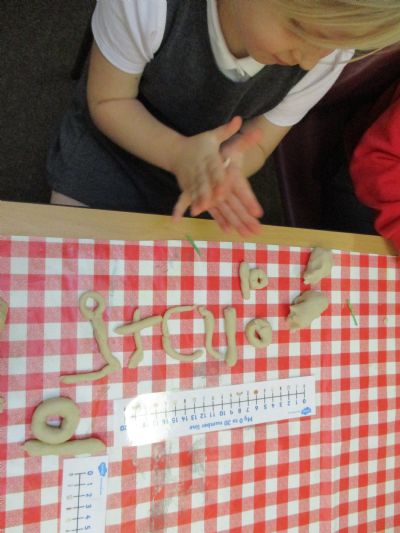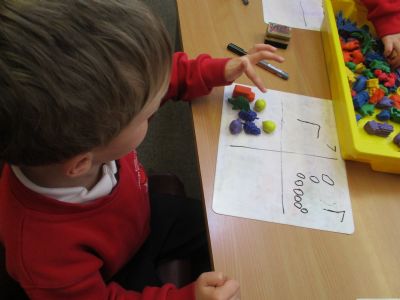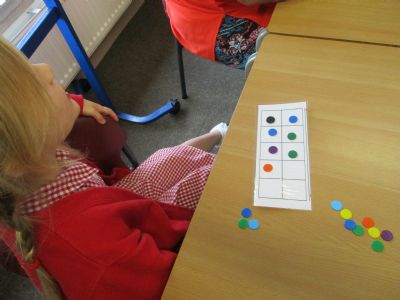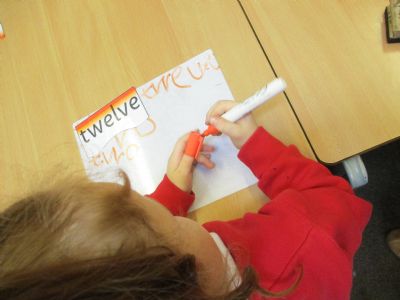 Thank you to the grown ups who attended our meeting after school on Wednesday. In case you were not able to attend the main points were as follows:
- School begins at 8:45am.
- Please ensure names are in all items of clothing.
- Full uniform must be worn including school shoes.
- Please send clothing suitable for the weather (e.g. - rain/cold = coat, sunny = hat etc.)
- Please let us or the office know if someone different will be collecting your child from school.
- Reading books will be changed on Monday, Wednesday and Friday. Please read at home and note in the Reading Journal.
- Homework will be set on Thursdays to be returned on Tuesdays.
- PE is on Mondays and Tuesdays.
- Year One statutory Phonics Screening will take place in June.
A busy but fun week all round, Miss Cragg and Alex are looking forward to the next six together!